The total cost for your bathroom remodel will depend on many factors, including how extensive the project is, where you live, what types of materials you're using, and whether you're doing any portions of the work yourself. Taking the time to plan your bathroom remodel carefully and then not changing your mind on layout or materials once construction begins will save you money.
You might think that a bathroom remodel wouldn't be that expensive because it's one of the smaller rooms in the house, but builder Mark De Mattei points out that you need the same number of tradespeople working on it as you would when remodeling any other room, including framers, electricians, plumbers, drywallers, and tile setters. Given the number of people coming and going, scheduling is critical.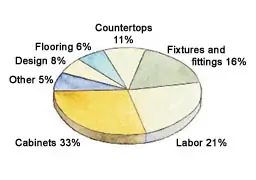 The pie chart above shows an average breakdown of where your money will be spent. Labor and design can account for approximately 30 percent of the total job amount. If you are confident of your skills to either design your new bathroom or do all or part of the construction, you can save a good deal of money. Be realistic about what you can do, though, or you may end up having to hire someone to fix a problem you created.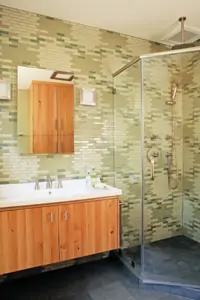 You should be able to get a sense of how much money materials will cost during the planning stage. Price materials and fixtures you like and use your base plan [covered on (pages 32–35) in the guide] to calculate how many square feet of flooring, and linear feet of cabinets and countertops you will need. There are lots of ways to keep the costs down without sacrificing quality, such as using mass-produced field tiles in a stock color and custom glass tiles as an accent or border [(as seen on the opposite page) in the guide], rather than using expensive glass tiles across the entire wall.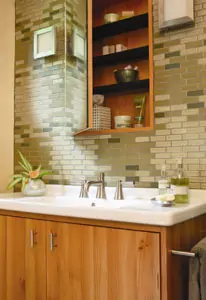 Interviewing contractors and designers in your area is the only way to get an accurate sense of their fees. In general, design professionals like architects, bathroom designers, and interior designers often charge about 10 percent of the total cost of the project (including materials) if they are designing the space, hiring contractors, and overseeing the construction. You can also choose to pay an hourly fee just for the design.
Once the project starts, keep it on track by managing it closely, or by hiring someone who will do this for you. Make sure flooring, fixtures, and other materials are ordered in advance of when construction will begin so that contractors aren't waiting for supplies that will hold up progress. Generally, after demolition, the order of work is as follows: structural changes; rough plumbing and electrical; installing the bathtub or shower; wall and ceiling finishes; light fixtures; cabinets and countertops; toilet and sink; flooring; and, lastly, finishing touches like window treatments, mirrors, and towel bars.
Editor's Note: Excerpted by permission of Sunset Publishing Corporation from Bathrooms: A Sunset Design Guide by Bridget Biscotti Bradley and the editors of Sunset Books, published in October 2008 by Sunset Books. 
Article appears courtesy Sunset Books