If you're looking for an eye-catching addition to your backyard that can give you maximum usability all year long, consider a gazebo.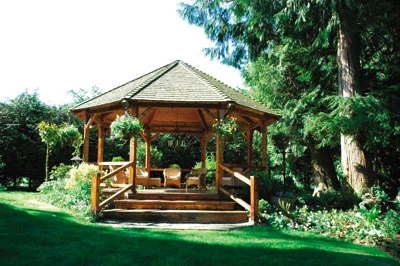 What makes these mini-pavilions so appealing? For starters, they're covered. While open-air decks and patios mostly depend on weather conditions to be usable, gazebos offer shelter from rain and shade from a hot sun. They provide a natural focal point for any backyard and work well for gatherings both large and small.
Even better; most gazebos can be built in a single weekend, giving you the rest of the season to enjoy your newly created outdoor living space. Here are a few considerations to remember when enhancing your backyard with a new gazebo.
Project Planning
Typical gazebo designs are six-sided, with railings and a peaked roof.  However, sizing and architecture can vary greatly to fit your yard, giving you a private retreat or a wide-open seating area. Finishing touches, such as latticework or decorative edging, can add distinction as well. Additionally, numerous manufacturers produce gazebo kits where you simply assemble the materials on-site.
Find a good set of plans for your gazebo. Detailed sketches and descriptions give you the direction you need to plan your project – and the more thorough the plan, the fewer trips to the lumberyard. The Western Red Cedar Lumber Association offers a free gazebo plan on their website.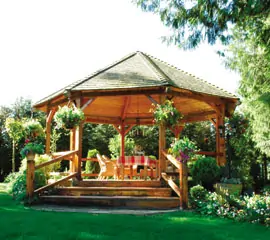 Sizing and Layout
Carefully choose a building site that is both level and provides a pleasant backdrop to create a truly relaxing gazebo retreat. Consider placing yours relatively close to the house, as experts have found the closer the gazebo is to the house, the more often it will get used. Additionally, the gazebo's size should correspond with the available area and how much area is needed to comfortably accommodate every activity.
Remember, gazebos are ideal gathering places for larger groups so don't skimp on the size. Taking time to make sure you'll have room for tables, chairs and moving around will pay off in a big way – and make your gazebo a favorite spot for the whole family.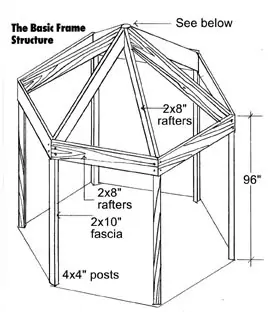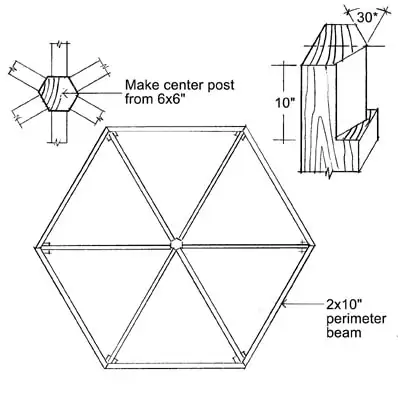 Materials
While treated wood, redwood and even composite decking can be used for gazebos, one of the most popular building materials for outdoor building is cedar. Many people choose it because of its aesthetic appeal, natural durability and performance characteristics.
"For centuries, cedar has been known for its exceptional beauty, versatility and longevity," says Lang. "Cedar brings an exceptional all-natural look, warmth and character to outdoor spaces, and cedar is environmentally responsible."
Cedar also can be combined with other materials to create unique results. For example, by incorporating opaque acrylic panels between cedar posts, you can turn an open gazebo into a private teahouse.
"We see a tremendous interest in gazebos – especially during the summer months," adds Lang. "Homeowners have always chosen Western Red Cedar for all kinds of outdoor projects, but cedar gazebos are true showpieces where people can make a real statement."
Many gazebo owners choose cedar because of its outstanding physical characteristics, including rich natural color, fine grain, dimensional stability and its ability to withstand the ravages of insects and weather. Western Red Cedar fibers contain natural compounds called "thujaplicins" that act as natural preservatives, making the wood extremely long-lasting. As a result it will last without the need for chemical treatments. The even, consistent grain and low density make cedar less likely to swell, warp, cup and twist than other soft and hard woods; it lies flat and straight.

Roof Options
A variety of roofing options are available. One choice includes slat roofs; they're economical, easy to install and offer varying degrees of protection from the sun. A more comprehensive approach involves installing cedar shakes or shingles, as fully covered roofing provides better protection from the elements.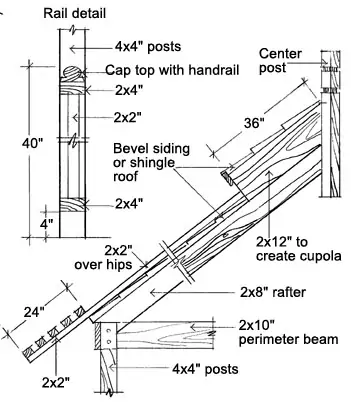 Railing Options
Custom railings provide a distinct design personality because, next to the roof, they can be the most visible element. The variations are nearly limitless – from squared baluster, slat or turned – simply choose a style that enhances the overall gazebo design and matches the architecture of the surroundings and roof overhead.
Fill it with Foliage
Strategically placed plants can form a seamless transition between the gazebo and the rest of the yardscape. Planter boxes are simple to build and can dress up your new gazebo when filled with colorful flowers. Best of all, they can be easily changed out to keep the look fresh.
Light it Right
Before you build is the best time to think about your lighting needs. Planning ahead will enable you to incorporate channels for electrical wiring and eliminate the need for unsightly extension cords later on. Lighting adds ambiance and gives you the flexibility to extend your outdoor gatherings well past sundown. Also, don't forget to add an electrical outlet so that you can add some music to enhance your experience.
Gazebos give any backyard a classic and dramatic appearance that can be enjoyed all year long. They can also display a unique architectural style and be the center of all your outdoor leisure activities.
Images courtesy of Western Red Cedar Lumber Association realcedar.com