Homeowners are enhancing comfort, curb appeal, resale value, energy and maintenance savings with environmentally-friendly replacement windows–an investment that pays for itself and other remodeling projects.
For homeowners considering a remodel and the contractors who service them, conventional wisdom says that kitchens and bathrooms give the biggest bang for the buck.  But the truth is that remodeling the kitchen won't save money; putting in a new bathtub won't save money; and certainly adding a room or two won't save money.  While they may add to convenience and home value, they're a net out-of-pocket expense, a luxury.
Some homeowners, however, are attempting to reap both immediate and long-term value from their remodeling dollars.  For those asking if a new stove or sink will be seen from the street, if they'll cut cooling and heating bills, and if they'll add comfort during sweltering summers or freezing winters, the remodeling choice is clear: replacement windows.
But not all replacement windows are created equal in keeping out summer heat and keeping in winter heating.  The government Energy Star website, which promotes energy efficiency among U.S. consumers and businesses, acknowledges "advanced technologies have enabled the development of windows that are much more efficient than traditional clear-glass double-paned windows."
Where an energy-efficient, maintenance-free lifestyle is the goal, the savviest homeowners and remodeling contractors are turning away from traditional wood, aluminum, and vinyl windows, which are subject to pre-mature replacement due to fading, chipping, cracking, warping and other defects caused by weathering and temperature extremes.  Instead, they're changing to advanced, triple-paned units designed to look new and operate maintenance-free decades after installation.  With enhanced comfort, curb appeal, resale value, energy and maintenance savings, remodels using these environmentally-friendly replacement windows are paying for themselves and other remodeling projects.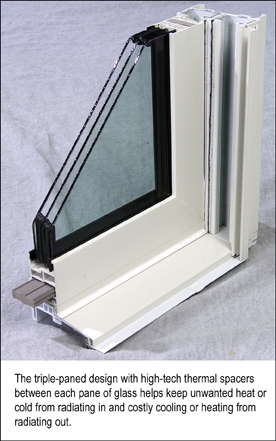 Remodeling that pays for itself
Jean Mondeau needed to make a 50s-era, ranch-style rental home in Tucson, Arizona more energy-efficient while limiting his maintenance for tenants.  He required the same for his 40s-era pueblo-style home next door, plus an aesthetic upgrade to fully remodel.  But the challenges of the harsh climate, with highs topping 110 ºF and lows well below freezing, were significant.  The single-paned, aluminum casement windows in both homes were part of the problem.
"Because the houses were built before modern insulation techniques, they were difficult to insulate," says Mondeau.  "In the afternoon heat, with west-facing windows and no overhangs or shade, you'd sweat in seconds.  A lot of the windows were cracked, leaked air, didn't close well, or were really porous.  I wanted big energy savings."
Moreover, Mondeau was burdened by the cost of time, attention, and materials required to maintain the single-paned windows.  "Since the window corners tended to crack, I ended up replacing the panes several times a year," he says.  "I'd replaced a carport window three times."
Window aesthetics and ease of use were a problem as well.  "At times the windows fogged and condensation dripped until my wife put towels on the window sills to sop up the moisture," says Mondeau.  "To avoid water damage, I tiled the window sills.  Some windows never closed completely and could take minutes to hand crank all the way out.  I thought this is nuts."
After research, Mondeau selected one window technology called Bristol Windows, offered by Saltsburg, Pennsylvania-based Winchester Industries, over traditional double-paned options.  The triple-paned design with high-tech thermal spacers between each pane of glass helps keep unwanted heat or cold from radiating in and costly cooling or heating from radiating out — thus halting the flow of utility dollars out the windows.  Its multiple Low-E layers on two panes reflect more heat than the single Low-E layer on "so-called" energy-efficient, double-paned windows.
"Now on hot summer days, I can stand in front of the windows and feel no heat at all," says Mondeau.  "The house stays comfortably cool all summer and warm in winter.  There are no more blasts of heat or cold from the furnace or air conditioner because they don't work as hard.  I'm saving about 40 percent in annual heating and cooling bills."
As Mondeau found the triple-paned windows complemented the look of his home and rental property, he had them professionally installed.  The thermal spacers between each pane of glass helped to minimize the temperature differences that cause energy-loss, window fogging and moisture condensation.  Moreover, its unique vinyl clad frame combined the aesthetics of a durable, vinyl coating over a strong aluminum core.  This not only prevents corrosion, but also resists losing shape.
"There's no window fogging or condensation anymore, so there's a clear view and no need to mop up moisture," says Mondeau.  "I don't need to do maintenance.  There's no scraping, sanding, caulking, painting, or pane replacement, and they look really good even in this extreme environment I live in."
Mondeau, in fact, has noticed a friendly next-door neighbor eyeing his triple-paned windows on more than one occasion.  The neighbor had put in replacement windows just before Mondeau.  "While her windows are now wrinkling and warping, mine remain straight, clean, and sharp," he says.
"I decided to go with the triple-pane windows because they weren't much more expensive than nice double-panes," explains Mondeau.  "But with the improved aesthetics and comfort, I'd recapture everything I spent on the windows if I sold my home tomorrow.  And the savings in cooling and heating is putting at least $1,000 annually in my pocket from each house.  That's plenty to finance other home remodeling or improvement projects."
Comfort and peace-of-mind for 50-years
Despite a fireplace, insulating drapes, closing off unused bedrooms, and a thermostat set to 75 ºF in winter, Sandy Clark typically wrapped herself in a heavy robe and blanket or two to stay warm in her Lima, Ohio ranch-style house.  She and her husband, Ron, wore heavy socks or shoes indoors to avoid cold feet.
"In the coldest months, our heating bill approached $300," says Mrs. Clark.  "We knew our single-pane wooden windows needed replacing to stop the energy loss and cut our utility bills."
Maintenance was also an issue.  Mr. Clark spent hours scraping and painting the wood window frames, and more time trying to fix the rotting wood in two crank-out windows.  Cleaning the windows was difficult too.
"Washing the windows was an all day project for the two of us," says Mrs. Clark.  "I'd stay inside and he'd go outside, climb a ladder, and balance a bucket of cleaning solution.  We'd raise and lower the storm and inside windows until we got them done."
The Clarks turned to triple-paned windows for aesthetics, energy-efficiency, and ease of maintenance.  "The house is so much warmer and more comfortable now," says Mrs. Clark.  "We set the thermostat to about 69 ºF all winter and I go barefoot.  We're saving up to 45 percent on our utility bill and haven't had to do any maintenance."
Since they put in the triple-paned, tilt-in windows, they no longer have to drag a heavy stepladder outside for risky, window cleaning chores.  "Standing safely inside, one person can clean the windows in an hour," says Mr. Clark.  "They're so much easier to wash, we don't mind cleaning them.  That leaves more time for fishing and golfing."
A 50-year transferable warranty on the windows' glass with a 3-year breakage clause, a written energy savings pledge, and a home security guaranty also provided added comfort.
"The windows are guaranteed for as long as we'll need them," says Mrs. Clark.  "If something were to happen to Ron, they'd be easy for me to maintain.  And if we sell, the next owners would be covered under warranty.  That's a real plus for resale value and gives us peace of mind.  We're set for as long as we live here.  I just wish we'd done it sooner."
A complete selection of aesthetic, virtually maintenance-free, triple-paned, replacement windows by Winchester Industries are sold under the names of Bristol, Oxford, and Barricade.  For best results, energy savings and comfort, these windows must be professionally installed.  The company is looking for new dealers in certain U.S. regions to round out their national presence.
For more info, visit the website www.winchesterwindows.net; call 800-689-5432; email [email protected]; write to Winchester Industries at PO Box 160, 500 Leech Ave, Saltsburg, PA15681.