Fypon Door Surround Kits
Fypon makes it easier to enhance the home entry with the company's new polyurethane Door Surround Kits. Available in four popular styles, the kits provide a fast and elegant way for builders, remodelers and homeowners to add curb appeal to the home. The new kits come in Craftsman, Colonial, Stone and Empire styles. Each offers weather-resistant polyurethane pieces that resist rotting, warping, cracking, insects, moisture and peeling. The kits for Craftsman, Colonial and Empire include a set of pilasters and a crosshead for a single door opening. The Stone kit includes three pieces of flat blocks and a keystone, ready to be cut to size for a single door opening. Blocks can either be mitered or butted to make the surround. Designed to fit a 3'0″ x 6'8″ door, the polyurethane pieces install quickly to create an attractive door surround. Visit www.fypon.com.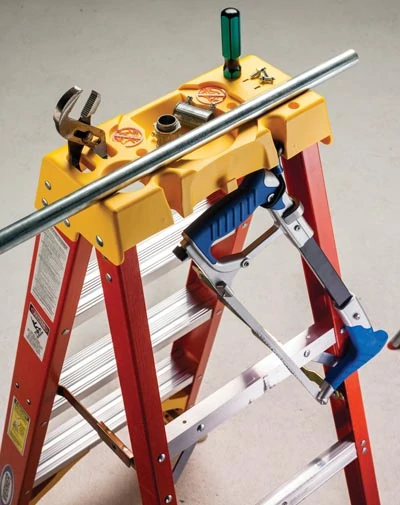 Werner Improved Stepladders 
WernerCo has redesigned the 6200 Series Stepladders with an upgraded ladder top and enhanced bracing for overall performance. The new 300-lb. IA rated fiberglass stepladders now include the Locktop, an upgraded top that securely and conveniently organizes many tools and accessories where they're needed. It features a high-capacity hardware bin, a slot for a drill or hammer, a pipe holder, Lock-In accessory sockets and a magnetic strip for holding nuts, bolts or other loose parts. Additional improvements include the newly designed Edge360 bracing system, which provides safety and performance improvements for the life of the ladder. The Edge360 increases the size of the ladder foot pad, braces the first step and provides 360-deg. protection at the base of the ladder rails to create a ladder that stands up to the demands of a jobsite professional. The 6200 Series Stepladder is available in fiberglass and comes in a variety of sizes to fit any application. Visit us wernerco.com.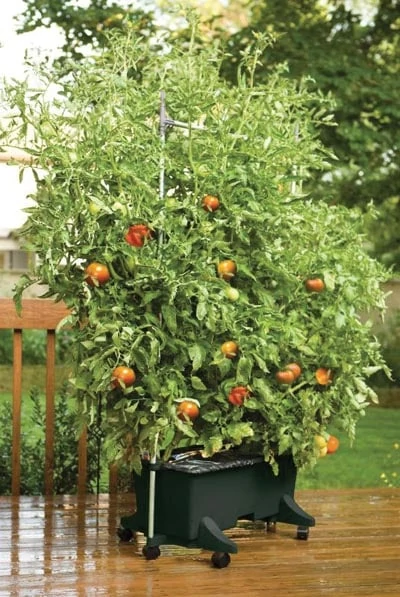 EarthBox Self-Watering Planter 
The EarthBox Self-Watering Plant and the compact EarthBox Junior recently earned the Recommended Seal of Approval from the National Home Gardening Club. The club consists of 400,000 gardening enthusiasts nationwide who share tips and advice on gardening. Testers appreciated how EarthBox provides the perfect amount of water, eliminating guesswork. The built-in water reservoir allows plants to take up the water they need, while any excess drains through an overflow hole. At 23 in. long by 9.5- in. wide, the EarthBox Junior is especially popular with beginning gardeners, apartment dwellers and downsizing baby boomers. Numerous club members commented on the EarthBox's portability. Junior's small size makes it easy to move, and the larger EarthBox comes with optional casters. A variety of gardeners rated both EarthBox gardening systems high for convenience, ease of use, quality and design. Visit www.earthbox.com.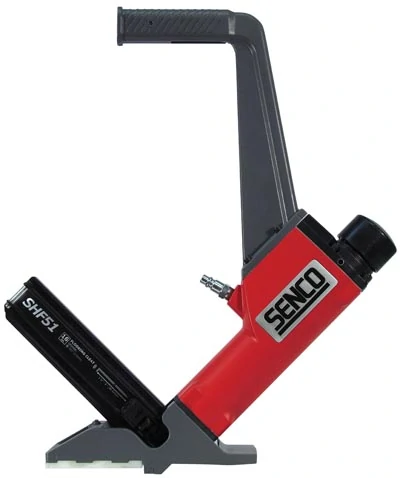 Senco SHF200 Flooring Cleat Nailer
The new Senco SHF200 is a compact, high-speed pneumatic cleat nailer that delivers 547 inch-pounds at 100 PSI, which is five percent more power than other flooring nailers in its class. A single mallet strike is all it takes to flush-drive 16-gauge "L"-shaped cleats into engineered and solid hardwood flooring materials 1/2 in. and 3/4 in. thick. No tools are required to adjust the nailer for different flooring thicknesses. Simply lift and rotate the non-marring base plate to the desired depth setting, and release to lock it back into place. With the plate resting squarely against the surface, the tool is perfectly aligned above the tongue on the floorboard for accurate cleat placement, every time. The SHF200 is equipped with a safety trigger that must be actively depressed to fire, so users don't have to worry about a fastener ejecting and damaging the floor, or causing injury if the tool gets knocked over or bumped during transport. It also has an angled fitting to keep the air hose free and clear during operation. Visit www.senco.com.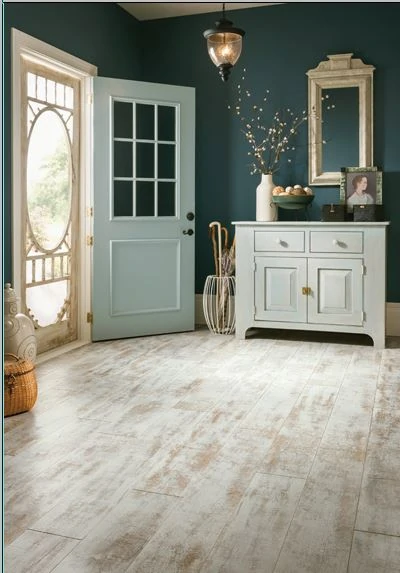 Armstrong Architectural Remnants Flooring 
The new Architectural Remnants collection from Armstrong Residential Flooring pairs the look of high-end reclaimed hardwoods with the benefits of laminate flooring. The collection combines multiple species and colors that look as if they have withstood years of use, or were pulled directly from a historic structure—in random widths and with extensive but intelligently applied embossing. The collection is created with Armstrong's special imaging technology to ensure that the planks contain true-to-life coloration. Architectural Remnants comes embossed to provide the most realistic graining, texture and depth of reclaimed wood. The flooring comes with VisionGuard, a wearlayer, to protect it from staining, fading and wear-through. The line is also equipped with HydraCore Plus, a core that is built into the product in order to make it feel more like solid wood when you walk on it. That's because the 12mm board's thick HydraCore Plus core keeps the laminate stable and flat. The extra density of a thicker board also helps to dampen sound. You won't hear that hollow echo or sharp clicking noise sometimes associated with thinner laminate floors. Visit www.armstrong.com.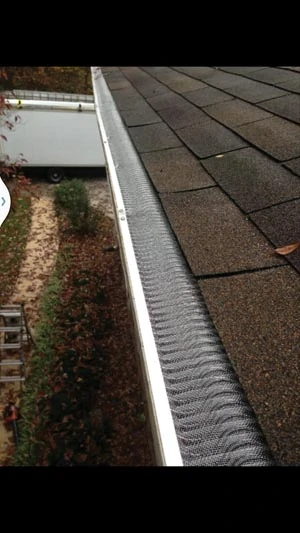 Valor Gutter Guard
In addition to providing efficient gutter-guard products for the home and business, Valor Gutter Guard now offers educational programs aimed at developing youth leadership skills. Portions of funds generated from product sales help contribute to educational programs that target younger generations' leadership development. The Valor Gutter Guard, a "Made in USA" product, also provides job creation throughout the United States by hosting its manufacturing within the country. With Valor Gutter Guard's patent-pending "S" shape micromesh along with its innovative louver system, the product can withstand the toughest weather conditions better than many other gutter products currently on the market.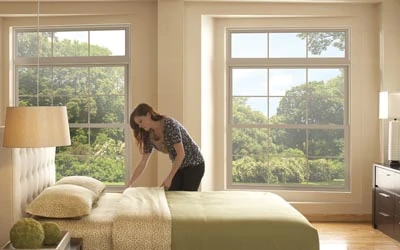 Asure Windows from Simonton
Simonton Asure replacement windows feature a narrow frame design that provides expansive views and more natural light. A stepped exterior frame protects against the elements, while advanced glass packages provide money-saving energy efficiency. The Intercept thermal spacer is standard, while the ProSolar Low E glass package is optional. Styles include a Double Hung, Slider, Picture, Geometric and Patio Door. Choose from white or tan and several popular glass and grid options. Visit www.simonton.com.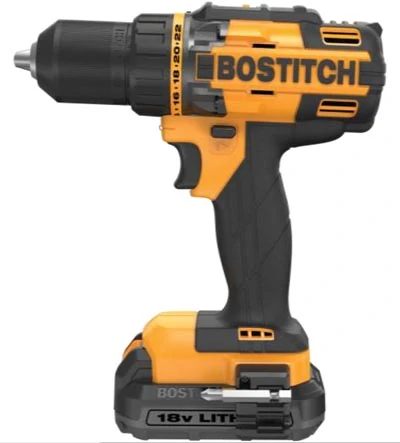 Bostitch 18V Lithium-ion 1/2″ DrillDriver 
To test the Bostitch BTC400LB, the EHT staff used the new drill/driver as our go-to tool when moving from one office space to the next during our recent relocation. The new driver features a 2-speed high torque/high speed gear box (0-350/0-1500 RPM) and a 1/2-in. keyless metal locking chuck for bit retention and more durability. The 24-position clutch helps to reduce stripping of fasteners—nice when reassembling desks and file cabinets. As a drill it had more than enough muscle to bore mounting holes for our wall shelves and dry-erase boards, and would be even better suited for a rugged construction site. Weighing only 3.7 lbs. and measuring 8 in. long, the compact size and weight make it easy to use for long hours without muscle fatigue. Additional features include an integral LED worklight, two 18V lithium-ion batteries, charger, kit box and starter bits. Visit www.bostitch.com.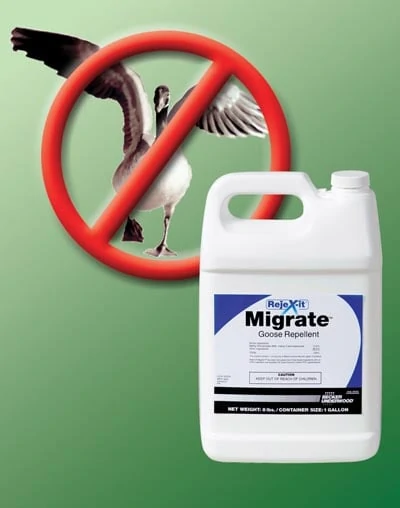 Liquid Goose Repellent
The Extreme How-To office is often under siege … of geese. If your golf course, corporate lawn, private park or greenbelt is being overrun by geese, this can cause a number of problems. Around our way, our feathered friends constantly block traffic. Maintenance crews have to spend time cleaning up the droppings and replanting flowers and plants trampled flat by these large lumbering birds. And, if you have a pond or decorative water feature, geese will contaminate it with their droppings and turn it into a smelly mess. Liquid Goose Repellent is a non-toxic liquid used to make grass areas unpalatable to geese. The liquid repellent is safe to use around people and pets. The active ingredient in Migrate Goose Repellent is non-toxic grape extract, Methyl Anthranilate. The extract irritates birds' trigeminal nerves and mucous membranes. They do not like the sensation caused by the extract and will avoid the area being treated. Liquid Goose Repellent is applied to grass or shrub areas where geese have been grazing. When Geese go to graze on the treated areas, they'll realize there is no longer a food source, and move on. One gallon of Liquid Goose Repellent will cover approximately 16,000 square feet for one application. The liquid repellent lasts 3 months outdoors, and won't wash off with rain or water. Visit www.birdbgone.com.