By Rob Robillard
Adding a ceiling molding treatment that is then painted with contrasting colors commands attention in almost any room. This article will cover how to apply astragal molding on a ceiling.
Astragal molding has a profile composed of a half-round surface surrounded by two flat "fillet" planes. An astragal is an architectural element used at the top or base of a column, and is also found on furniture, French doors (as a door stop) and other woodwork.
In the last 20 years or so, astragal molding has also been used as wainscot wall molding. In this situation, the Astragal molding is used to simulate decorative panel outlines on walls, which add depth and character. I call it the "cheap man's" wainscoting.
Astragal Moldings Complement Crown
I've yet to find a carpenter that will argue with me that crown molding does not change the perceived shape of a room. In a space that's tall and narrow, adding a crown accentuates ceiling height while    creating the illusion of width. Crown molding is just plain sexy. In   fact, astragal moldings applied to ceilings can complement a crown molding and create a more intricate aesthetically pleasing look.
Astragal ceiling moldings are almost exclusively paired with crown molding. When painted a trim color they add a nice layering contrast of light-and dark convex shadow lines. This contrast of dark and light areas gives definition to the crown and astragal moldings, and is a nice architectural effect.
Many folk will paint the crown, the astragal and the small ceiling space in between the two all one trim color, and the ceiling a different color or shade. The effect is the illusion of a stepped or larger crown / ceiling molding.
Sometimes people will add an astragal ceiling treatment to frame the perimeter of a room with a hanging light and architectural ornamental rim.
What's the Proper Spacing?
Astragal ceiling molding can be spaced according to your desire. In my experience they are typically deployed 8 to 10 inches away from the crown molding.
After the crown molding is applied to the room it is time to decide on your spacing for your astragal molding. For this project we chose 8-in. spacing. The ceilings care 8 feet tall, and we felt that the 8-in. space had a nice proportion.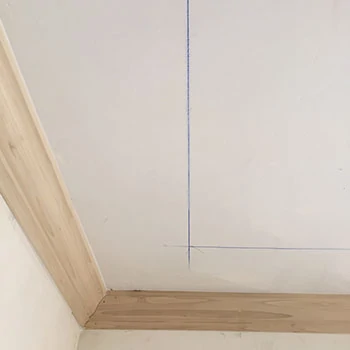 To test our 8-inch spacing idea we used a laser level to shoot a line on the ceiling for a visual reference. Once satisfied, we measured and marked 8 inches off each wall, and then snapped a chalk line to mark the crown molding side edge of our astragal molding.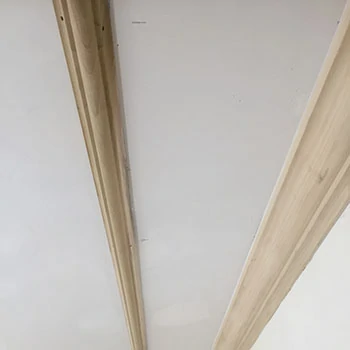 Locate Ceiling Nailers
This particular house was built in 1960 and had plaster ceilings applied over 1×3 (2-1/-in.) ceiling strapping.
Strapping refers to the strips of wood that are installed perpendicular to the ceiling rafters and 16″ on center. Strapping can be useful to hang drywall, blue board, level a ceiling, mount recessed lighting and temporarily hold up insulation. Strapping is also used when joists, rafters or trusses were installed further apart than 16-inches on center.
The first row of strapping is always against the wall, the second row is 14-3/4 in. apart from the first row and all subsequent rows are 16 inches on center from each other until you reach the end wall.
If your ceiling is not strapped, locate the ceiling joists.
Tip: Use a stud finder to first locate the strapping. Then, use a finish nail to penetrate and confirm its true location. Once I locate one piece of strapping and set a finish nail, I pull a tape from that nail and mark 16-inch on-centers. I confirm every third mark to make sure I measured correctly (or more accurately, if the previous carpenter measured and installed correctly).
Because the strapping is installed perpendicular to the ceiling joists, you will only be able to directly nail two astragal moldings into solid nailers. The other two astragal sides of the rectangular pattern will not be directly nailed into solid backing.
How to Apply Astragal Molding on a Ceiling
I recommend using an acrylic latex caulk adhesive applied to back of the astragal molding in a wave-like pattern. Don't skimp on the goop!
Installation steps:
1. Measure 8-10 inches off the wall in three locations on all four walls in the room.
2. Stretch and snap chalk lines to outline your astragal pattern on the ceiling.
3. Measure your lengths, measuring the chalk lines from corner to corner.
4. Cut 45-degree outside miters on both ends.
5. Install the two opposing astragals that can be directly nailed into the strapping of joists.
6. Once installed, measure, cut and install the opposite two astragal moldings.
7. Press the moldings against up to the ceiling surface, ensuring good caulk contact.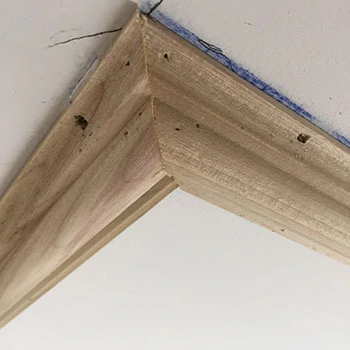 8. Line up the astragal molding along the chalk line.
9. Install two opposing pneumatic finish nails, one on each side of the astragal molding every 12 inches.
10. Work the molding as you fasten to ensure you stay on the line and avoid a wavy pattern. Working from one end of the ceiling toward the other end, move down the ceiling, and move the astragal molding as needed to follow the chalk line. Save the waves for the beach!
11. On the areas that have strapping above, install the nails directly into the strapping.
12. On the opposite sides with the non-strapped ceiling area, install two nails at opposing angles to better grip the ceiling plaster board.
13. Once complete, set and fill all nail holes flush with wood putty. Don't overfill the holes or you will create an overhead, shoulder-aching, sanding nightmare.
14. Caulk all seams smooth.
15. Prime, sand and paint according to the painting scheme.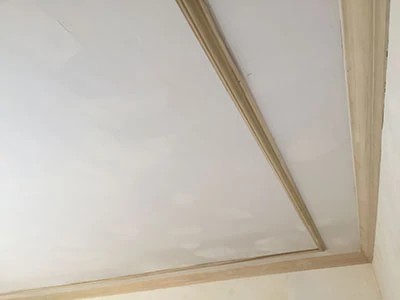 Crowning Achievement
Installing crown molding is today's most-pursued architectural upgrade. Crown molding with accompanying astragal molding gives the junction of the walls and ceiling both depth and formality.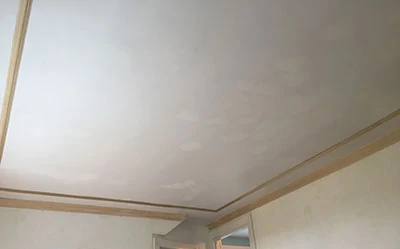 Editor's Note: Rob Robillard is a professional carpenter and remodeler. Visit his website at www.ConcordCarpenter.com.
Side Note
Zip-UP UnderDeck Transforms Unused Area Below a Deck into Dry Outdoor Living Space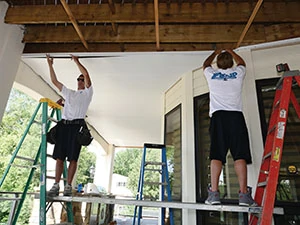 Transform the underutilized area under a raised deck into dry outdoor living and storage space while maintaining maximum headroom and accessibility to the underside of the deck. Zip-UP UnderDeck is made from durable interlocking PVC components engineered to fit together easily. Creating a water tight water barrier that channels water to effective drainage, the system provides a clean, grid-free flat, non-corrugated washable mold- and mildew-resistant paintable ceiling surface. The panels unzip for quick access to dropped items from the deck above and for cleaning. The panels do not kink like aluminum, look nicer and are easier to work with. Suitable for both residential and commercial installations, Zip-UP UnderDeck meets Class A Fire Rating and has passed Dade County, Florida standards for hurricane testing, which is the "gold" standard around the country.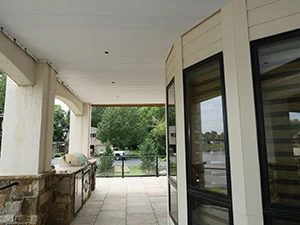 Zip-UP UnderDeck installs easily with just a few tools. The screw-in / zip-in-place system uses five components: wall trim that attaches to walls or joists around the perimeter, main rail that runs the length of the deck, one-foot wide panels that are the visible surface of the system, and pitching rails that channel any water from above for effective drainage. An average size deck can easily be completed in one day. Available in three finishes and two colors (white and beige), Zip-Up UnderDeck is backed by a 25-year warranty. Visit www.zipupceilings.com.