Sticking with It
From woodworking to roof building, glues and adhesives can be as important as hammers and nails to the solid construction of a home. Here's a quick roundup of some of the latest adhesive products to keep your next project held together with strength and stability.
Liquid Nails Green Adhesives
Liquid Nails construction adhesive has long been a reliable stand-by for construction pros. For contractors and DIY'ers with an eye on environmental sustainability, Liquid Nails now offers more than 50 low-VOC (volatile organic compound) products in its adhesives line, most of which meet the requirements of the U.S. Green Building Council LEED and NAHB (National Association of Home Builders) green building programs. There are also a number of Liquid Nails products certified by the GreenGuard Environmental Institute as being low-emitting materials that contribute to better indoor air quality—meaning you can breathe more easily.
Liquid Nails regularly evaluates new technologies and materials to provide products that are safer and less harmful to the environment than previous products. In the past year, Liquid Nails removed phthalate plasticizers from all of its products. A significant portion of the product line has shifted from rubber/solvent-based to latex-based formulations, providing a safer working environment, as well as lower solvent emissions into the air—all while maintaining or improving adhesive performance.
Liquid Nails green building products include the new extreme temperature Subfloor & Deck Construction Adhesive (LNP-902), Drywall Adhesive (DWP-24), Heavy Duty Construction Adhesive (LNP-903), Marble & Granite and Solid Surface Materials Adhesive (LN-933) and Wood Projects Construction Adhesive (LN-740). Learn more at www.liquidnails.com.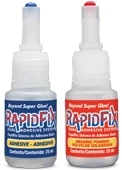 RapidFix Dual Adhesive System
RapidFix Dual Adhesive System incorporates an Instant Adhesive and Welding powder that can instantly repair almost anything. The RapidFix professional-grade adhesive instantly bonds most materials, including rubber, glass, china, metal and most plastics. When combined with the RapidFix welding powder it can be used to repair all types of cracks, holes, splits and gaps. It can be instantly drilled, sanded, filed and painted. Bond and fill copper, steel, aluminum, brass, cast or pot metals, ceramic, glass, fiberglass, plastic or wood. RapidFix can also produce strong weld seams to support the repair, just like solder or welded joints. Plus, the adhesive product is guaranteed to not dry out in the bottle, unlike other super glues. The dual system combines both applications into one product. Other bonding products like epoxy-based adhesives require a cure time from 5 minutes to 24 hours, while body filler or putty can take approximately 30 minutes or longer to set. RapidFix can be used for both bonding materials or filling materials and it works instantly. Learn more at www.rapid-fix.com.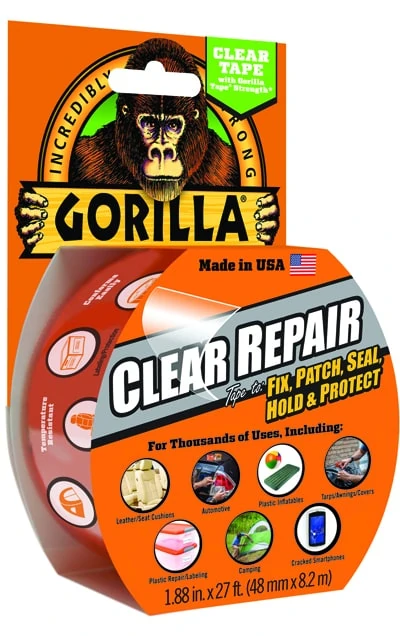 Gorilla Clear Repair
Gorilla Clear Repair features the strength of Gorilla Tape in a waterproof, airtight, crystal clear tape. Fix, patch, seal, hold, and protect almost any surface with a crystal clear appearance. Utilizing an extra thick adhesive layer and tough ultra-clear backing, Gorilla Clear Repair provides exceptional clarity, strength and durability for almost any project, indoors and out. The product's weatherproof formulation is UV- and temperature-resistant, and its notched edge design makes it easy to tear by hand. Gorilla Clear Repair sticks to smooth, rough and uneven surfaces and patches smooth surfaces with an air-tight seal. Learn more at www.gorillatough.com.

Rust-Oleum Anti-Slip
From floors and steps to exterior surfaces exposed to water, slippery surfaces can be dangerous. The new Rust-Oleum Anti-Slip spray provides a coating that creates a non-skid surface while providing ultimate protection and durability against daily wear and tear. Available in an aerosol, Rust-Oleum Anti-Slip spray allows do-it-yourselfers to easily achieve a non-slip surface in just one coat. It is peel- and crack-resistant and can be used on concrete, metal and wood surfaces. The fast drying formula dries crystal clear in as little as 30 minutes, and may be applied anywhere a non-slip surface is desired, both indoors and outdoors. It is ideal for use on floors, ramps, steps, stairs, railings and more. Learn more at rustoleum.com.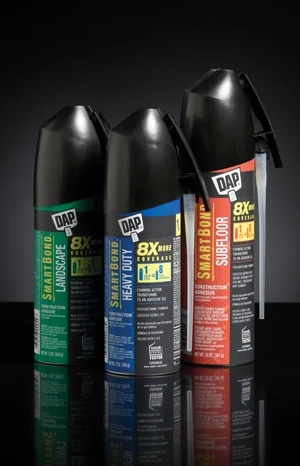 DAP SmartBond
Just before this issue of EHT went to press, our staff got news of the new SmartBond adhesive from DAP. Although we have not yet had the opportunity to try it out, the product is billed as a "dynamic polyurethane adhesive foaming gel that is faster and easier to use than traditional cartridge adhesives." According to the manufacturer, a single can of DAP SmartBond construction adhesive provides eight times the coverage of standard cartridge adhesives, so users can do more with less. For example, the installation of subfloor in the average new home, uses between 30 to 50, 28-oz. cartridges of subfloor adhesive using a 3/8-in. bead size, but an installer will only need four to five cans of SmartBond Subfloor Adhesive using a 1/2-in. bead size. DAP also claims the aerosol dispensing makes SmartBond 25 percent faster to apply than traditional adhesive cartridges. The poly-urethane formula applies as foam and collapses into a fast-curing adhesive gel that develops a strong, permanent bond to a wide range of building materials. Learn more at dap.com.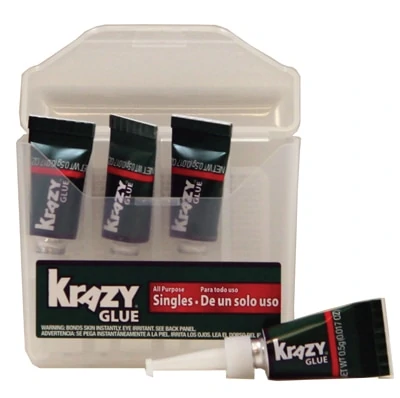 Krazy Glue
Introduced in 1973, Instant Krazy Glue is a super-strong, fast-drying adhesive that can bond anything from china and collectibles to holiday wreaths and model trains. In just 30 seconds, one drop of Krazy Glue creates an incredibly strong bond between two substrates. This product is made from ethyl cyanoacrylate, a non-toxic, colorless, extremely fast-acting strong adhesive that in its pure form, can lift 2000 pounds per square inch.
Krazy Glue products come in a variety of forms including color-changing, brush-on and single-use tubes. The EHT staff prefers the single-use applicators that have just enough in each tube for one fast fix. They're convenient, quick and easy to use. Buy a multi-pack and keep a tube any-where you might need a repair.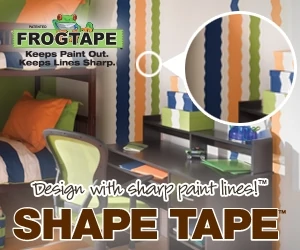 FrogTape
FrogTape is the only painter's tape treated with PaintBlock Technology, which allows users to achieve crisp, clean paint lines while saving time and money on touch-ups. PaintBlock is a super absorbent polymer that reacts with latex paint and instantly gels to create a micro-barrier. This barrier prevents paint from bleeding under the tape and keeps lines sharp. FrogTape is available in two different adhesive technologies for use on different surfaces. FrogTape Multi-Surface has a medium adhesion and can be used on cured painted walls, wood trim, glass and metal. FrogTape Delicate Surface has a lower adhesion to prevent damage on surfaces such as fresh paint (24 hours old), wallpaper and faux finishes. FrogTape is available in a variety of widths to accommodate a multitude of patterns, designs and paint projects. Learn more at www.frogtape.com.

E6000 Spray Adhesive
The new E6000 Spray Adhesive from Eclectic Products is a permanent, multipurpose latex-based adhesive without the toxic smells, fumes or unhealthy side effects.
It creates a strong, flexible, water-resistant bond that resists bleed-through and yellowing and works well on most all materials. The E6000 spray has no odor or VOCs and is extremely easy to use: Just spray. Any mess is easy to clean up with water. Use E6000 on paper, wood, poster board, cardboard, photos, foil, medium to heavyweight fabrics, vinyl, Styrofoam, glass, felt, plastic, rubber, leather and metals. It's a great product for crafts, home repairs, hobbies, office and more. Visit www.eclecticproducts.com.