Building a building inside a building
By Larry Walton
The situation comes up more often than you might think. Someone needs a room or two inside a larger structure. It can be inside a garage, a shop, a barn or some type of a commercial structure. The uses for this separate space are varied. Sometimes it's an office or a bathroom (or both) in the corner of the shop. Sometimes it's intended to house sensitive computer equipment or to build engines in a controlled environment. It can be used to stock parts, house tools, provide a cozy break room, or to hang a deer or two.
Whatever the use, creating these small rooms in larger structures is often more like building a building inside a building than simply making a partition or two. Making a separate, warmer (or cooler), cleaner, more secure or quieter environment often involves a roof structure as well as walls.
For the project featured here, the need was for a small 8×10- ft. office inside a larger workshop space. The office would provide a cleaner environment for computer equipment, a place to get in out of the cold, and a way to secure valuables when friends of friends come to check on car projects. As an added bonus, the roof structure was built to deck specs to provide additional storage space.

We needed this structure to be as freestanding as possible because it was a rented space, and the office would potentially need to be removed (although we find that the owners or next tenants are often happy to take advantage of our improvements). If you can tie into the existing wall, you can use a ledger board and joist hangers in place of one of the framed walls.
Not a lot of planning went into the design, just enough to get a decent material list. Since we were working in a finished corner of the shop, we could get away with framing three walls. Why not two? Because two opposing walls were necessary to support the storage deck that would act as a roof for the office.
Materials consisted of a stack of 2×4 for studs and plates, 2×6 for headers and joists, plywood for the deck, and drywall. The stud layout and joist layout were 16 in. on center (O.C.). Door and window openings were planned with a recycled pre-hung door and a double-pane patio panel already on site.
If you need a small space inside a big space, this project can be quite useful. Here's how we got it done.
STEP BY STEP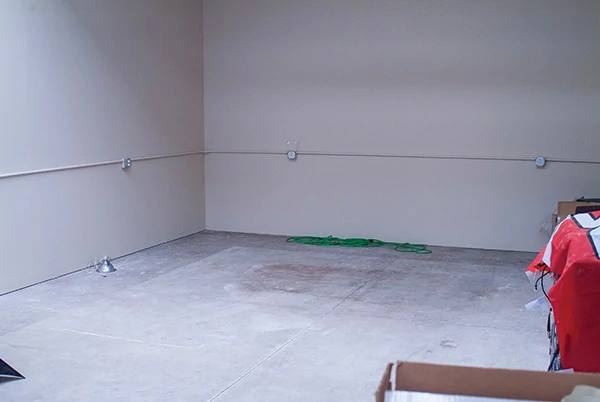 The project started with a nice clean open space on clean concrete and drywall walls.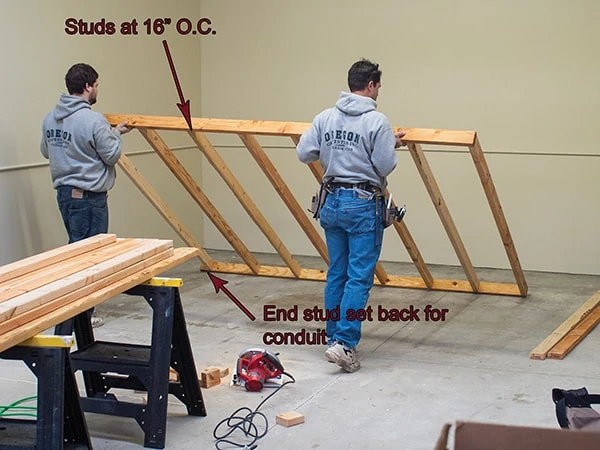 We framed the first wall on the floor and leaned it against the back wall. Note that the corner stud is set back a couple of inches on the plates for the conduit.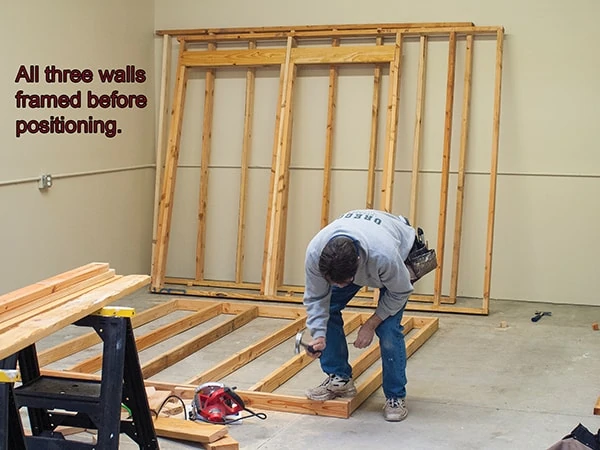 We framed the door wall next, because the plate lengths and stud layouts matched the first wall.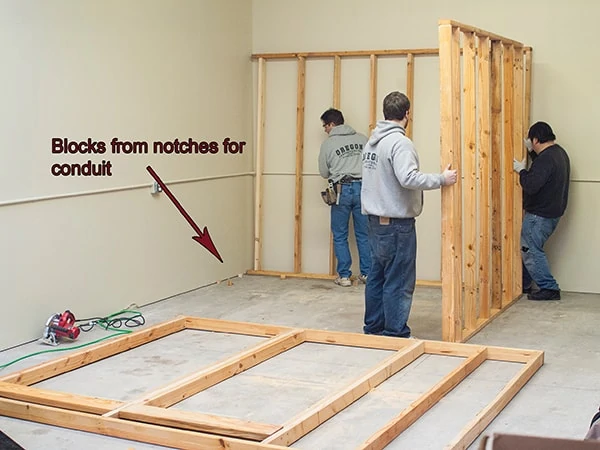 After framing the third wall, we put the door wall back on the floor and positioned the first wall and the end wall, and tacked them together.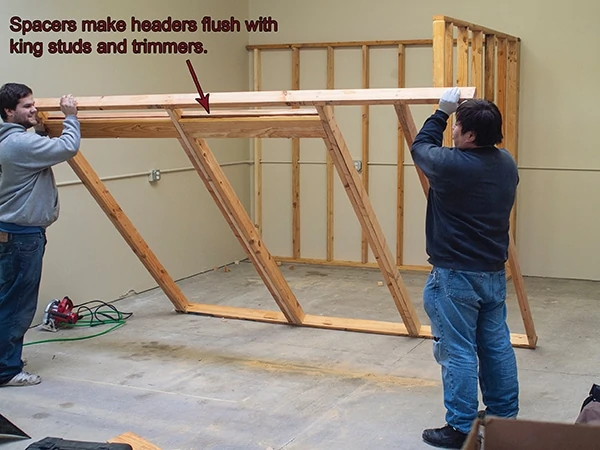 We tipped the final wall into place to complete the enclosure.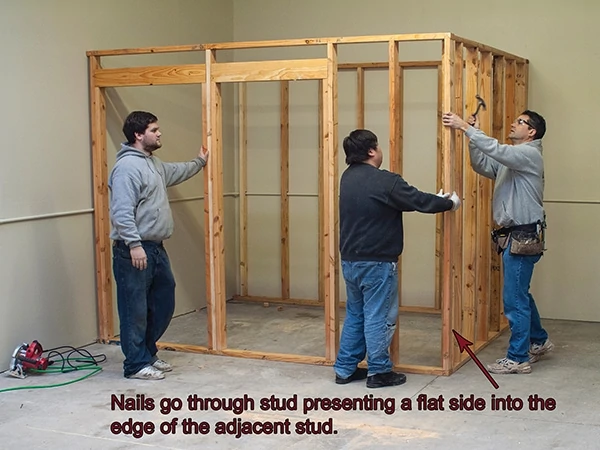 After aligning the walls, we nailed the corners together.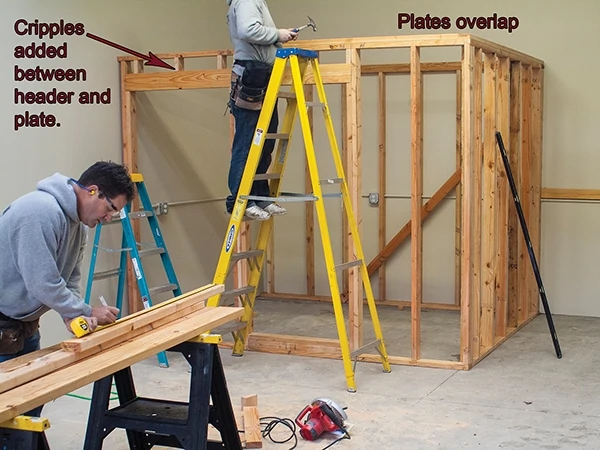 The walls were further tied together by adding a top plate that overlapped the joints where the bottom plates met. This double plate design adds strength to the deck support.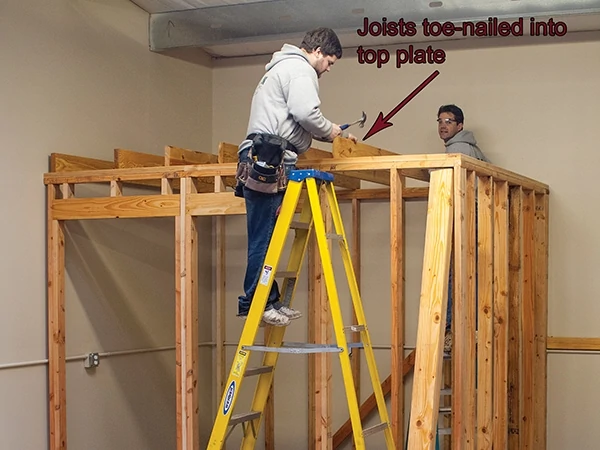 We followed the stud layouts with joists sitting on the top plates. The joists spanned the short direction across the room. The joists ended 1-1/2 inches back from the edge of the plate on the front wall to allow for a rim joist.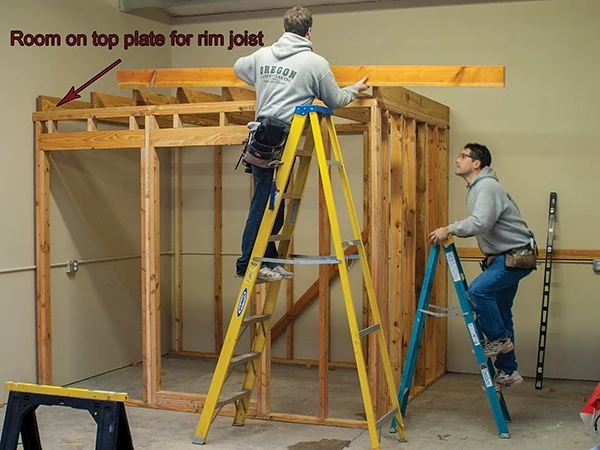 The rim joist capped off the joist bays to tie the joists together.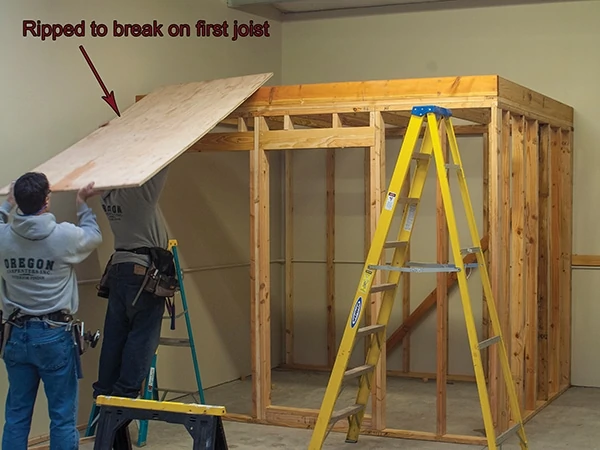 We cut the first sheet of plywood to break in the middle of a joist. The joist layout allowed full sheets from there.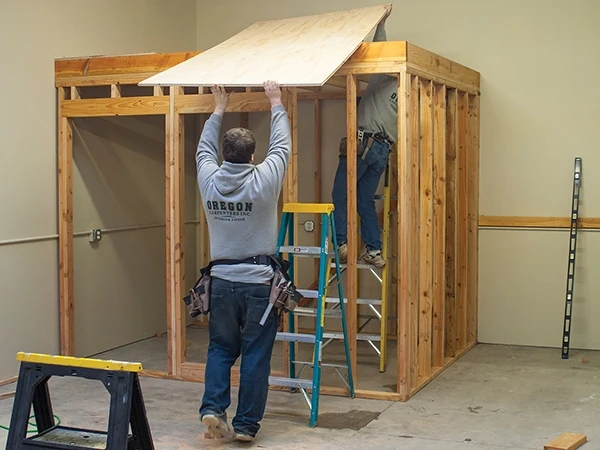 The storage deck was finished with 3/4-in. plywood.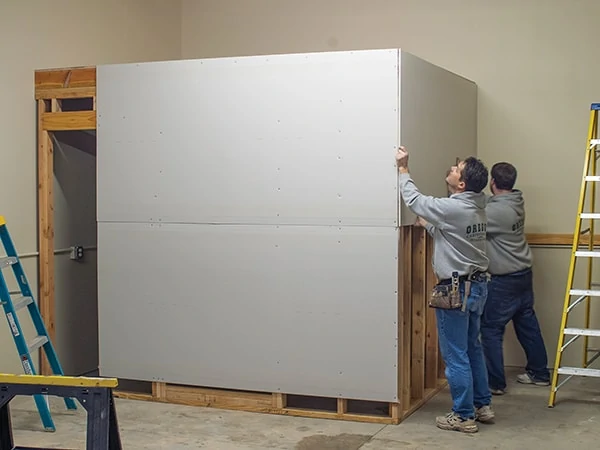 We added drywall. Note that we went right over the window and door openings with full sheets.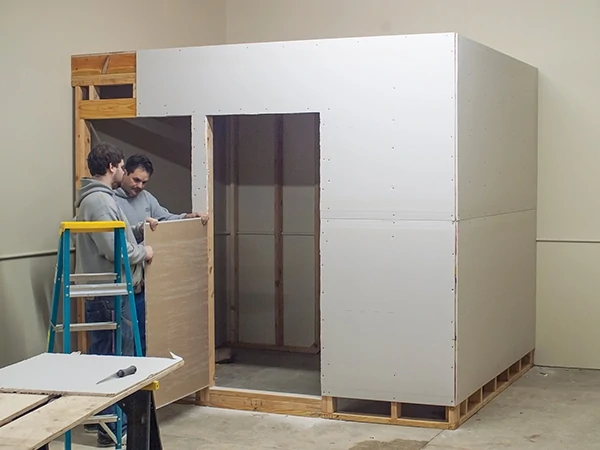 We cut out the window and door openings after nailing and screwing off the drywall but before hanging drywall on the inside.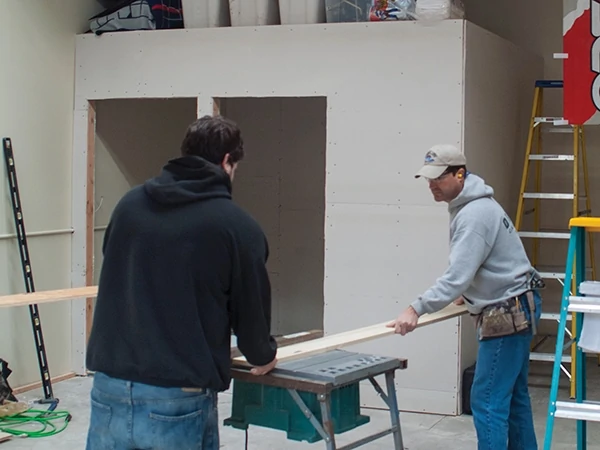 We ripped window sills to the net thickness of the window wall, including framing and drywall.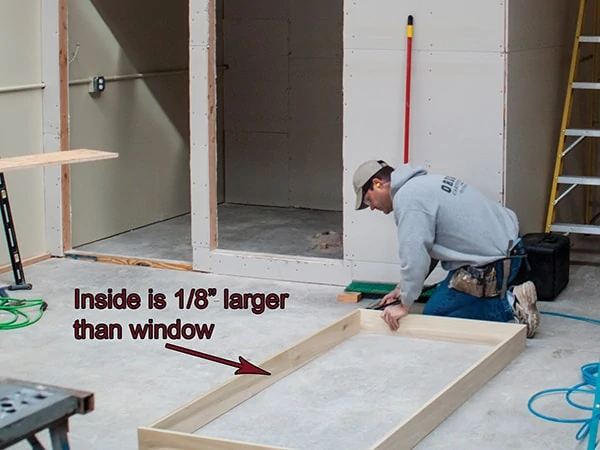 We nailed the window surround into a box before installing it into the window opening.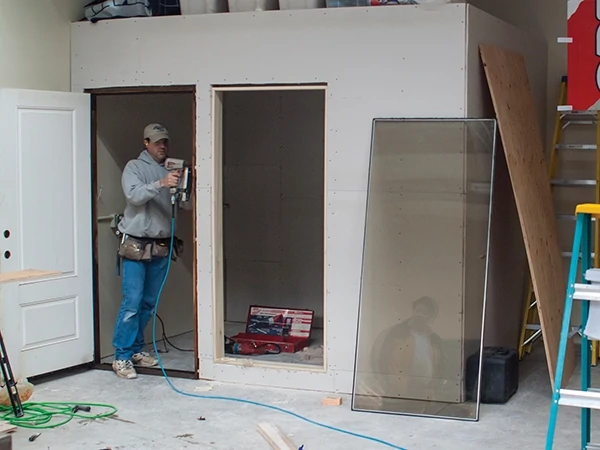 The pre-hung recycled door and jamb were installed next.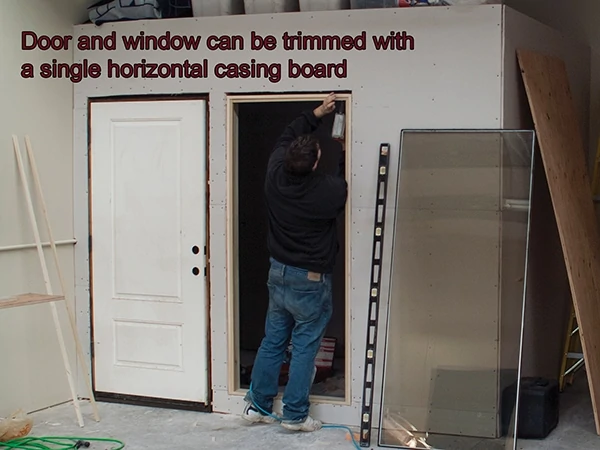 We installed the first set of window stops into the window opening.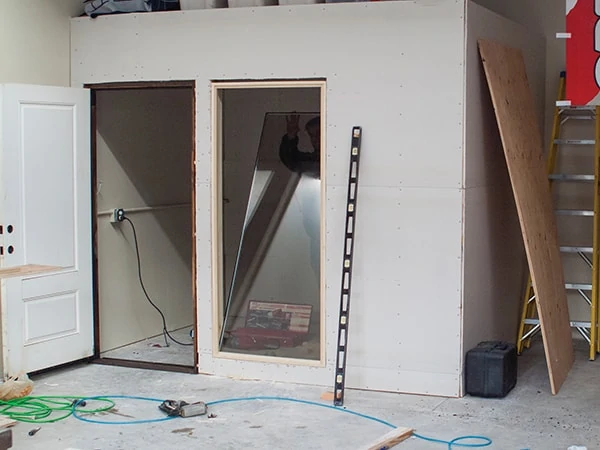 We tipped the window (a recycled double-pane patio door panel) into place and locked it in with a second set of stops.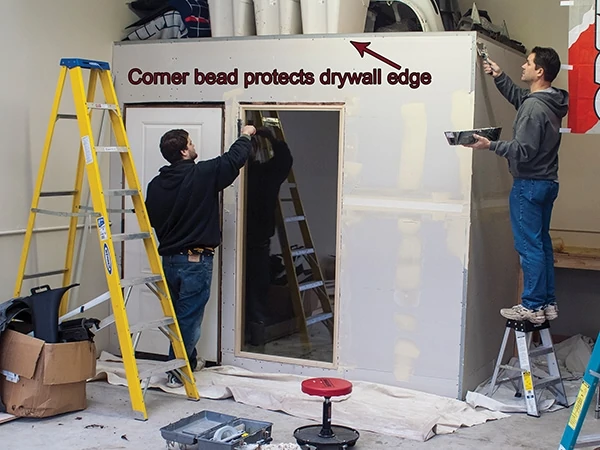 To complete the office, we added metal corner bead along the deck edge and on the vertical connection between walls before mudding the nails and taping the joints.
Side Note
WORKSHOP & GARAGE SUPPLIES
B'LASTER LUBRICANTS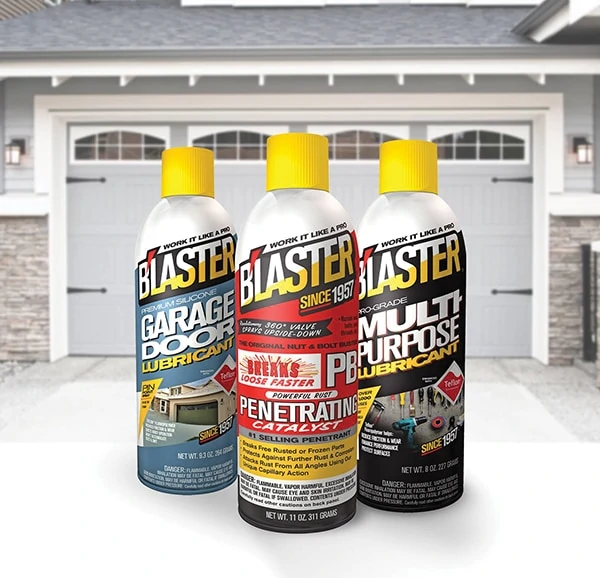 Summer is a great time to get some work done in and around the garage or and workshop. B'laster has many products that can help you achieve your summer project goals. Start with making sure your garage door is running smoothly with B'laster Premium Silicone Garage Door Lubricant. It quiets noisy garage doors by providing long-lasting lubrication. Use it on tracks and garage door mechanisms, it dries tack-free so it won't accumulate dust and dirt. Also, try B'laster Pro-Grade Multi-Purpose Lubricant on anything that is sticking or squeaking. It's great for all kinds of applications in and around the garage, from removing surface rust on hand tools to recreational equipment to lawn and garden tools to window and door tracks. It's an excellent water displacer and provides outstanding corrosion protection. And don't forget to use the #1-selling penetrant since 1957, the Original PB B'laster Penetrant on anything rusted, stuck or corroded. It's especially useful for automotive projects like brake jobs and also on various marine applications. B'laster products are born from professional applications and are formulated to penetrate, lubricate, loosen, overcome, fix and conquer each job. More information is available at www.blastercorp.com.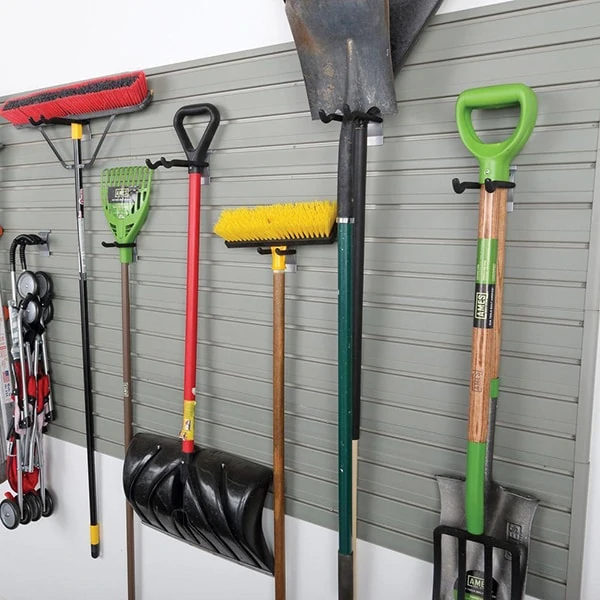 FLOW WALL PANEL SYSTEMS
For a multi-purpose wall storage system, FlowWall slat-wall panels with storage hooks and shelving provide a great solution for keeping your equipment within reach and off the floor. In fact, the EHT staff uses this system in our workshop. Flow Wall storage panels grow with you as your needs change, by creating a modular system that you can customize and expand on over the years. The panels are constructed from extruded 100-percent recyclable PVC, and they hold up to 100 lbs. per square foot. A set includes 48 square feet of panel with all installation hardware and accessories, (4) 8-in. long hooks, (6) 4-in. hooks, a heavy-duty dual bracket hook, and 4 metal bracket shelves. Visit www.flowwall.com.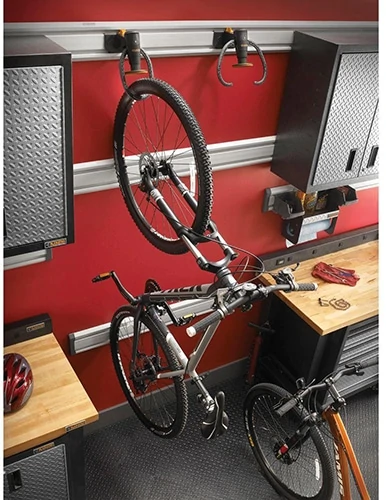 GLADIATOR BIKE GEARTRACK
The Bike GearTrack Pack is perfect for hanging bikes and helmets. This all-in-one kit includes everything you need to get started, including color-matched screws and end caps for a finished look. The GearTrack Channel can be mounted anywhere into three studs for whatever you want to organize. Plus, all of the hooks are easy to reposition. The
GearTrack Channel holds up to 75 lbs. per linear foot, the Gladiator Claw Advanced Bike Storage Hook holds up to 50 lb., and the Vertical Bike Hook holds up to 30 lbs. Visit www.gladiatorgarageworks.com.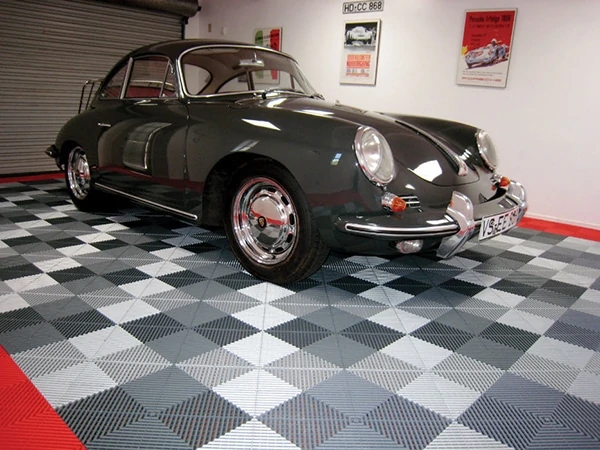 SWISSTRAX
Swisstrax easily, durably and reliably creates an eye-catching floor with 19 colors, 10 styles and 5 woodgrain patterns of modular flooring. Swisstrax interlocking tiles have been engineered for your garage with more than 20 years of innovation. Install the floor in hours and enjoy it for decades. Ribtrax, the most popular style (pictured), offers the overall strength and design for heavy items such as rolling creepers, jack stands and tool boxes to sit or easily maneuver across the floor. Ribtrax flooring tile's open profile design allows for an easy-to-maintain floor equipped with drainage underneath each tile. Visit swisstrax.com.