Photo Courtesy of J&W Lumber and Mendocino Forest Products
If you're thinking about installing a new patio cover for your outdoor space, you might be wondering about the differences between aluminum and wood patio covers. Both look stylish, protect against the weather, and won't break your bank.
So, which is right for you? This quick article will compare these two popular patio cover choices. 
Aluminum Patio Covers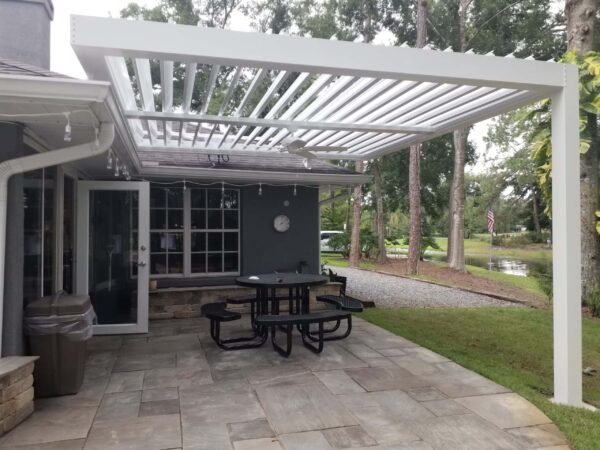 Aluminum patio covers have come a long way since they first hit the market. New designs and fresh features have pushed aside the old misperceptions of aluminum patio covers as flimsy or cheap. Traditionally designed aluminum patio covers today are stylish options for homeowners who don't want to spend too much time maintaining their patio cover – and are priced comparably to wood. There is also a new modern looking aluminum cover option that features a thicker, more durable framework that  can instantly elevate the look of your outdoor space.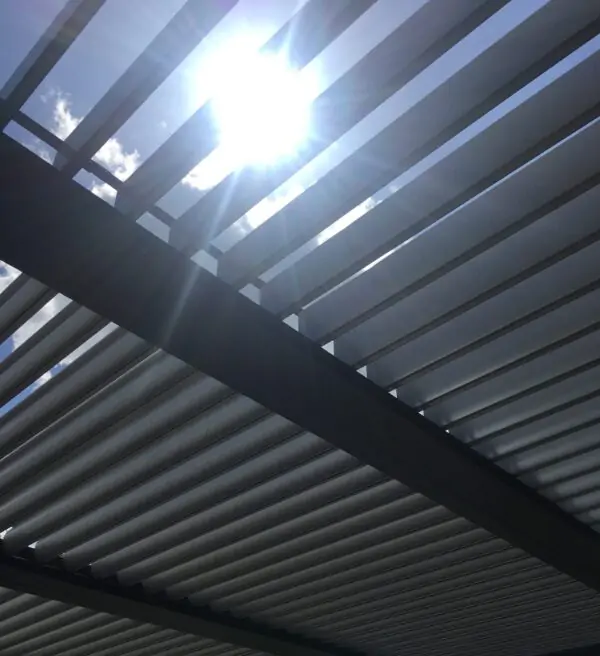 The pros:
Low maintenance Unlike wood, aluminum isn't subject to natural wear from heat, moisture, or pests.
Lightweight Aluminum posts and beams are much lighter than lumber, making these patio covers easier to install with a smaller crew.
Mimics the look of wood Some brands of aluminum patio cover feature thicker gauge metal embossed to look like wood.
Pre-painted Aluminum patio covers are already painted in popular outdoor colors, saving you the extra steps of sanding, priming, and painting.
Wider spans Because of its lightweight nature, aluminum patio cover posts can be placed slightly wider apart than wood.
New motorized louvers by Sundance Louvered Roofs are a unique aluminum system that allows you to instantly adjust the angle of the louvers using a remote control. Let in ample sun or close the louvers to create a solid roof cover that blocks the sun and rain.
Easily install electrical Hollow aluminum posts make it easier to hide electrical wiring for lights, fans, or other patio cover accessories.
Fire-resistant Aluminum patio covers won't burn, which makes them an ideal option for high-fire risk areas.
The cons:
Susceptible to denting The trade-off of lightweight aluminum is that these traditional covers dent more easily than wood. This is something to be aware of if you're planning to place your patio cover in high-traffic areas.
*Pro tip: The new, thicker aluminum cover design option is less prone to denting.
Custom paint matching required Because aluminum patio covers are pre-painted, should an area get damaged, you will need to match your paint to the pre-painted aluminum.
Wood Patio Covers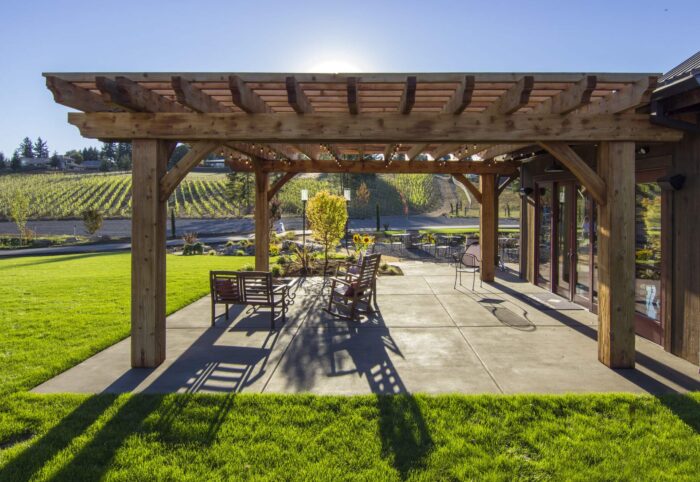 Lumber delivers the classic look most of us think of when we think of patio covers. Wood is often the go-to choice for homebuilders and DIYers – for lots of great reasons.
The pros:
Infinitely customizable Unlike aluminum patio cover systems, your wood patio cover can look exactly how you desire. Changing the posts and corbels or attaching unique materials like Wild Hog fencing or laser-cut modular panels can create a one-of-a-kind statement piece.
Natural materials Most patio covers are made from California redwood or Western Red Cedar. These are renewable, responsibly grown materials that will eventually biodegrade.
Warm, attractive aesthetic There's a reason some lines of aluminum patio cover try to mimic the look of wood. The grain in wood creates an inviting look that instantly conveys natural luxury.
Can be easier to install Certain wood designs, like the LINX Pergola System, enable you to simply inset wood posts into sturdy metal connectors and construct a free-standing patio cover in a few short hours.
Contrasting hardware Aluminum patio systems contain everything you need for installation, with hardware typically hidden. Attractive, outdoor-rated black hardware can be installed for a unique look that blends natural materials with industrial accents.
Easier to update in the future While self-contained aluminum patio cover systems provide less leeway for addition or customization in the future, wood patio covers are easier to update as your tastes change.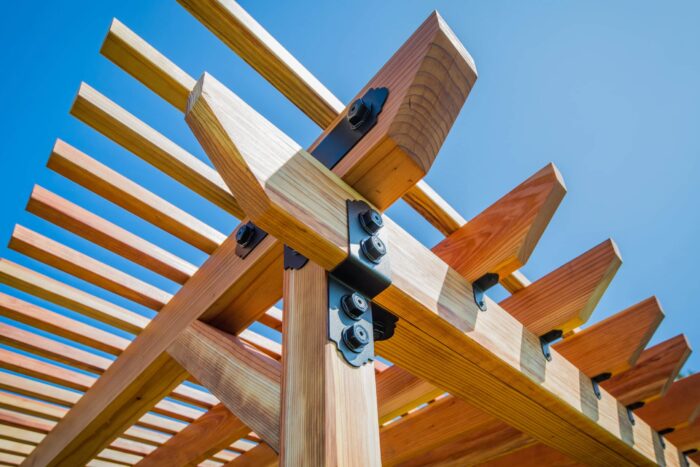 The cons:
Requires more maintenance Wood must be tended to every few years to keep it looking fresh and maintain its structural integrity. That means sanding, staining, and/or painting, which can be a big job.
Susceptible to decay Like every natural material, wood can break down when exposed to moisture, heat, sunlight, salt air, and pests. Preventative maintenance is key.
Can burn in fire Unless treated with special flame-resistant chemicals, wood patio covers do not resist fire.
The Verdict
So, which is best for you: aluminum or wood patio covers? Aluminum patio covers look great and require less maintenance. Wood patio covers are more customizable and deliver a classic look. No matter which option you choose, it's nearly impossible to make the wrong decision, since both types of patio cover will look great and stay strong for years to come.