There are three very good reasons why air compressors are so popular among professionals and DIY'ers alike; they're versatile, economical and powerful. An air compressor provides a single power source for a wide variety of tools that tackle everything from woodworking and metalworking to painting and mechanical work.
There's quite a variety of compressor sizes and capacities. Choose from small inflators, more powerful portable air compressors and professional-grade stationary models. The most popular units among DIY'ers are portable units that can do everything an inflator can, and much more. They can also be toted to the jobsite while still providing ample power. A portable air compressor is a great household tool that can inflate tires, operate an air brush kit and power short-burst tools like nailers and staplers.
Air Tool Value
Let's face it, you buy an air compressor to power your tools, and air tools offer some real advantages over electric tools. One of the biggest is that air tools do not require their own motor. This makes the tools more compact, lighter and easier to handle.
Air tools are also known for their long-lasting value. With electric tools, you have lots of small motors that can wear out. With air tools, you have a single powerful motor to run them all, and as a result air tools can perform for years and years.
Versatility is another advantage. Whether you're building a shed, painting a fence or fixing your car, you can easily interchange a variety tools at a single compressor, including a ratchet wrench, paint sprayer, angle nailer, finish nailer or impact wrench.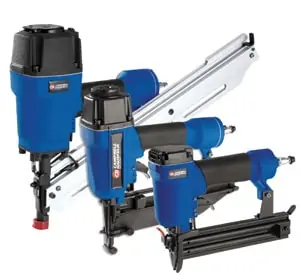 Whether you're building furniture or framing a house, short-burst tools like air nailers make the work fly by.
Assessing Compressor Power
There seems to be a lot of confusion about what to look for when choosing the right size of air compressor. Many people assume the higher the horsepower rating, the more powerful the compressor. However, horsepower can be misleading. Much like two race cars with the same horsepower rating, one of the cars can still go faster. There are many other factors influencing how well the machine will perform other than horsepower.
When purchasing a compressor, many people also consider the air pressure or PSI (pounds per square inch) rating. But most air tools require 90 PSI to operate, and most air compressors produce at least 90 PSI. Extra pressure does not necessarily improve the performance.
What you really want to pay attention to is the air flow. Some tools consume more air than others. Nailers need only a short burst of air. Sanders, on the other hand, need massive air flow. Air flow is measured in cubic feet per minute (CFM). The greater the air flow, the bigger the power output. When selecting an air compressor check the CFM rating of the most powerful air tool you plan to operate. Then choose an air compressor with a CFM rating that exceeds that of the tool. If the air flow isn't adequate then the tool won't operate properly. Many nail guns require less than 1 CFM. Most air tools require 3 to 6 CFM. For sanding or sandblasting applications you may require an industrial compressor that produces 6 to 13 CFM.
Also, don't be confused by manufacturers who give higher CFM ratings at different pressures. Since most air tools operate at 90 PSI, you should primarily be concerned with how much CFM you will get at 90 PSI.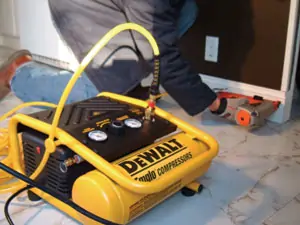 The new DeWalt 55140 is an excellent lightweight, low-noise compressor for trim carpentry.
More to Consider
The next factor is tank size. Sizes are usually listed in gallons. However, don't confuse larger tank size with more run time for tools. For intermittent use, a big tank is fine. But for continuous use, the compressor will need a smaller tank with a big pump and motor. If the power source is strong enough, you should not run out of air. Of course, the bigger the pump and motor, the bigger the compressor's price tag. For intermittent use, you can save money by choosing an air compressor with a smaller pump/motor and a larger tank.
Tank design is also something to consider, because what you own, you must store. Some units feature twin tanks, giving the compressor a box-like shape. Some tanks are round and flat, called a "pancake" design. Some tanks are designed horizontally, while others stand vertically to occupy a smaller footprint. Campbell Hausfeld offers the Vertizontal air compressor that has the unique ability to be stored in either a vertical or horizontal position.
Another consideration: Maintenance. Oil-free compressors have sealed bearings and require less maintenance than oil-lubricated compressors. Oil-free compressors usually have enough power for homeowner applications. Most heavy-duty, professional-grade compressors are oil-lubricated, but these compressors require regular oil changes..
Air compressors are also available as single-stage or two-stage models. Single-stage models are the most common for home usage. Two-stage compressors are usually found on commercial heavy-duty compressors, but are good choices for continuous-use applications.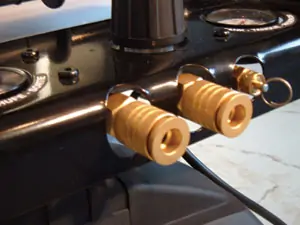 When selecting a compressor, consider its weight, size, portability, maintenance requirements and power output. Some compressors come with amenities such as dual hose outlets and accessory kits.
When selecting a portable compressor, consider factors such as the unit's weight and whether or not it has wheels. And when it comes to compressor weight, material matters. For example, the new Maxus Twin Stack compressor features an aluminum tank that makes the machine much lighter and easier to move around than with a steel tank.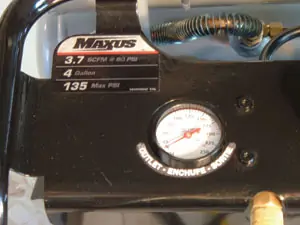 When choosing a compressor, look for ergonomic controls and easy-to-read guages.
And don't forget to look for easy-to-read gauges and easy-access controls. Factors such as the number of hose outlets are also important. Most portable compressors only have one, but the new Maxus Twin Stack has two outlets. Some compressors also come as kits with accessories such as hoses, couplers and even air tools.
Compressed Air on a Tool Belt

While writing this article, the EHT staff received word of something new in the world of pneumatic tools. Lowe's and Rhino Power have teamed up to offer a portable new Kobalt CO2 Regulator. The Regulator is compact and lightweight, and equipped with a standard universal connector to power most pneumatic tools—brad nailers, staplers, roofing guns, inflators, caulking guns, etc. It comes with a 10-foot extendible air hose and CO2 tank. The tank and regulator, which have a combined weight of less than 5 pounds, are designed to clip to your tool belt; just hook the pneumatic tool to the connector and go to work.

 

According to Lowe's, carbon dioxide is nearly 500-percent more efficient than traditional air compressors. The company estimates that a full 9-ounce CO2 tank will yield 675 shots with a brad gun, 338 with a brad/stapler and 270 with a caulking gun. And unlike battery power, CO2 will provide full power right to the last shot.

 

The Kobalt Portable Compressed CO2 Regulator will soon be available exclusively at Lowe's at a retail price of $99. A spare 9-ounce Rhino Power CO2 tank has an MSRP of $23.97, or you can exchange an emtpy tank for a full one at Lowe's, which costs only $5.97. Twenty-ounce tanks are also available.

  

At the time we got news of this product, the Regulators weren't yet available for the EHT staff to test. But it sounds like an intriguing concept in air power, so we'll be sure to check out the Kobalt Regulator when it hits store shelves in March of 2007.
New Compressors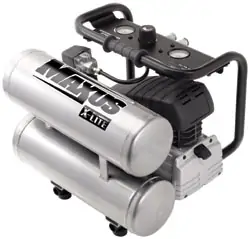 Lightweight and Contractor-tough Maxus EX8016
Our staff tested the Maxus EX8016 and it definitely earns the Extreme How-To seal of approval. This contractor-rated portable air compressor features a lightweight aluminum alloy tank. Its rust-proof, twin-stack tank is 50-percent lighter than comparable steel tanks. As a whole, the Maxus EX8016 weighs only 57 pounds, and that really makes a big difference when you're lugging the unit from place to place. Packing plenty of power for construction applications, this oil-lubricated, electric motor-driven compressor is an ideal unit for the contractor and serious DIY'er alike. Features include a recessed control panel, 1.3 running horsepower motor, 4-gallon tank capacity, 135 max PSI and 3.7 SCFM (SCFM refers to CFM at standard conditions). The Maxus EX8016 features a 5-year limited warranty.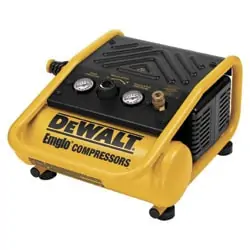 Dewalt's Quiet, Compact D55140
Earning another thumbs-up from the EHT staff, DeWalt's new contractor-grade D55140 offers quiet operation combined with a lightweight design. This heavy-duty 1-gallon, 135-PSI, trim compressor is ideal for finish carpenters and woodworkers. The D55140 produces .75 SCFM at 90 PSI, delivering high surge performance with quick recovery, and at 69 dBA, it provides a quieter operation when compared to existing compressors in the marketplace. The compressor was designed with a 2.6 amp-draw motor to deliver easy start-up and reduced breaker tripping, as well as a high-flow regulator that provides maximum air pressure for increased performance. The D55140 is equipped with an oil-free, long-life pump, allowing for maintenance-free operation. And weighing just 24 pounds and measuring 9 inches wide, the compressor is easy to transport and store.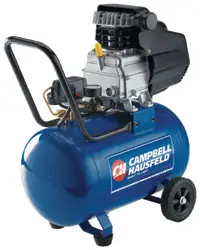 Campbell Hausfeld 1.3 Running-HP Compressors
Two great light-duty compressors for around-the-house jobs, Campbell Hausfeld's new 1.3-running-horsepower air compressors feature long-lasting cast iron cylinders and oil sight glasses for easy monitoring of oil levels. Both models are oil-lubricated and feature a low amp-draw motor. The HL4210 compressor has a 10-gallon horizontal tank. The HL4315 has a 15-gallon vertical space-saving tank. Both units offer 3.7 SCFM at 90 PSI. The new Campbell Hausfeld units are sold exclusively at Wal-Mart.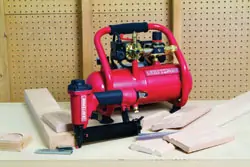 Craftsman Compressor and 2-in-1 Nailer/Stapler Kit.
This compressor is lightweight and compact (20 pounds), and features a 1-gallon tank and a direct-drive, oil-free design for low maintenance. It operates at only 66 decibels and delivers 0.42 CFM at 90 PSI (offers 125 Max PSI). The compressor comes with a 15-foot coil hose with couplers, as well as the 2-in-1 Nailer/Stapler. The patented "quiet release" feature in the 2-in-1 gun slowly releases the compressed air from the tool, eliminating the loud sudden burst of air when disconnecting the hose from the tool. The nailer has a compact, lightweight design and is well-balanced and easy to carry.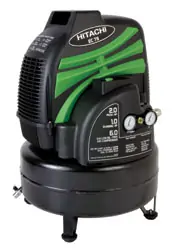 Hitachi's EC79 6-Gallon Pancake Compressor
This portable oil-free compressor features a contractor-grade induction motor for extended life. The integrated control panel protects all components from damage while protecting the end-user from hot surfaces. The centralized controls, oil-free pump and easy to use ball-valve tank drain simplify operation and maintenance. The "pancake" tank design makes the EC79 compact and easy to transport. The EC79 offers 2 peak horepower and 1 running horsepower, and provides 2.7 CFM  at 90 PSI, making the EC79 capable of accomplishing short-burst applications with tools like finish nailers and staplers.