No one is quite sure how it happens. But it does. And with each new dawn comes the warm reassurance that it will happen again.
The power of the sun to rejuvenate the human spirit is not completely understood. Even with the advances in modern medicine, scientists continue to struggle for a definitive theory. But the fact remains that the effect of the sun on the human soul is real — a feeling which can be found within the comfort of your own home.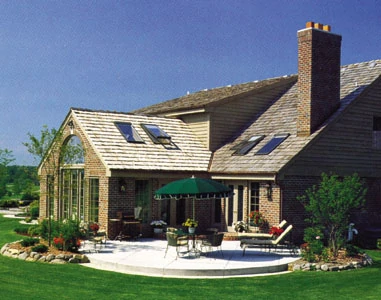 Not only will you enjoy the healing effects of natural light, but also the benefits of more room for your family, the perfect environment in which to grow plants and enjoy an unobstructed view of the great outdoors. And for the more practical homeowner, a sunroom is one of the best ways to increase a home's value and help cut energy costs through passive solar heating as well.
No other addition to your home can do so much for so little. When installing a quality skylight designed with solid wood frames, double-pane insulated glass and maintenance-free aluminum cladding, the only thing you need to worry about is which direction you want the sun to enter your home. Roller shades and Venetian blinds are available to help control how much or how little light you'll want on any given day. And choosing a Low-E argon gas-filled model will increase your home's energy efficiency. Add a ventilating feature and you are assured of maximum comfort.
Ventilating skylight models that open and close allow fresh air to circulate throughout the room with the turn of a rod or the push of a button. You can even choose to operate a ventilating skylight via remote control. 
Where to Put Your New Sunroom
Skylights offer you the flexibility to build a sunroom that looks like a natural extension of your home and not like an afterthought. If you are looking to add more light to your home or want to take advantage of the sun's passive solar benefits, try to position your sunroom so that it is facing southward. Also try to build your new addition under a tree that sheds its leaves in the fall. This way you can receive the benefits of shading in the summer and the warmth of the sun in the winter. And if by chance you're thinking of using your sunroom as an artist's studio, keep in mind that a northern exposure will provide the perfect soft lighting for creating your works of art.
Things to Consider
You will need to determine if your sunroom is in accordance with property setback lines and other zoning restrictions. A local Planning or Zoning Office can advise you of these items. Also, care should be taken to ensure that existing lines such as water, sewer, gas, electrical, telephone and cable are not damaged during construction. Additionally, certain utilities such as septic tanks and their lines cannot be covered by a building and must maintain a minimum clearance from any structure. Ask the Health or Building Authority in your area for these requirements. 
Think about how you plan to access your sunroom. Ideally, you will want to make use of an existing door or window that can be made into any entranceway. And, if this room is going to be used by the whole family, consider a design that allows access from more than one room. If you plan on dining or entertaining there, try and locate it near the kitchen or pantry. 
And finally, make sure the location doesn't interfere with any second story windows or other architectural features. And always make sure to match the slope of your new roof with your existing roof. This is one way to ensure your sunroom will look like a natural extension of your original house.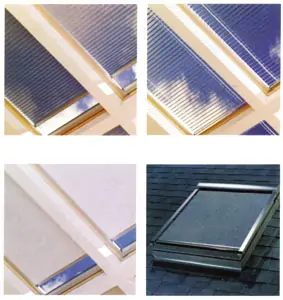 Sunscreening accessories are always a good idea.
From Soft Light to No Light, How To Gain Control of the Sun
No matter what type of climate you live in, it's always a good idea to equip your sunroom with some form of sunscreening accessories. Roller shades provide excellent sunscreening protection from the midday sun, while Venetian style blinds are an attractive way to limit the amount of light and heat that enters into your home. Skylights that incorporate high-performance glazings increase your sunroom's ability to reflect heat during the day, and keep warm air in during the night. Particularly useful is a Low-E, argon gas-filled bronze tint option in which clear, odorless argon gas is injected between the panes of glass to further improve the unit's energy efficiency.
Heating and Cooling
Ceiling fans coupled with a ventilating skylight will generally create enough circulation to keep your sunroom cool and comfortable. But should you need additional backup, it's always a good idea to check with your local contractor to see if your current heating and air conditioning system can handle your new sunroom. If you do need additional vents, you may want to install a designated system that can be turned on only when needed. 
While all of these suggestions may seem like a lot to consider, they really are not. All it takes is a little initiative, a little imagination and the desire to build a room capable of capturing the power of the sun.