So many of us work in a cubicle, eat at chain restaurants and drive a car that thousands (or millions) of others drive. So, it's nice to have something that you can really put your stamp on as an individual, and your home can be just that. A place that reflects who you and your loved ones are is what makes the difference between a house and a home.
Unfortunately, so many houses fall into the cookie-cutter, cubicle-like category: seas of sameness and unoriginality—like they came off an assembly line. Fortunately, there are options for those of us who want something different, something unusual, something better. All it takes is some imagination, some determination and some know-how.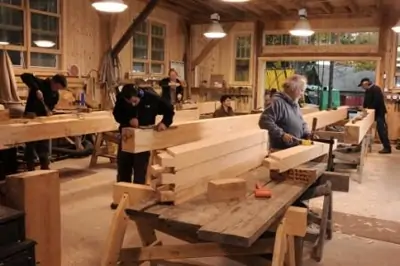 Timber Frame Construction
Timber frame construction is one of the oldest construction methods, and many frames built over a thousand (yes, a thousand) years ago are still standing—and still in use—a testament to both the framers' skill and the timber frame method itself. This sustainable form of building does not use metal, including nails, for joinery. Rather, each building frame is a unique wooden sculpture composed of large wooden beams that lock together with wooden pegs to form the visible interior (known as mortise-and-tenon joinery). This results in a frame that is structurally stronger than conventional platform construction, and actually uses less wood.
John Sweet, owner of Sweet Timber Frames in Mount Desert Island, Maine, is passionate about timber framing, "Timber framing is an art form—we hand-carve all our frames, so each home is unique. Timber frame owners aren't looking for something everyone else has; they're looking for something that's as individual as they are." Over the years, the team at Sweet Timber Frames has found there's a wide audience for timber frames. "We've built homes, barns, boat houses, pergolas and doors," says John Sweet. "The beauty and originality of timber framing is only as limited as your imagination."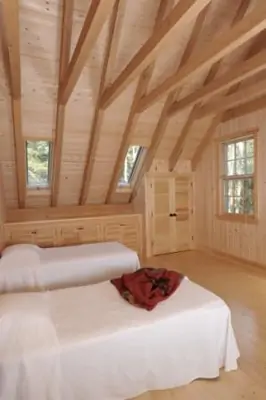 The process of creating a timber frame clearly takes a certain level of skill, as the team at Sweet Timber Frames can demonstrate. The wooden pegs act as a locking mechanism with the joints of the timbers. When the frame of the house is put together (either by hand or with the use of a crane) the only element holding the entire structure together is wood; the wooden pegs and timbers expand and contract harmoniously. There are significant eco-advantages timber frame structures have over standard stick-built homes, so it's an excellent option for the environmentally conscious.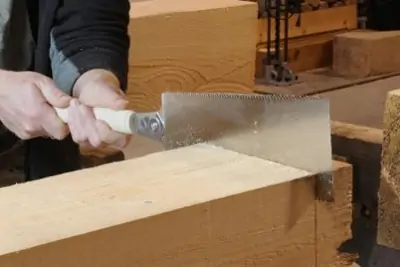 At Sweet Timber Frames, all joinery is housed and drawbored, which ensures it stays tight even when dry. In drawbored frames, the peg holes in the tenons are offset approximately 1/8 inch. This offset hole drifts the tenon into the mortise housing. The peg holds both mortise and tenon in tension. Frames of this quality will last many generations, ensuring a more than sound investment. 
Kit-Built Homes
           If timber framing is beyond your skill or budget level, you can still consider building your own home. Not a contractor? Not a builder? Never built a structure? No problem. Shelter-Kit, based out of Tilton, New Hampshire, is in its 40th year of manufacturing DIY kit homes, barns and garages, all of which are engineered to exacting quality and precision specifications so that anyone (including you) can in fact, build their own structure.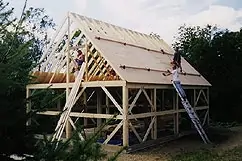 So, just how does this actually work? Shelter-Kit products are designed to be buttoned up quickly and easily—they can be assembled by only two people in 3 to15 days. "The directions are simple and straightforward—truly," says Dave Kimball, owner of Shelter-Kit. The structures are manufactured in their facility to exact requirements, and shipped to all 50 states—and even Canada and internationally. While some owners do ultimately decide to have a contractor assemble their Shelter-Kit structure, most opt to build it themselves.
"I don't think anything can beat the personal satisfaction of being able to say that you actually built your own home," says Kimball.  In fact, a majority of their customers are women, putting to rest any misgivings that this is "man" territory.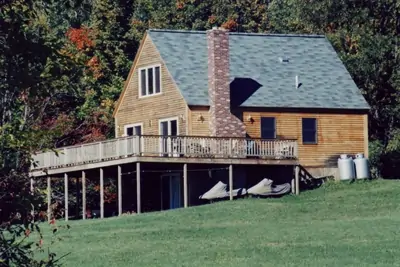 It may seem counter-intuitive that any structure could in fact be efficiently and safely built by non-builders. In fact, the company was founded in 1970 with the goal to design and produce buildings primarily for assembly with no prior building experience. The first was a "Unit One" cabin, and from there, the company expanded into the modular and expandable "Lofthouse," then on to barn and garage kits (all the kits come with the necessary materials to build a complete, weather-tight shell). In fact, Shelter-Kit has just launched their Green Kit Home, allowing consumers the option to build a truly green home.
So, when it comes time for you to think about your next home, let yourself think outside the cubicle, and consider what's important to you—this is what will make your house your home. Whether it's a one-of-a-kind handcrafted timber frame, or you built it yourself … home is where the heart is, and the heart is where you, as an individual, are.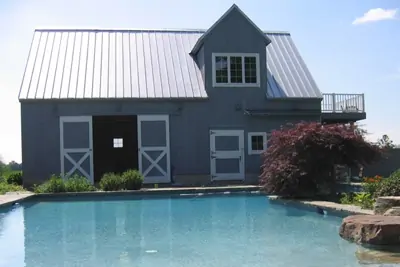 Resources:
Sweet Timber Frames at www.sweettimberframes.com
Shelter-Kit, Inc. at www.shelter-kit.com