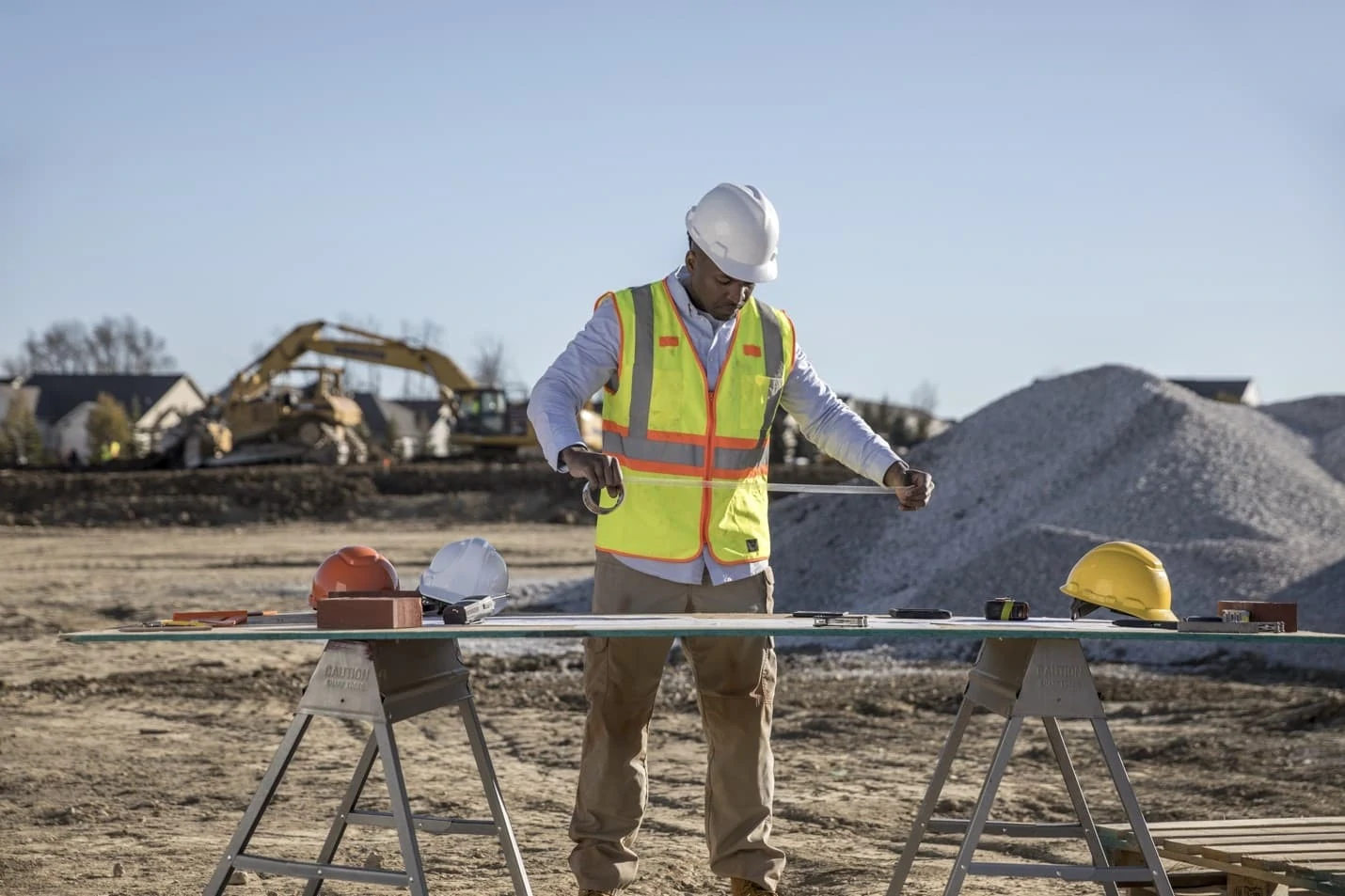 A broken bucket handle or cracked shop-vac aren't just minor annoyances on the job site – they're common frustrations that can lose you money in delays, unnecessary trips to the hardware story and expensive repairs or replacements.
Instead of falling behind on your next project, consider keeping a professional grade duct tape on hand as your backup. It's the tool you don't realize you need until you need it. Here are seven tips for using different types of duct tapes for unexpected, on-the-fly repairs and improvised tools.
1) Create a makeshift chain
Rope and chain are handy tools for unforeseen jobsite tasks — but they're also cumbersome and they take up a lot of space. Which means they're often left behind at the shop when you need something for tasks like hoisting tool boxes and materials to a roof or platform. Enter heavy-duty duct tape. A product like T-Rex® Brute Force™, which can hold 700-plus pounds of weight with one 36" loop, can easily handle the job and be cut to the size you need.
2) Keep your socks dry
Torn boot uppers or holes in the sole are one of the most common annoyances you can experience. If you're working in wet conditions, those annoyances can become hazards. Some rubberized pro-grade tapes are specifically designed with waterproof and extreme adhesive qualities, which makes them perfect for keeping sand, dirt, water, mud and other liquids out.
3) Repair or replace that broken bucket handle
Buckets always seem to break in the most inconvenient situations. Don't let a busted handle force you to make a 20-minute work detour for a trip to the hardware store – tape it up, reinforce it, and get back to work with a high-strength tape.
4) Keep a hammer hammering
Tools aren't indestructible, and when they break you can lose money in delayed work if you don't have a backup on site. If a hammer handle snaps or the head comes off mid-job, wrap it with an extra-strength duct tape to get you through the rest of the day.
5) Keep the paint flowing
Paint sprayers are a real time saver — until you accidentally puncture the hose. Instead of reaching for a brush or roller to finish the job, try wrapping the hose with multiple layers of a high-adhesive duct tape to help keep it sealed until you can pick up a new one.
6) Patch your truck's interior
Contractors often reach for duct tape to patch holes in truck seats. But standard duct tapes tend to curl in extreme temperatures, moisture and constant wear. Reach for a stronger alternative like the original T-Rex® Tape, which won't curl or peel even in extreme temperatures.
7) Unspring a sprung leak
A cracked, torn or ill-fitting vacuum hose is a recipe for a mess. Use a waterproof tape to patch it up, reinforce the connection of the hose to the main vacuum chamber, or, combined with caulk, even patch a crack in the chamber itself.
Instead of falling behind on your next project, reach into your toolkit for a professional-grade tape. The repairs may not be permanent, but having a tape on hand as backup on the job site can help keep you on schedule and on budget. Learn more at shuretapetech.com.