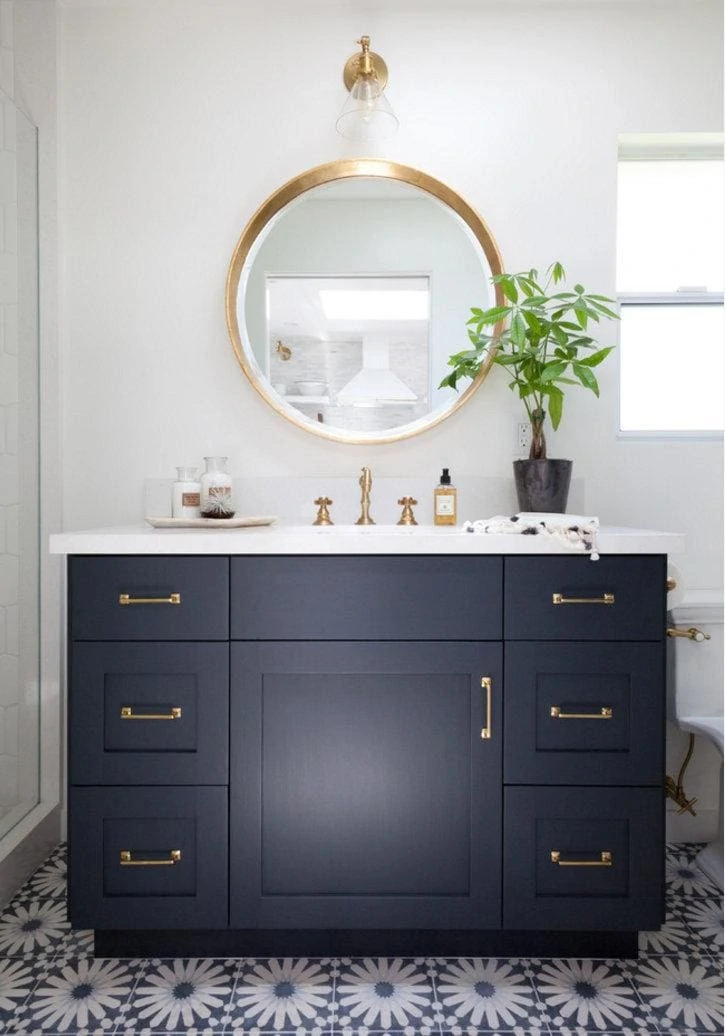 (guest post by Kori Cantor, Image Courtesy)
For most of us, it is the bathroom where we feel mentally at peace to contemplate over the meaning of life. For others, it is the place to unwind and relax; and for some, it is the most personal part of the house. The bathroom is much more than a mere showering area. However, if you find this space to be a little cramped up, dated, or simply in need of more functionality or better vibe, consider giving it a stylish and a utilitarian makeover.
Paint it Out
The plumbing changes may seem daunting, changing the hardware of the bath cabinet will be time consuming, and the whole revamping process may seem overwhelming. However, you can instill some fun to your bathroom remodel process by adding a fresh coat of paint to your bathroom. Paint your bathroom walls a fresh new color in just a few hours. Or, if you do not want to paint all your walls, add a pop of color on one of the walls. Fixtures of a bathroom are usually light-colored or in pastel hues, this burst of color would be a great addition. But if you like your bathroom to be a calming and tranquil place, go for lighter shades like sky blue, off-white and  the likes.
You can also consider painting the bathroom cabinets, but that will be a more lengthy process and might involve the installation of a new countertop or sink. Whatever your decision, beginning your bathroom remodeling with a coat of color will be a good idea.
Floors Are Forever
It may be easy change bathroom decor every few years to give it a new look, but changing floors frequently is not an option for most. So, pay attention to your floor when remodeling your bathroom. Consider your budget, style and utility before deciding on it.
While ceramic tiles remain the most preferred option for their durability, waterproof and stain-resistant nature, make sure to pick tiles that are certified slip-resistant as well.
Do take care to not install tiles over plywood. Plywood can swell with moisture and break the tile bond. First mortar and screw a 1/4-inch cement backerboard over a level subfloor and then lay the tiles on top.
Installing flexible underlayments below ceramic tiles is another way to prevent cracks in them as they distribute the weight they carry.
The next most feasible option is vinyl as it is easy on the pocket, waterproof, stain-proof, and easy to clean. Vinyl installation can be handled by experienced DIY'ers; however, consider hiring a professional for installing it in larger floor spaces.
Felt or foam backing makes vinyl softer than wood or tile, and functions as a huge preventive for slip-and-fall accidents.
Revamp the Shower Area
Luxury has been redefined to include convenience and style in equal measures. Make your shower area more accessible by making it barrier-free. Keep minimum items in the showering area by getting rid of protruding soap dishes and shelves.
Installing shower seats and hand-held showers is a great way to put convenience first without breaking the bank. Consider installing a shower bench to be able to sit while bathing. A bench that runs along the length of the shower sticks to the no-barrier style and amps up the convenience factor.
When it comes to hand-held showers, make sure they're positioned correctly for maximum benefits. If they reach only your thighs and not lower, they serve absolutely no purpose. The correct position of the hand-held shower is, thus, of paramount importance.
At the same time, you will want ample storage to keep your precious shampoos, body washes and more. Invest in in-the-wall shelving for a glamorous style and clean silhouettes in your bathroom.
Another way to add instant space and elegance to a small shower area is to install a curved shower rod.  It is attached to the wall with screws and looks sophisticated. So, you need not worry about the rod getting pulled down. Another tip is to opt for a curbless shower that has no lip at the floor.
Rev up the Décor with Lighting and Accent Tiles
A bathroom is not entirely new if it does not get brand new lights.  Pick and plan new lighting fixtures early on in the project so that you can run a new cable, if required. Recessed lighting is an ideal option over the shower for better illumination.
The vanity is another area that needs good lighting. Place lighting fixtures on either sides of the mirror, ideally spaced 36 to 40 inches apart. If there isn't enough space for side scones, install a long fixture above the mirror.
Maintain your economics and aesthetics by installing a few accent tiles on your bathroom wall. Adding a mosaic or glass tile can do much for your bathroom. Yes, they are expensive, but you need just a few to add some chutzpah. These tiles will give the walls a whole new personality.        
Add a New and Unique Element to Your Bathroom
Whether it is something as detailed as a high-end plumbing fixture in the sink, a custom-made vanity top, a heated towel rack, or simply something cool bathroom radio to karaoke into your showerhead, add a never-before element to your bathroom and make your remodeling project both, fun and functional.
The above checklist is all you really need to take into consideration when remodeling your precious bathroom. Also, make sure to look after the pipes to prevent them from freezing due to frost and snow during winters. Go ahead and remodel your bathroom to include convenience, durability, style, and comfort.
Author Bio: Korie Cantor is a writer who writes about living and lifestyle. She possesses a great sense of style and loves to share her thoughts about fashion and it's latest trends. Follow her @koriecantor