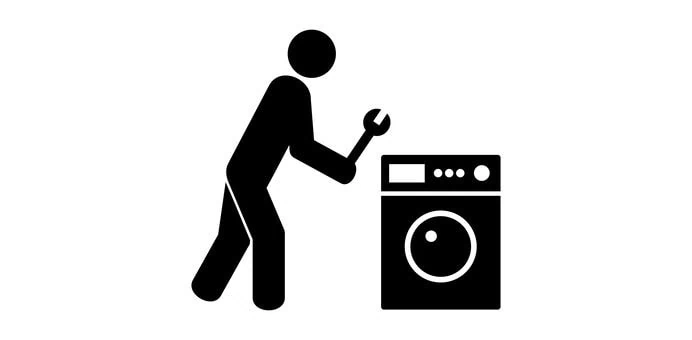 (guest post by Chris Zeisler)
Not every homeowner is a handy person, but with the right resources, you don't have to be.
While some appliance repairs are jobs for professionals, others are simple enough that even homeowners who aren't mechanically inclined can handle them – especially if they know where to go to look for repair help.
These simple repairs to five common home appliances will save homeowners money that would otherwise be spent on service calls and labor.
1 – Refrigerators: The gaskets on the refrigerator doors – an important feature to both lower energy consumption and preserve food – often become ripped or cracked, and it's a repair almost anyone can do.
Most gaskets today need to simply be pushed into place; older fridge gaskets may have screws that need to be loosened to install a new one.
2 – Ovens: Bake and broil elements like a light bulb in an electric oven can fail, but they are usually simple repairs. Make sure to shut off power to the oven or unplug it; then unscrew and remove the old element and replace it with a new one.   
On a gas stove, the glow bar igniter frequently fails, and while it's a fragile part, it's also easy to DIY. It's a bit more involved than the bake/broil elements on the electric stove, because access panels have to be removed, but it's not too overwhelming, and requires just a screwdriver or multi-tool.
3 – Dishwashers: Dishwashers also have a door gasket that can tear – and a functional door gasket is the difference between a leaking dishwasher and a sealed one. Gaskets can be ordered and repaired quite easily; like a refrigerator, some only need to be pushed into place, while others are slightly more challenging, but none is very difficult to repair.
The detergent dispenser is another relatively straightforward fix. Depending on the model and age of the dishwasher, fixing this might be as simple as replacing a spring, or may require replacing the enter dispenser module.
4 – Dryers: Homeowners should check the dryer venting and ensure it's still in good shape, with no dents or dings; if the venting system is damaged, it should be replaced, and is an easy part to find and install. Note that all municipalities' code dictates this must be rigid metal (galvanized or aluminum).
Dryers also have felt seals between the drum and bulkhead to seal the dryer drum, and the seal can often become compromised and worn. This is an important component to ensure the dryer is heating correctly, and can easily be removed and replaced.
5 – Furnace: Homeowners didn't always think of the furnace as something they can fix themselves, but this attitude has changed in the past decade or so. While there are elements of a furnace better left to the pros, there are other simple DIY fixes most homeowners can handle.
Start the heating season with a fresh air filter, and replace it every month or so if it's a standard paper-style filter. A clean air filter will reduce indoor contaminants as well as facilitate proper airflow into your home.
Also at the start of the heating season, turn off the power switch, take off the front panel of the furnace and gently clean the inside with a vacuum attachment or soft brush to remove dust from the furnace components. Keeping dust off the electronic components doesn't take long, and can save a lot of money down the road.
If ductwork has any air leaks, seal them off with either a liquid sealant or heavy-duty aluminum foil HVAC tape.
If the humidity is too low, replace the furnace's humidifier (a separate appliance from the furnace). Also known as a humidifier pad, this furnace humidifier component ensures proper humidity to keep the home's air from getting too dry. Replace the water panel, set the relative humidity between 35 and 45 percent, and turn the water supply to the furnace back on.
Editor's Note: Chris Zeisler is Master Technician for The Repair Clinic at www.repairclinic.com.