Event: The Kitchen & Bath Industry Show (KBIS)
Where: Las Vegas Convention Center, Las Vegas, Nevada
When: JAN 31 – FEB 2, 2023
The Kitchen & Bath Industry Show (KBIS) is the North America's largest trade show dedicated to all aspects of kitchen and bath design. KBIS, in conjunction with the National Kitchen & Bath Association (NKBA), is an inspiring, interactive platform that showcases the latest industry products, trends and technologies from hundreds of exhibitors. KBIS is part of the the 10th Annual Design & Construction Week® (DCW) and is co-located with the National Hardware Show and The International Builder's Show. This preview offers a look at the exhibitors we recommend to  add to your show planner.
L.R. Brands-An Oatey Innovation 

Booth N1749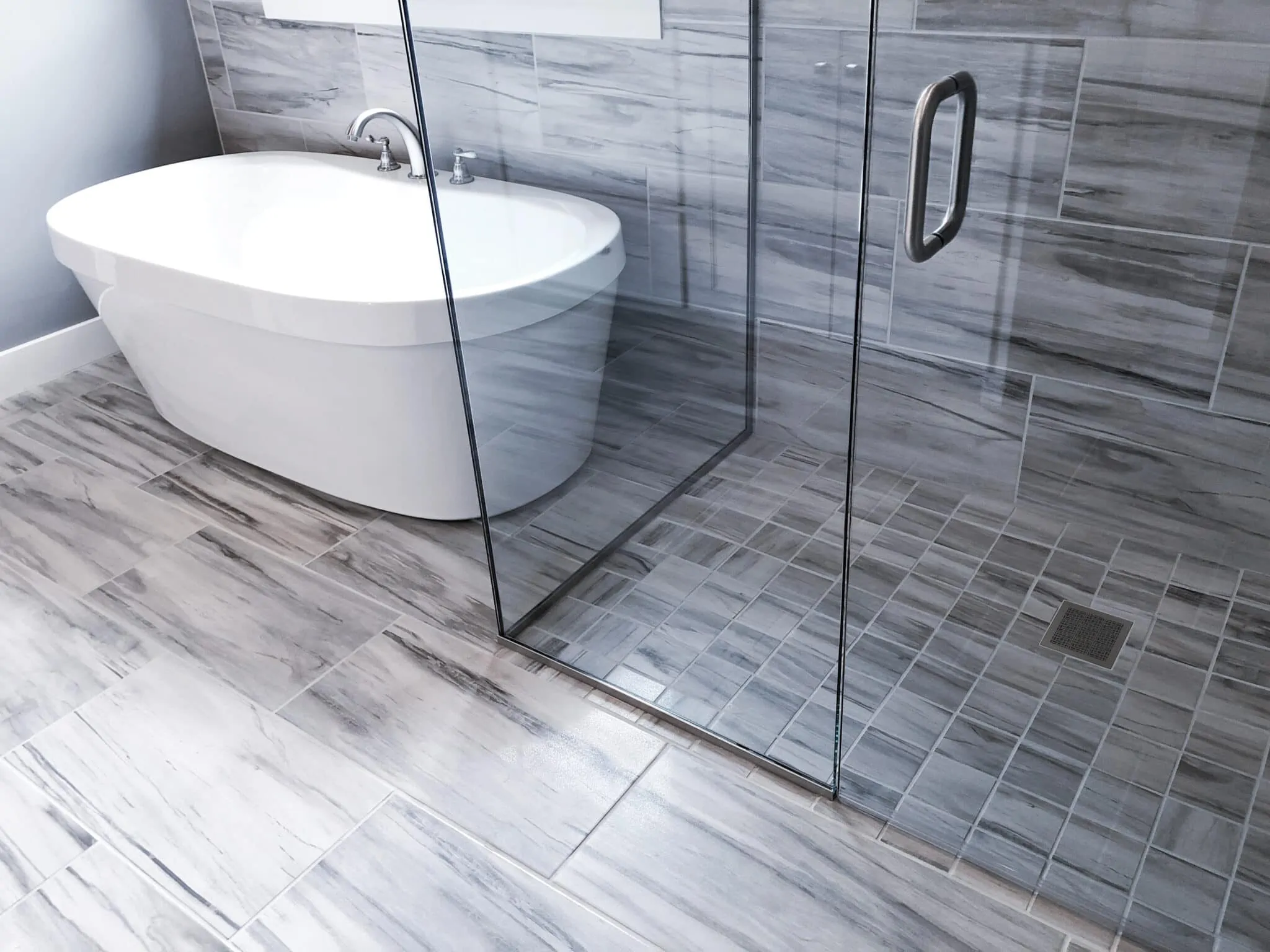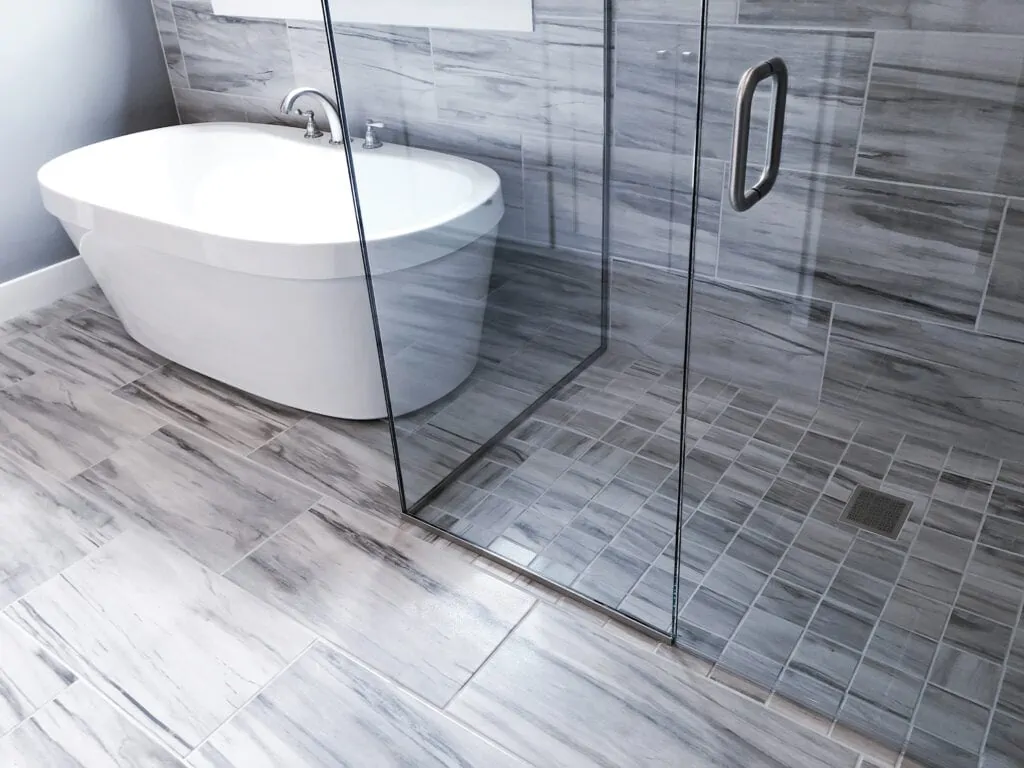 The ultimate in shower luxury and design innovation, coming soon in easy-to-order assembly kits. QuickOrder by QuickDrain is the simplified, time-saving ordering process for select QuickDrain shower systems, offered in trending sizes, designs and finishes.
QuickOrder saves designers and contractors time and takes the guesswork out of building a custom-feeling shower solution – with all parts and components kitted together for an easy installation.
1916 Collection Universal Freestanding Tub Drain
The 1916 Collection Universal Freestanding Tub Drain works with freestanding and island center and offset tubs. When installed at rough-in, it provides simple installation between the P-trap and tub — without needing access from below the floor. Available in ABS, PVC or cast iron with a plastic or stainless steel flange, this drain is compatible with brass or Schedule 40 tailpieces. 1916 Collection is a carefully curated portfolio of thoughtfully designed, exceptionally engineered bath accessories that enhance both the form and function of every bath experience. To learn more, visit lrbrands.com
Moen- Booth N2605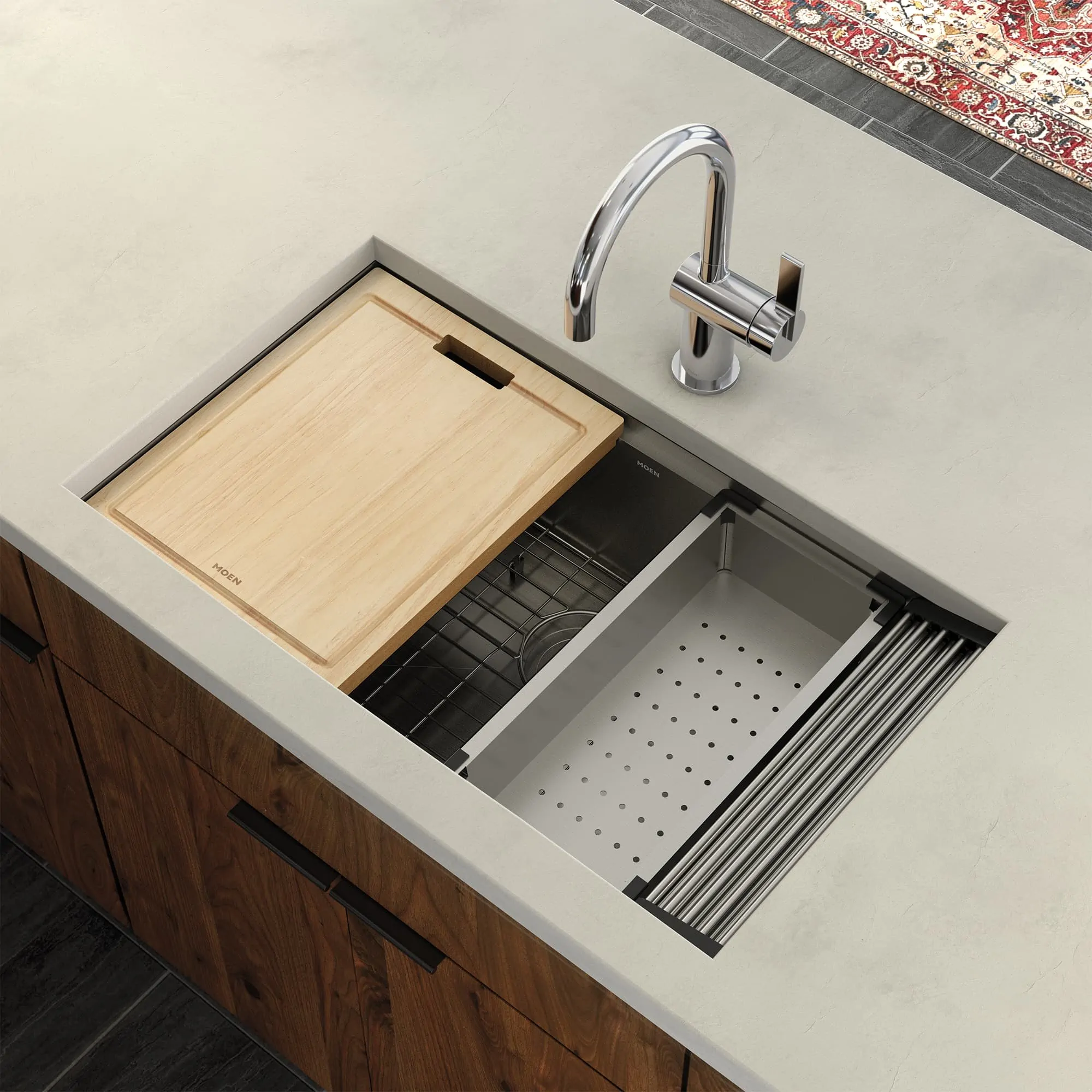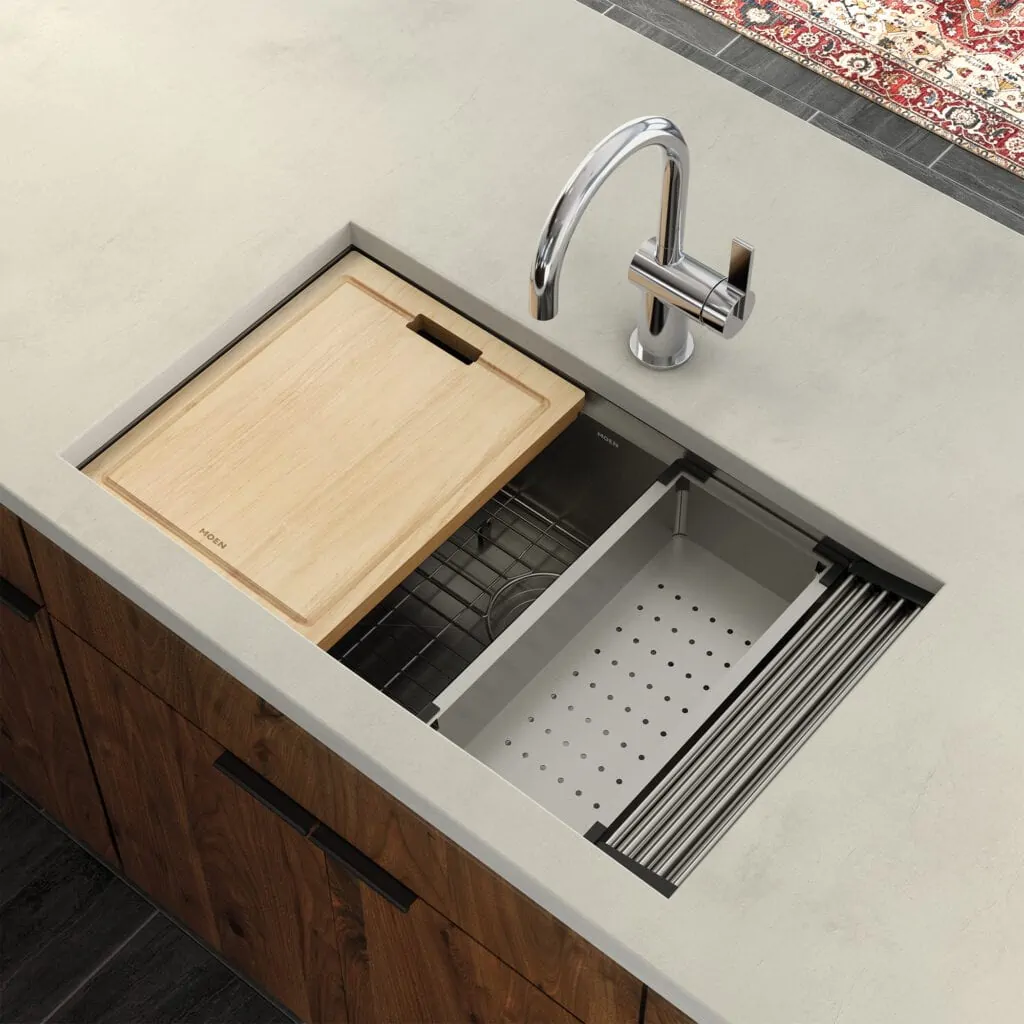 Moen® Workstation Sinks
The kitchen is the heart of the home, and the new workstation kitchen sinks from Moen ensure you get the most out of your space. The workstation sinks adapt to how you move about your kitchen to enhance workflow to make everyday tasks more efficient. By including a built-in ledge and high-quality accessories, you can enjoy a multifunctional workspace to seamlessly transition between jobs and transform messy routines such as rinsing, chopping, and washing into a contained, all-in-one experience right over the sink and free up valuable counter space.
The new workstation sink all-in-one bundle includes a Moen undermount, stainless steel sink, and a collection of accessories including: a large hardwood cutting board, colander, and flexible drying rack that can be securely stored over the sink to increase counter space, as well as a drain strainer/cover and bottom sink grid. The built-in ledge for sliding accessories helps create a flexible workspace and offers easy cleanup by allowing users to work directly over the sink.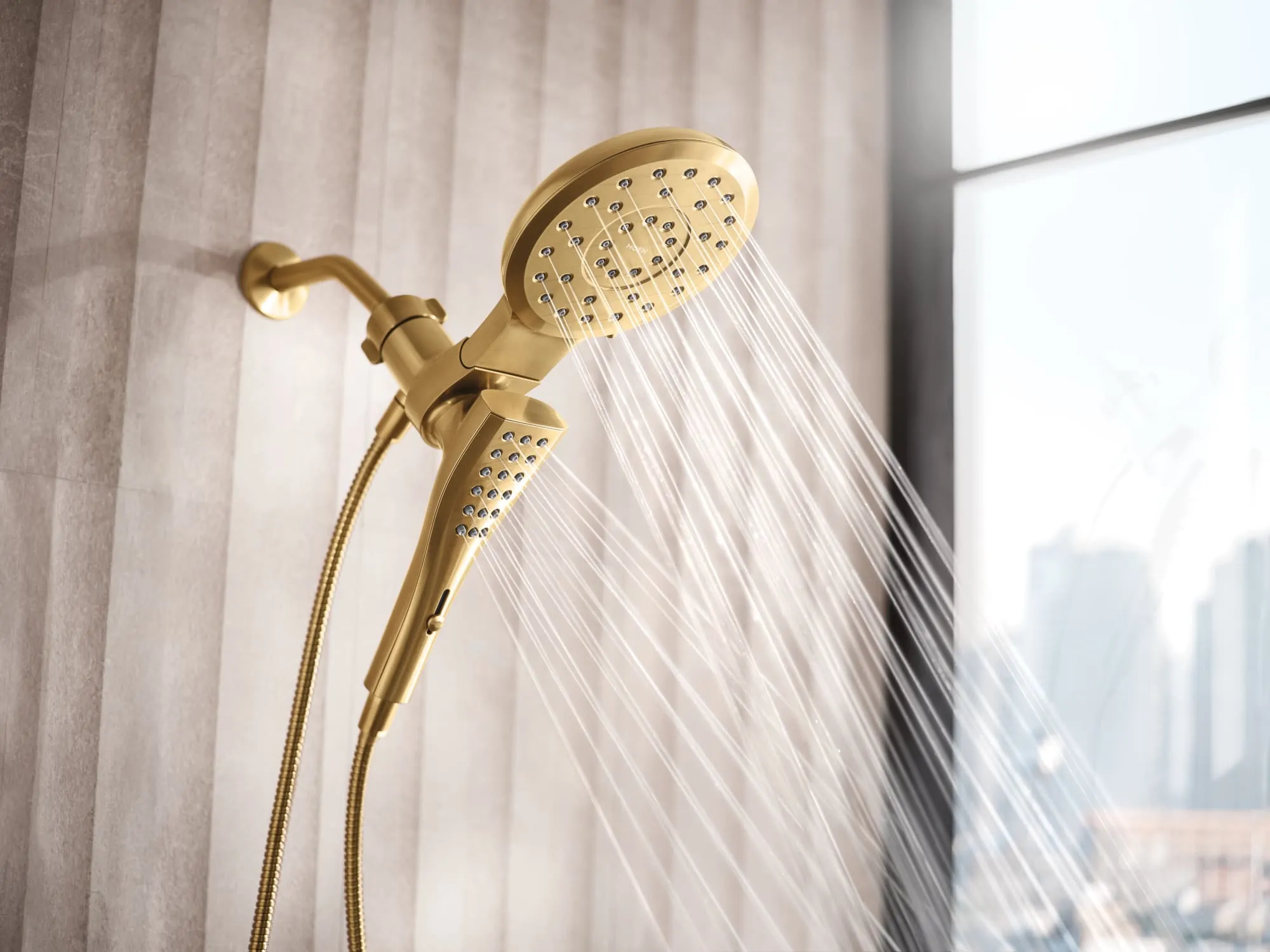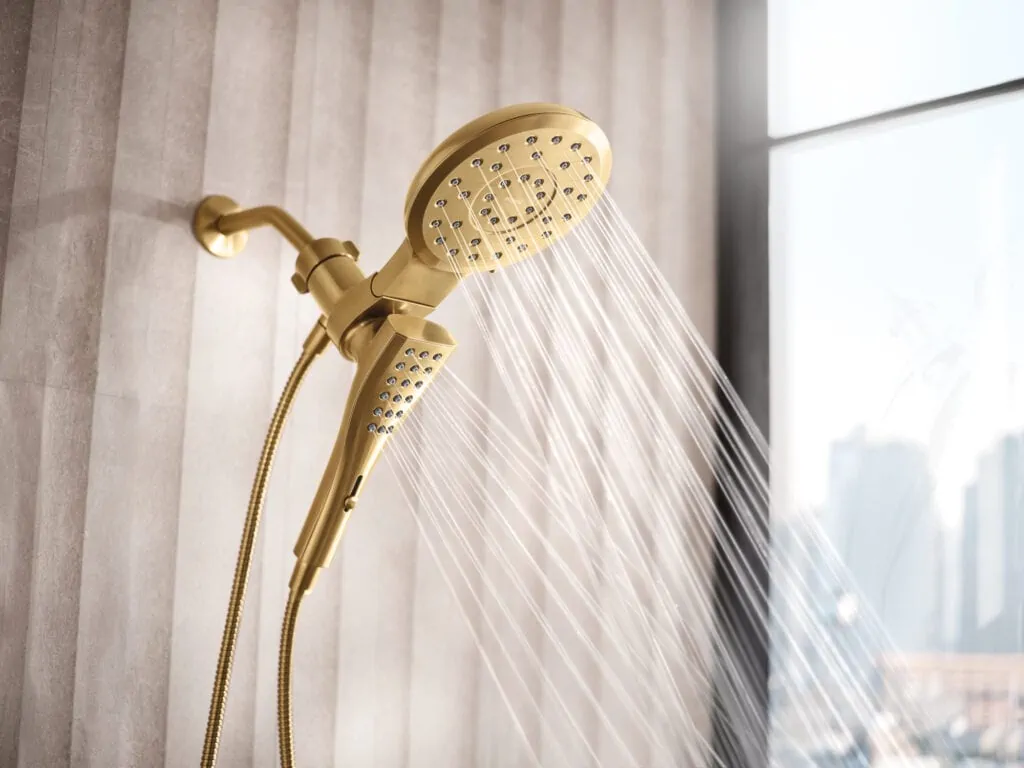 Moen® Verso™ Combination Shower with Infiniti™ Dial
The Verso™ Combination Shower featuring Infiniti™ Dial offers both a rainshower and handshower in one sleek design while providing a customized shower experience. The new Infiniti™ Dial featured on both showerheads provides unlimited spray and coverage options to find the perfect shower to meet your needs. Slide the dial to seamlessly switch between spray modes with no pause in experience. The rainshower showerhead also can pivot for more shower spray angle options.
The Combination Shower provides a 3-in-1 design. The rainshower and handshower can each run separately or together for a customized experience. For added convenience, the handshower includes Moen's Magnetix® technology that consists of a powerful magnetic dock – made out of recycled ocean plastic – for easy release of the handshower and a secure snap back into place – even when your eyes are closed. moen.com
Tulip Cooking- Booth N1766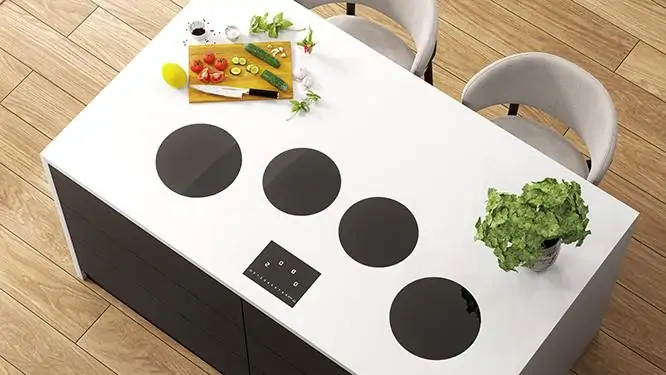 Tulip Cooking, (formerly PITT Cooking) will be exhibiting in the Las Vegas Convention Center, KBIS Booth N1766 and is introducing the next evolution in cooking technology with 100% customization of induction and gas cook tops.
"Tulip Cooking is the only company offering totally modular induction & gas systems. Our cook tops can be installed in any configuration in virtually any material. Tulip is the only company which offers 100% customization." states Michael Walker, President & COO of Tulip Cooking, "Our modular cook tops use the latest state-of-the-art technology. Come see the future"
Tulip Cooking offers 20 different cook top configurations and include Models with 1,2,3,4,5 or 6 burners. Choose your ideal configuration. All configurations within the 20 templates can also be combined in so many ways so that you can customize your own ideal cooking set up. You can even mix and match gas and induction burners.
All Tulip Cooking products are UL Certified.
Prices range from $2,078.for a one burner cook top to $7,448. for a six burner cook top.
Tulip Cooking Induction Cook Tops offer:
The worlds only modular induction cook top with flexible burner placement
Greater safety – never gets hot to the touch
Limitless configurations and layout possibilities
State of the art controls offering superior flame control and greater fuel efficiency
Wide spacing between burners allows for simultaneous use of multiple large pots
The Tulip Cooking cook tops are manufactured in Contemporary Dutch Designs in the Netherlands to the most exacting specifications. Tulip Cooking Cook Tops come with a 2-year full warranty plus a 3-year limited warranty. tulipcooking.com
THOR Kitchen – Booth W4461
Professional Tilt Panel Electric Ranges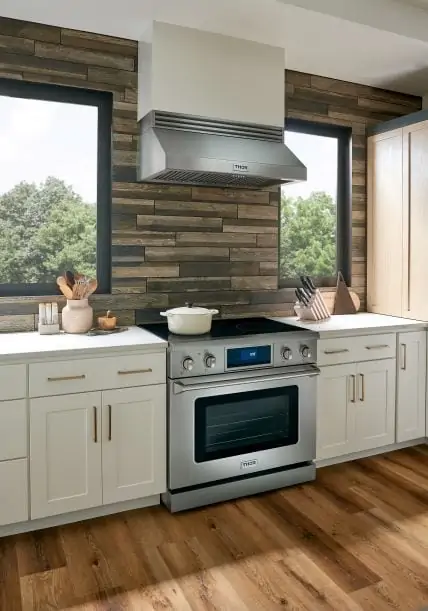 THOR Kitchen's Professional Tilt Panel Electric Ranges combine energy-efficient cooking power with a motorized touch-control LCD panel that tilts up or down to preferred angle.
Radiant electric cooktops with five heating elements, from a 100-watt warming zone to a high-powered 3,000-watt quick boil element, providing a range of low to intense heat to master any meal.
A Tilt Control Panel that is touch-controlled to preferred tilt angle, offering flexible viewing to control the cooktop and oven settings.
Large oven capacity accommodates multiple dishes at the same time. The 36-inch range has six cubic feet of oven space, while the 30-inch range has 4.6 cubic feet.
Multiple cooking modes include bake, broil, roast with built-in meat probe, air fry and keep warm to create versatile meals.
ROBAM – Booth W3721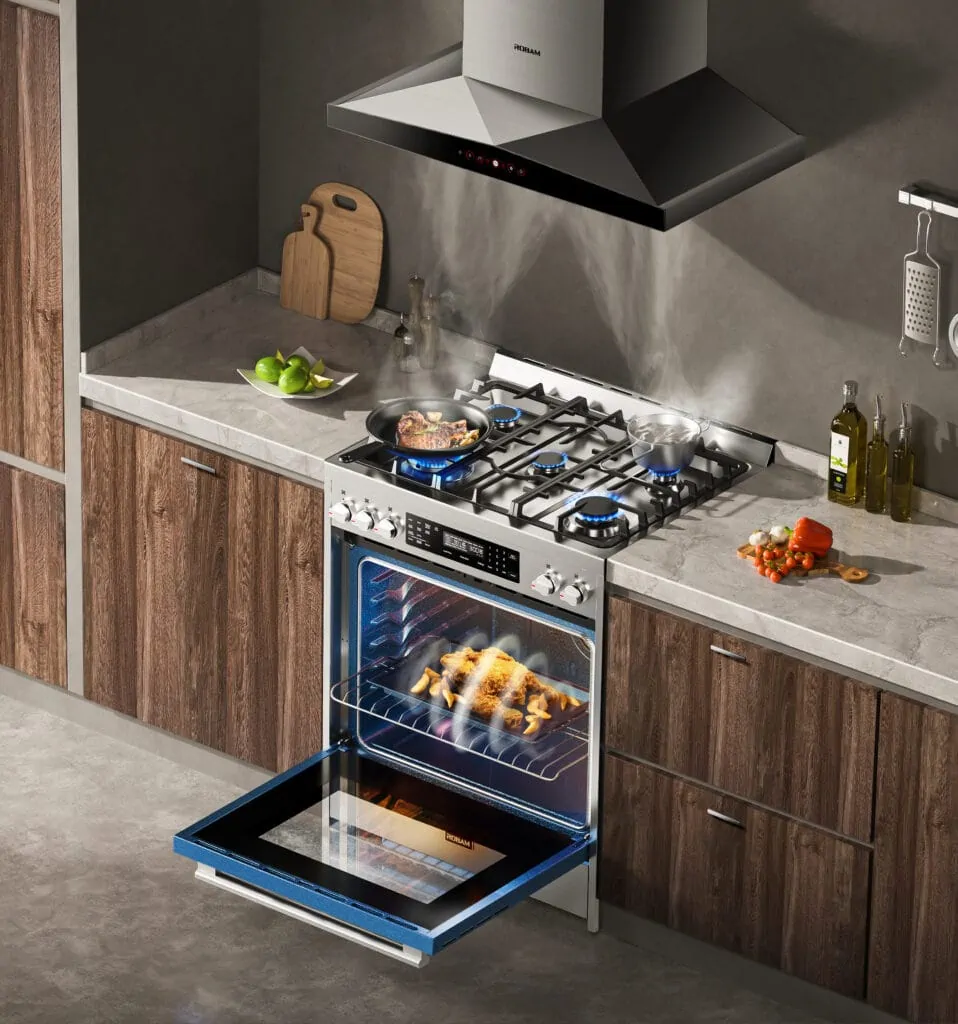 The 30-inch, Dual Fuel Range provides superior heat for heavy-duty cooking, through 5 high temperature resistant brass cap burners, with 4 different burner sizes.
Five burners, from 5,000 to 18,000 BTU, provides the ability to experiment with precise flames to make the perfect meal.
Its European-style, large capacity convection oven evenly distributes heat throughout, while a temperature probe ensures precise internal temperatures, for consistent temperature each time.
Spills are a thing of the past, a high heat self-cleaning feature burns off cooking spills.
EMPAVA – Booth W5205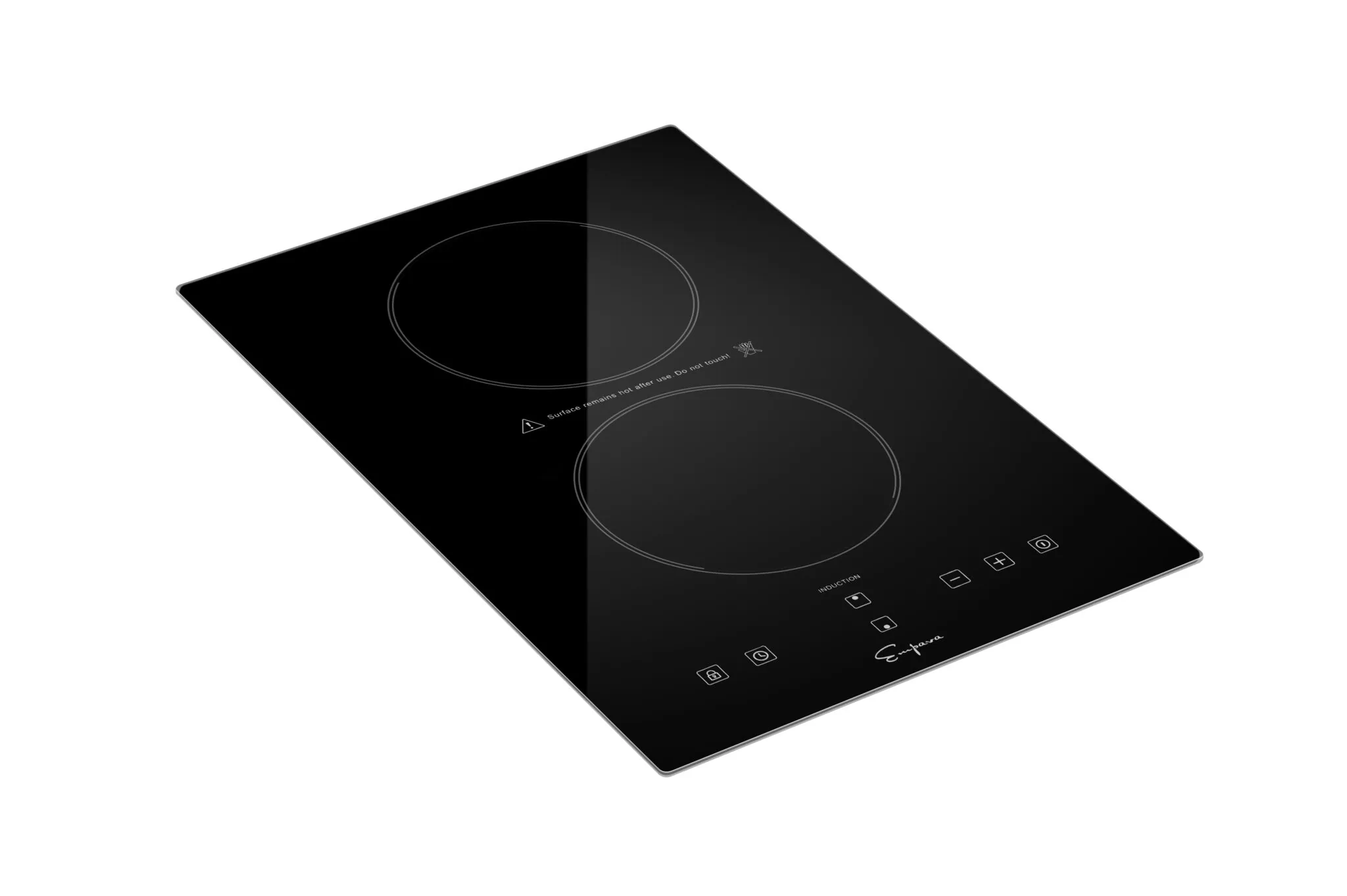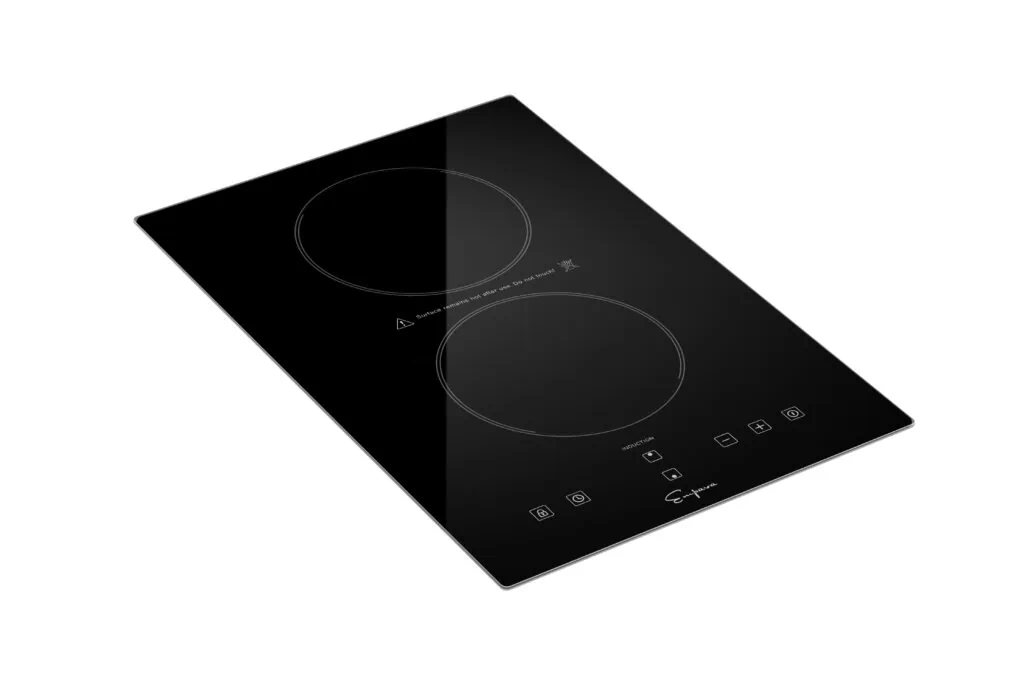 IDC12 – 12 inch Built-in/Drop-in Induction Cooktop
A "TINY HOME" DREAM: Perfect for current and prospective "tiny home" owners. No need to sacrifice product quality because of space constraints – the Empava IDC12 allows users to cook a variety of mouth-watering meals with an efficient 12-inch induction cooktop. Includes nine power level settings from 100W up to a total of 1800W power-sharing. Heating level from as low as 100w to fast boiling, accurate and easy temperature changes at the touch of a button. Boil, stew, fry, stir fry, and switch from one mode to another as needed, making cooking easy and enjoyable.
Wilsonart- Booth W3801
Wilsonart will be showcasing new surfaces engineered for every taste, space and budget including: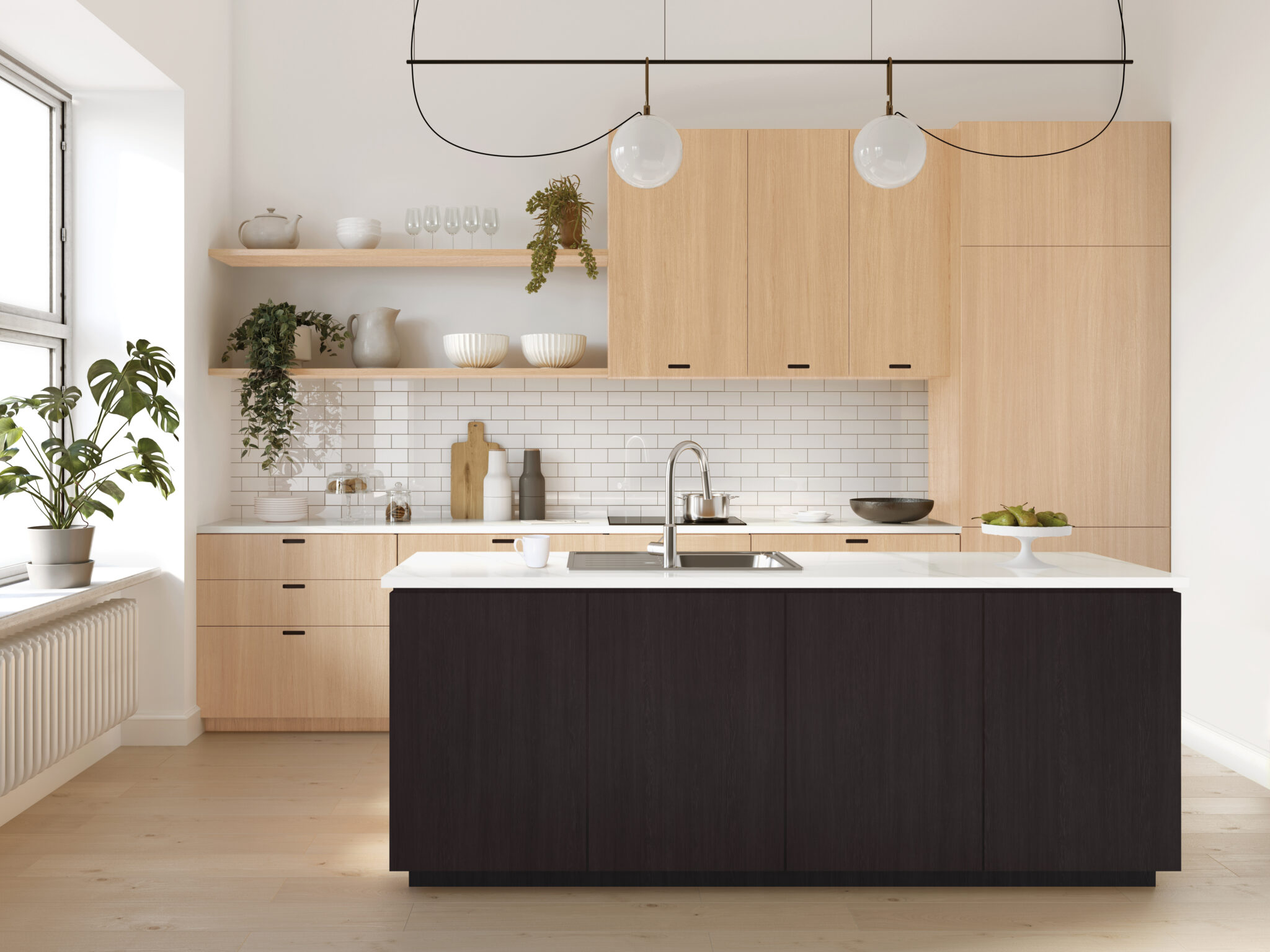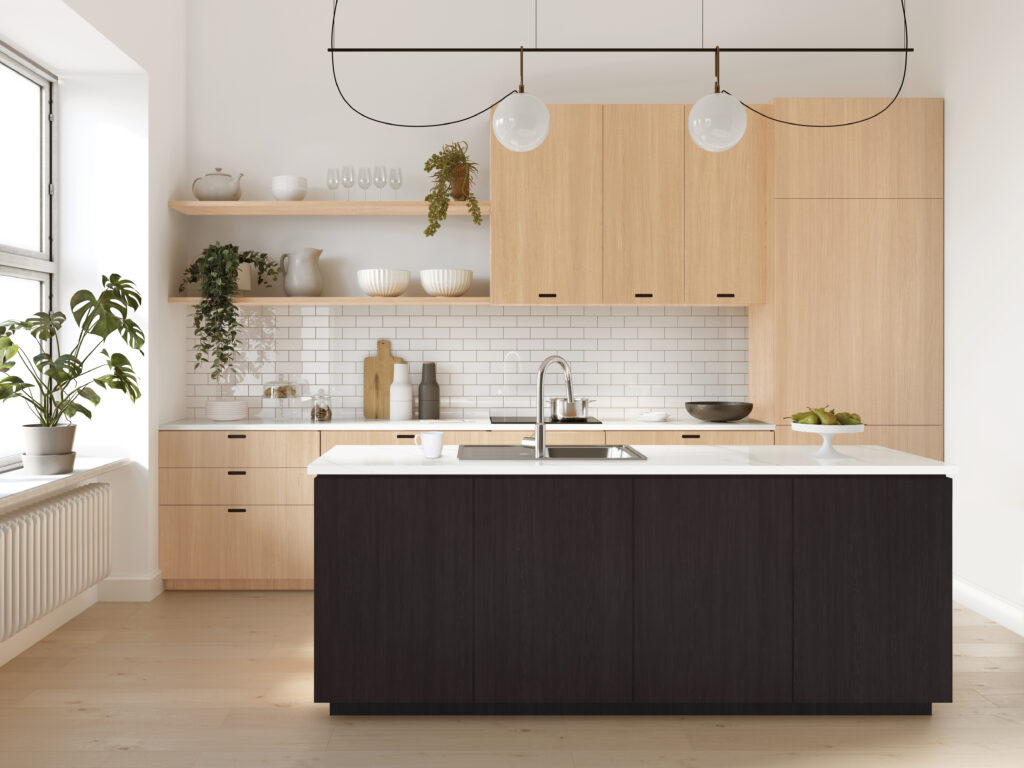 The LUJO® Collection

The LUJO Collection from Wilsonart Thermally Fused Laminate (TFL) is redefining luxury woodgrains for residential, resimercial, and commercial environments. The newest release adds 14 designs that highlight the beauty of oak and walnut. Featured tones like Quiet Whites, Golden Blondes, Forest Browns and Earthy Black are defined by minimal movement – but every style will move the homeowner with nature-inspired prestige. This launch opens new doors for personalized coordination for cabinets/case goods, cabinet interiors and closet systems. The release of 14 woodgrain designs is complemented by the new Timbergrain and Ridgewood finishes for sophisticated looks from every angle.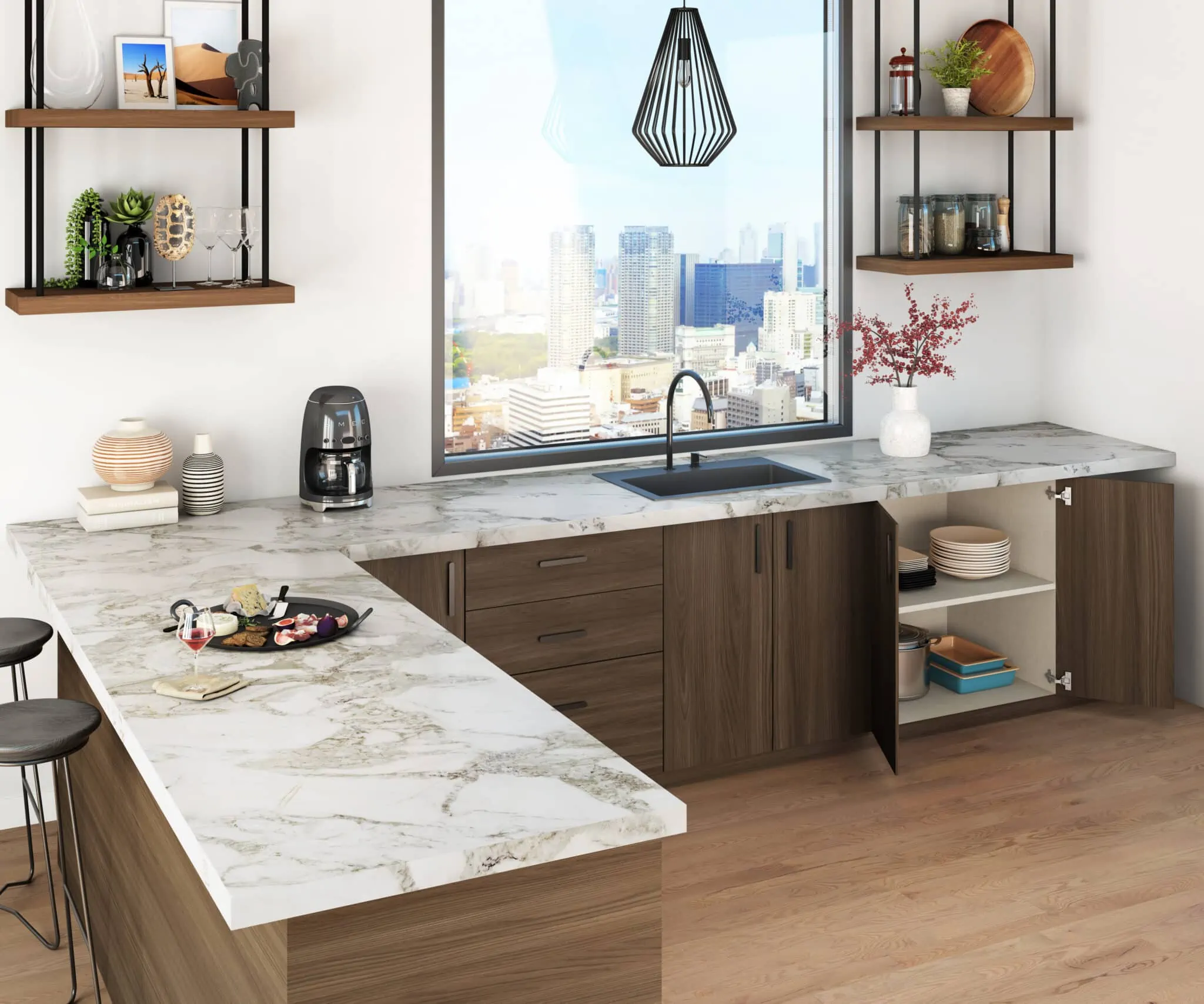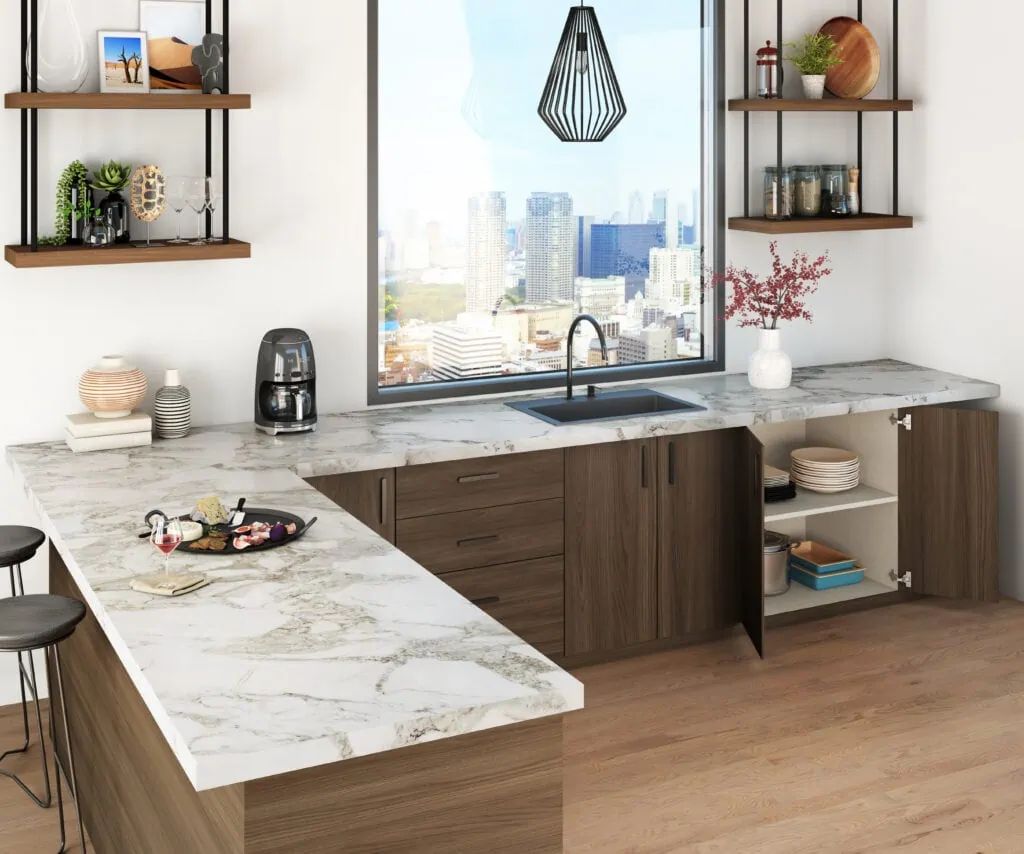 Wilsonart® Interiors

Wilsonart Interiors is a curated collection of Thermally Fused Laminate (TFL) designs and finishes that bring sophisticated style to the inside of cabinets, drawers and open storage spaces – making them as beautiful as they are functional. Inspired by natural woven textures, this collection adds a sense of refinement to both open and closed cabinet storage, dressing spaces from the inside-out with a new level of detail. Wilsonart Interiors offers designs that coordinate with today's most sought-after styles. Its modern looks allow for personal style statements that are more beautiful and unique than ever before, with three structures of textile designs in colorways that make the coordination and selection process a breeze. The collection's colors incorporate the most usable neutrals while mixing warm and cool tones for an added layer of complexity, making it easy to find the perfect fit to coordinate or contrast.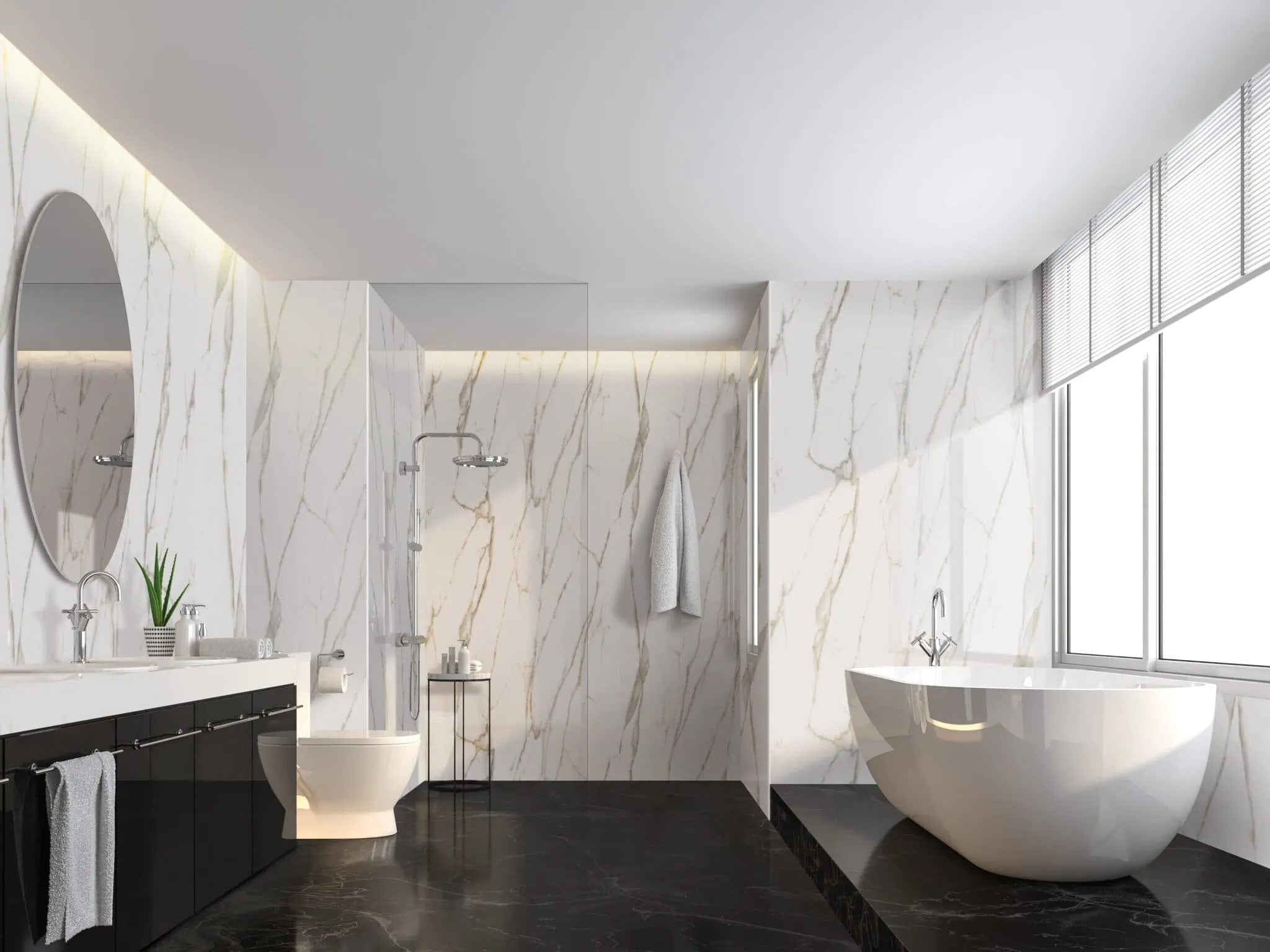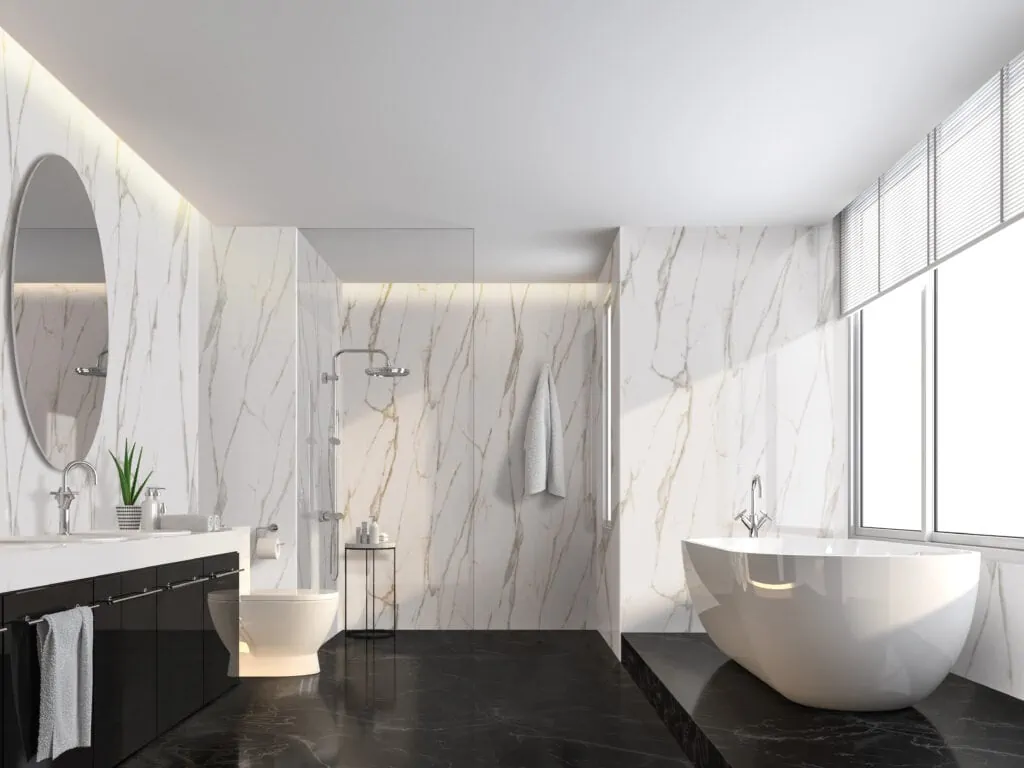 Wetwall Pro Designs

Wetwall, a Wilsonart Company, is helping homeowners reimagine their bathrooms with the introduction of two new Wetwall™ Water-Proof Wall Panel System Pro Designs – Larisis Marble (W7054) and Augusta Calacatta (W7055). These modern yet warm designs are the latest additions to the nature-inspired collection that offers homeowners and designers an easy and affordable way to create a spa-like oasis at home.
Infinity Drain- Booth W3657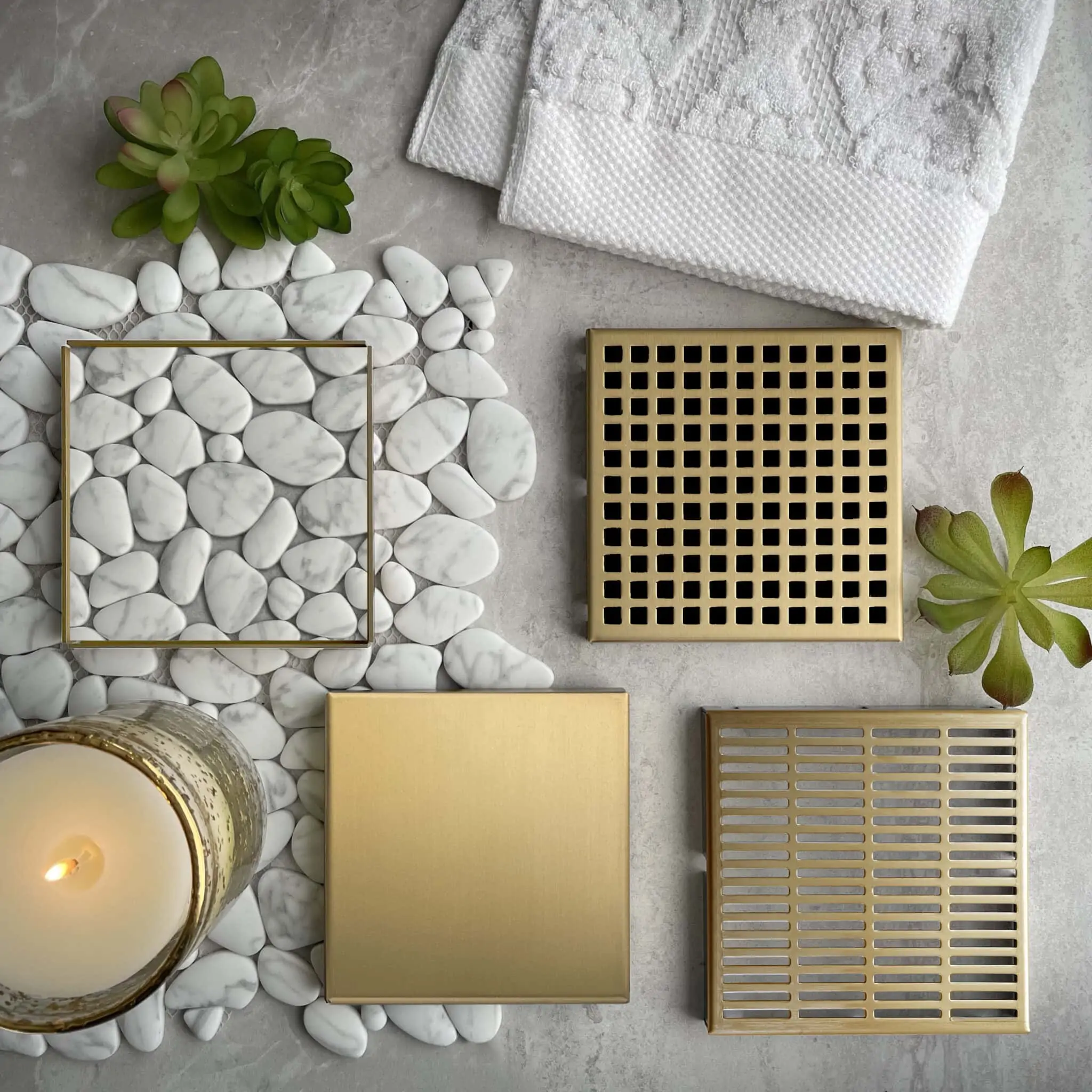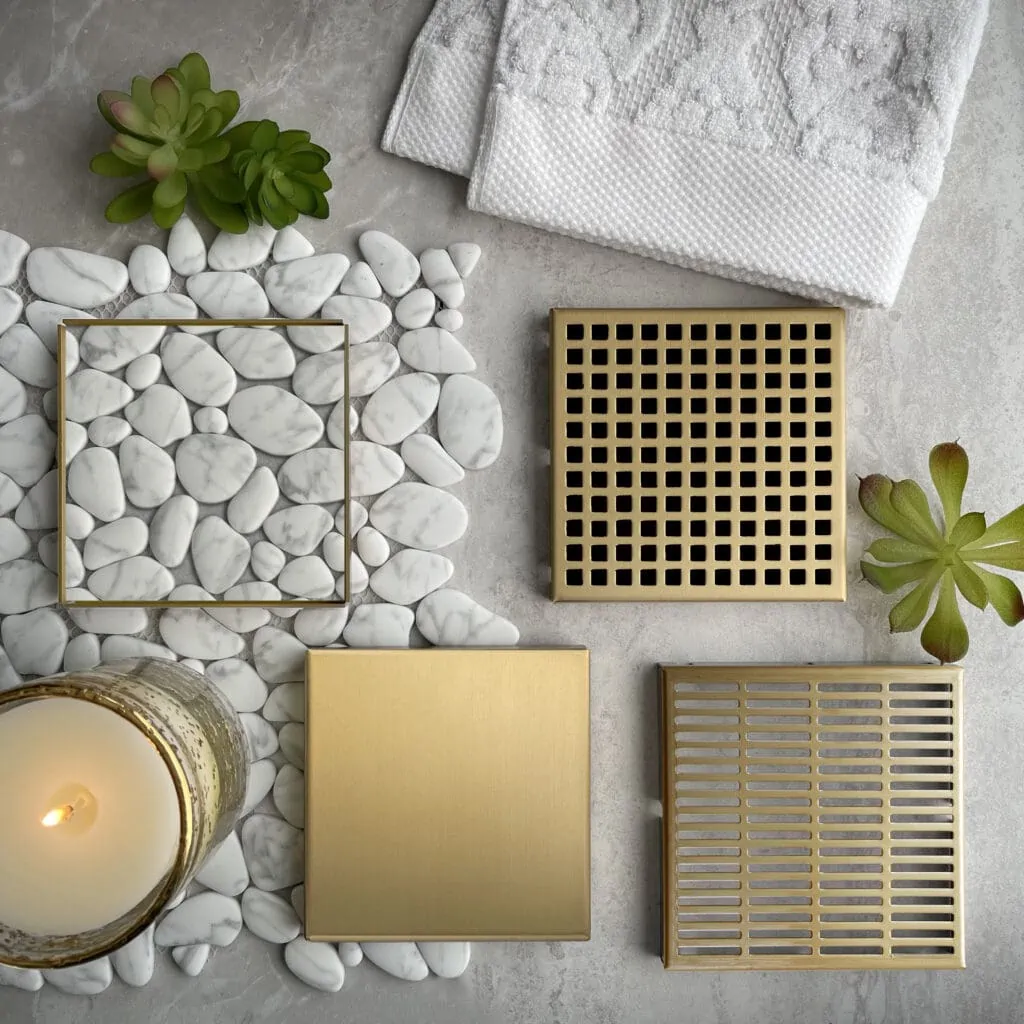 For over a decade, Infinity Drain has established itself as a leader in design-centric architectural shower drains with a reputation of unsurpassed quality.  From hand polishing decorative grates to custom fabrication – all at the exacting specifications of customers, Infinity Drain offers the broadest selection of decorative choices and installation options. Its award-winning designs and innovations, including the Site Sizable® linear drain, continue to shape barrier-free bathroom design. Infinity Drain is revolutionizing bathroom installation with its completely waterproof Stainless Steel Shower Base backed with an original owner lifetime guarantee. Infinity Drain products are proudly fabricated in Long Island, NY, USA. For additional information, visit infinitydrain.com.
Perlick- Booth W4045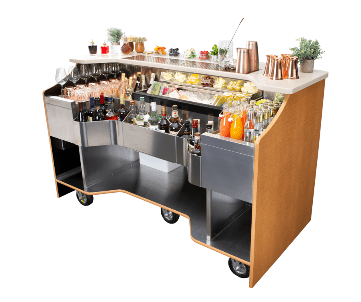 As entertaining at home continues to skyrocket in popularity, the "where" and "how" homeowners host their guests continues to evolve. From storing a high quality collection of wine to bartending for guests in the backyard or basement, Perlick has the design solutions to meet your audience's home entertainment needs.
Perlick's home bar and refrigeration products, created for the home entertainer and crafted with our renowned commercial quality, will turn any home into the 'It' house on the block. And in a time where long lead times remain prevalent for many manufacturers, these refrigerators are available NOW so homeowners can start creating their personalized home entertaining space right away.
Perlick's head turning Tobin Ellis Signature Series Limited Edition Mobile Bar is the ultimate bartending cockpit on wheels. Designed for homeowners to take entertaining to the next level, this upscale bar features luxury finishes, impeccable functional design, and storage for everything from liquor bottles and garnishes to glassware and ice.