The holidays are a magical time of year. The snow is falling, the lights are twinkling, and good cheer is all around. Shopping for the perfect gift for your DIYer or pro craftsman can be challenging, but don't stress. We are here to help with our 2022 Holiday Gift Guide. Our gift ideas are a combination of tried and true products we have used for many years at EHT and innovative new products. From blowers to burners and wrenches to ratchets, we have some gift ideas and recommendations that will help you spread more good cheer all around this holiday season.
The Green Machine 62-Volt 655 CFM/123 MPH cordless blower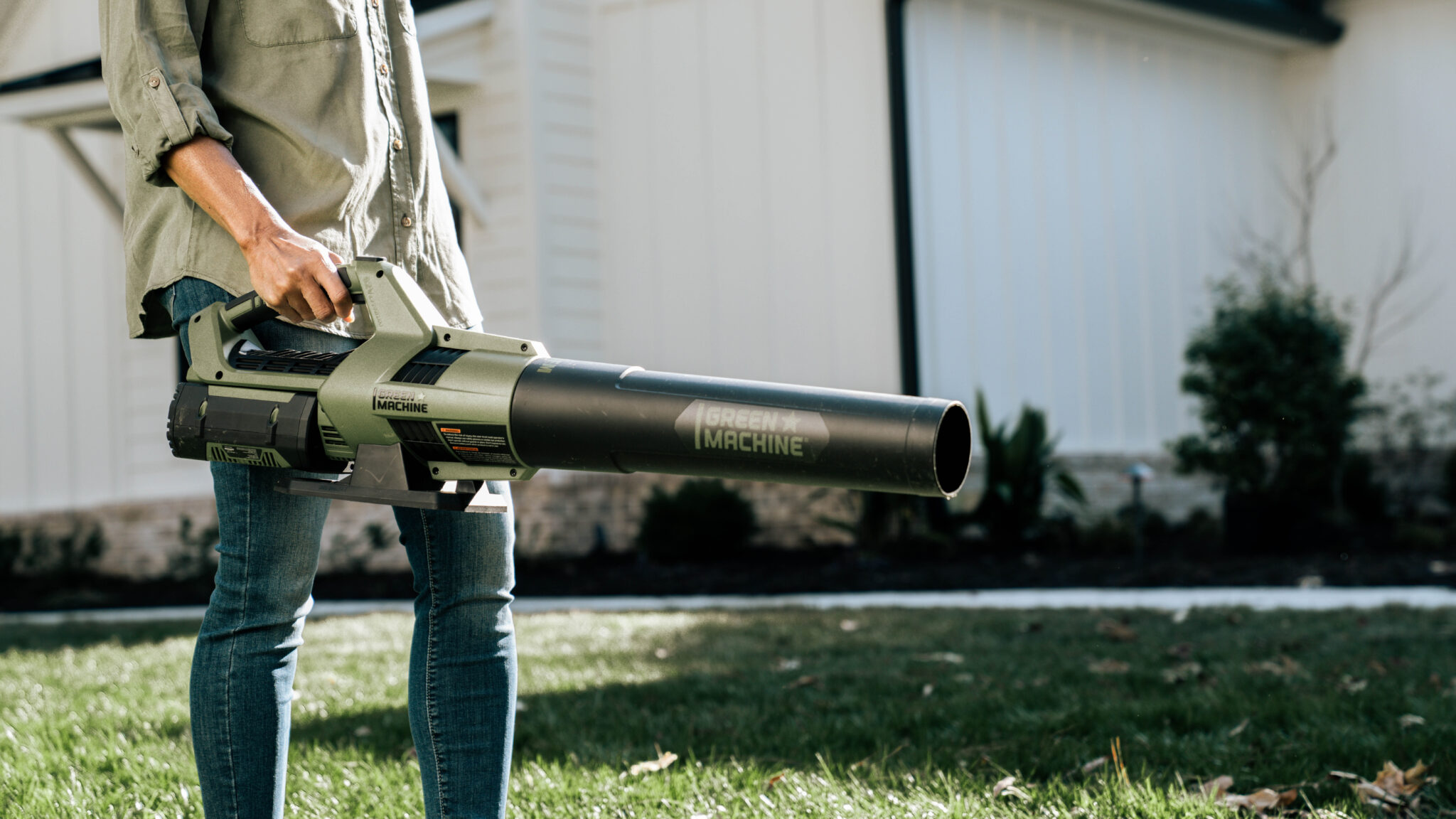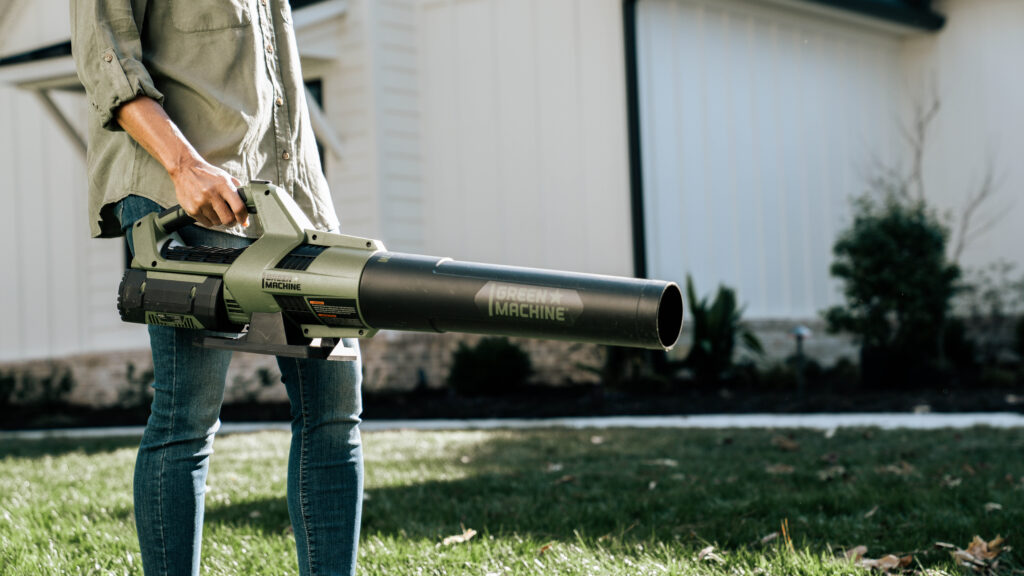 The Green Machine 62-Volt 655 CFM/123 MPH cordless blower is powered by a robust brushless motor, giving you all the power you need to tackle your toughest debris challenges. The Green Machine 62-Volt 655 CFM cordless blower provides up to 100-minutes of run time on a fully charged battery. Lightweight and balanced, this blower has zero carbon emissions and is much quieter than a comparable gas blower. Green Machine is the next generation of cordless blowers.
Industry-leading 655 CFM air volume
Variable speed plus turbo button
Turbo button 123 MPH wind speed
Brushless motor for more power, quiet operation, and longer life
Lightweight and great balance
Push button start – no cords to pull
No harmful gas fume
1 battery fits all Green Machine tools
Available at Home Depot
WiseBond™ Epoxy Systems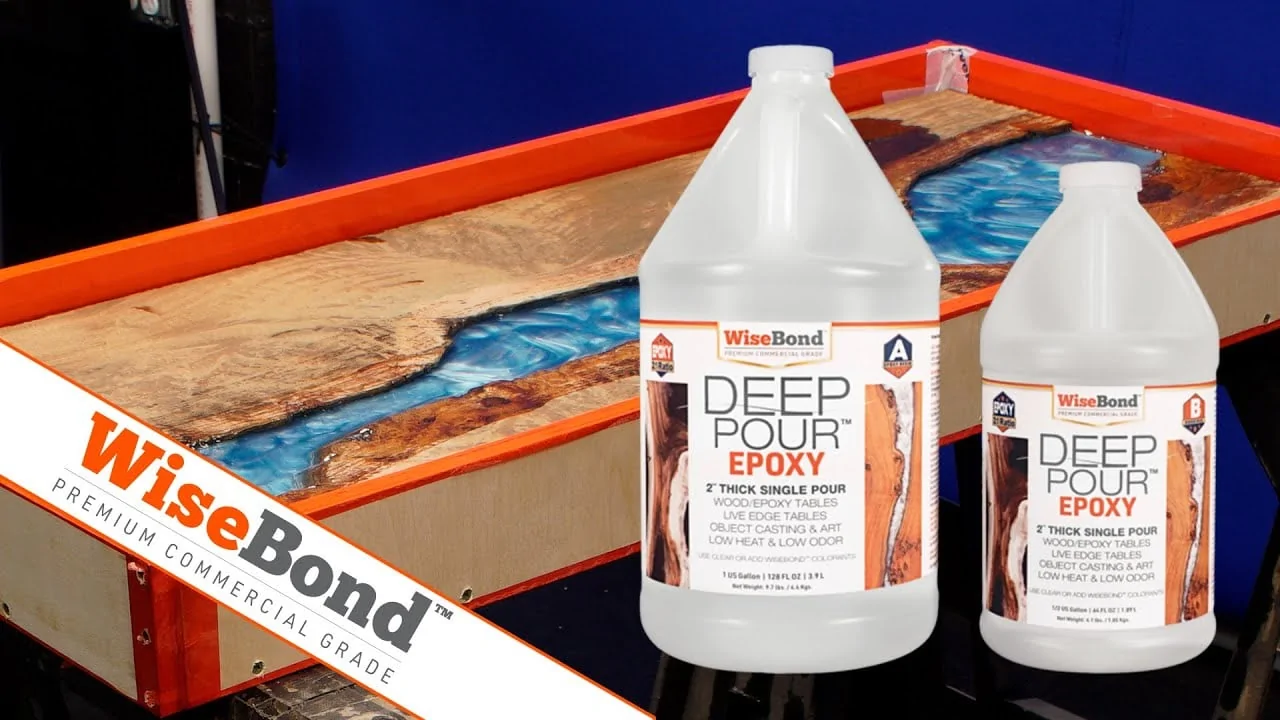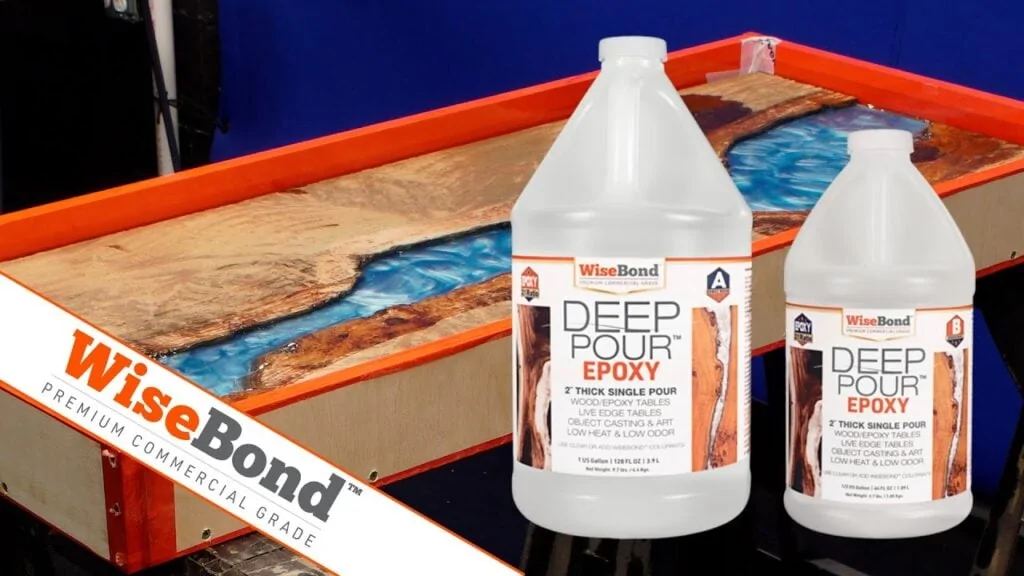 WiseBond™ Epoxy Systems are the perfect gift for the creative DIYer, hobbyist woodworkers and professional furniture makers. As resin art and epoxy river tables continue to climb in popularity, WiseBond™ stands out as an industry leader with high clarity, non-yellowing UV stability, and a variety of available products for every need.
WiseBond™ offers three epoxy formulas: Bar & Table Top kits for flood coats, Deep Pour™ epoxy kits for 2" single river table pouring, and Quick Set live edge epoxy for a fast cure to coat and crack filling projects. Other offerings are epoxy colorants ranging from mica powders, to transparent alcohol inks, to opaque pigments, to amazing color shifting powders.
WiseBond™ offers easy online ordering on their website with quick UPS shipping, Dealer set up and pricing, bulk ordering for heavy epoxy users, and multi-gallon kit bundles. www.WiseBond.com
Arrow T501 5-in-1 Manual Staple Gun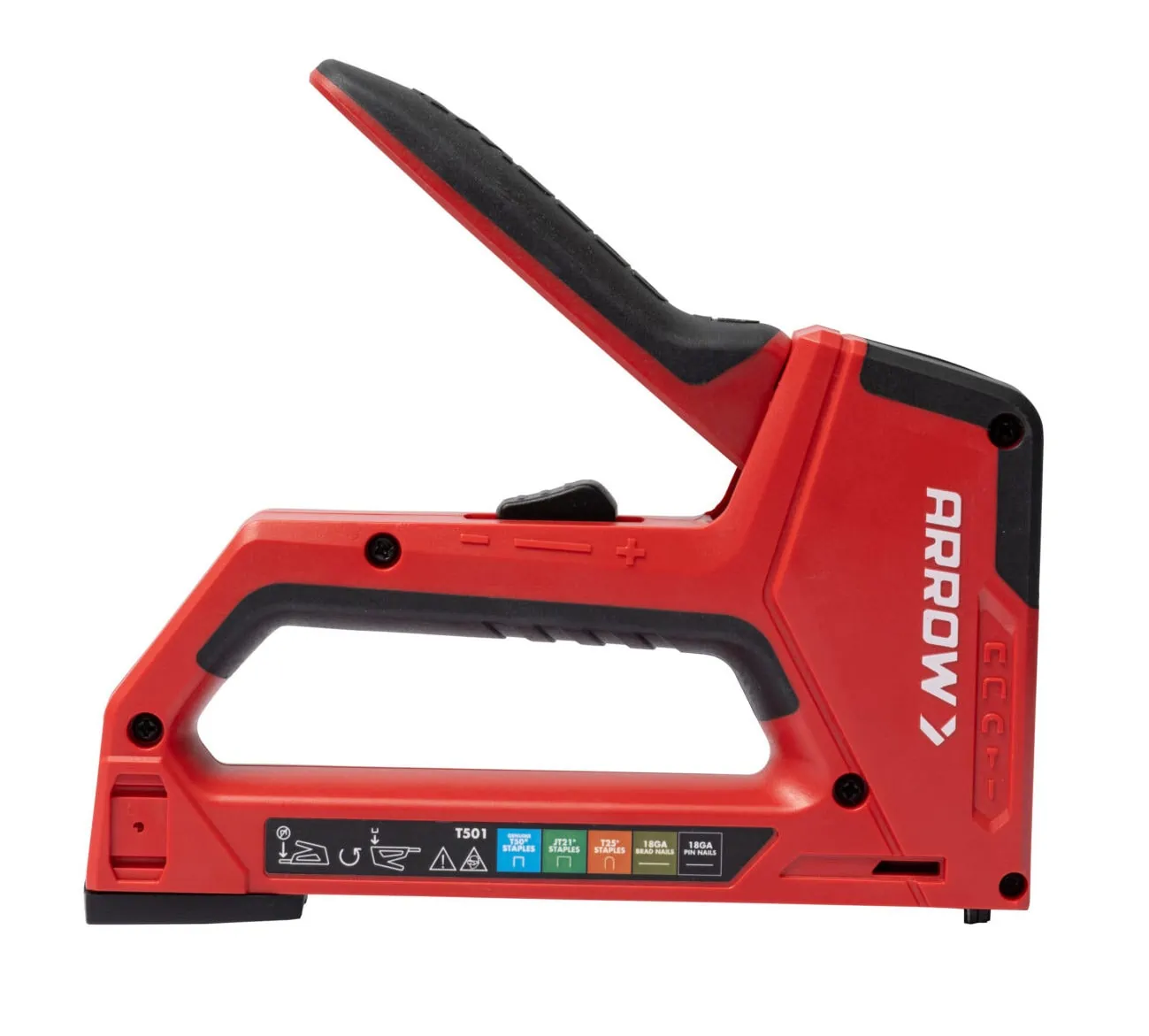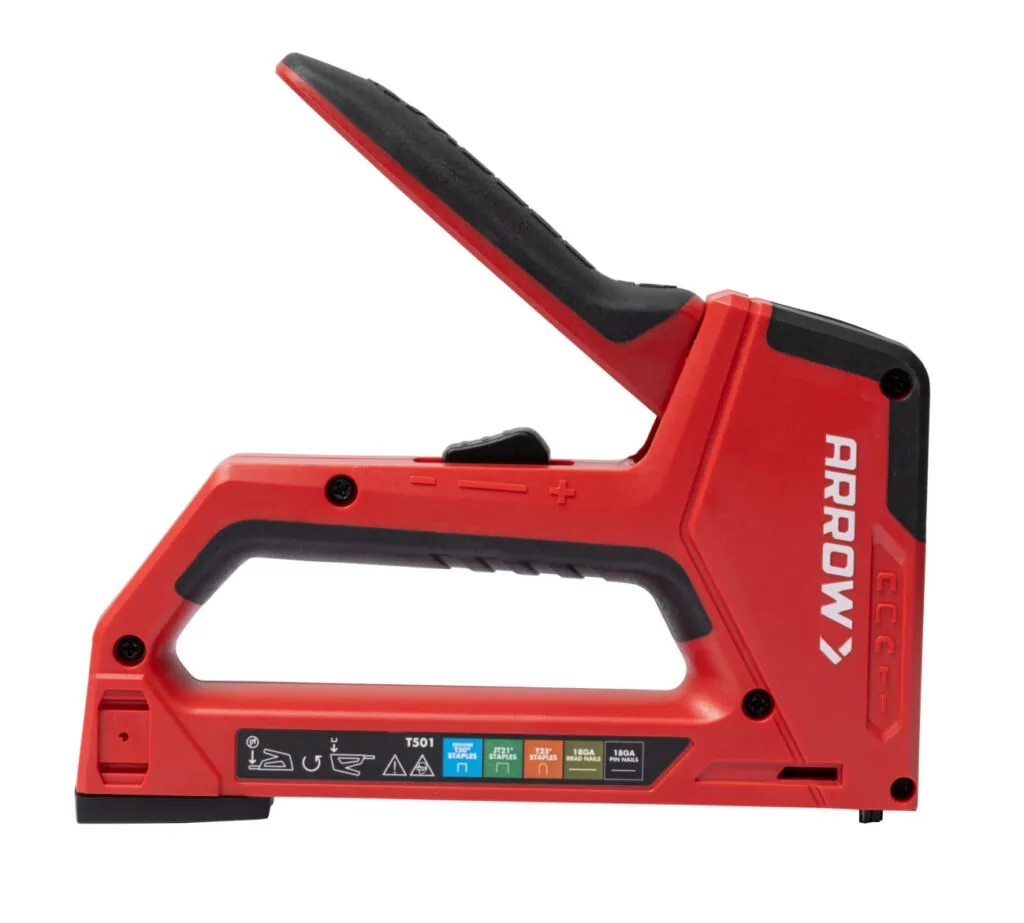 The Arrow 5-in-1 Manual Staple Gun drives five different types of fasteners, allowing any professional or DIYer to use one tool for multiple fastening projects including upholstery, insulation, crafting, handling holiday lights, thin trim, and woodworking. The staple gun features high and low power settings, enabling the user to adjust the penetration of fasteners depending on which surface they're working on. The compact tool design and bottom load mechanism provide an ergonomic and easy to use experience. For more info: https://arrowfastener.com/tool/t501/
Pony Rapid-Acting Band Clamp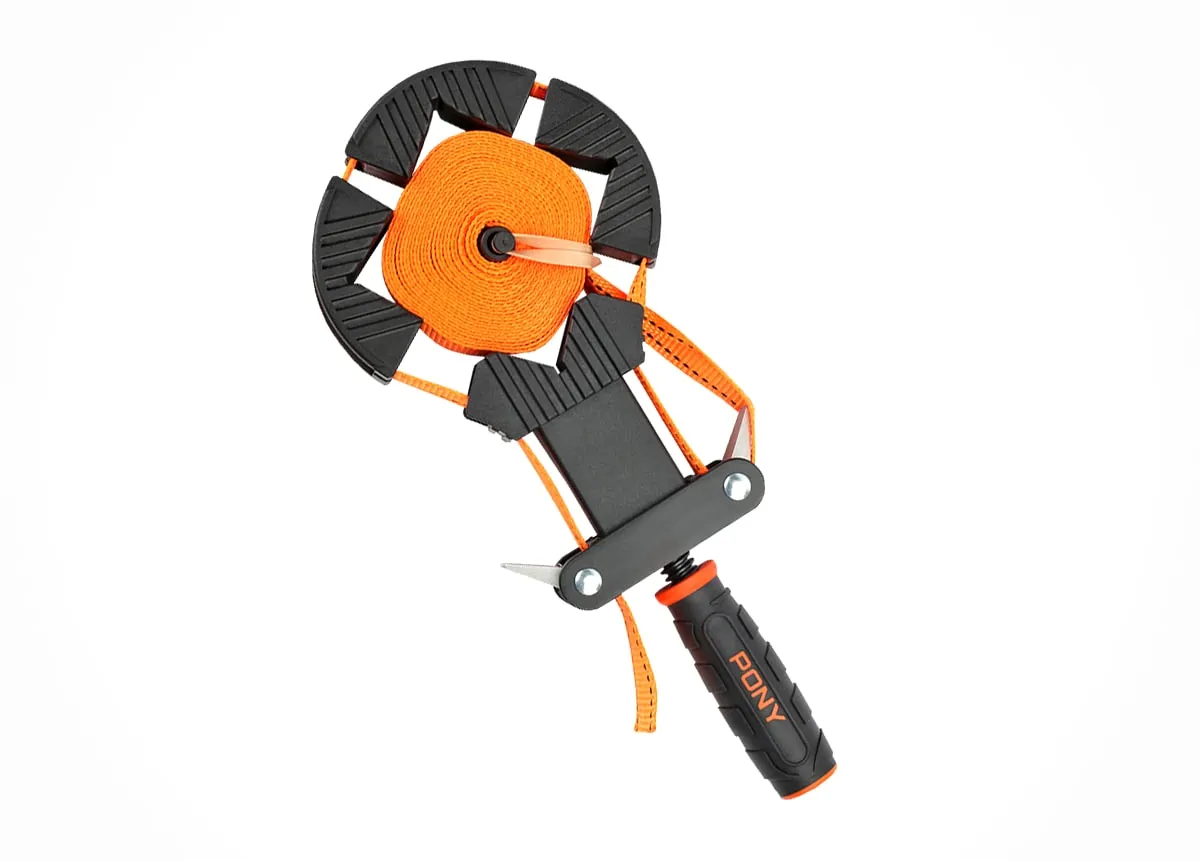 The Pony rapid‑acting band clamp is great for any round, rectangular, or irregularly shaped medium‑duty project. The acme‑threaded screw and aluminum levers allow you to tighten and release your project with ease. Its plastic jaws ensure a great fit on corners without marring your workpiece, and its ergonomic grip ensures a great fit in your hands. For more info: https://ponyjorgensen.com/product/pony-rapid-acting-band-clamp/. You can view a product tutorial here
Howard Premium Leather Salve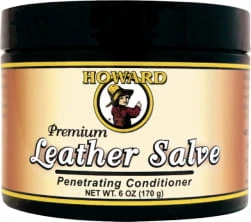 Howard Premium Leather Salve is a deep conditioning treatment that keeps leather soft and supple by using only the finest natural waxes and refined oils, including purified Lanolin, Neatsfoot, and Coconut Oil.
Howard Premium Leather Salve restores the lost suppleness to dehydrated leather, reduces scratches, and helps to preserve leather from future decay. No artificial dyes or chemicals. Safe to use on all types and colors of smooth leather. Howard Premium Leather Salve goes above and beyond other leather conditioners on the market by using the finest natural waxes and refined oils available, combined with Orange Oil to rejuvenate, restore, and revive all smooth leather.
Howard Premium Leather Salve is available on Amazon.com and other fine retailers. For a list of all retailers, visit our website at HowardProducts.com
Hercules For Body™ Wipes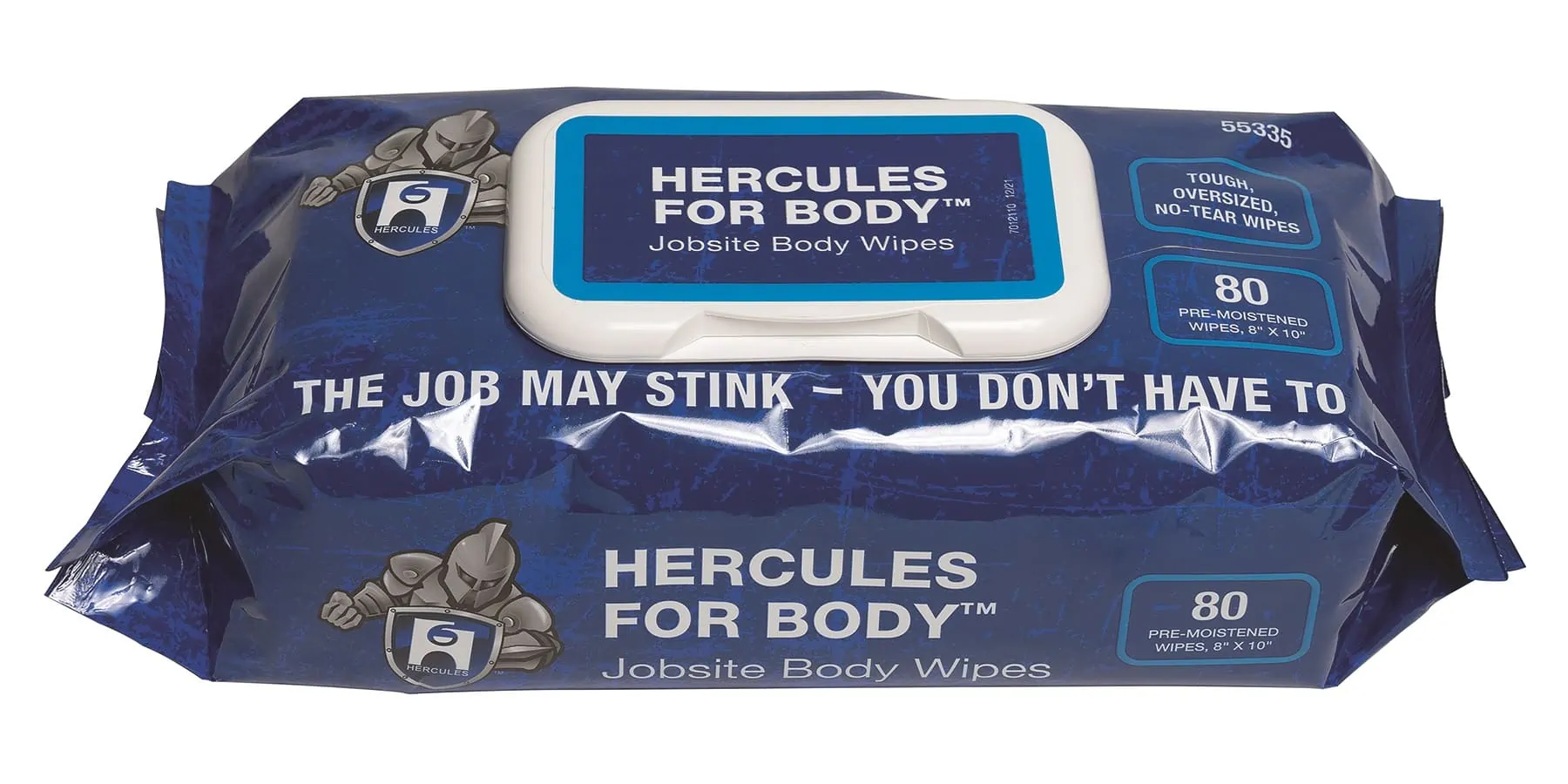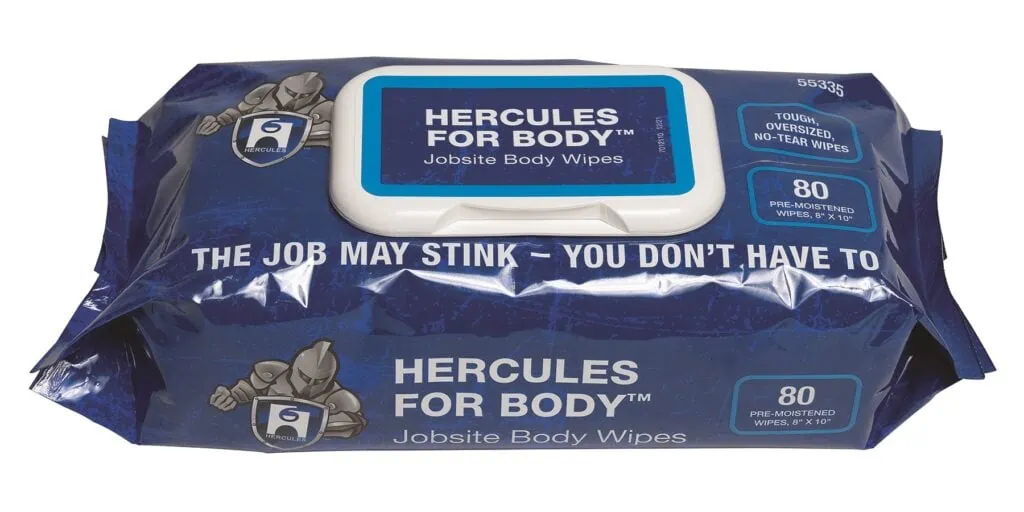 Hercules For Body™, body wipes that are hard on grime and odor rather than skin and require no water or rinsing.
Hercules For Body™ is formulated specifically for job-site conditions and is effective at removing a range of dirt, grease, oil and other residue. The wipes can also be used to clean those same substances off most tools and jobsite equipment. Plus, the wipes are perfect for cleaning up after outdoor activities, yardwork or anytime you need to cool down and wipe away the day. Hercules for Body's fragrance-free formula washes away grime and odor without leaving residue. Including Aloe and Vitamin E to soothe and condition skin, Hercules For Body™ are tough, large-size cloths that clean without tearing. The new easy-to-grab, 8 x 10 in. cloths cover more skin, which means you need fewer towels to get clean.  Hercules For Body™ can be purchased at your local supply house. Available in two package quantities: 80 towels per pack; a convenient snap-close top ensures the towels don't dry out or get dirty, and 30 towels per pack, which can be shopped from a counter display. Visit Oatey.com to learn more about Hercules For Body™.
CAMO ClipDRIVE™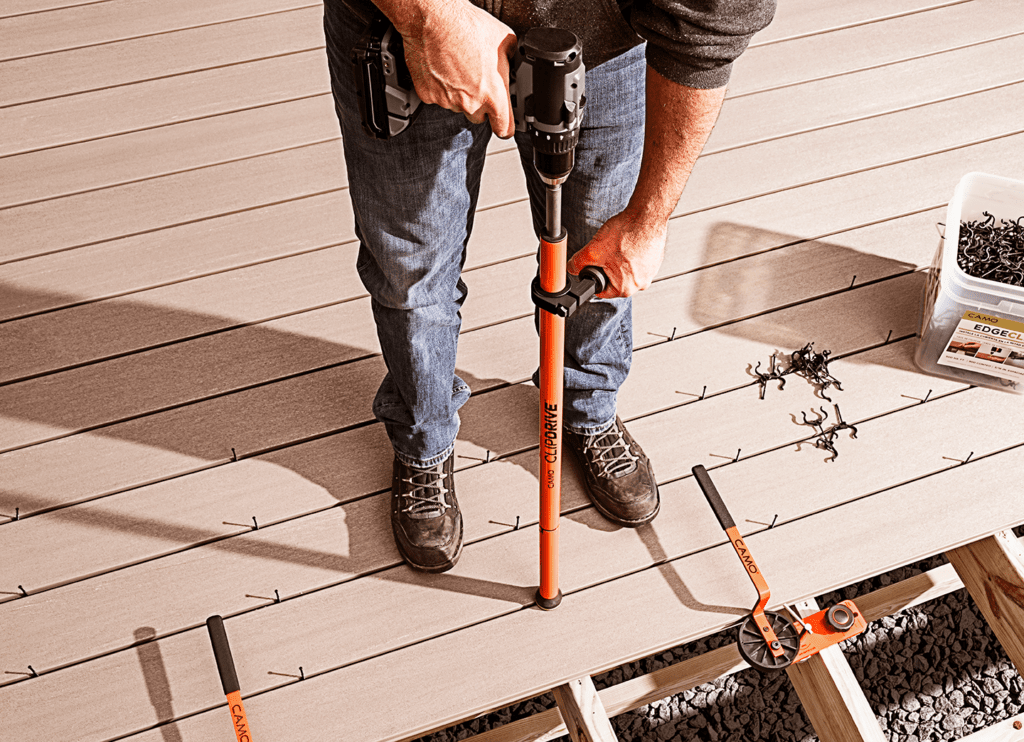 The CAMO ClipDRIVE™ stand-up fastening tool for grooved decking is designed for fastening CAMO Universal Deck Clips.  The ergonomic, lightweight tool attaches to any drill and allows you to stand comfortably while fastening any type of grooved deck board up to 5X faster than traditional methods. Created with input from contractors the ClipDRIVE features a height-adjustable handle for builders of any size and a weighted nose to make targeting screws easier. CAMO's Universal Deck Clips include EDGE® Clips to fasten deck boards in a 90-degree pattern, CAMO EDGEX® Clips to install at any angle deck pattern and CAMO EDGEXMETAL® Clips for 14–18-gauge metal frames. For a truly fastener-free finish, CAMO also offers Starter Clips to eliminate the need to face fasten the first and last boards on grooved decking installations. For even more efficient installation, add some CAMO LEVER™ tool to lock rows of boards and clips together in just one turn. It keeps them in place, freeing up deck builders to fasten. The CAMO DRIVE™ Stand-Up tool attaches to any drill and allows contractors to stand while fastening to reduce strain on the back and knees. It offers the versatility and speed to fasten Universal Deck Clips as well as edge and face fasteners up to 5X faster. Visit camofasteners.com 
Weller Corded Woodburning Soldering Iron Kit (15-Piece)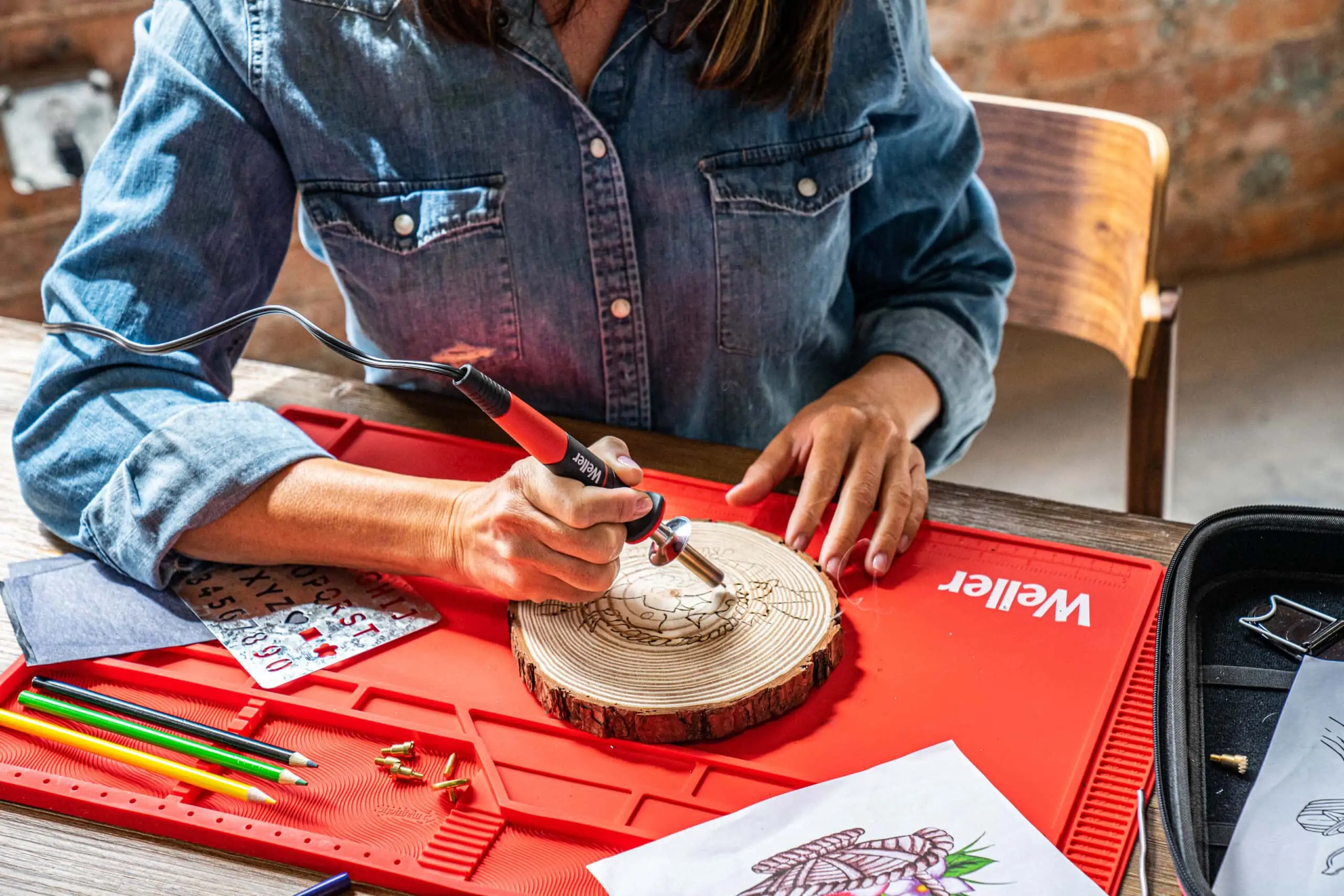 The Weller WLIWBK2512A 15-piece Woodburning Project Kit inspires creativity with everything you need to begin your journey as a woodburning hobbyist. The Weller Short-Barrel Woodburning Iron's reduced tip-to-grip distance allows for improved accuracy and precision and can be used on a variety of woods and leather. This kit comes with a wide variety of tips for all your woodburning project needs whether for burning, cutting, branding or embossing. Available at Home Depot
RYOBI™ 18V ONE+™ Compact BLUETOOTH® Radio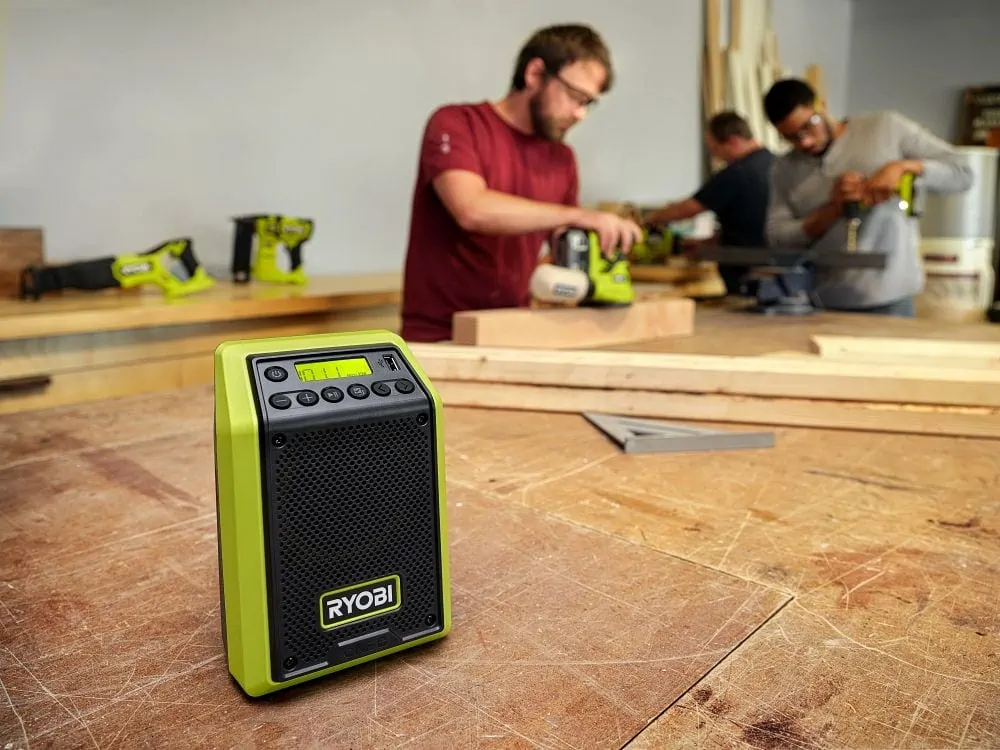 4X Greater Sound Clarity 
RYOBI™ continues to deliver a cutting edge audio experience on and off the jobsite with 4X greater sound clarity driven by a powerful 3″ 15W speaker. With advanced electronics and an optimized acoustic design this Compact Radio delivers best in class performance.
BLUETOOTH® and FM Radio
With the RYOBI Compact BLUETOOTH®  Radio listen to what you want, where you want with both BLUETOOTH® & FM radio modes and the portability provided by the 18V ONE+™ Battery platform. With over 175′ of BLUETOOTH® connection range and over 32 hours of continuous runtime, this speaker will maintain a clear connection and last all day at any jobsite, workshop, or outdoor activity.
18V ONE+™ Compatibility
Best of all, this radio is part of the RYOBI™ 18V ONE+™ System of over 260 Cordless Products that all work on the same battery platform. This RYOBI 18V ONE+ Compact BLUETOOTH® Radio is backed by the RYOBI 3-Year Manufacturer's Warranty and includes (1) PCL600 18V ONE+ Compact BLUETOOTH® Radio and Operator's Manual. Battery and charger sold separately. Available at Home Depot
Providing 45% brighter light with a longer run time when compared to the competition, the REDLITHIUM™ USB Neck Light is the best-in-class Neck Light for delivering premium lighting for inspection work and general tasks, providing durability and adaptability with complete light head adjustability.
With the ability to aim the light in different directions, the REDLITHIUM™ USB Neck Light provides unmatched lighting for those hard-to-see places. The Neck Light adapts to users' lighting needs with 90 degrees of vertical rotation for complete lighting head adjustment. Featuring a press and hold power button, the Neck Light features three output modes delivering up to 400 Lumens of TRUEVIEW™ High-Definition Output and two and half hours of run-time on high. With a sweat-resistant band for increased comfort, the Neck Light is designed to supply the best-in-class lighting on the toughest and messiest job sites. The Neck Light is IP54 rated, designed to survive most chemicals found in automotive body shops, and impact resistant for drops up to six feet. Available at Acme Tools
Green Machine 62V Brushless 16 in. Cordless Battery Chainsaw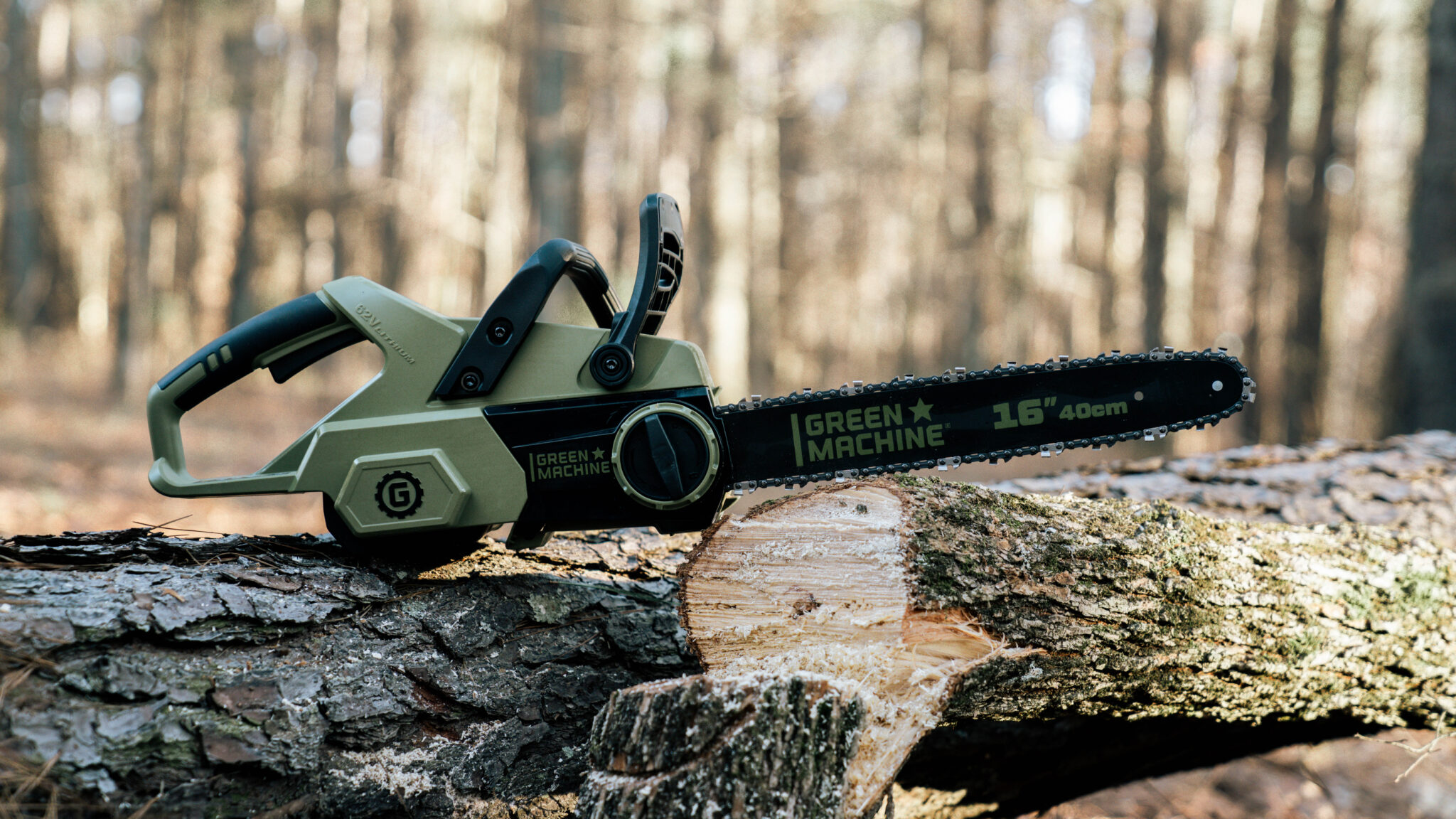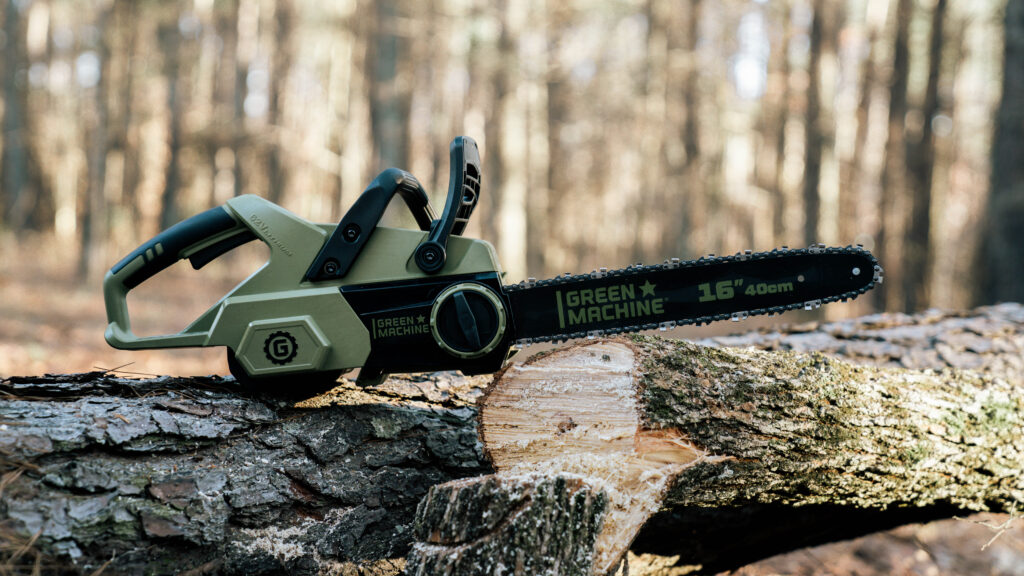 Tackle any project with the Green Machine 62V Brushless 16 in. Cordless Battery Chainsaw. The powerful 62V system and brushless motor give you the same power as gas and up to 45 minutes of cut time on a charge. You can easily adjust the chain tension with the turn of a dial and the Oregon bar and chain is perfect for small trees, logs, and large branches. This chainsaw is safe to use with an electronic chain break and it's easy to start with the trigger.16 in. Oregon bar and chain
Electronic chain break
Tool-free chain tensioning
Brushless motor for more power, quiet operation, and longer life
Automatic oiler
Easy trigger start – no cords to pull
No harmful gas fumes
One battery fits all Green Machine tools
Available exclusively at Home Depot
WORK SHARP Knife and Tool Sharpener Mk.2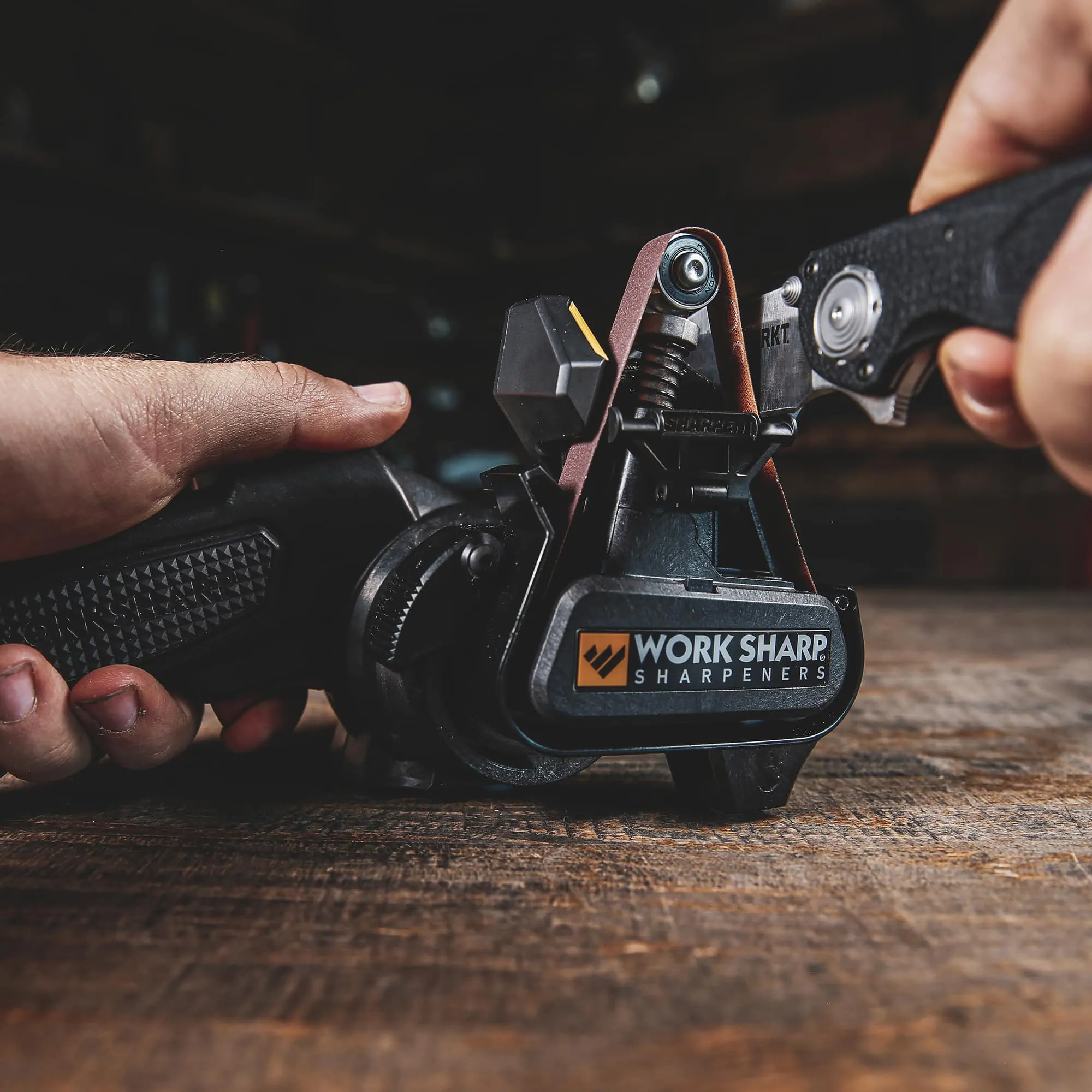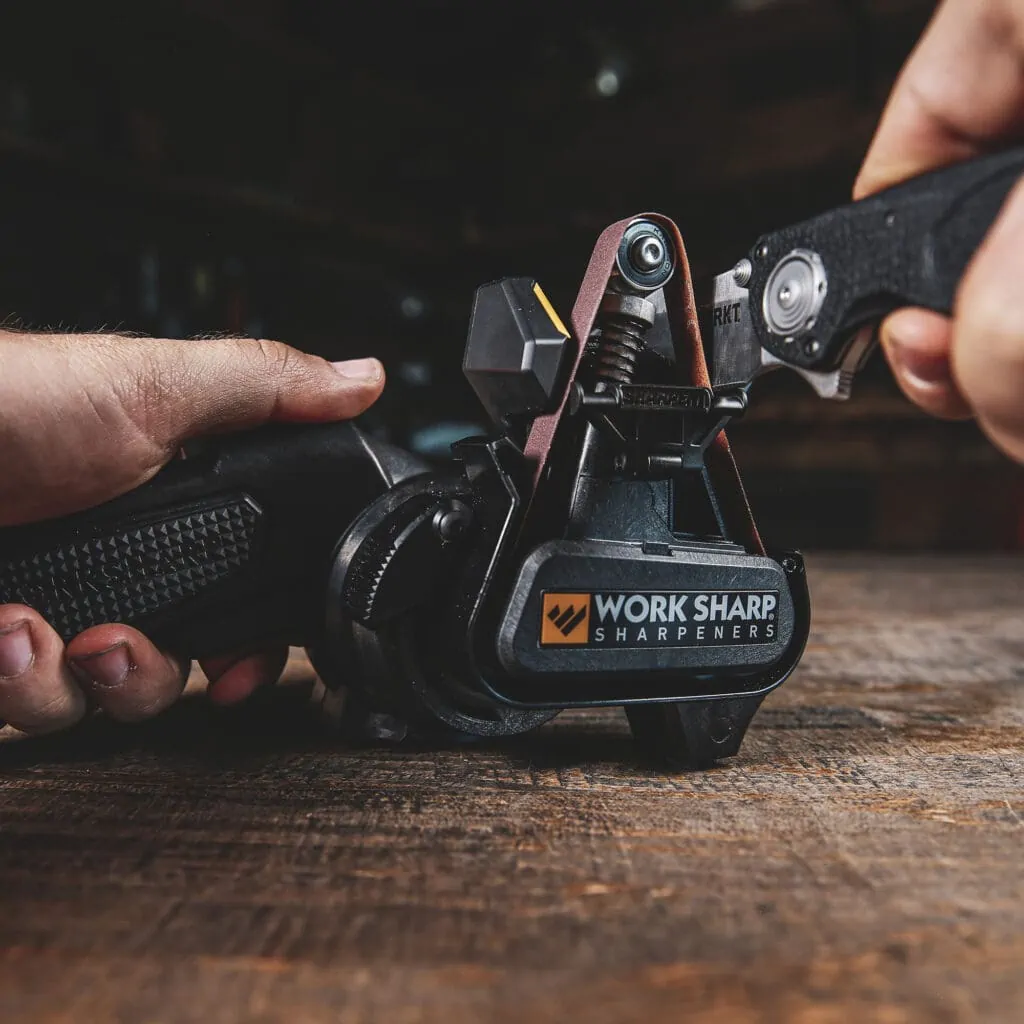 Sharpen every knife and tool with an edge. Gone are the days of labor intensive sharpening on a stone, or sending your blades out to be sharpened. Sharpen quickly and get back to work with the Mk.2 Knife and Tool Sharpener. Available at worksharptools.com
Crescent Lufkin Shockforce Nite Eye G2 Tape Measure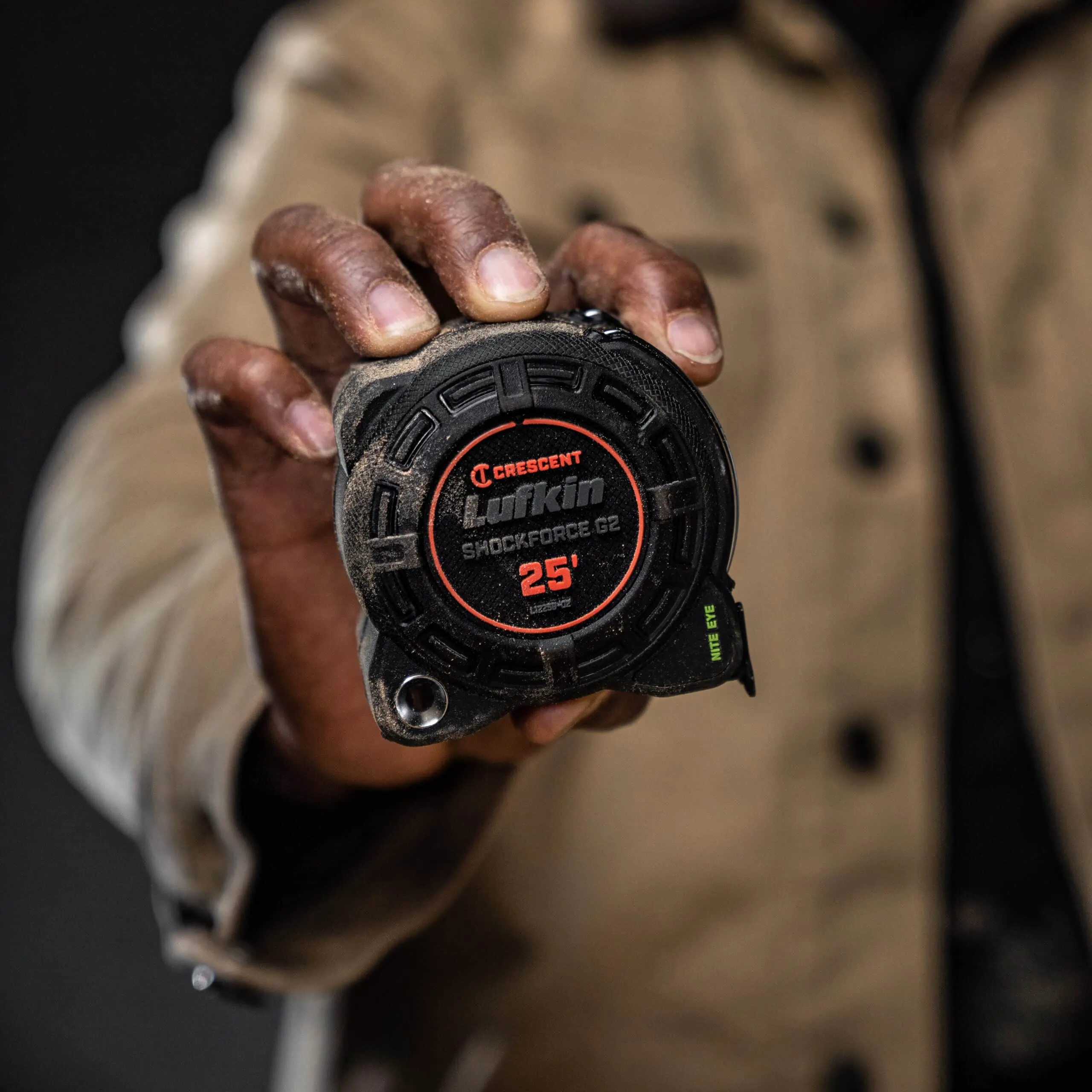 The Crescent Lufkin Shockforce Nite Eye G2 is the tape for the pro. Featuring an extra wide tape with multiple protective coatings. The durable case design is drop tested from extreme heights to ensure it will take a beating time and time again on any jobsite. The endhook and belt clip have been redesigned to continually meet the needs of any pro. Perhaps, the most noticeable feature of any Crescent Lufkin Shockforce Nite Eye is the high contrast green on black blade providing improved legibility in all light conditions.
Thicker protective tape coating in addition to an extra protective barrier on the first 6in provide increased tape durability
Wider, thicker blade provides 17ft of reach
Green on black markings with a matte finish increase the tape's visibility in all light conditions
Bolstered case design provides protection against drops from extreme heights
Improved end hook protects the entire front of the tape and prevents the tape from snagging and tearing
Redesigned belt clip makes it easy to place the tape on a pocket, belt or bag
Available at Lowe's
DEWALT 20V MAX* Brushless Cordless 2 in. Magnetic Drill Press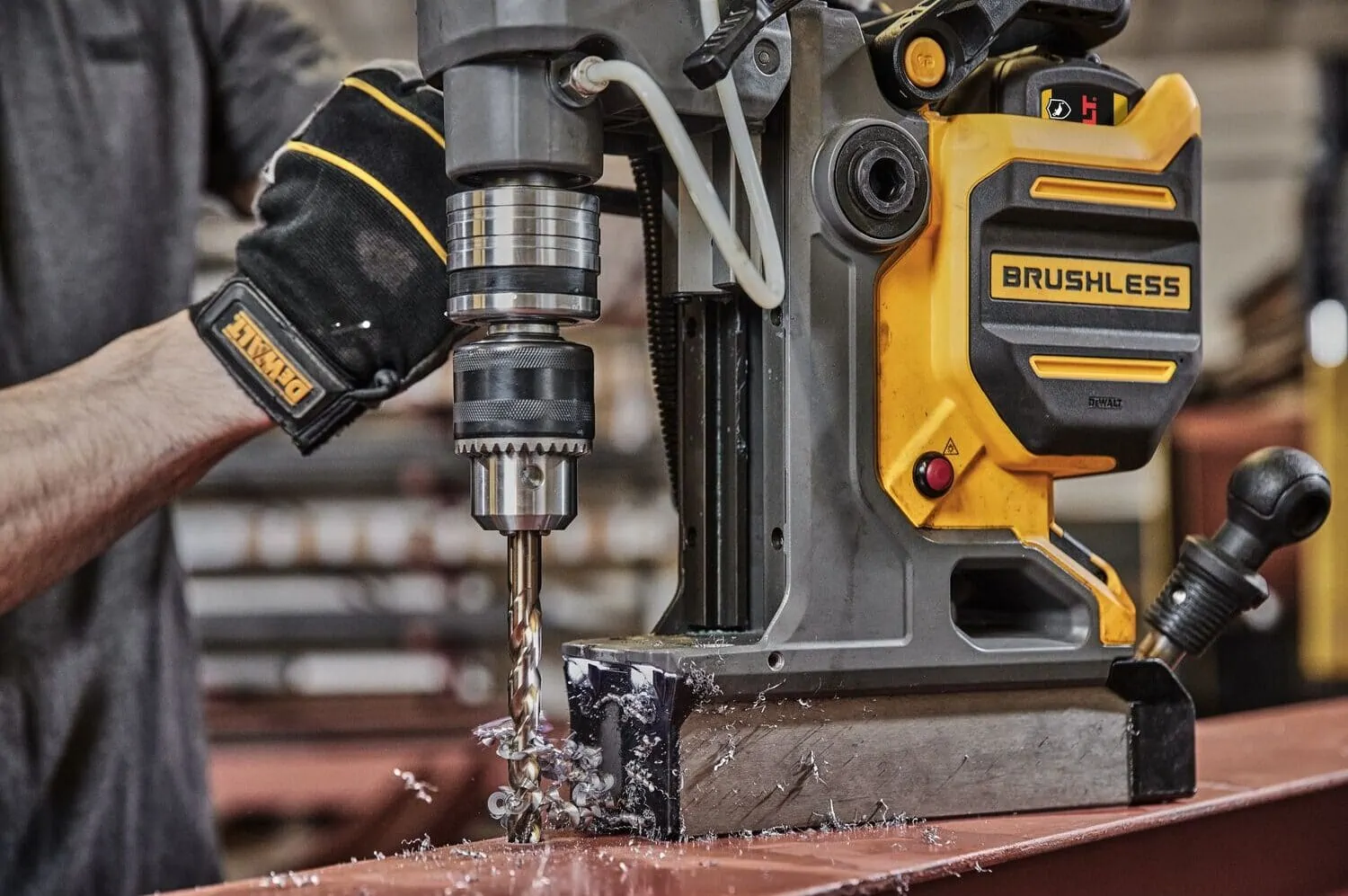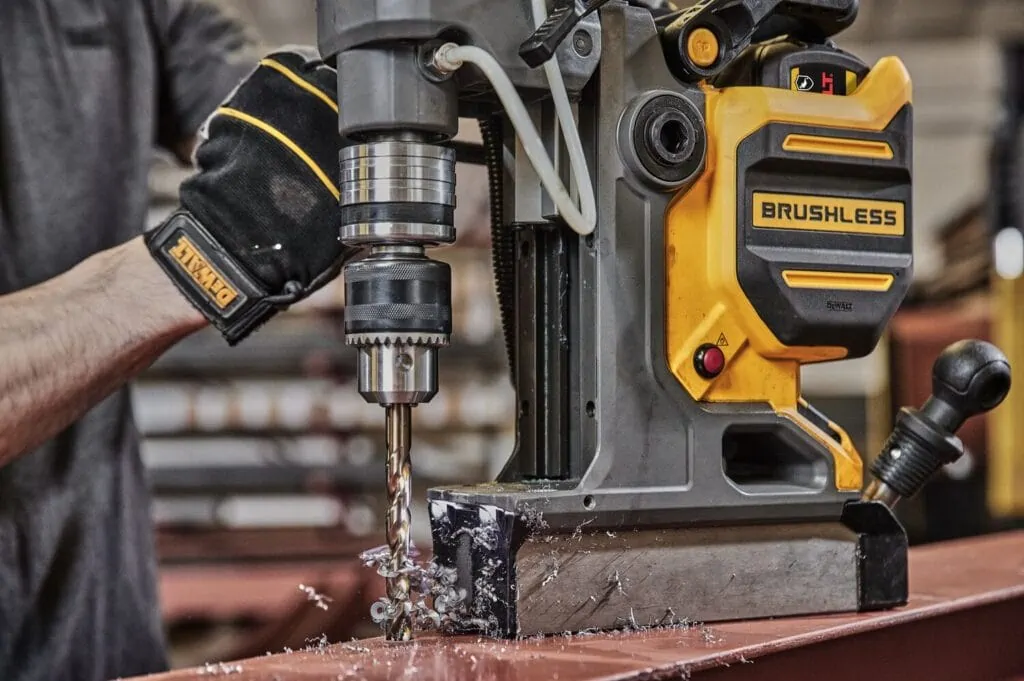 Tackle challenging metal drilling jobs using the new 20V MAX* Brushless Cordless 2-In. Magnetic Drill Press featuring FLEXVOLT ADVANTAGE™ technology (DCD1623). The drill is up to 32% more powerful** with cutting speeds up to 50% faster vs. the competition∆. Delivering 40 holes per charge†, the drill has a capacity of up to 2-In. holes through 2-In. of structural steel. The drill also features the DEWALT E-Clutch® System which detects the motion of the tool and shuts it down in a bind-up situation.
The DEWALT 20V MAX* Brushless Cordless 2 in. Magnetic Drill Press with FLEXVOLT ADVANTAGE™ is available now at TOOLUP.com
Dynamic® Introduces 28-Piece Insulated Tool Set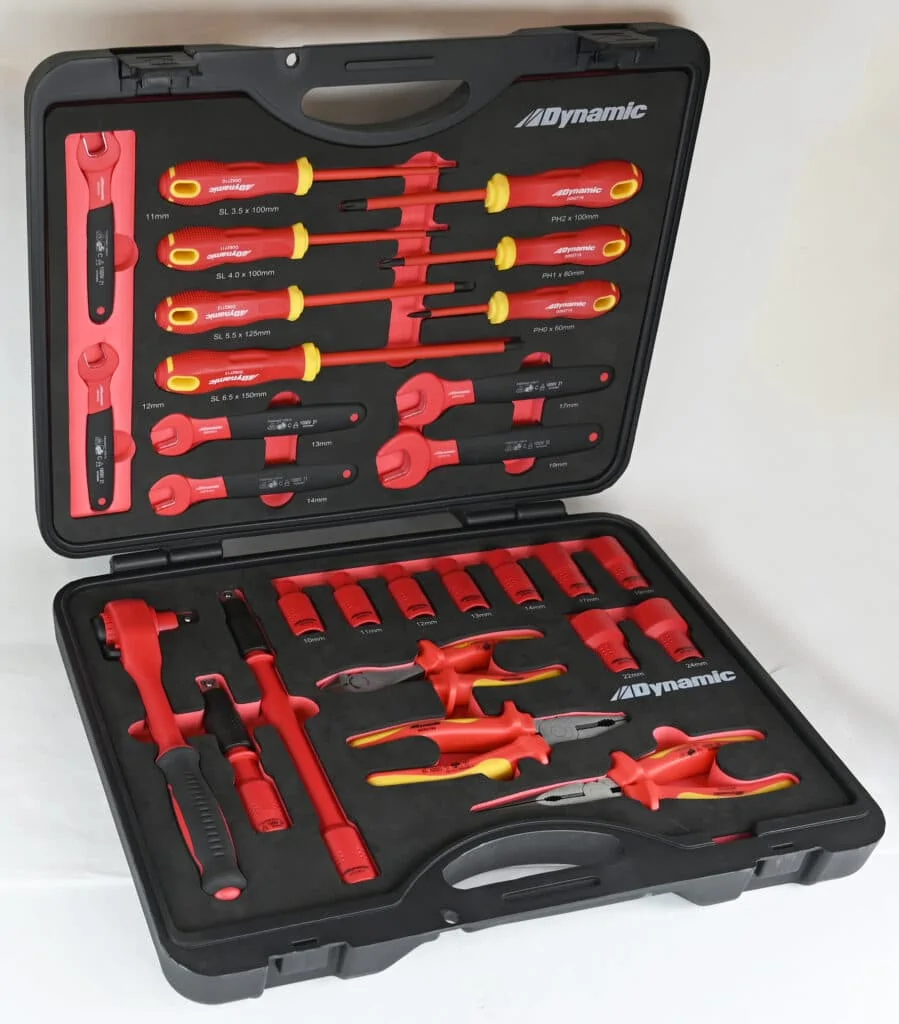 The Dynamic® tool brand has introduced a 28-piece insulated tool set to meet the growing needs of commercial and residential electricians, industrial maintenance professionals, mobile/field service technicians, and electric vehicle (EV) mechanics. Each tool within the set has been tested to 10,000 AC and is VDE certified to 1,000 VAC in compliance with IEC 60900.
Dynamic's new insulated tool set includes a 1/2″ drive ratchet with a selection of extensions and six-point metric sockets. It also contains open-ended metric wrenches, slotted screwdrivers, Phillips screwdrivers, side-cutting pliers, lineman's pliers and long-nose pliers. All pieces are precision machined to meet the needs of the most demanding professionals. Available at shopdynamictools.com
Professional Electric Kitchen Knife Sharpener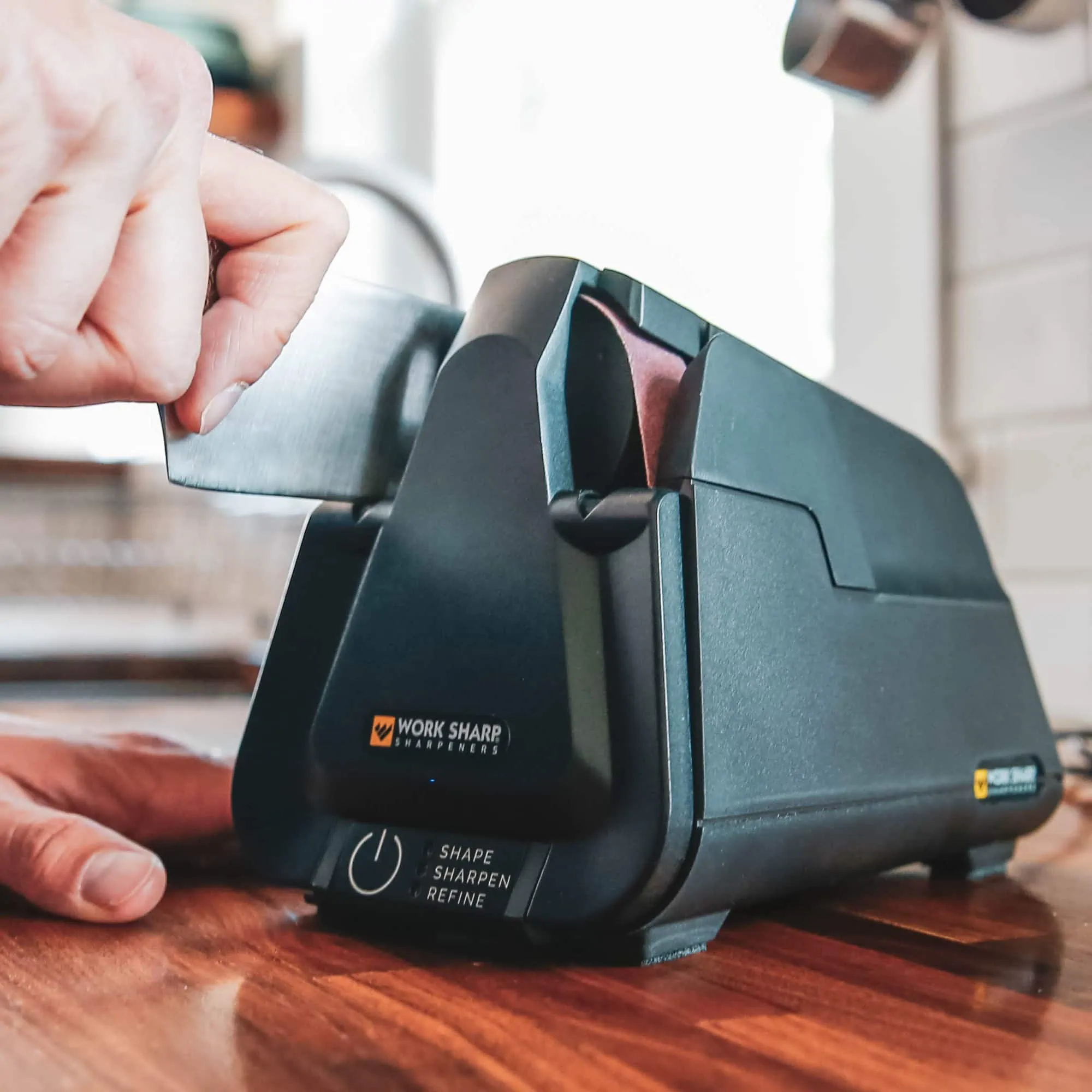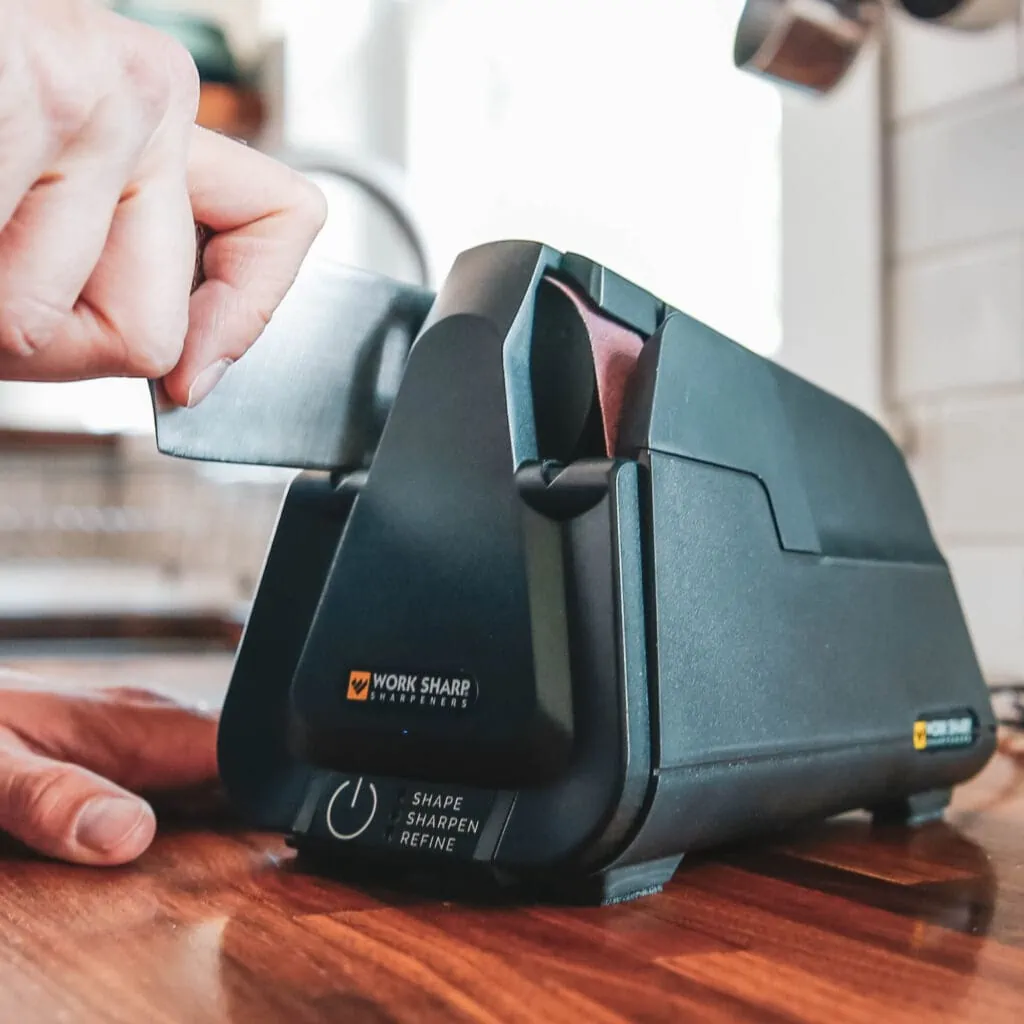 An elegant counter top solution for the home chef to sharpen their own knives. Our knives are high value tools, possibly the most valuable tools in our kitchen. Take pride in sharpening your own knives and preparing beautiful meals effortlessly with sharp blades. Power on and use the leather-lined angle guides to hold your knife at the proper angle to ensure a razor sharp result. Available at worksharptools.com
The Airstream Backtrack Chair by KUMA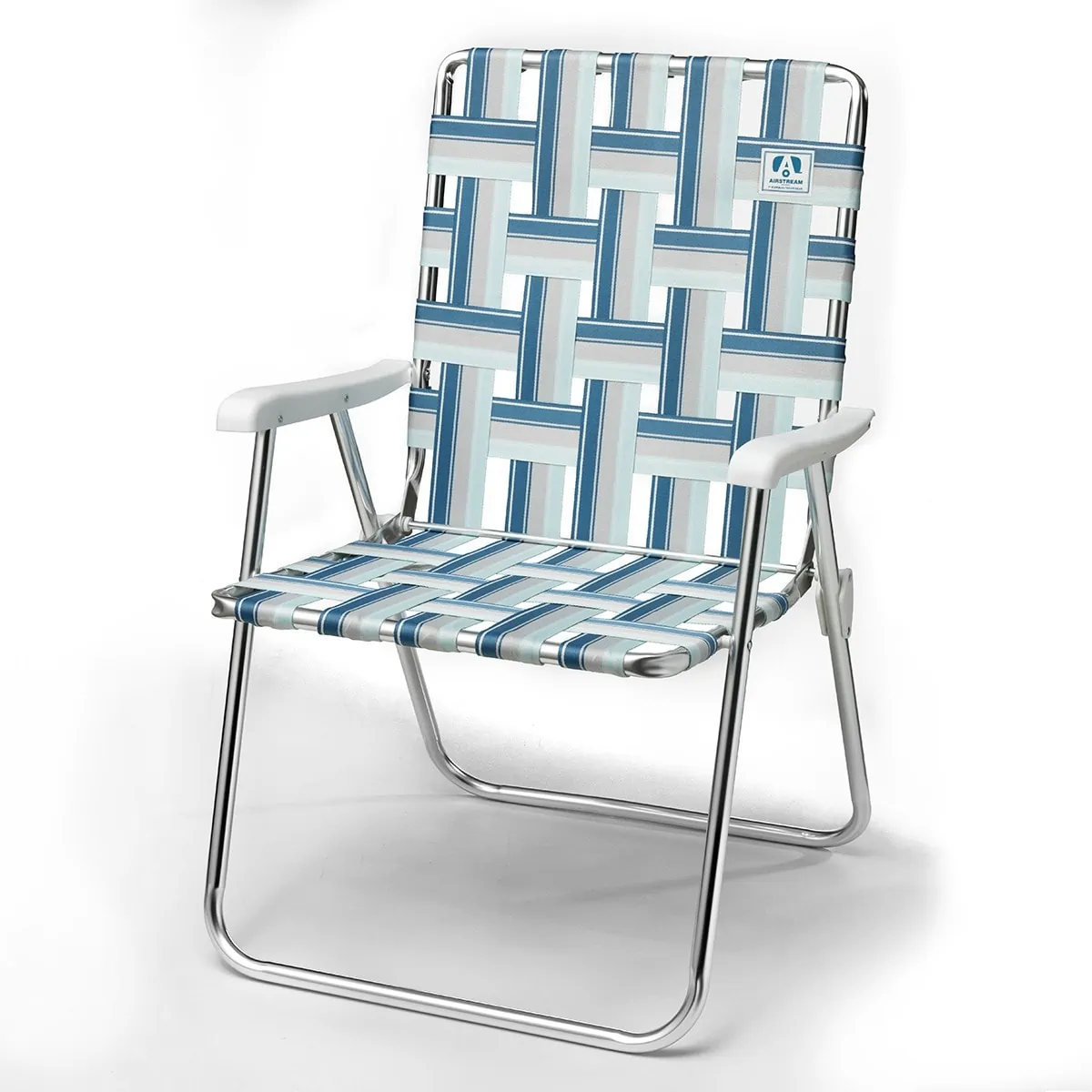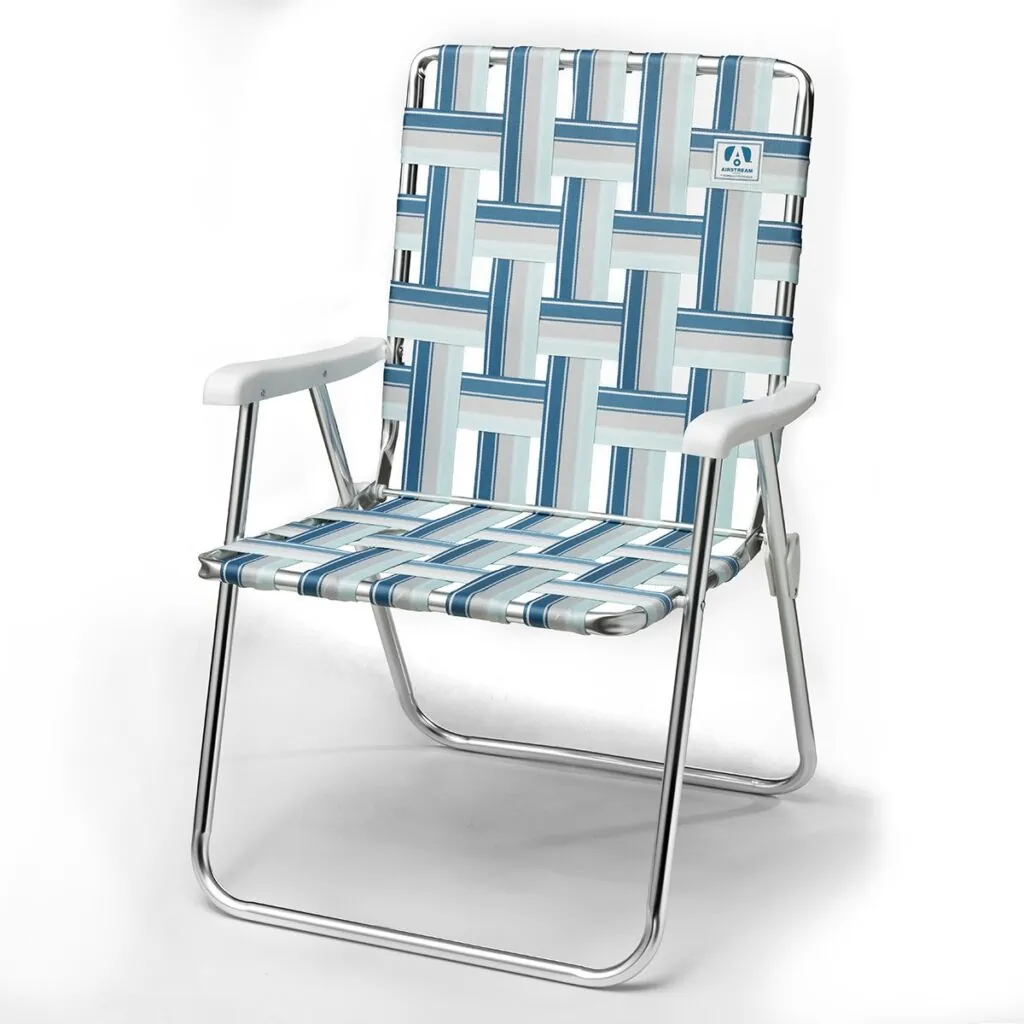 Airstream teamed up with KUMA Outdoor Gear on a brand-new Airstream-inspired Backtrack Chair. Made with the same solid aluminum frame and seat belt-grade webbing, the Airstream Backtrack Chair features a cool blue and gray color palette and embroidered Airstream + KUMA patch. Sold in pairs so you and a friend can enjoy a relaxing seat by the fire.  Available at airstreamsupplycompany.com
The STIHL Pro Splitting Axe

For the Lumberjack and woodsman…
With a premium American hickory wood handle for reduced vibration and a long steel sleeve to help protect the handle in the event of an overstrike, this ax is perfect for the serious handyman and outdoorsman.  https://www.stihlusa.com/products/forestry-tools/axes/prosplitaxe/