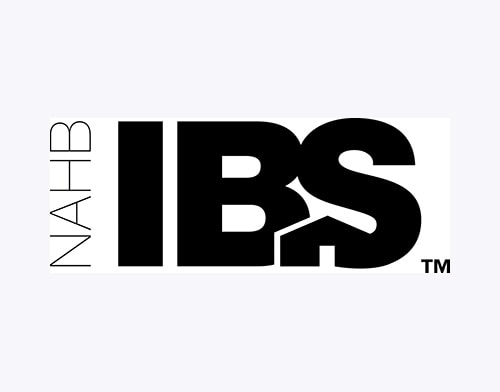 The 2020 Builders' Show will bring together more than 1,400 top manufacturers and suppliers from around the globe in 600,000 net square feet of exhibit space, showcasing the latest and most in-demand products and services. Attendees can tour the two official show homes. The New American Home® (TNAH), located in Henderson, Nevada, is distinguished by incorporating a wide variety of contemporary-modern design, characterized by minimal decoration, abundant glass and flat rooflines. The New American Remodel™ (TNAR), is a true showcase of innovation and design in today's home, exhibiting the latest trends in the housing industry and advancements in technology and energy-efficiency. IBS 2020 will offer the most up-to-date and innovative education the industry has to offer. It features sessions in seven tracks, taught by renowned building industry experts from across the country. Here is a preview of some of the products and services you don't want to miss checking out for yourself at the show.

AquaSurTech OEM coatings and Stains

The high-performance water-based coatings and stains for the window, door and Cellular PVC products sectors from AquaSurTech OEM feature a molecularly bonding resin and highly heat reflective pigments. Both ensure excellent color retention with minimum heat absorption. AquaSurTech has been innovating for 25 years, constantly improving on its environmentally friendly, heat reflective product offering. This allows users to benefit from the highest standards of performance, while using non-toxic, non-hazardous coatings which contain less than 20g VOC/Liter and require no harmful catalysts or hardeners.  The TruStain "spray on wood" look can make smooth PVC and other surfaces appear like real wood and add significant value to various home components such as windows, doors, trim and more. Newly developed automated cleaning (prepping) and spraying equipment for both windows and doors are available. The new Gantry Spray System fits inside an existing spray booth, requiring no additional floor space while providing maximum versatility and helping users cut production costs and increase the quality and consistency of their product offerings. In addition to this, AquaSurTech OEM will provide any necessary assistance and certification training resulting in an industry-leading warranty. On top of performing live prep and paint application demos, videos of the company's line of automated equipment solutions will be shown, and experienced staff will be present to advise builders and manufacturers on how AquaSurTech can become part of their success going forward.  Visit aquasurtech-oem.com or booth: SU3624.

Updated Tool Lineup with Hand Tools and Apps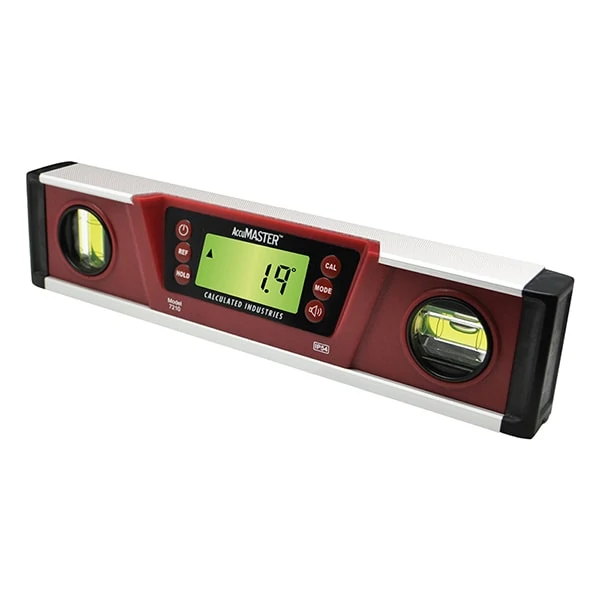 Building on its tradition of innovative tools, Calculated Industries added three tools to its lineup this year along with new and updated apps. New items include two digital levels, a digital angle finder, CMEZ construction math app and updates to the industry-standard Construction Master Pro app. Together or individually, these items each help make building with accuracy easier and more dependable. AccuMASTER Pro Digital Level has an easy-to-read display that shows plumb and level as well as pitch and slope (in percent or degree). Its display inverts when used upside down for easy reading. The display can be "locked" to allow the unit to move for easier viewing. Further it provides accurate measurements within ±0.2°. The AccuMASTER Digital 7" Angle Finder Ruler provides a digital accuracy of ±0.3°.  Using the angle finder you can determine inside and outside angles with absolute precision.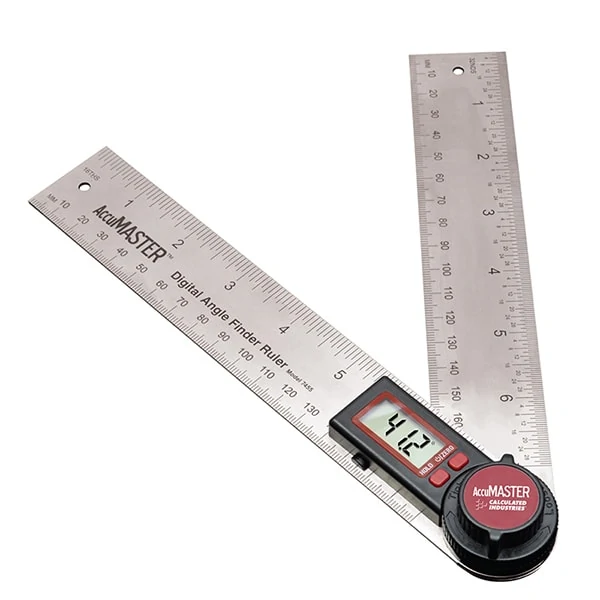 The Construction Master EZ app features simple-to-use forms to calculate advanced construction math. Users enter inputs and instantly see outputs. There is no more guessing which keys to press because the forms guide users through it. Enriching an already robust Construction Master Pro app, CI added the ability to copy and paste from the app to other tools on mobile devices. Visit calculated.com or booth: SU928.

Making Deck Installation a Breeze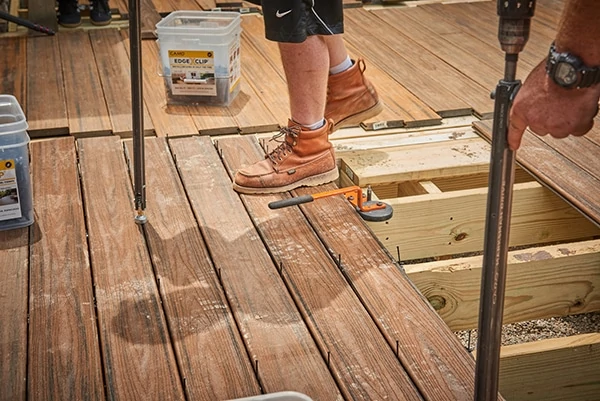 CAMO sells easy-to-use fasteners and tools deck builders, remodelers, and DIY-ers need to save time on any decking project. Their family of products includes everything from traditional face screws to proprietary Edge Deck Screws, guides, and tools that make deck installation a breeze. Their latest tool, the CAMO DRIVE™, was the winner of the Best New Outdoor Living Product at the 2019 International Builders' Show and won the Best New Product award at the 2019 LMC show. The CAMO DRIVE tool attaches to any drill, comes with three guides for Edge, Clip, and Face fastening, and is easy to load with CAMO Collated Edge Deck Screws and CAMO Collated Face Deck Screws. Contractors continue to be impressed as they fasten boards up to five times faster compared to traditional fastening methods. Where even greater time-savings come in, though, is using the CAMO DRIVE during grooved decking projects with the family of CAMO deck board clips. Start (and end) your grooved deck installation with the new CAMO Starter Clips. Then fasten the rest of your deck boards with EdgeClips® for 90-degree installations or EdgeXClips® for angled installations. Both EdgeClips and EdgeXClips are easy to set, require no partial installation, and they're up to 88 percent stronger than the competition in lateral movement tests. Even if you don't want to use the DRIVE tool, each pail of EdgeClips and EdgeXClips comes with the Never-Miss Guide™ that spaces the boards, and sits over the clip, directing the driver bit directly onto the screw head so you never miss. Visit camofasteners.com or booth N963.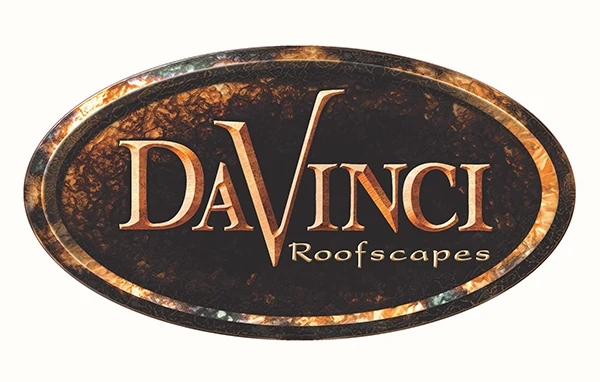 Composite Roofing With Natural Wood Profiles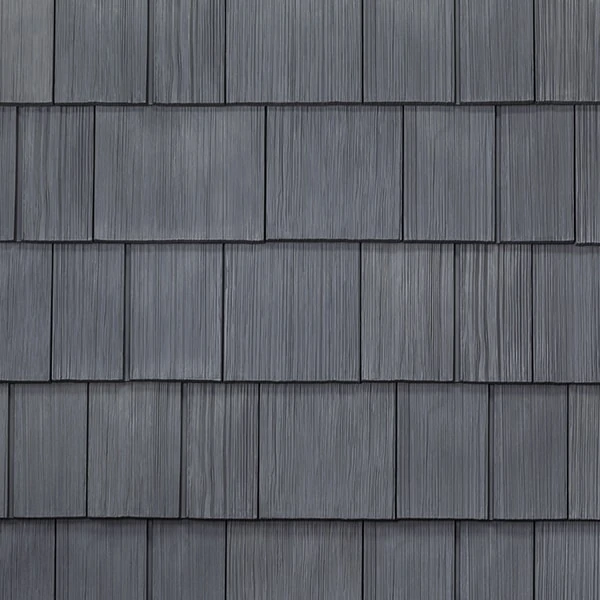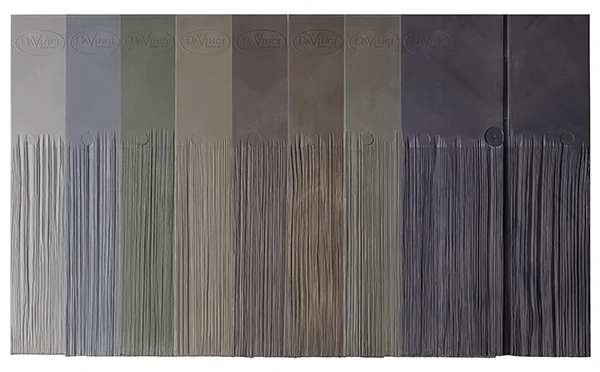 Created with the authentic look of real cedar shake taken from natural wood profiles, the multi-width DaVinci Select Shake roofing tiles resemble a traditional cedar shake look. Available in eight- and 10-inch widths, each DaVinci Select Shake tile is 22-inches long and has a 5/8-inch thickness. The 10-inch wide pieces have a simulated keyway to give the appearance of four- and six-inch width shakes placed together. The unique tile design of DaVinci Select Shake allows for faster installation than previous DaVinci single and multi-width products. Introduced in early 2019, the DaVinci Select Shake tiles have enjoyed a strong surge of immediate popularity nationwide. The product comes in eight color blends, including Autumn, Chesapeake, Mountain, Tahoe and Weathered Gray. The additional three color blends come from the Nature Crafted Collection and include Aged Cedar, Black Oak and Mossy Cedar. A natural progression from the company's capabilities to manufacture composite roofing, the DaVinci Hand-Split Shake Siding products were launched in 2019. Made of virgin resins, UV and thermal stabilizers plus a highly specialized fire retardant, the siding is resistant to expansion and contraction that can happen with fluctuating weather conditions and temperatures Visit davinciroofscapes.com or booth: N939.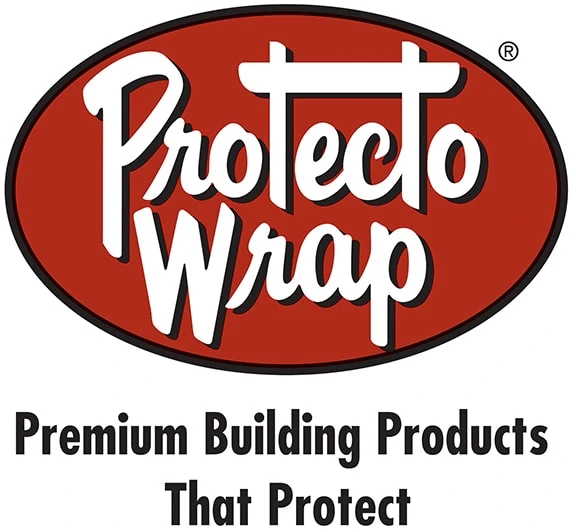 High-Performance Window and Door Flashing Tape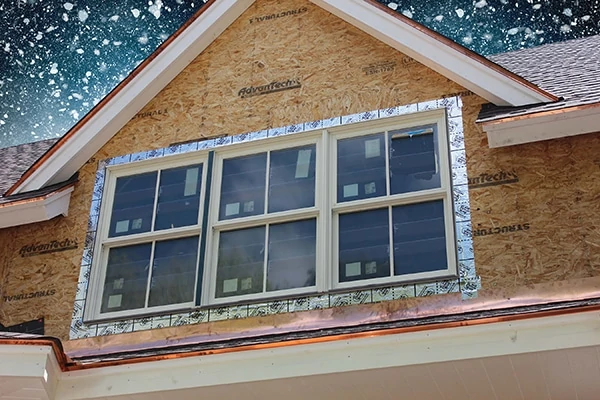 Protecto Wrap's high tack, tenacious, durable, peel and stick air/vapor barrier tape system is used for sealing PVC and aluminum fin windows and doors, window and door openings, and as a full coverage air vapor barrier membrane. It is a high-performance window and door flashing tape designed to be applied down to -20° Farrenheit without the use of primer or mechanical fasteners on most substrates. It utilizes a high tack pressure sensitive adhesive (PSA) combined with a high-performance facer film. This design provides a full 12-month UV exposure. A greener, cleaner building tape solution that offers no VOC's, HFCC's, nor CFC's. It is non-toxic and non-allergenic. No off-gassing is produced during the manufacture, nor installation of this product. The easy to install peel-and-stick application can be applied on damp surfaces and creates a total air and water seal. Visit protectowrap.com or booth: N227.

Goof Proof Showers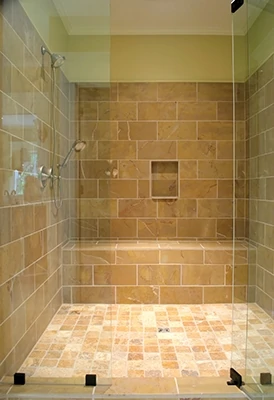 Mark E Industries has created eight products to simplify the art of shower and tile installation by focusing on some of the industry's more difficult and time-consuming tasks. These tools save the installer the valuable time required to complete such tasks, without the problems that can occur with traditional methods. Installing a shower pan is now easy, less time-consuming, and less expensive with Goof Proof products that guide the slope of the floor. The products not only assist the professional contractor but any do-it- yourselfer looking to create a tile shower installation of any size or shape with consistently perfect results every time. A shower pan can be water-proofed with many different membranes on the market today, and the Goof Proof products such as Pre-Pitch,Kirb-Perfect, Quick-Pitch or Handi-Kirb will work with all liners currently available. Visit markeindustries.com or booth N1072.

Maze Nails – 100% Made in the USA.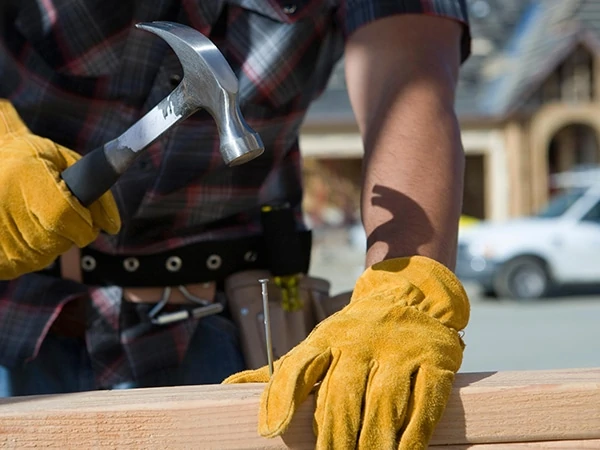 Maze STORMGUARD® nails are double hot dipped galvanized and have a thick coating of zinc for maximum corrosion-resistance. All Maze STORMGUARD® Nails meet and exceed the ASTM A 153 specification for hot-dip galvanizing. Maze manufactures quality double hot-dipped nails for fiber cement siding, cedar and redwood siding, roofing, cedar shakes and shingles, PVC trim products, decking, fencing and post frame building construction. Many manufacturers and industry associations recommend Maze Nails for use with their building products because of their superior rust-resistance and quality performance in the field.  Maze also manufactures a complete line of stainless steel for marine and coastal applications. Maze Nails are 100 percent Made in the U.S.A. in Peru, Illinois.  Visit mazenails.com or booth: C7946.

Speed and Consistency from Muro's Auto Feed Screw System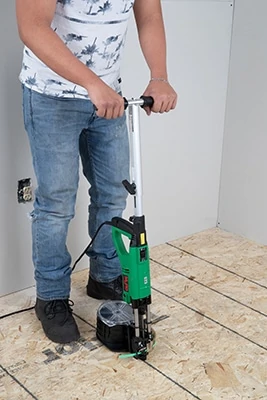 Muro, one of the original developers of Auto Feed Technology still remains prominent within the industry 30 years later. Speed, while important is not the biggest advantage that can be gained by utilizing a Muro Auto Feed Screw System. Consistency and ease of use are more important factors, and a reason why these tools are so popular. Gone are the sore backs and knees normally associated with driving screws. The easy to load 150 screw coils and no jam design, along with the height adjustable handle, allows users to work standing up for hours on end. The built-in countersinking feature removes the guess work when driving and seating screws providing the same depth each and every time. Screw development has also come a long way over the years. Twin fast threads and special screw tips eliminate the need to pre-drill any nibs under the head for countersinking. Everything now is completed in one simple operation; just drive the screw and you are done. Muro has screws for complex composite lumber, engineered joists, OSB flooring, PT chemicals and flooring substrates for tiling applications. Muro even has tools that can drive screws up to 4-inch long – another first in the industry. Additionally, Muro has even taken another huge step in fastening wood to steel, including heavy gage metal. Visit the Muro.com or booth: C8743.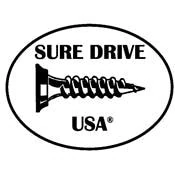 Wide Variety of Deck Fastening Solutions from Sure Drive USA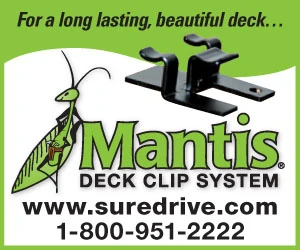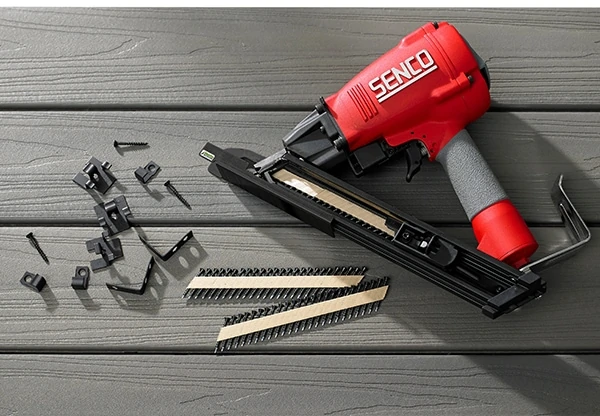 The hidden deck fastener line including the Mantis Clip® for grooved boards has been a favorite with many decking contractors, as well as DIY homeowners. The Senco Eliminator RCS™ with E-Z Slide attachment is a pneumatic installation tool for installing Mantis using Ballistic Nail Screws® to fasten grooved decking up to 70 percent faster than conventional methods. The Mantis clip is recommended by top decking manufacturers like MoistureShield®, Trex®, Americana® ChoiceDek® and more. The Mantis is different than the other generic clips on the market because it is built with a base that promotes airflow to ensure the joist structure remains protected. The Mantis clip is available in four profiles to precisely fit specific boards. Sure Drive offers a limited lifetime warranty against loose deck boards. The Hidden Link® for solid edge decking is available in two varieties. One offers 1/8-inch deck board spacing while the other provides a ¼-inch spacing. Sure Drive USA recently introduced a new composite fascia board screw that is quick and easy to install. No need for predrilling holes to allow for expansion and contraction, the Sure Hold™ Fascia Board Screw has wings built into the shank to bore out the hole and the large pancake head is painted to match a variety of decking colors. Sure Drive USA / Pan American Screw also manufactures a wide variety of specialty deck screws and made-to-order specials.  booth: 1857.

Titebond® Shines the Spotlight on Repackaged Line of Adhesives Developed Principally for the Construction Pro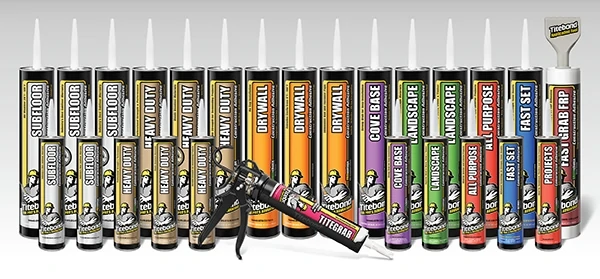 Over the years, Titebond has developed an impressive line of construction adhesives formulated to meet the performance needs of contractors and the trades and is presenting them – freshly repackaged – as the main attraction at NAHB IBS 2020. The repackaging emphasizes the brand's focus on construction professionals and clearly conveys key product information to guide them toward the adhesive that meets their preferences and application requirements. The repackaged line includes 11 products, covering applications across the job site – installation of subfloors, drywall, cove base, hardscape, FRP panels and more. It features Titebond's TiteGrab Ultimate Construction Adhesive, a powerful formula for instantly bonding even heavy items on vertical surfaces, often, without bracing. In-booth product demonstrations will show TiteGrab in action. Another adhesive, Fast Set, is an advanced polyurethane technology that rapidly develops strength and bonds virtually every construction material, including non-porous to non-porous. Titebond also will be featuring its line of WeatherMaster sealants, most notably, WeatherMaster Metal Roof Sealant and, for multi-purpose use, WeatherMaster Ultimate MP Sealant. Their advanced polymer formulation outperforms all other sealant technologies, including VOC solvent, silicones, tripolymers and urethanes. They extrude in temperatures down to 0 degrees Farenheit and adhere in wet conditions, as an in-booth demo will show. As testament to their strength, both sealants have been approved for use in Miami-Dade County, one of two high-velocity hurricane zones in Florida. The company behind the Titebond brand, Franklin International, was founded in 1935 with development of the furniture industry's first one-part liquid hide glue. Today, the company manufactures a broad offering of Titebond® wood glues, adhesives, sealants and flooring products sealants primarily for construction professionals – and also for do-it-yourselfers who demand the professional touch. Visit titebond.com or booth: P2.

U2 Fasteners Continue to be a Driving Force in the Fastener Industry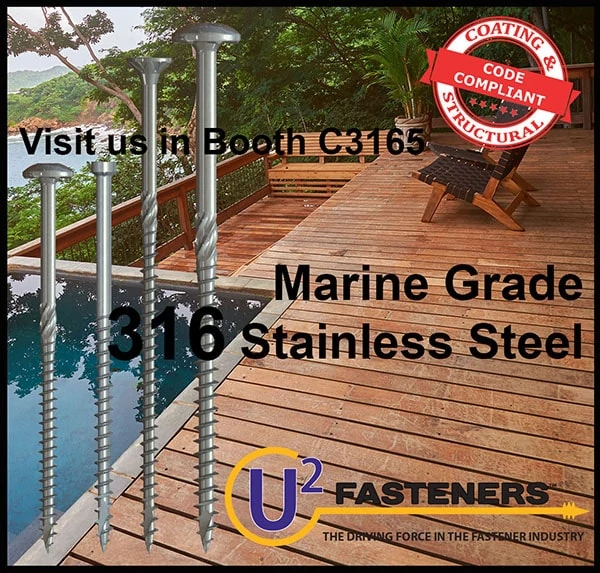 With a strong focus on our customers, U2 Fasteners aim to create, promote and distribute a new generation of innovative, code-compliant, premium fasteners for use by professional builders.  The U2 CS is the next generation of construction screws that are replacing lag screws and is structural & ACQ treated lumber com-pliant in IAPMO report ER-454. The U2 features a dome head enhancing the structural capability. The U2 CS tapper point consists of the corkscrew start and blade cutting thread for easy piercing and alleviating strain on the material. The Tight Star Recess system is designed to grasp the U-Bit tightly and can be installed with one hand. Underneath the screw head of the U2 CS the Talon Grip holds the screw tight to prevent loosening and uses its nibs to dig into the material when countersunk.  Below the smooth shank is the reamer thread, which enlarges the hole in the material to create a larger passage when drawing materials together and reduces tension on the screw head. U2 fastners offers a selection of 55 SKU's in 316 marine grade stainless steel construction, universal and fine screws.  Grade 316 is the standard molybdenum-bearing grade of stainless steel. The higher nickel and molybdenum content in this grade allows it to demonstrate better overall corrosion resistant properties, especially with regard to pitting and crevice corrosion.  In addition, Alloy 316 provides excellent elevated temperature tensile, creep and stress rupture strengths. U2's Cap screw comes in 305 grade stainless steel. Visit u2fasteners.com or booth: C3165.
Champion's "What If" Generator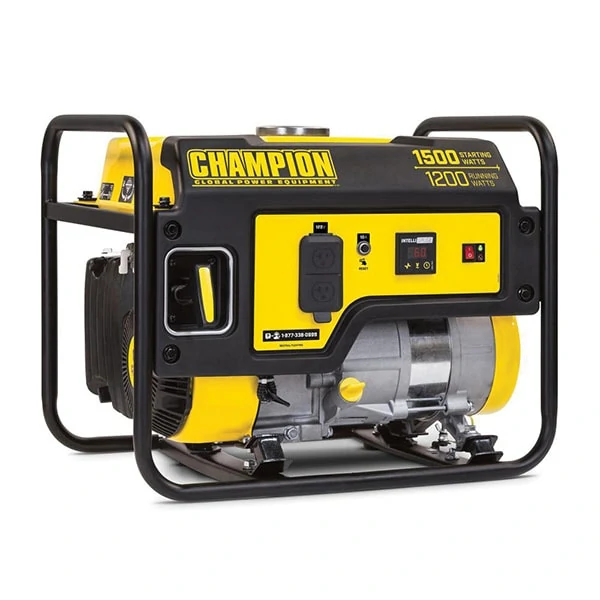 At 1500 starting watts and 1200 running watts, this rugged generator with its durable steel frame is easy to transport and provides just what you need for small jobs around the house. The next time there's an outage, the 80cc Champion single-cylinder OHV engine will provide the power you need for a few essential items in an emergency – lights, microwave, fan, TV, modem/router, cell phone charger, and more. Power up with Champion's reliable recoil start, plus Cold Start Technology ensures a quick start in cold weather. Champion also makes it easy to monitor voltage, frequency and operating hours with Intelligauge. This unit includes two 120V 20A covered house-hold outlets (5-20R). Designed for safety with convenient push-to-reset circuit breakers, a low oil shut-off sensor plus an included oil funnel for easy changes, this unit has a 0.4-quart oil capacity. The reliable 80cc single-cylinder OHV Champion engine produces 1500 starting watts and 1200 running watts and will run for up to 11 hours at 50 percent load when the 1.9-gallon tank of gasoline is full. With a noise level of 65 dBA from 23 feet, which is a little bit louder than normal speech, this machine can handle a few basic essentials in an outage. Visit championpowerequipment.com or booth: N709.
Storage and Sophistication with ClosetMaid's MasterSuite®  System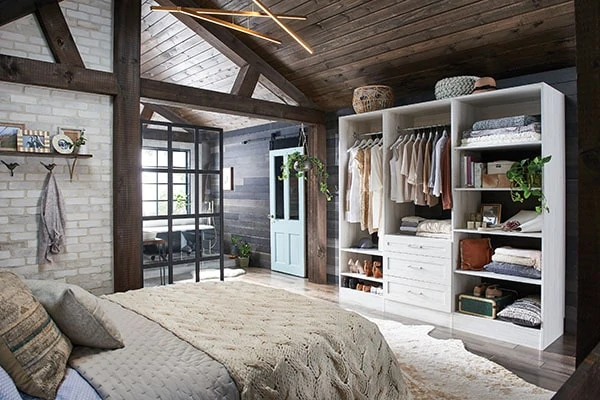 ClosetMaid MasterSuite® system has introduced 27th Avenue — a premium suite of textured wood styles, soft touch finishes, and hardware for even the most ambitious of high-end projects. Designed for the modern residence that requires upscale personalization, MasterSuite 27th Avenue includes an expanded selection of finishes for creating seamless transitions between design styles and architectural elements. Reflective of current décor palettes and design trends, the 27th Avenue allows desirable organizational elements to be designed into any room, without compromising style or flow. The modern, design-forward finishes can be mixed with each other to create unique, peaceful flows – element to element – in any interior. The collection offers three premium door and drawer front styles to coordinate with multiple design preferences: Modern, Traditional 5-panel, and Shaker 5-Panel. Customizable to hundreds of configurations and cut to any specification, MasterSuite is precision manufactured using 3⁄4-inch industrial grade engineered wood. The system's features span anywhere from soft-close, full-extension glide drawers to fitted jewelry trays and a full breadth of complementary accessories. Visit closetmaid.com or booth: C6737.

Dupont's Performance Building Solutions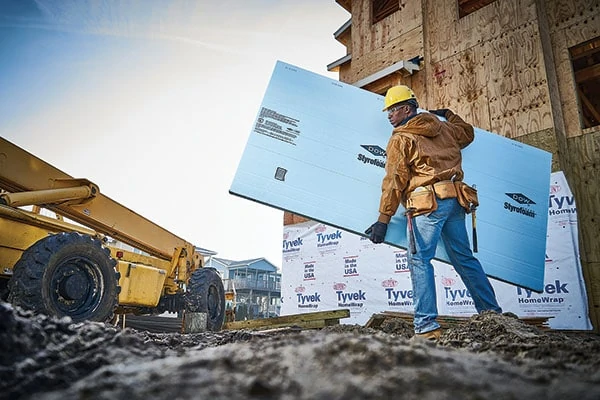 DuPont Performance Building Solutions offers industry-leading materials for air, water and thermal protection of all six sides of the building envelope – the walls, roof and foundation. With more than two centuries of experience, Dow and DuPont share a rich history of innovation and trained expertise, bringing the most cutting-edge building solutions to the market. By advocating on issues like building codes, having R&D driven by industry-leading building science, offering unrivaled application know-how and a market-leading portfolio, and providing a unique network of Tyvek® Specialists to support customers, DuPont PBS pushes new performance possibilities for commercial, residential, and multifamily structures worldwide. Powerhouse brands such as DuPont™ Tyvek® Building Envelopes, STYROFOAM™ Brand Extruded Polystyrene (XPS), and GREAT STUFF™ Insulating Foam Sealants work together seamlessly under DuPont PBS to enhance the building envelope and meet the market's increased performance expectations. DuPont PBS will keep innovating new solutions and approaches that set construction standards well into the future. Visit dupont.com or booth: C5837.

Composite Cladding for Rainscreen Applications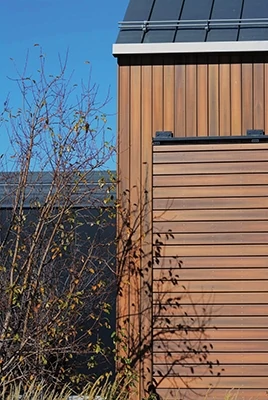 Fiberon is introducing new Composite Cladding for Rainscreen Applications, combining the beauty and warmth of wood with the durability of low-maintenance, high-performance composite materials. Fiberon Composite Cladding features rich, nature-inspired embossing for superior wood emulation. A palette of eight multi-chromatic colors, inspired by an array of exotic hardwoods, is available to complement both residential and commercial applications, and mixed material design. The open- and closed-joint profiles can be used to create a variety of looks, from subtle and rustic to bold and modern, and the closed-joint profile utilizes hidden fasteners for a seamless look. Containing 94 percent pre- and post-consumer recycled content, Fiberon Composite Cladding for Rainscreen Applications is environmentally friendly and free of toxic chemicals and preservatives. It is manufactured using sustainable processes, diverting more than 70,000 tons of wood and plastics from landfills and incinerators annually. Visit fiberondecking.com or booth: C4542.
Foreverlawn—Grass Without Limits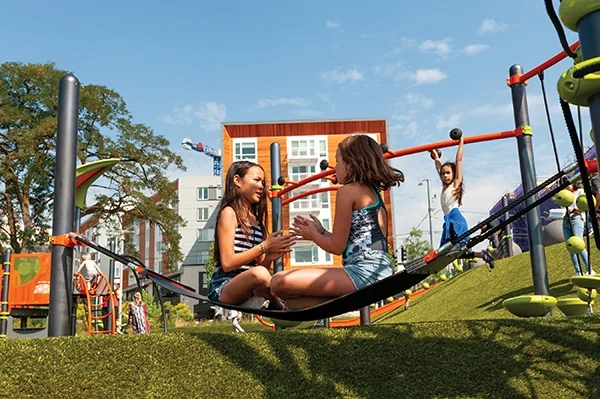 ForeverLawn provides innovative synthetic grass products to create better landscapes worldwide. In areas where real grass is difficult to grow or maintain—due to high traffic or poor conditions—ForeverLawn offers a natural-looking alternative that is beautiful, functional, and durable. XStatic™ antistatic technology is offered in its Playground Grass Ultra product. A popular product that was first introduced in 2012 and re-launched in 2019 with new enhancements, Playground Grass Ultra is a synthetic grass surface that has been installed in thousands of playgrounds throughout the United States and abroad. Playground Grass Ultra is comprised of polyethylene grass blades with a textured nylon thatch zone designed to create a full, dense surface that meets stringent safety specifications when installed as part of the ForeverLawn Playground Grass system. ForeverLawn offers specialty products including ForeverLawn Landscape, K9Grass, Playground Grass, SportsGrass, GolfGreens, BocceGrass, and SplashGrass. Visit foreverlawn.com or booth: SU1678.

DIY Gutter Guards Backed by 25+ Year Warranty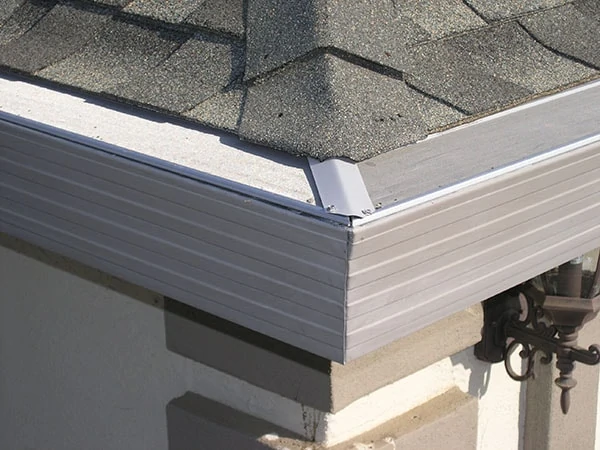 Gutterglove Gutterguard was founded in 2003 and is located in Rocklin California USA. The company continues to invent state of the art micro-mesh gutter guards and has multiple brands and are available through a network of dealers throughout North America. Gutterglove's unique system incorporates an anodized perforated aluminum frame supporting an extremely fine stainless-steel mesh that allows only water to filter through the gutters and out the drains. All debris, including leaves, pine needles and even sand are blocked by Gutterglove's system. The heated gutter guard, properly named 'Gutterglove IceBreaker', melts icicles, snow loads and ice dams on your gutter, and even filters out leaves, pine needles and tiny roof sand grit so gutter cleaning is a thing of the past. This unique design incorporates a self-regulating heat cable that installs in a built in channel in the IceBreaker gutter guard itself. It efficiently warms up the gutter guard and inside the gutter for melting the ice that has plagued homeowners for centuries from falling icicles. When Gutterglove IceBreaker is turned on, it not only melts the ice, but prohibits icicles from forming on the gutter. Visit gutterglove.com or booth: C9243.
Introducing the New IMPACTO® SLK GRIP Traction Overshoes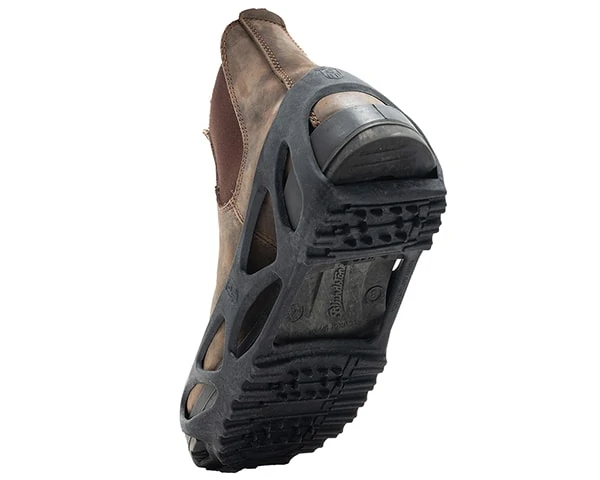 One of the latest innovative products added to the Foot Protection Line from Impacto Protective Products Inc. is the SLK GRIP. The new IMPACTO SLK GRIP fits snuggly over most shoes and boots and provides outstanding grip and traction to protect from accidental slips and falls. The SLK GRIP's tread pattern does not mark floors. The SLK GRIP is fully washable and 100% waterproof. They are durable and flexible, hard to tear and can be used over and over again. The SLK GRIP is ideal for use indoors or outdoors; at home, the office, schools, gardens, parks, farms or anywhere when walking on wet surfaces. The SLK GRIP is perfect for work sites such as warehouses, offices, and construction applications such as roofing. Visit impacto.ca or booth: N769.
Increase Your Storage Options with Hidden Doors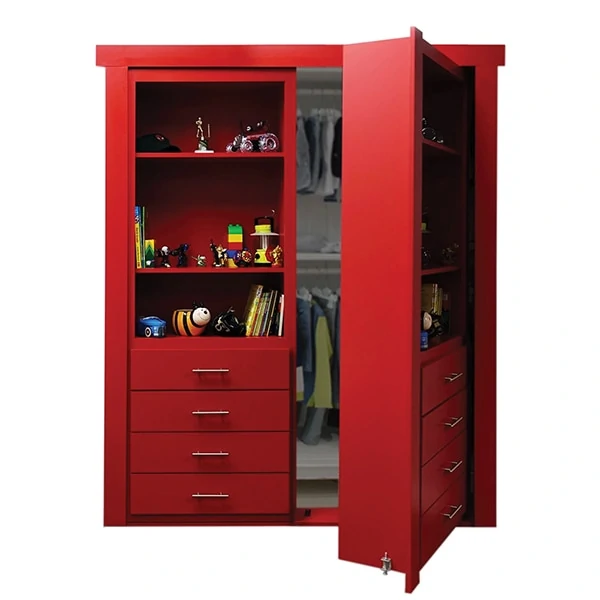 Specializing in the manufacturing and distribution of hidden doors / secret passage ways, Murphy door has taken the concept one step further by converting your doorway into functional, usable space in every doorway in your home or office. Following Murphy Doors popular flush mount design, Murphy Doors fulfill the childhood dream of having a secret, hidden door, while adding the functionality of a mobile dresser right in your doorway. The Dresser door comes standard with four fully functional, eight-inch deep drawers, and two extra storage shelves, that can dramatically de-clutter your bedroom and your closet. With the flexibility to fit in almost any doorway, you can put one of these doors in every bedroom of the house. Visit murphydoor.com or booth: SU3800 & SU3803.
The Nailer – Better Than a Stud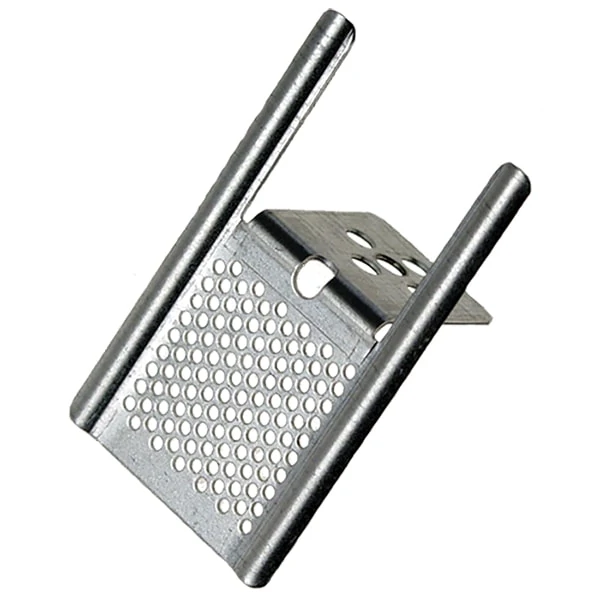 The Nailer is a corner-backer for drywall that saves time and allows for a better-insulated home or business. The Nailer is 100 percent recycled and comes in both HDPE plastic and 20-gauge galvanized steel.  The Nailer can be used in both residential and commercial projects. It eliminates extra wood or metal backing on the top plates and vertical corners. Further benefits include, less wood and metal to cut through for electrical and plumbing installations, hip roofs need no bottom cords on jack trusses, and the Nailer reduces call backs due to truss uplift. Insulation can also be fitted or blown in after the sheeting has been installed on the outside without cold spots in hollow wall cavities. Visit thenailer.com or booth: C7945.
PPG Brand's 2020 Color of the Year: Chinese Porcelain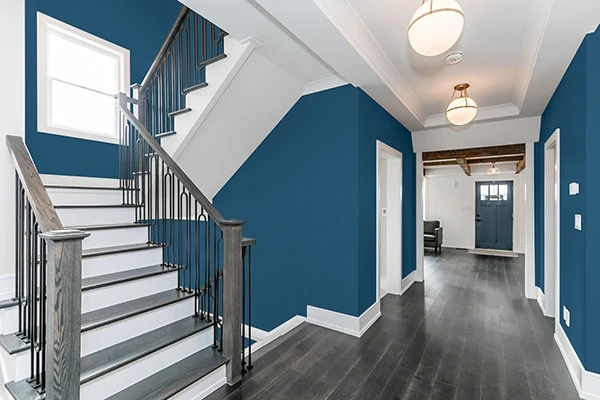 In a world where sleep is viewed as a luxury and the anxiety of a fast-paced life is all too real, it is only fitting that PPG paint brand's 2020 Color of the Year, Chinese Porcelain (PPG1160-6), offers escapism in today's technologically driven society. Hand-selected by PPG's global color experts, the shade is a blend of cobalt and moody ink blue that imparts calmness and restful sleep while also offering the spirit of hopefulness – a precious commodity in a restless world. According to recent data released by Paintzen, a PPG-owned technology platform that allows customers to pick colors and schedule painting services, blue is the most explored color family by its users, with 34 percent higher engagement than neutrals – the next most popular color family on the site. Of the blue hues, Chinese Porcelain was the most engaged color on the platform over the past six months. Visit ppgpaints.com or booth: N955.
Air-Sealing and Moisture Management with Quickflash Weatherproofing Panels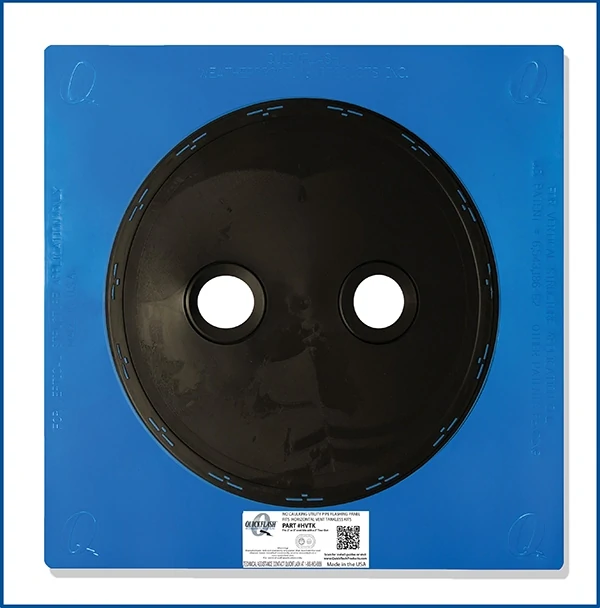 Quickflash Weatherproofing Panels provide the most effective solution for air-sealing and moisture management around exterior building penetrations on the market today. Quickflash's are an affordable solution for sealing the exterior vertical wall plumbing, electrical and HVAC penetrations. Across the country, Air infiltration and water damage are the major concerns to builders, architects, insurance companies, and potential homebuyers. Quickflash provides a quick, simple and affordable solution to this growing and costly problem. Quickflash Panels are the ideal solution for meeting the air-sealing requirements of new energy codes. Furthermore, Quickflash Panels provide quick and solution for sealing around pipe, electrical box and HVAC penetrations that breach the building envelope. Compared to Sealants (caulks), peel-and-stick membranes, or spray foams they are quicker to install, requires less labor, and keeps the moisture out. All Quickflash Panels are made in the USA and backed by a 10-year warranty. Visit quickflashproducts.com or booth: N1541.
Griffolyn® Vapor Barrier Solutions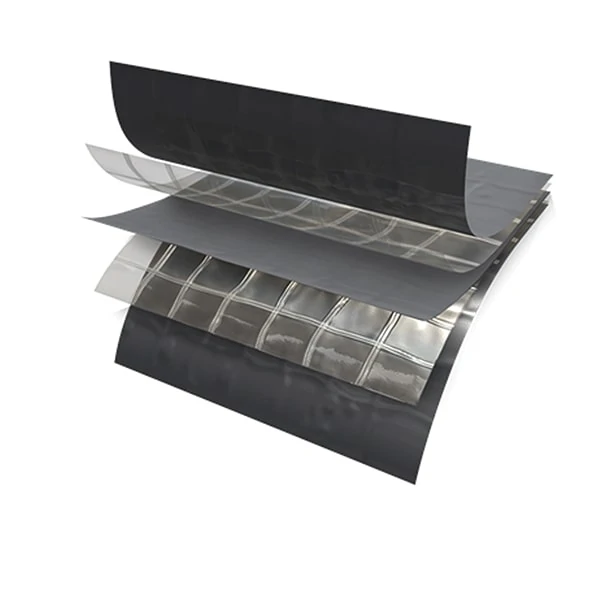 Reef Industries will exhibit a wide range of products such as crawlspace, underslab, and wall vapor protection solutions. Reef Industries has been manufacturing plastic film products for over 60 years. Their products include barricade tapes, tarps, covers, liners, packaging, containment, and crawl space vapor retarder products.  Distributed worldwide, their product portfolio comprises of Griffolyn®, Permalon®, Armorlon®, Terra Tape® and Banner Guard®. Visit reefindustries.com or booth: C2964.
New Color Collection Offers Paint Palettes with Personality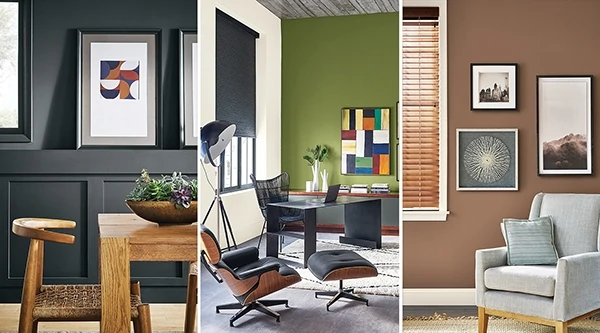 Sherwin-Williams announced the launch of ColorSnap® Color ID, a new collection of eight personality-based color palettes. Color ID was designed to help consumers easily discover and confidently select colors they love for their home. The new palettes include Creative, Dreamer, Enthusiast, Free Spirit, Minimalist, Naturalist, Nurturer and Trendsetter. Each personality offers 16 colors carefully selected by Sherwin-Williams experts to be used seamlessly together, allowing for countless combinations and a unique, personalized space. To discover their Color ID, consumers can go through an interactive experience where "their wall" will quiz them on their design preferences or interact with the Color ID in-store display at any of the 4,300+ Sherwin-Williams locations across the U.S. and Canada. Visit SWColorID.com or booth: C6337.
Color Matched Screws for Pressure Treated Decking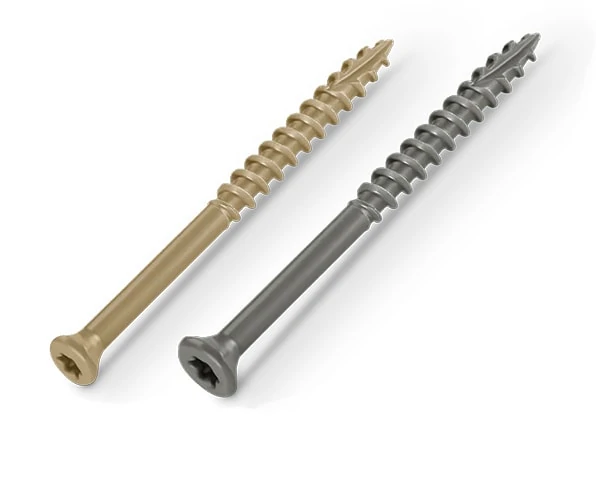 Deckfast® Epoxy screws for pressure treated decking provide unmatched performance, ease of use and value. These high-quality deck screws feature extra deep star drive recesses, reinforced flat heads with nibs, Type 17 auger tips, and a specially formulated, color matched, epoxy-based polymer resin coating. The epoxy coating provides excellent corrosion resistance and is designed for high adhesion so that the coating remains intact during installation. Approved for use with ACQ treated lumber. Deckfast Epoxy screws are available in a range of colors to match all types of pressure treated decking, sizes (from 1-1/4-inch to 6-inches), and packs. Deckfast Epoxy screws are also available collated for use with the Muro® Ultra Driver. Pre-drilling is not required for pressure treated lumber. Visit starbornindustries.com or booth: SU3127.
Improved Lightening Resistance from TracPipe® CounterStrike®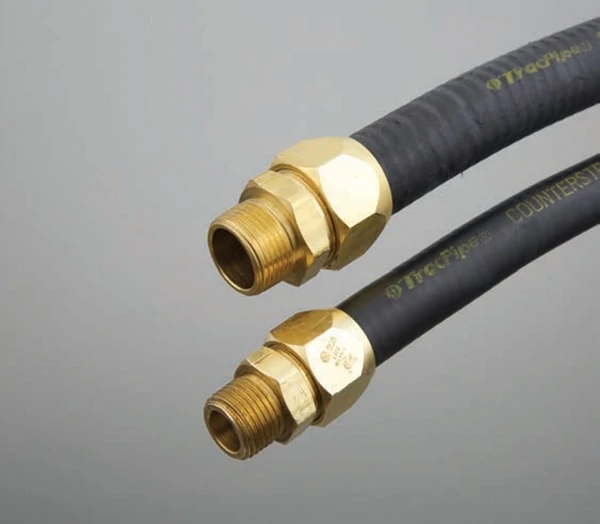 TracPipe® CounterStrike® is a patented CSST innovation based on the existing TracPipe® CSST product, but that is engineered to significantly decrease the potential for lightning induced damage to fuel gas piping systems. TracPipe® CounterStrike® has been designed with a proprietary jacket material in place of the standard yellow jacket. This black jacket has energy dissipating properties that will help protect the TracPipe® CounterStrike® stainless steel pressure liner as well as other fuel gas system components if the TracPipe® CounterStrike® becomes energized due to lightning. TracPipe® CounterStrike® is designed to withstand significantly higher levels of lightning energy when compared to conventional TracPipe® with the yellow jacket. TracPipe® CounterStrike® has been shown to be up to 400 times more resistant to the damaging effects of electrical energy than conventional CSST. There are no additional bonding requirements for TracPipe® CounterStrike® imposed by the manufacturer's installation instructions. No product, including the improved TracPipe® CounterStrike® is immune to the damage caused by a direct lightning strike. Refer to NFPA 780 for lightning protection systems for buildings and building systems. Visit tracpipe.com or booth: N124.
Closed Cell Spray Foam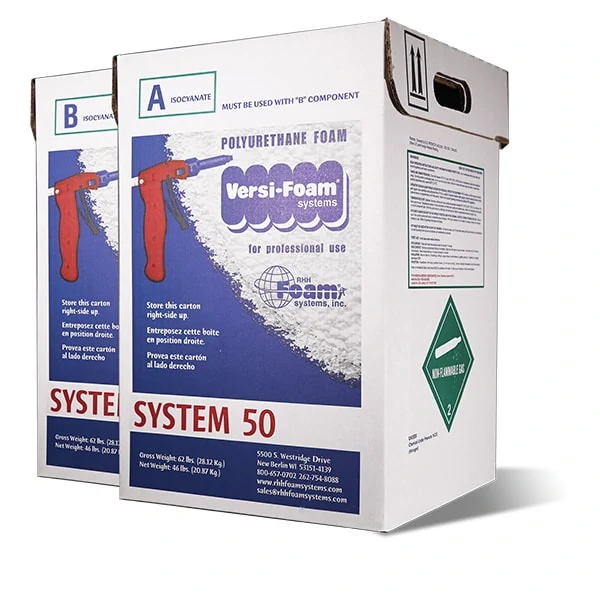 Versi-Foam® 2-pound closed cell spray foam insulation kits are available in two different formulations: Standard Formula and Class I (flame-retardant) Formula. The Standard Formula provides an R-value of 7.7 at a one-inch thickness. Recommended for most commercial and industrial applications, the Standard Formula is ideal for air sealing, wall or ceiling insulation, condensation control, sound dampening, structural enhancement, tank and pipe insulation, roof repair, marine flotation, truck/trailer insulation, sculpting and molding, pool and spa insulation, and much more. The Class I (flame-retardant) Formula provides an R-value 6.7 at a one-inch thickness. Classified as Class I in accordance with ASTM E-84, these flame-retardant kits will limit the flame spread and smoke development if exposed to a fire. Class I closed cell spray foam kits are recommended for use in inhabited buildings, including residential applications or any application in which flammability is a concern. Always consult your local building codes to determine if a flame-retardant product is required for your application. Visit rhhfoamsystems.com or booth: N306.

New Weather Shield Contemporary Collection Sliding Patio Door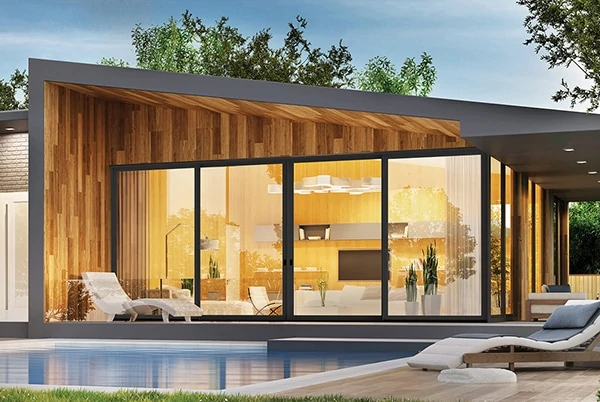 Weather Shield is pleased to offer some of the largest sizes in the industry for its new Contemporary Collection Sliding Patio Door. With a 2.25-inch thick door panel that offers outstanding structural performance, the new Sliding Patio Door expands maximum panel widths up to five feet and heights up to ten feet. This helps architects and homeowners alike to achieve their design visions for more glass and expanded views. Further, the optional direct-set fixed panel configuration creates additional visual interest through panel and direct-set combinations inspired by European design. Available in sizes ranging up to 96 square feet, it also maximizes the viewing area through large expanses of glass. In addition to expanding overall viewing area, the 2.25-inch thick door panel also allows the new Sliding Patio Door to offer superior performance to help improve thermal and structural (design pressure) ratings. Additional upgrades are available for impact-rated applications (such as coastal, hurricane-rated applications) and for extremely wide and tall panel configurations where maximum views are desired. Visit weathershield.com or booth: C3842.
Floatless™ Switches Overcome Common Float-Related Hang-Ups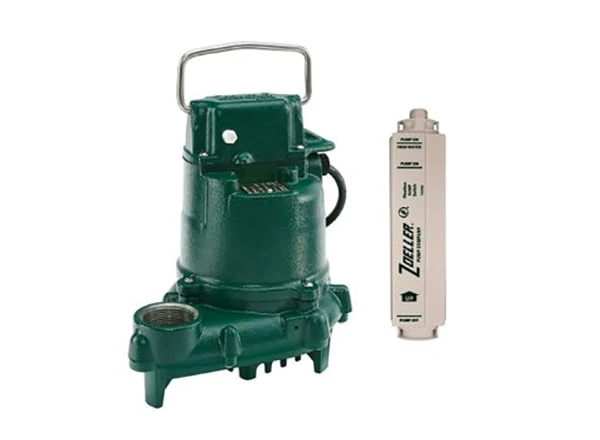 Zoeller Pump Company has released its latest development in switch technology. The new Floatless™ switches with solid state tech are tested for over 1 million cycles of operation. These switches have approximately a 7 inch differential between "on" and "off" points with a built-in secondary "on" point, and adjustable level settings. The design incorporates simple mounting options and a piggyback plug for the pump. The Floatless™ switch has options available for both sump (10-4659) and sewage (10-4660) applications and can be purchased individually or alongside Zoeller's new LN series pumps. This package is available with 3 of Zoeller's industry-proven, all cast iron pumps; models 53® (53-0084) and 98 (98-0069) for residential sump and model 267 (267-0121) for sewage. Standalone switches and LN Series pumps with switch both have a 3-year warranty. Visit zoeller.com or booth: C8745.