TimberTech Launches New Product Selector

TimberTech Enhances Website Product Selector Tool To Help Consumers Find Deck Products That Fit Their Lifestyle
Wilmington, OH –Imagine an easy-to-use website tool that considers a consumer's outdoor living style and recommends decking products that are a perfect fit!  TimberTech has enhanced and completely re-designed its popular Product Selector  website tool to make it even more user-friendly. This tool allows consumers to take a short lifestyle quiz to find which TimberTech decking, railing, lighting, and finishing touches are right for them. The tool analyzes the answers and provides recommendations to help get the consumer started on their deck and rail buying journey.
Some of the lifestyle questions include deck location, how much traffic the deck endures, sun exposure, style preferences, nighttime use and more.   The tool is also set up to recommend railings and amenities such as lighting.  It's a great way to sort through several great TImberTech products and find the one closest to the consumer's day to day lifestyle needs.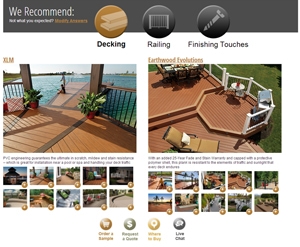 The new look of the Product Selector tool gives users a simple interface that is quick and easy to navigate.  Once the consumer gets the results and recommendations, they can check out beauty shots to get an idea of how their deck will look installed.  They can also order a sample, request a quote, find a dealer and/or contractor and even have a live chat with a TimberTech deck expert to answer any questions.
Visit the Product Selector tool on the TimberTech website at:  http://timbertech.com/idea-starters/product-selector/default.aspx
About TimberTech
TimberTech is one of the world's top producers of high-performance decking, railing, fencing and lighting solutions. With a passion for outdoor living and a global reputation for quality and innovation, TimberTech delivers a wide range of low-maintenance, wood-alternative products in an unmatched selection of colors and styles – all available through a network of more than 8,500 contractors and dealers worldwide. For more information, visit TimberTech.com or view product installation videos on the TimberTech YouTube channel. Stay up-to-date on TimberTech by following the company on Twitter (@TimberTech_deck) or Facebook (/TimberTech).

---
Recommended Articles