The Yukon Multi-Fuel Furnace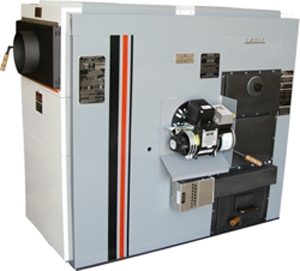 Saving money on your heating bills begins with the proper alternative energy source. No doubt you are looking for the best, most economical alternative to today's high heating bills. The Yukon Multi-Fuel furnace just may be your answer to these sky-high oil or gas bills, and energy independence from the heating utility.
The Yukon Models Husky and Polar enable you to have warm air heat for your home with either wood or coal, whichever solid fuel you can obtain at little or reduced cost, while having the assurance of back-up, conventional oil or gas warm air furnace heating. (The Yukon Electric offers the same flexibility but with back-up electric warm air furnace heating.) These dual fuel systems mean that you can be away from your home for a week-end, or weeks at a time, and know that your home will be maintained at a safe, free from freeze-ups, back-up temperature setting. No damaged water system, plants or other cold house damage.
And how can all this be possible? It really is quite simple… the clever Yukon Engineers have employed two sets of twins. Twin fireboxes or heating chambers at the Yukon Multi-Fuel furnace in your basement and the twin Honeywell digital thermostats on the wall in your living area. One thermostat controls the high-efficiency gas or oil burner on your Yukon furnace. It has a night setback feature that allows you to choose the temperature you desire at different times of the day or night… all automatically. It also controls your summer air conditioner if you have one. The other digital thermostat controls the high-efficiency wood or coal fire chamber.
When you are home to stoke the wood or coal every 6 to 12 hours (depends on theoutside temperature and the type of wood or coal you have), use the wood/coal firebox and thermostat to have safe, comfortable… and best of all… low cost home heating. The fact that these twin fire chambers are connected and right next to each other (Siamese twin fashion) gives you the convenience of automatic ignition of the wood fire.
If you are going to be away from your home for any length of time, and in the spring or fall when heating requirements are minimal, let the wood or coal fire burn itself out. Have the oil or gas thermostat set to kick on the oil or gas burner twin of the furnace at the temperature you desire.
Very importantly, you can enjoy this economy and comfort with a furnace that is safe and long lasting… easily up to its 30-year limited warranty and beyond.
INDEPENDENTLY TESTED FOR SAFETY
All Yukon Dual-Fuel furnaces are Underwriters Laboratories (UL) Listed (approved) including approved for a single, properly sized and constructed chimney flue. Most homeowners can vent the Yukon furnace out of their existing chimney or flue. Yukon Models Husky, Polar, Electric and Klondike are also UL Listed (approved) as a gravity flow, wood/coal furnace as well. This gravity flow capability is very key because in the event of a power failure, you can still keep your home warm even though the blower and oil or gas burner won't run.
LONG LIFE DURABILITY
The firebox is 10-gauge steel or 2-1/2 times as thick as a conventional furnace. The conventional oil or gas warm air furnace you buy today is typically manufactured of 16-gauge steel or less than 1/16 inch thick. The lining in the wood/coal firebox is a beefy 2-inch thick firebrick for longer heat retention and firebox protection. The oil/gas firing chamber is lined with a high temperature resistant ceramic, Pyrolite, for long life of that twin, too. The entire secondary heat exchanger and the firebrick retainers and baffles, areas subject to corrosion, are all super durable stainless steel (Class 304 Industrial Grade). These furnaces are not junior lightweights, rather Olympic-class heavyweight, energy efficient, heating bill fighters.
When you buy a Yukon Multi-Fuel furnace, you are dealing with a firm that has been building and selling these economical furnaces since 1975, with over 60,000 installations. Read here the unsolicited customer letters and you will learn about people like yourself who have been saving big money on their heating bills for 10, 20, even 30 years.
As you would expect of such a well-engineered and heavy-duty constructed product, all Yukon furnaces come with a peace-of-mind 30-year limited warranty against defects in material or workmanship. After years of durable, money-saving service, when a part needs replacing, Yukon is there… even for furnaces made 30 years ago.
How much can you save on your heating bill with a Yukon Multi-Fuel warm air central furnace?
Each homeowner's situation is different for their cost of oil or gas, whether they have their own supply of wood or have to purchase it, and how much they will use the back-up oil or gas heating option. However, it is not unusual for Yukon owners to report savings of 50%, 75%, and even 90% on their heating bills.
These types of savings are possible because of the sophisticated, patented secondary, as well as primary combustion air systems built into the solid fuel firebox. Researchers during the energy-starved, World War II years established that only 60-70% of the energy in wood or coal is utilized in the primary flame of the fuel. The remaining 30-40% of energy that will just go up the chimney can be captured only with a secondary source of air (oxygen) injected above the primary flames. In Yukon's case, this is pre-heated air that assures a complete burning of the previously unburned wood or coal energy as is possible.
But Yukon  hasn't just focused on the efficiency of the wood or coal heating twin. The oil or gas burner back-up options you select to go with your furnace are state-of-the-art, high-efficiency units from leading suppliers… up to 80.1% steady state efficiency. If your current oil or gas furnace is 7 to 10 years old or more, it is probably only 50 – 60% efficient. So whether you are using the solid fuel furnace twin or the conventional oil or gas furnace twin at a particular time for heating your home, you can rest assured the vast majority of the heat is being captured… and not sent up the chimney and out of your wallet.
Yukon furnaces are quiet, too. Much quieter than most conventional furnaces because of the large over-sized blower which runs slower than most regular furnace blowers.
Yukon furnaces can accommodate air conditioning, too, if warm weather cooling is important to you.
EASY INSTALLATION
The installation of a Yukon Multi-Fuel furnace is quite similar to a conventional oil or gas furnace, so much so that a majority of homeowners who buy a Yukon direct from the factory do some, or most of the installation themselves. The Installation Manual guides you, or your professional installer/heating contractor completely through the process, and the Yukon Customer Service Department is always there to answer any questions and provide any additional help you or your installer may need.
To start enjoying the savings, convenience and comfort of a Yukon Multi-Fuel furnace today, you can buy direct from the factory, or through your local heating dealer and installer.
If you do buy direct and install it yourself, it is recommended that you have a qualified heating contractor/installer check your installation before start-up to assure safe, comfortable, fuel-saving heat for your home. You (or your professional installer) don't need to be intimidated by the bulk of these heavyweight heating bill fighters. Instructions for partial disassembly to reduce weight and size, if needed, can be provided to reach your installation location.
For more information call 800-358-0060 or visit www.yukon-eagle.com
https://www.facebook.com/pages/YUKON-Wood-Furnace-Company/374230399049
---
Recommended Articles