U2 fasteners™

A total of 4 winners will be selected.
1st place winner will recieve a bulk box of 5/16×4″ Construction screws.
The other winners (total of 3) will each get a contractor bucket of 10×3-1/8″ Universal screws.
A new name to the industry with years of experience, U2 fasteners™ has risen the bar for quality in the fastener industry.  U2 fasteners™  has released its IAPMO (ER 454) evaluation to become one of few fastener companies that are evaluated and comply with the International Building Code and Residential Building Code for corrosion resistance (AC233) and structural strength (AC257). U2 fasteners™ coating was one of the first, if not the only one, which has passed to the 2015 requirements, with ground contact at 0.6pcf ACQ treated lumber (ER 454).  U2 fasteners™ is the first fastener company which offers also chrome 6 free coating.  This reduces the risk for end users not to develop skin cancer through constant use of fasteners with surface coating, containing chromium 6.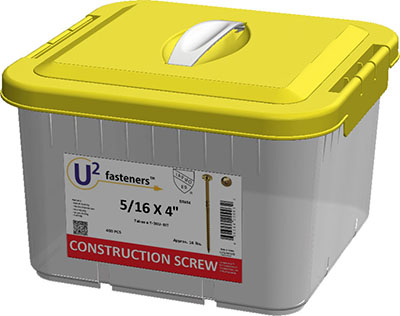 U2 has six product lines for residential construction that engineers and contractors agree.  The newest being the RE-FINE Screw™. The screw is designed especially for carpenters who do fine professional work. When building the most delicate of projects, contractors prefer the Re-Fine Screw™ for its modest head size and that is also available in white case hardened carbon steel.
The U2 Construction Screw™, also known as CS screw, is the next generation of construction screws that are replacing lag screws.  Some features include the Tight Star Recess system that grasps the U-Bit tightly and can be installed with one hand.  The Tapper Point consists of the Cork Screw Start and Blade Cutting Thread for easy piercing and alleviating strain on the material.  Other features are the Dome Head, Talon Grip and Reamer Threads.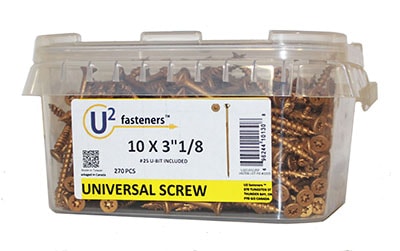 The Universal Screw™ is just that, universal for many projects. It is ideal for replacing old deck screws, the features work together to drive and secure this screw in many types of materials that are used in residential construction. U2 has just added 6×1-1/2" screw for use in lattice, fine wood working, thin plywood, etc and a 9×1-3/4" screw for fence boards, sub floors, shelving, etc.
The Cap Screw™ is an ideal light duty interior and exterior screw. It has a Dome Head with rim and Cutting Ribbon underhead.  This screw makes all your small projects easier with the drawdown strength of the head and the clean finish.  It is available from 8×1-1/4" up to 3-1/8".
TopStar™ fastening system is the adjustable screw that replaces shimming and can make door hanging a one person job.  It is designed to replace shims when levelling doors, windows and cabinets. Use the Crown Bit to install and only the bit to re-adjust to level.
The Fine Screw™ is the big brother to the Re-Fine screw.  With its slim shank and bulging thread this screw can be used without damaging even the hardest wood.
The screw selection is growing so they will have what you're looking for!
Features like Tight Star Recess, Reamer Thread, Talon Grip, Tapper Point, and Burrow Pockets sets U2 apart from the rest of the fasteners out there.  The possibilities are endless.  Find out why U2 is the Game Changer in the fastener industry.
For more information: www.u2fasteners.com
Complete the form below to register
---