Enter For A Chance At Our April DeckWise Sweepstakes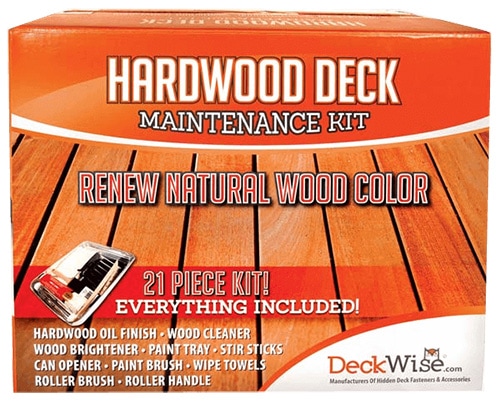 DeckWise will be giving away 2 Deck Restoration Kits and 1 additional gallon of Ipe Oil each week!
Restore Decking Natural Wood Color
Hardwoods are unlike any other wood in the world, and as such, they shouldn't be treated like any other deck refinishing job.
Everyone knows the look of a freshly oiled or restored hardwood deck is awfully hard to beat when it comes to a luxurious smooth deck surface. Let's be real here. Why spend big money on exotic wood decking such as Ipe, Tigerwood, Massaranduba or Cumaru, only to allow it to grey out or become filthy dirty?
The NEW DeckWise® Hardwood Deck Maintenance Kit is a specially assembled kit which includes everything Homeowners and Contractors need to maintain the natural wood color of hardwood decking. Our new kit is perfect for Ipe deck maintenance, as well as maintaining other hardwood decks using hidden fasteners.
If that's not enough, we've carefully selected the best paint tray, roller and brush, a 2 inch trim brush, stir sticks, wipe rags and a can opener for a one stop complete kit.
For more information visit https://www.deckwise.com/deck-restoration-kit.html
Complete the form below to register
---