Stone Wool Sound Insulation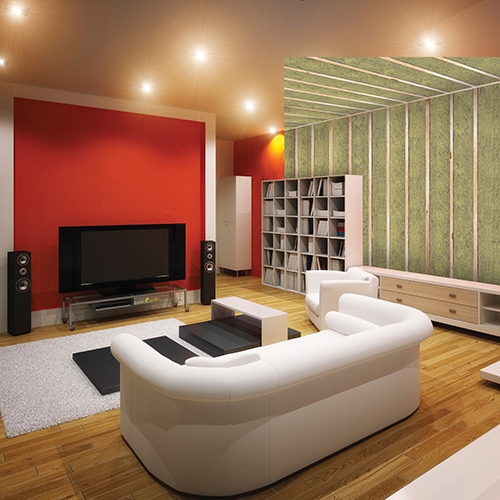 Insulate your walls for sound control.
We live in a louder world today. Modern life is noisier, due in part to increased traffic congestion, electronic technology and other intrusions of unwanted sound into the home environment. Think high-tech entertainment rooms, pinging computers, blaring stereos, ringing phones, washer/dryer rumblings. And let's not forget about your son's band practice in the garage. This cacophony of noise contributes to a form of sonic pollution, a growing problem that can rattle nerves and affect sleeping habits and quality of life. Most people cherish a quiet environment to think, work and rest. Noise reduction is now a growing trend in today's homes.
Ceilings and walls acoustically perform better when fitted with stone wool insulation. Stone wool is a rock-based mineral fiber insulation comprised of basalt rock and recycled slag. Basalt is a volcanic rock, which is abundant in the earth, and slag is a by-product of the steel and copper industry. The minerals are melted and spun into fibers that are made into batts.
For sound control, Roxul offers Safe 'n' Sound stone wool batt insulation designed specifically for interior wall and floor/ceiling applications. Suitable for residential wood and steel stud construction, this non-combustible, lightweight product has excellent acoustical dampening properties. The batts are also dimensionally stable which makes them ideal for easy friction-fitting into walls, ceilings and floors.
Because Safe 'n' Sound is designed for interior applications, it has not been engineered as a thermal insulation but as a fire barrier and for soundproofing. Stone wool in general has excellent fire ratings, does not burn and can add valuable time for evacuation in the event of a fire. Its higher density properties also make it an ideal solution for reducing sound travel between rooms.
The material is also chemically inert, so it will not promote corrosion, plus it's resistant to water, rot, mold, mildew and bacterial growth.The Safe 'n' Sound insulation is denser than standard stone wool thermal insulation, and the batts are manufactured to an approximate 3-inch thickness. Stone wool is ideal for sound-deadening in bedrooms, home offices, bathrooms, entertainment rooms and laundry rooms. The material has a unique flexible edge that is designed to compress as the batt is inserted into walls, attics, ceilings and floor frames, requiring no fasteners for installation. The spring-back aspect of this insulation expands the batt against the frame studs to completely fill the wall cavity and prevent the insulation from sagging. The batts can be cut precisely with a serrated blade and trimmed for the best possible fit around electrical and plumbing.
Control the Noise
All sounds come from energy made by vibrations travelling through air, water or solids. When a sound source (e.g. a crying baby) vibrates its vocal chords, it causes air particles to radiate out in all directions. These radiating air particles continue to exert force on other air particles, causing more vibrations, which in turn, collide with more air particles. The density of stone wool material helps block this airborne noise.
Properly insulating your walls and ceilings with stone wool will make your home more peaceful and quiet because it will help ensure that sounds won't travel from the outside—or to and from—other rooms.
Before soundproofing a ceiling or wall, consider the kind of noise problem you're trying to solve. Is the problem airborne noise, impact noise, or both?
Airborne noise refers to the sound travelling from outside (aircraft, cars, lawnmowers) or inside (voices, music and appliances) from the above floor, or from adjacent rooms. In this scenario, reduce the transmission of airborne noise by adding sound-deadening elements such as Roxul Safe 'n' Sound insulation and an air space in the wall or ceiling assembly.
Impact noise, on the other hand, refers to the sound made when one object strikes another object on a hard surface. In the home, impact noise can come from the sound of footsteps, the slamming of doors, furniture dragging or items dropped onto the tile or hardwood floor above. These low frequency sounds can be a major source of annoyance. Adding extra sound-dampening mass such as carpeting can help alleviate the problem.
Another option is to install metal resilient channels over the wood framing to de-couple the drywall from the studs. The resilient channels act as a shock absorber. After installing the Safe 'n' Sound installation, fasten the resilient channels at 90 degrees to the framing members every 16 inches (for walls) or every 21 inches (for ceiling and floors). Then screw the drywall panels into the resilient channels between the studs.
Enhance the sound-proofing performance by installing a second layer of drywall over the first, orienting the panels at 90 degrees to the first layer and screwing the top layer into the resilient channels. Caulk all seams with acoustical sealant.
De-coupling methods such as this can help to diminish the transfer of impact noises from one room to another.
For more information on stone wool sound insulation, visit www.roxul.com.
---