Warmup Towel Warmer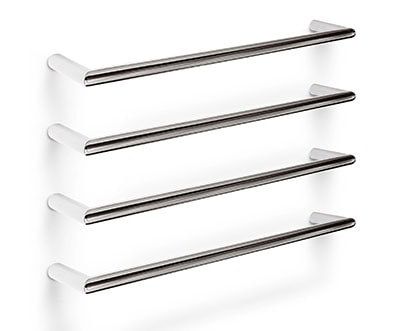 This Fall, Warmup Inc. presents the latest additions to "The Bathroom Collection", giving homeowners a clear and attractive set of options to turn their bathroom remodel into a spa bathroom. Combining floor heating, mirror defoggers and towel warmers as the key spa-bathroom upgrades, the Bathroom Collection is an essential add-on to any bathroom.
Bathrooms are special places in our homes as they often provide a moment of peace from our otherwise hectic lives; whether it's relaxing and unwinding with a long soak after a tiring day, or getting ready for a busy day ahead with a quick shower, in effortless comfort.
A bathroom should feel spacious, clean and luxurious – no matter its actual size or your budget. The good news is luxury doesn't have to be expensive, and with a few clever features such as mirror defoggers and towel warmers, you can create the most appealing bathroom to suit your design tastes and home decor.
Towel Warmers: a simple joy – every day.
After stepping out of a hot shower on a chilly morning, there is little better than being welcomed by a soft, warm towel wrapped snugly around you. Hang up your damp towel and it dries again in no time, leaving it not just warm and dry but fresh smelling too. Towel warmers can help keep the room warm and dry. The towel warmer will help reduce odors and mildew by keeping the room at a low humidity, this is especially useful if your bathroom isn't well ventilated.
The Warmup Electric Towel Warmer range for bathrooms, mudrooms and more, offers exquisite function combined with sleek design; an attractive feature in any modern or classic bathroom. A simple concept, for a simple joy – every day.
Unique Design
Our Electric Towel Warmers are crafted to a very high-quality level and feature a durable stainless-steel construction, that is mirror polished and hand-buffed for an exceptional finish. Warmup offers expertly-welded unique single bars and designer models, to suit every interior.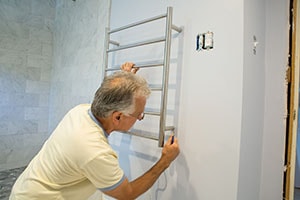 Easy Install
Our towel warmers are electric, not hydronic. They do not contain any liquid, which makes the maintenance extremely easy. Each Electric Towel Warmer comes with a comprehensive kit that includes all the fixing accessories, even a diamond drill bit (for use on tiles), for installation convenience.
Efficient
Our Electric Towel Warmers allow the heat to spread evenly, with rapid heat-up times for more energy efficiency. Our proprietary heating technology inside the towel warmer will ensure the device reaches 145°F degrees in 3 minutes.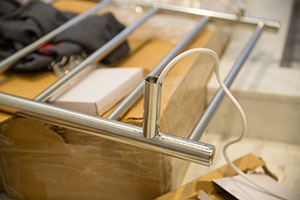 Connected
Warmup Towel Warmers and Mirror Defoggers can be connected to the existing room light circuit or wired to Warmup's 4iE Smart WiFi thermostat, for efficient and remote operation via the Warmup MyHeating App.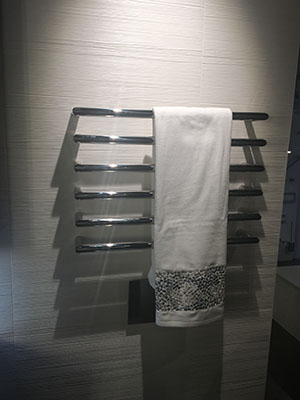 Our heated towel warmers are the perfect addition to your bathroom build or renovation project. Contact Warmup to learn more about the Electric Towel Warmers range, as part of The Warmup Bathroom Collection is an essential add-on to any showroom.
For more information visit http://www.warmup.com/bathroom-collection/heated-electric-towel-warmers
---