The Handibot® Smart Power Tool Adventure Edition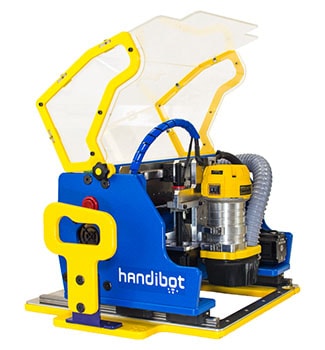 The Handibot® Smart Power Tool Adventure Edition-
This is the innovative power tool you can take anywhere and run from any WiFi-enabled device. Use it to perform precise and easily repeatable CNC operations like cutting, carving, machining, and milling. Work with wood, MDF, plastics, foams, and aluminum. All at the press of a button.
Pick-up-and-carry-portable! Simply place it directly on your material, whether it's on a table, the floor, the wall, or even the ceiling. The tool cuts through its base into whatever you're working on.
Revolutionary new control software, FabMo, unleashes new freedoms. You don't need to work with complex CAD and CAM software; use Handibot apps to make projects and run simple jobs. And you can run the tool from your smartphone, tablet, or laptop. It's wireless CNC!
For more information visit https://handibot.com/
For purchase options visit https://store.handibot.com/collections/tools/products/handibot-smart-power-tool-adventure-edition
---