Mor-Flexx®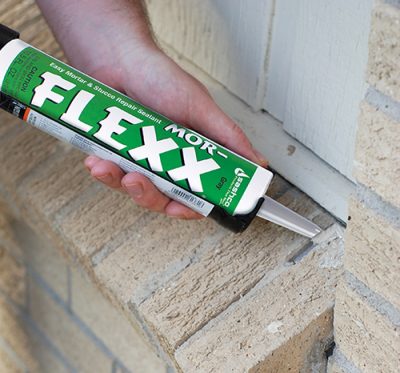 Ever seen mortar bend?  Probably not…that's why there's Mor-Flexx®!
Mor-Flexx – it's easy, it's fast, and it works.  Mor-Flexx is elastic mortar – really – it bends, stretches, and stays stuck, right where you need it.  The easy mortar and stucco repair sealant.  It sticks to most surfaces, spanning a gap up to 3" wide.  It won't slump, meaning you can apply it on a vertical surface and not worry about it sliding down.   Common surfaces include: stucco, stone, mortar in-between bricks, retaining walls, grout replacement along door thresholds, and the exterior of fireplaces.  Mor-Flexx is heavily textured to blend-in with these common surfaces.  It's easy to apply, and can be blended with water on a foam brush or in a spray bottle.
Surfaces must be completely dry and should be kept free of water for at least 24-48 hours post-application.  If using on exterior applications, be sure the weather is 40° F and rising, and keep the freshly applied sealant from freezing during the first 48 hours.  It takes about 4 hours, depending on humidity and temperature, to skin over.

Mor-Flexx is paintable; it comes in gray or beige.  It has a unique stop-flow plunger that prevents the caulking from flowing when you stop pressing the trigger on the caulking gun.  Mor-Flexx cleans-up easily with water.
So, when your stucco gets cracked and your mortar starts falling out, know that there is an alternative to the usual replacement sealants.   Instead of repeated repairs that are costly and time-consuming, or the messy repairs that involve powder, mix bucket, and a trowel.   It's just so simple – squeeze a tube of Mor-Flexx® and easily your textured surface.
Repairs in just 5 easy steps:
Ensure the surface is clean, dry, free of oil, dirt, dust and debris. Remove old silicone caulk completely (it's recommended to use a silicone caulk remover.)
For cracks deeper than ½", use FillerRope™ or a bond breaker, to avoid filling the entire crack full of caulking.
Cut the tip of the caulking nozzle, at an angle, to the desired bead size.
Put the caulking tube into a caulking gun, and gun Mor-Flexx into the crack. For larger cracks, layer the caulking into the crack.
Press the caulking against the sides of the crack with a beading tool, putty knife, or your finger.
Mor-Flexx® is permanent, for long-lasting repairs. With Mor-Flexx®, no one will know you had an unsightly crack, including you.
---