eXact color®

Do you hate ugly caulk lines?  Or maybe you just hate caulking and then painting over it?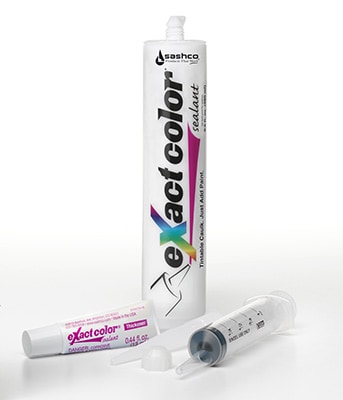 If so – eXact color® is the product you've been waiting for… it's tintable caulk!  All you have to do is add your paint and shake.  The DIY kit gives you everything you need to easily make any color caulking.
Even better – it's from the makers of Big Stretch® (Sashco).  So that means you get the same awesome Big Stretch® properties: extreme elasticity, powerful adhesion, and easy water clean-up.
We've deconstructed Big Stretch into a liquid, and in 3 easy steps you can make your own perfectly matched caulk:
Draw-up your paint into the included syringe (3oz or 30mL)
Inject paint into caulk cartridge; and shake.
Add the included thickener to the caulk cartridge; and shake.
Great for backsplashes, siding, accent walls, moulding, and anywhere you need a custom color caulk.
---