Charmaster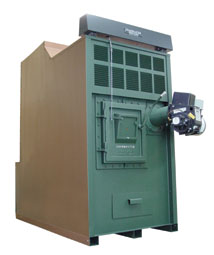 A Charmaster furnace is a master at producing charcoal. The furnaces are airtight units that convert wood into a beautiful bed of charcoal. This airtight design also creates a secondary burn of the gases. Up to sixty percent of the heat available from wood fuel is in the gases. Charmaster's exclusive "Over the Fire" draft system, combined with its airtight design, burns these gases more completely. This furnace will squeeze all of the heat from the wood, and will consume far less wood than other wood furnaces. The bed of charcoal remains in the furnace and becomes the base for a tremendous source of heat for your home.
Charmaster Wood Furnaces are available in Forced Air and Hot Water models. Forced air models have oil and gas backup available. There is a size and model available for every need, with furnaces capable of heating up to 5,000 square feet. The Charmaster II Furnace/Fireplace is a fully automatic forced air heating system, made with the addition of fireplace glass doors, so you may view your wood furnace fire while it heats your entire home. The Embers Outdoor Forced Air Wood Furnace is ideal for workshops, double wides, mobile homes or homes without a basement. It is also for people with allergies, or anyone who wants to keep the fire and firewood outdoors. Fully weatherproof, simply place the unit a few feet from your home and hook up with ductwork.
The Charmaster Indoor Hot Water furnace is more than just a furnace, it is a super efficient heat storage system. Charmaster does not store hot water outdoors. The hot water furnace is designed to sit in a garage or in the basement. The water storage tank is designed to sit in the home, possibly in the basement or utility room. The Charmaster Hot Water furnace heats water very efficiently and easily installs to any existing forced air or hot water system. Benefits of the Charmaster include the following:
The Charmaster System will lower or eliminate your heating costs. You are no longer a slave to fluctuating and inflated energy costs.
Low wood consumption. Charmaster's unique design and burning principles offer you the utmost efficiency.
Easy to install. A Do-It Yourselfer's dream. Factory assembled and wired saving you hours on installation time.
Free domestic hot water saves you hundreds of dollars per year.
Security. Indoor forced air units will heat your home during a power outage.
Dependability – continuous furnace production since 1972.
A Charmaster furnace will pay for itself many times over. Most Charmaster furnaces pay for themselves in 3 years or less.
A Charmaster furnace is the most efficient and dependable wood furnace you can buy. That is why Charmaster is "America's Finest Wood Heating System". With a Charmaster, you will never be cold again.
Call for a full color factory direct catalog at 218-326-6786 or visit www.charmaster.com
---