Preview of the International Builders' Show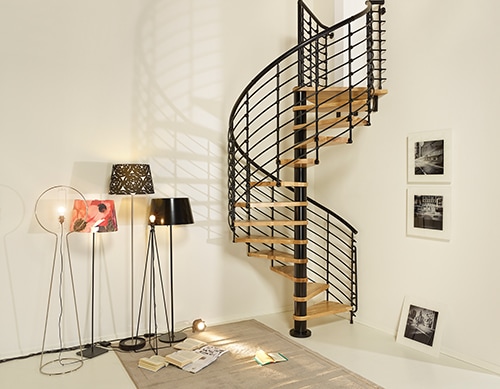 The largest convention in the world of homebuilding is the International Builders' Show, to be held this January 10-12 in Orlando, Florida. Every year the event attracts more than 60,000 visitors from 100 countries. IBS brings together the industry's most important global manufacturers and suppliers and showcases the latest products, materials and technologies involved in all types of buildings—including wood, concrete, stone and brick.
Extreme How-To offers this brief preview to highlight some of the products that will be exhibited at the show. For more information on the convention or to register for attendance, visit www.buildersshow.com.
Fontanot Staircases
Made in Italy with over 50 years of history, Fontanot is a leader in the production of made-to-measure staircases. The company's LaFont Essential staircase begins with specific customer requests and passes through several phases of refinement to create an "industrial" product in terms of quality, fabrication accuracy and sales service. To complement the staircase, Fontanot expresses the "essential visible to the naked eye" in the railing model named Glass (shown on the cover of this issue). It is the ideal railing to accompany a balustrade next to the LaFont Essential 090 A staircase. Railing Glass is available in two versions: Glass In, completely recessed into the flooring and Glass On with an aluminum casing above the flooring level. Both models are available with clear or extra-clear glass, both with two different kinds of edge finish. An anodized aluminum border can be applied to the upper edge of the glass to protect it from humidity, potential impacts and external agents.
Another prominent model is Techne, manufactured in technopolymer, a material never used before in the staircase industry that enhances the lightness of the shapes while guaranteeing strength. Its regular and perfect geometry projects a dreamlike dimension to its surroundings where color, shape and material become a unique expressive language. Available in white, this model is perfect both for indoor and outdoor use, thanks to its particular process of coloration directly in the mix that makes it resistant to UV rays and to atmospheric agents.
For DIY enthusiasts, Oak 70.Xtra is a spiral staircase kit of great elegance. It is made in varnished steel with solid oak treads. The handrail is in PVC with an aluminum core. The railing is composed of vertical spindles in varnished steel and horizontal tubes. The landing, which can be cut during installation, can assume three different shapes (square, mezzanine or circular), allowing the staircase to be installed in three different openings.
The sense of rotation (clockwise or counter-clockwise) can also be decided during the installation.
The Fontanot Magia60 staircase, is perfect for outdoor use because its powder-coat finish is strongly resistant to oxidation caused by the outdoor elements. The railing is composed of vertical spindles in varnished steel and a black PVC handrail, and the direction of rotation (clockwise or counter-clockwise) can be adjusted during installation. Visit booth S647 or arkestairs.com.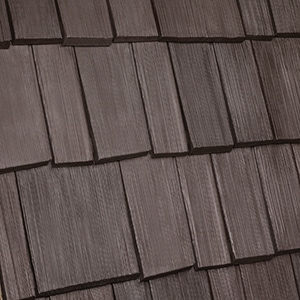 DaVinci Roofscapes EcoBlend
DaVinci EcoBlend polymer slate and shake roofing is available in six colors that meet Title 24 requirements for California. These tiles reflect heat and emit the sun's energy back into the atmosphere instead of into a structure, thus helping to reduce the cooling load of the home, which helps increase the energy efficiency of the building. New colors include Tahoe-EcoBlend, Mountain-EcoBlend, Brownstone-EcoBlend and Slate Gray-EcoBlend. Additional colors (that meet ENERGY STAR requirements) include Weathered Gray-EcoBlend and Castle Gray-EcoBlend. Visit booth W6871 or davinciroofscapes.com.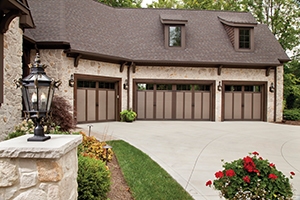 Haas Door American Traditions Series
A first-time IBS exhibitor, Haas Door will showcase American Traditions Series garage doors in 13 solid color options plus two wood-grain base options. Each door features handcrafted quality and a rich, traditional carriage house style without the maintenance hassles of wood. The 2-in. thick steel garage doors feature CFC-free polyurethane insulation with a calculated R value of 13.45. Overlay boards add distinction and the traditional carriage house look. Models are available as single or double doors, with solid top section designs or several window options. Visit booth S1078 or www.HaasDoor.com.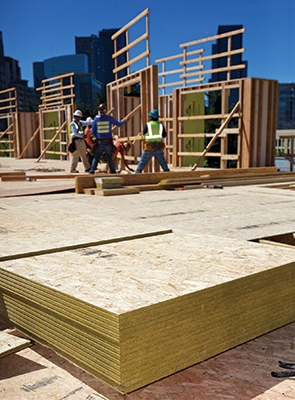 Weyerhaeuser Edge Gold Panels
Manufactured with a proprietary edge seal, Weyerhaeuser Edge Gold panels stand up to the elements. With a uniform appearance and tight thickness tolerances, Edge Gold panels come with a fastener marking system stamped on each panel to aid in fastener placement. Placed 12 inches apart, the dashed lines are spaced to accommodate support spacing of 16-, 19.2- and 24-in. on center. Each panel features the unique Down Pore technology that helps provide subfloor drainage. The unique notch and groove system efficiently channels water away from the edge of the panel and away from the supporting member. The result is that standing water collected on the surface of the floor during construction drains away. Visit booth W4013 or www.woodbywy.com.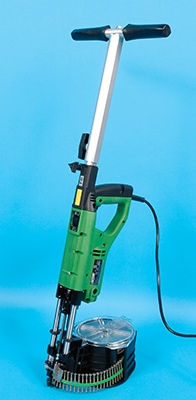 Muro
Muro provides great solutions for driving screws to help you save time, energy and effort on every job all while completely eliminating those hated sore backs and knees normally associated with these tasks. Whatever your job involves—subfloor, drywall, roofing, decking or dock building—Muro has a system for you. Muro fasteners are available for these and other specialty applications including wood to steel or aluminum and exotic hardwoods with no pre-drilling required on any job. Muro tools boast 150 screws per coil (highest payload in the industry) and have a telescopic handle that adjusts to your specific working height, which are key features that no one else offers. Visit booth W6682 or www.muro.com.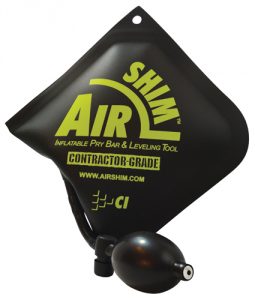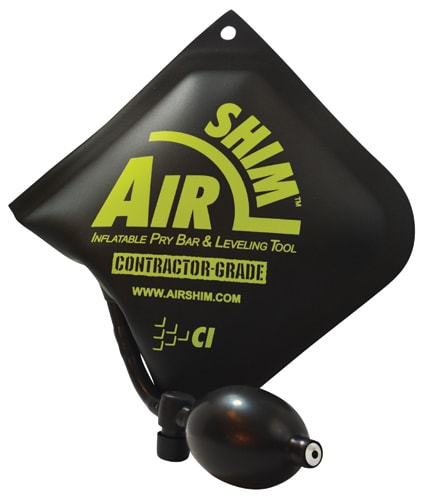 AirShim Inflatable Pry Bar and Leveling Tool
The AirShim is a contractor-grade inflatable air wedge that anyone can use to install and level everything from windows, doors and cabinets to appliances, furniture and countertops. It replaces damaging pry bars and wooden shims and allows a single installer to position and hold items in place, saving time and reducing costs by providing a much-needed "extra hand." The AirShim is soft so it won't scratch surfaces, yet powerful enough to raise and hold up to 300 pounds. Professional installers of large, hard-to-level objects who want a faster, more controllable lifting and adjusting alternative to pry bars and wooden shims use the AirShim because it allows a single worker to position and hold items in place. Unlike traditional wooden shims, wedges and pry bars, the AirShim can be adjusted with precision. And, by using multiple AirShims below, above, left and right of heavy objects, you can fine-tune their positioning with easy adjustments from all four sides. Visit booth S540 or www.calculated.com.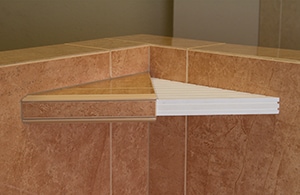 Goof Proof Corner Shelf
The Goof Proof Tile Ready Corner Shelf is so easy to install even a 6-year-old can do it. Made of sturdy PVC and a patented Retro Shelf Mounting System, this shelf can be installed in less than 5 minutes. Install and tile with your choice of coverings; porcelain and ceramic tile, stone, granite, slate or any other dur-able water-tolerant material. It is eye-pleasing, functional and sturdy enough to hold up to 100 lbs. The Goof Proof Tile Ready Corner Shelf comes complete with a template, including adhesive stickers, mounting rails, tile-ready shelf and silicone adhesive. Visit booth S1037 or www.markeindustries.com.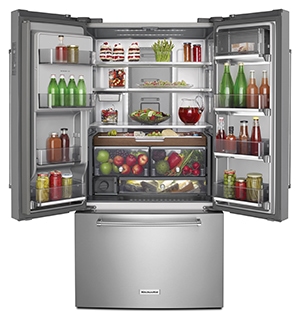 Kitchenaid Large Capacity Refrigerator
Whirlpool has a new Kitchenaid three-door freestanding refrigerator that is the largest capacity refrigerator in its class. Available in three models, the 72-in. Counter-Depth French Door Bottom Mount Refrigerator features a slide-away split shelf that allows three quarters of the shelf to retract to accommodate taller items, up to 16.75 inches. It also includes the first ever self-close freezer drawer in its class. Additional internal features on select models include an under-shelf prep zone with removable oven-safe pan, ideal for setting dough or marinating meats. A Platinum interior design with premium wood accents is stain-resistant and helps mask dirt.
To help keep produce at its peak of freshness, the full extension self-close FreshSeal crisper drawers maintain optimal humidity levels, with brightly lit drawers that open fully for easy viewing and access to all items within.
In addition, a temperature controlled pantry features four pre-sets for customizing temperature for meat and fish, cold drinks, deli items and wine. Visit booth P4 or www.insideadvantage.com.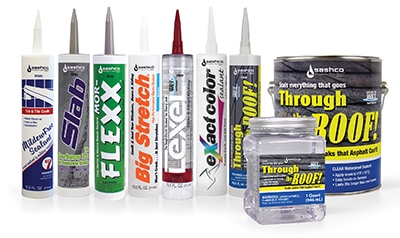 Sashco Sealants
Since 1936, Sashco Sealants has been making high-performance, high-quality caulking that works right the first time, every time. Sashco is well known for manufacturing Lexel and Big Stretch. Lexel is a multipurpose, all-weather flexible sealant that comes in Crystal Clear and Bright White, in both 10.5-oz cartridges and 5-oz. squeeze tubes. For windows, doors, siding and molding, Big Stretch is an amazingly elastic sealant that comes in 12 colors plus clear.
Other Sashco products include Through the Roof!, an all-weather sealant for roofs, vents, gutters, flashing and more. Mor-Flexx is caulking textured to look like mortar, available in beige and gray, to fix mortar, stucco and stone. Slab is textured caulking to blend-in with concrete. Sashco's eXactcolor tintable caulk allows you to add your color choice of paint or latex stain to achieve any color caulking. And MildewFree is the only caulking with a labor-included replacement guarantee, available in White or Almond, in 10.5-oz cartridges or 6-oz. squeeze tubes.
All Sashco products are paintable, elastic, freeze-thaw stable and backed by a limited lifetime warranty. Visit booth W5493 or sashco.com.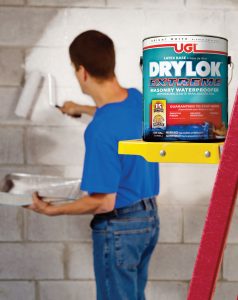 DryLok Waterproofer
You want to make sure to use the best products for the job at hand. While the best precautions can be taken to guarantee that a foundation will hold up for the lifetime of a home, sealing a foundation is one of the most important aspects of keeping it functional over the long haul, and DryLok Masonry Waterproofer has you covered. Negative or Positive side waterproofing for basements and foundations is the company specialty, offering products to complete the entire project (prepare, patch and waterproof). See how UGL products can solve problems and get contractors repeat business. Visit booth S133 or www.ugl.com.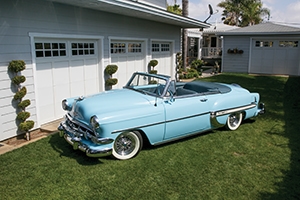 Soil Retention Systems
Soil Retention of San Diego County will exhibit what the company hails as the strongest Mechanically Stabilized Earth (MSE) retaining wall block system in the industry, Verdura. The name Verdura comes from VERdant (green with vegetation) combined with DURAbility. The product offers the opportunity to create "living walls," providing the strength and function of a standard retaining wall plus the added ability to sustain live plantings.
Soil Retention also offers a second "plantable" concrete system, Enviroflex, a tapered interlocking articulating concrete block (ACB) revetment system designed for erosion control in areas with high-velocity flows that are subject to scour. Enviroflex offers a cost-effective and environmentally friendly alternative to rip-rap, gabion mattresses, solid concrete or asphalt linings, and other hard armor systems.
The most recent product developed by Soil Retention is Drivable Grass, which is a permeable, flexible and plantable concrete pavement system that is environmentally friendly and a beautiful alternative to poured concrete and asphalt. Drivable Grass can be used for a wide variety of applications including driveways, parking areas, fire lanes, pathways, access roads, stream bank installation, bioswales, ditches, RV and boat storage, golf cart paths and more. Visit www.soilretention.com or booth S1145.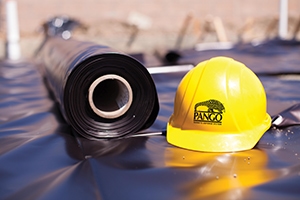 Stego Moisture Control
Stego Industries is the leader in below-slab vapor protection in North America, specializing in moisture protection and control for the sixth side of the building: the foundation, concrete slab and crawl space. Moisture-related flooring failures, indoor air quality issues, and lost energy efficiency cost the construction industry billions of dollars each year.
Stego Wrap Vapor Barrier, StegoCrawl Wrap, and Pango Wrap Termite/Vapor Barrier help protect those homes and work spaces. Along with engineered membranes, the company has a full line of accessories to complete a comprehensive and successful installation. Stego Industries has also implemented a Carbon Footprint Project, which is a pledge to eliminate the carbon emissions of their business operations. Currently Stego operates from a 100-percent solar headquarters in San Clemente, CA. Visit booth S1014 www.stegoindustries.com.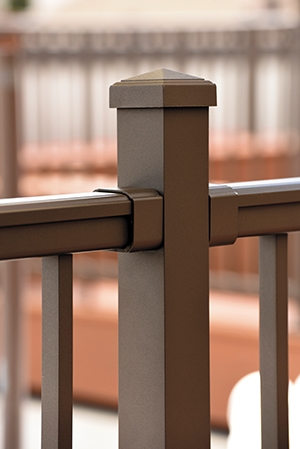 Impression Rail from Azek and Timbertech
Following the successful launch of their Impression Rail in 2015, AZEK and TimberTech recently launched a new textured Bronze color option, which creates a striking appearance when paired with their broad palette of deck colors. The Impression Rail stands out in the market with its easy installation, up to 30 percent faster than other aluminum rail systems. Its lightweight profile saves time and labor on the job site and eliminates the need for welding equipment. The low-maintenance, high-quality, powder-coated aluminum profiles are engineered for strength, security and aesthetics. Visit booth W6371 or www.timbertech.com.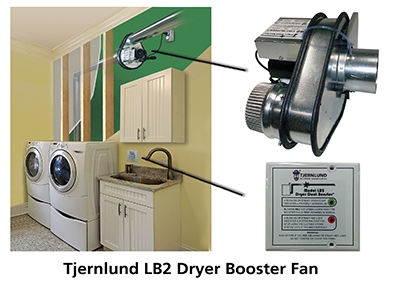 Tjernlund Dryer Duct Booster
Tjernlund's Model LB2 no-clog Dryer Duct Booster is listed to the updated DEDPV (Dryer Exhaust Duct Power Ventilator) supplement to UL705. The 2015 IRC restricts use of dryer booster fans to those tested to the DEDPV supplement. Duct runs often exceed 25 equivalent feet (each elbow equates to five additional feet of duct length) that many manufacturers set as a maximum duct length. The LB2 booster fan is rated for duct lengths up to 150 equivalent feet, which reduces drying times by up to 60 percent. The booster fan attaches easily to 4-in. rigid or flex duct and plugs into an electrical outlet. An LED indicator panel mounted near the dryer displays operational status and faults. It communicates via a factory-connected low-voltage cable to an on-board booster fan control. The control stops booster fan operation if duct temperature exceeds 165˚F or signals if the duct becomes blocked. Beyond the DEDPV-compliant control system, the heart of the LB2's effectiveness is the exclusive no-clog, lint-handling blower design that eliminates the need for regular cleaning of lint from the housing and blower wheel. Visit www.tjernlund.com or booth S444.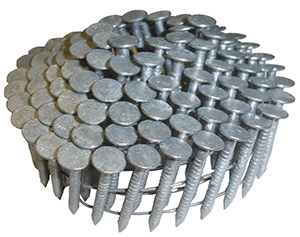 Maze Nails
Maze manufactures quality double hot-dipped nails for fiber cement siding, cedar and redwood siding, roofing, cedar shakes and shingles, PVC trim products, decking, fencing and post frame building construction. The Maze Double Hot Dipped Galvanized Ring-shank Roofing Nails are Miami Dade County Approved. All Maze Nails are 100-percent Made in the USA from recycled re-melted steel, making them eco-friendly for sustainable building practices. Visit www.mazenails.com or booth W6193.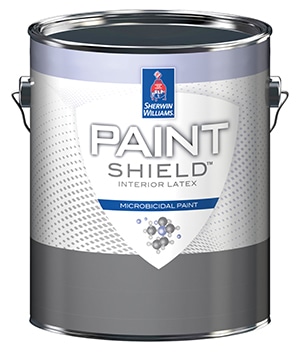 Paint Shield from Sherwin Williams
Paint Shield is the only EPA-registered paint that kills greater than 99.9 percent of Staph (Staphylococcus aureus), MRSA, E. coli, VRE, and Enterobacter aerogenes within two hours of exposure on a painted surface. Paint Shield continues to kill 90 percent of bacteria even after repeated contamination, for up to four years when the integrity of the surface is maintained. Featuring quality coating performance, great hide and durability, Paint Shield can be applied on interior hard, non-porous ceilings, walls, doors and trim. It is ideal for a variety of settings from healthcare, education and hospitality to residential housing and more. Visit SWPaintShield.com or booth W3428.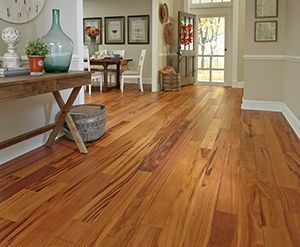 Lumber Liquidators
Lumber Liquidators is North America's largest specialty retailer of top-quality hardwood flooring, offering expert service and project support from start to finish. Topped with industry-leading finishes, Lumber Liquidators floors are not only beautiful, they're durable too. Bellawood prefinished hardwood features industry-leading scratch resistance and one of the most durable flooring finishes in the world. The company offers the best selection of flooring in the latest styles and the hottest trends. Choose from domestic and exotic hardwood, bamboo, vinyl plank, North American and European laminate, wood-look tile and more. Visit lumberliquidators.com or booth W4783.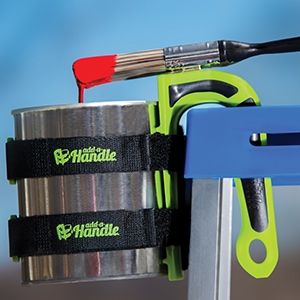 Add-a-Handle
Add-a-Handle to it all; the uses are endless. Proudly made in the USA and assembled by veterans, this simple tool offers you safety and stability in the most uncomfortable situations. It also offers a practical and portable way to hang things where you wouldn't normally, like while in the woods or in a Wrangler. The ergonomic handle design and custom adjustable Velcro brand straps allow you to carry, hook and hold up to 30 lbs. with ease and comfort. Designed with the painter in mind, it offers a convenient magnet on top to hold a paint brush or flashlight. Although Add-a-Handle comes with 19-in. straps, additional lengths are also available, and the straps interlock for a custom fit. Visit booth S2894 or add-a-handle.com.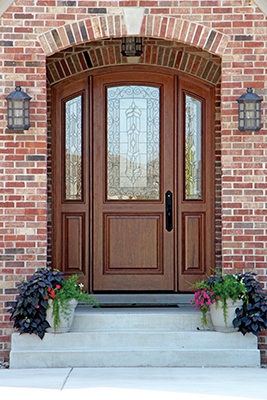 Quality Wood Doors from Nick's Building Supply
Nick's Building Supply is a manufacturer of high-end wooden doors. In business for over 30 years, the company has the knowledge and quality to deliver a superior product for new construction or remodeling jobs. They're one of the few companies that are able to assemble door configurations with our stock products to almost any sized opening and still deliver within a reasonable time. Choose from Interior doors, Exterior doors, Overhead Garage Doors and Hurricane Wind Load Rated Doors certified for near coastal areas. Visit booth S3223 or www.nicksbuilding.com.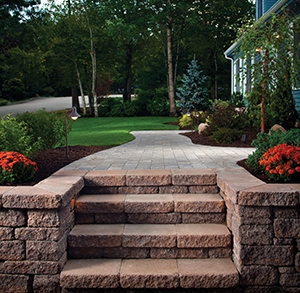 Oldcastle Hardscape and Concrete Products
Oldcastle is North America's leading supplier of concrete masonry and hardscape products for the building and landscaping industry. The company's Belgard hardscape line includes concrete and porcelain pavers, retaining walls, as well as outdoor fireplaces and kitchens. Oldcastle is also the parent company of Sakrete, a leader in premixed bagged concrete and concrete-related products. Sakrete has been the choice for contractors and do-it-yourselfers longer than any other brand in the market, offering innovative and readily available concrete mixes, mortars, stucco and repair products. Visit www.belgard.com or booth S3031.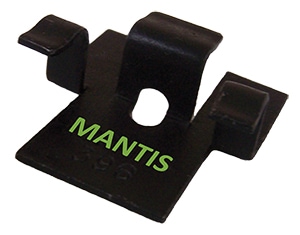 Hidden Fasteners from Sure Drive USA
Sure Drive USA, a division of Pan American Screw, is one of the leading manufacturers of construction fasteners and hidden deck-fastening systems in North America. The company offers the Mantis Clip and Coyote Clip for grooved composite and hardwood decking, the Hidden Link for solid edge composites, and ShadoeTrack which will work on all types of decking including pressure-treated. The popular Mantis clips can be installed manually or with Sure Drive's new pneumatic installation tool made exclusively by Senco. This tool features the patented EZ Slide attachment that ensures ease of installation and a precise fit every time. Mantis clips are available to fit a wide variety of grooved boards and are approved for use with popular deck boards such as MoistureShield, ChoiceDek, Gossen and Trex. Sure Drive USA will be demonstrating all of these Made-in-the-USA hidden deck fasteners at the International Builders Show. Stop by booth W6090 and mention this article to receive a free gift. Visit www.suredrive.com.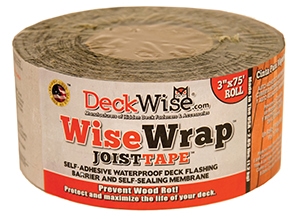 DeckWise WiseWrap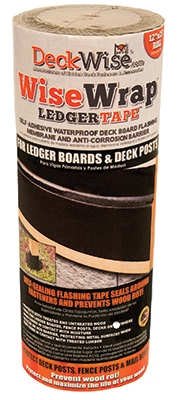 Preventing and stopping wood rot is one of the most important aspects to consider when building a long-lasting deck. DeckWise now offers two brand new solutions with the WiseWrap line of polyethylene waterproof wood flashing tape rolls. Both products are a self-sealing rubberized peel-and-stick adhesive which prevents wood moisture damage and also self-seals around fasteners. WiseWrap JoistTape creates a waterproof seal when applied to the top of deck joists. When JoistTape is placed between treated (or hardwood) lumber and decking, it prevents water from gathering and stops rot. Use on pressure-treated joists or metal joist framing to create a physical barrier that prevents the corrosion of the metal surface caused by contact with the chemicals and oils in lumber. JoistTape also acts as a noise reducer towards future squeaky deck boards. WiseWrap LedgerTape, available in a 12"x 25' roll, is a flexible polyethylene waterproof ledger board flashing made of the same self-sealing rubberized adhesive material—only wider. Apply it as flashing to protect against water damage on ledger boards from siding runoff and the elements. Wrap in-ground wooden deck posts to provide a barrier against fungi and soil moisture, as well as around fence posts and mail boxes or any type of wooden post set in the ground or in con-crete. Visit www.DeckWise.com or booth W6587.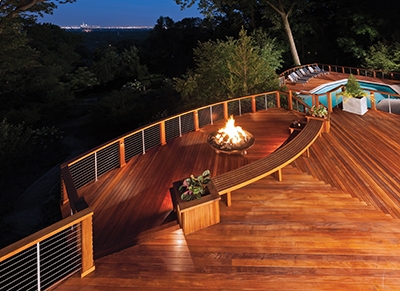 Feeney Railing Styles
Enhance your railing and your view with Feeney's slender CableRail stainless steel assemblies, the perfect railing infill alternative to pickets and glass panels. They're made from beau-tiful yet weather-tough 316-grade stainless steel with an assortment of Quick-Connect cable fittings that can be attached to wood, metal or composite-sleeved posts. The assemblies are strong, durable, easy to install, low-maintenance and virtually invisible. Easy on both the eyes and the view, they're an ideal complement to any railing design, indoors or out.
Feeney's DesignRail aluminum railings and railing kits provide the durability of aluminum in an engineered system that ensures lasting beauty, structural integrity, affordability and very low maintenance. They're made from high-strength 6000-series aluminum extrusions that can be quickly cut and assembled on site using components that snap and screw together. Select from a variety of top rail designs, mounting styles, infill options, color finishes and LED post and rail lights to create a customized railing that's ideal for your project. Visit www.feeneyinc.com or booth S2931.
---