New All-in-One Small Hole Repair Tool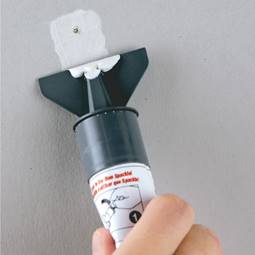 Saint-Gobain ADFORS, a global leader in manufacturing customized reinforcement solutions, announced the newest addition to their wall repair product line Fix it Fast, small hole repair tool.
ADFORS Fix it Fast small hole repair tool is ideal for fast and easy wall repair projects. The unique design allows compound to flow directly from the spreading knife to quickly fill small holes, small scratches or other imperfections in drywall or plaster.
Fix it Fast makes it easy to achieve seamless repairs and does not require sanding. A 2" hard plastic knife is attached to the tube that contains the compound.  The compound dispenses directly from the applicator tip allowing for a mess free application. The tube is designed to keep air out which prevents the compound from drying out and it reseals so it can be used for multiple repairs.  
Fix it Fast is now available in 3 oz tubes and comes in 12 pack cases. For more information, please call 1-800-762-6694 or visit www.us.adfors.com.
---
Recommended Articles