International Builder's Show 2015 Preview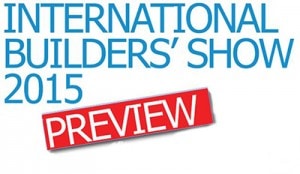 Each year construction professionals from coast to coast convene at the International Builders' Show, the largest annual light construction show in the world. To be held January 20-22, 2015 in Las Vegas, Nevada, the show is a huge exhibition of the latest technology in foundations and roofing and everything in between (www.buildersshow.com). IBS is the place to see the most advanced building products available and explore the newest innovations with hands-on demonstrations in more than 300 building industry categories. Here's a preview of the big event to give you a sneak peek at the cutting-edge trends you can expect to see on the convention floor.
Bullet Tools
Bullet Tools is a US manufacturing company that develops fixed-blade cutting and installation solutions for the construction industry to reduce time and improve jobsite efficiency, accuracy and safety. Bullet Tools originated dust-free, fixed-blade cutting technology in 1998 when a longtime contractor, Dalen Gunn, launched the Magnum Shear as a better way to cut flooring with no motor or spinning blade and no electricity required. It spawned an assortment of cordless, dustless flooring, siding and insulation tools that allow you to cut where you work and work where you cut, replacing the circular saw with hassle-free, time-saving options. In addition to the Magnum and EZ Shears for flooring and siding, the dust-free CenterFire foam blades are the only circular saw blades on the market that cut rigid foam without producing harmful dust and debris, while the complementary CenterFire straight blade handles curves and notches. Visit www.bullettools.com or try the tools at booth #C8506
Ditra-Heat
Ditra-Heat provides floor warming and uncoupling in a single layer. Floor warming systems have become very popular as a way to make tiled floors even more desirable. The frequent fluctuations in floor temperature create greater stress on the floor assembly and increase the need for an effective uncoupling system. Ditra-Heat is the first electric floor-warming system that directly incorporates essential uncoupling technology into the system to provide heated floors that are not susceptible to cracking. The heating cables are easily snapped into place on top of the uncoupling mat with no clips or fasteners. The installer has complete flexibility on where the cables are placed so every installation is customized to suit the exact requirements of the room. There is no need to use self-levelers during installation. Once the cables are in place the floor is ready for tiling. The end result is a faster, flatter, thinner installation. The system is available in 120V and 240V versions with a programmable or non-programmable digital thermostat. Visit www.schluter.com or booth C7343.
Plastpro Modern Door Collection
Plastpro Inc. is a leading U.S. manufacturer of fiberglass entry doors and composite building materials. Plastpro's new Modern Door collection was selected as one of the 100 Best New Products in 2014 by Professional Builder Magazine. Featuring the company's Hydroshield Technology, the Modern Door collection showcases elegant molded grooving and true flush-glazed composition to ensure the contemporary look is built into the structure of the door and not just in the finished design. The company is also the first and only fiberglass door manufacturer with a fully automated facility. Opened in 2005, the 250,000 sq.-ft. plant in Ashtabula, Ohio, is capable of producing one million doors per year. Visit www.plastproinc.com or booth C3536.
StegoCrawl Wrap Vapor Barrier
Stego Industries introduces StegoCrawl Wrap Vapor Barrier, professional-grade moisture vapor and soil gas protection for crawl spaces. From the makers of Stego Wrap Vapor Barrier, the most widely recommended below-slab vapor barrier in North America, StegoCrawl Wrap combines low water-vapor permeance, puncture resistance and longevity to ensure your home remains healthy and comfortable. StegoCrawl Wrap and accessories make it easy to fully encapsulate your crawl space as is recommended by the country's leading building scientists. With hundreds of stocking distributors and now available online, purchasing the complete StegoCrawl System is convenient and easy. Visit www.stegoindustries.com or booth S1625.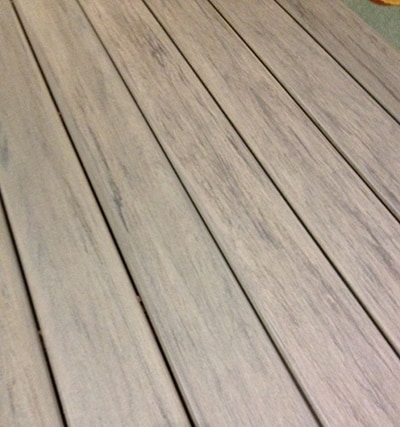 TimberTech Legacy Collection—Ashwood 
TimberTech adds to its Legacy Collection with a new color called Ashwood. The earthy, rustic look of Ashwood mimics the look of hand-hewn lumber with a richness that makes it nearly indistinguishable from tropical hardwoods, which are often seen used in high-end outdoor furniture. This is the only line of capped composite decking to offer a rustic hand-scraped interior flooring look for outdoor living spaces. The Legacy Collection is now available in four styles ranging from rustic to elegant. Legacy's Ashwood joins the timeless options of Mocha, a deep, rich walnut color; Pecan, a warm reddish-brown color; and Tigerwood, a unique look that blends light and dark shades within the same board to emulate tropical hardwoods like ipe´. Visit www.timbertech.com or booth C2115.
DaVinci Roofscapes' New Profile and 50th Color
When the doors open at the 2015 International Builders' Show, attendees will have their first chance to view a new slate profile being launched by Davinci Roofscapes. The company's Single-Width Slate 12-inch tiles have a more authentic quarried look with a thicker, more realistic profile that accurately replicates genuine slate. Deeper impressions in the tiles make them appear thicker, even though they're the same weight as previous tiles in this product offering Builders and remodelers will also be able to see the company's new 50th color—Smokey Gray, the darkest gray available from the company. This deep, rich blackish gray is reminiscent of real slate. Visit www.davinciroofscapes.com or booth C2136.
LuxWalk from MP Global Products
MP Global Products introduces LuxWalk sound-suppressing underlayment for superior performance under floating or glue-down Luxury Vinyl Flooring (LVF). A great match for condos, high-rise apartment complexes, and anywhere else where sound control between floors and excellent IIC and STC sound-test ratings are considerations, LuxWalk is designed and engineered to soothe impact sound and floor-to-ceiling noise. At 25/1000-in. thickness and featuring a smartly engineered heavy-duty design, LuxWalk adds the right amount of cushioning under LVF. It also retards movement of LVF installed over it, helping reduce abrasion of the underside of the flooring. LuxWalk has great compression-resistance testing results (exceeding test machine limits), so it enhances the LVF's performance by minimizing impressions and indentations that can occur in the finished floor. With 31 percent post-consumer recycled content, LuxWalk is LEED compliant and will contribute to MRc  4.1 – 4.2 credits. Visit www.quietwalk.com or booth B3131 Bayside.
Nick's Building Supply
Nick's Building Supply is a leading door wholesaler in the United States. The company's competitively priced collection of wood doors are sold directly to individuals, contractors, builders, developers and resellers. With over 150,000 square feet of warehouse and office space, and a showroom full of the "unusual," Nick's Building Supply offers one of the largest selections of wood doors anywhere. What makes the company unique is that it custom-builds exterior wood doors and sidelights to fit any size opening, plus it stocks fully assembled door systems, ready to ship on order. Visit www.nicksbuilding.com or booth S1606.
NyloDeck
Strikingly beautiful, yet incredibly durable, NyloDeck offers minimal maintenance and exceptional performance. Made using 100-percent recycled carpet fiber, NyloDeck is impervious to moisture, mold, mildew and termites. NyloDeck is the only 1-in. deck board rated to span joists up to 24-in. on center. NyloDeck also has a 16/200 lbs./ft2 live load rating, making it twice as strong as other leading 1-in. composite deck boards at 16 inches on center. Lightweight and easy-to-use, NyloDeck installs like a builder's dream and translates into overall savings in both time and money for labor and materials. NyloDeck's advanced manufacturing process also provides superior UV protection and a beautiful finish. Just as in natural wood products, no two NyloDeck boards look exactly the same, and the product is backed by extensive testing and a 25-year fade and stain warranty. Visit www.nylodeck.com or booth C9313.
Azek Building Products 3D iPad App
Azek Building Products is making it easier than ever to visualize Azek house trim, deck, railing and paver products on a home. A new, free Azek iPad App provides the power to reimagine home and outdoor living spaces in realistic 2D and 3D. With the new app, it's easy to turn dreams of outdoor living spaces into visual reality with a simple tap or swipe using five different product scenarios. From inspired trim and moulding applications, deck and railing designs, porch colors and paver layouts, the Azek App places the power of creative outdoor visualization in any user's hands. Visit www.azek.com or booth C2115.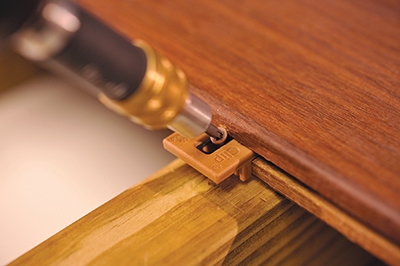 Deckwise
DeckWise, The Ipe Clip Fastener Company, manufactures "Made in the USA" patented hidden deck-fastener clips for exotic hardwood, thermally treated softwood, composite and PVC decking at a facility in Bradenton, Florida. Their flagship Extreme line of hidden deck fasteners are molded poly with a steel insert, providing up to 3X the hold-down strength of other brands, while giving a professionally finished, smooth and elegant look. The DeckWise line of deck-building products include painted-head stainless steel deck screws, the Hardwood Wrench board-straightening tool, deck-board gap spacers, hardwood plug kits, the Drill & Drive 3-in-1 tool, Ipe Oil hardwood deck finish, Ipe Seal end-grain sealant as well as hidden siding fasteners. DeckWise offers contractors and DIY'ers an all-in-one source for their deck building needs. Visit the DeckWise.com or booth S2305.
Muro Auto-feed Fasteners
Muro, the inventor of auto-feed technology, has been manufacturing the systems since 1991. Offering a variety of fasteners that cover most construction applications including drywall, flooring, metal roofing, docks and decks, Muro is recognized as the premier auto-feed system. The fastening tool boasts the highest payload at 150 screws per coil, and it's the only system that can drive up to a 4-in. screw. The adjustable handle (7 inches of height adjustment) provides you with the added advantage of being able to customize your tool to a perfect working height. Visit www.muro.com or IBS booth C8510.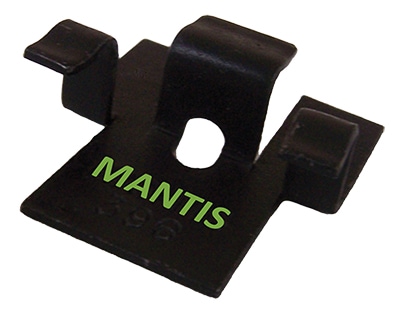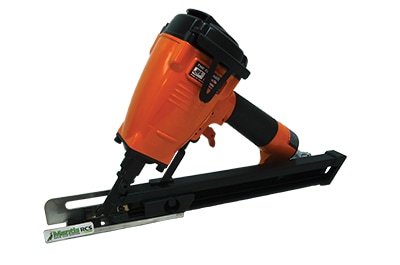 Sure Drive Hidden Deck Fasteners
Sure Drive USA manufacturers a wide variety of deck-fastening solutions. The company's hidden deck-fastener line includes The Mantis Clip for grooved boards, voted the easiest hidden deck fastener to install and a favorite with decking contractors and DIY homeowners. The Eliminator RCS with Slide attachment is a pneumatic installation tool for installing Mantis using Ballistic Nail Screws, which fasten grooved decking up to 70 percent faster than conventional methods. Another fastening solution, the Hidden Link for solid edge decking, is available in two varieties. One offers 1/8-in. deck board spacing while the other provides 1/4-in. spacing. The Hidden Link has been approved and recommended by several leading decking manufacturers including MoistureShield, ChoiceDek and Trex. A third option, Shadoe Track, one of the original hidden deck fastening systems on the market, is available in 4- and 8-ft. lengths and can be used for all types of decking. Visit www.suredrive.com or booth C6246.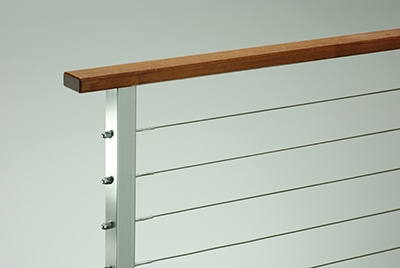 ReadyRail by AGS Stainless
The ReadyRail prefabricated railing system is the industry's first order-today, ship-today 100 percent stainless steel railing system. In the past, homeowners and builders looking for ship-same-day railing systems have been limited to products whose posts are made from aluminum or composite products like PVC that would be cut to size as needed. Until now, the clean refined look of an all-stainless steel system has been reserved for custom-made railing. ReadyRail changes that. ReadyRail is the first ship-same-day railing system on the market to feature 100-percent stainless steel posts, precut to size. Currently, two kits are available to accommodate up to 20 or 40 feet of level railing, with either top-mounted or side-mounted posts. Packages can be combined to accommodate larger projects. Additionally, the ReadyRail system is designed to accommodate a wooden top rail that is not included but easily purchased at a local lumber/building material dealer or simply created on-site for a personalized look. Visit agsstainless.com or booth 2267.
---
Recommended Articles