Hot Products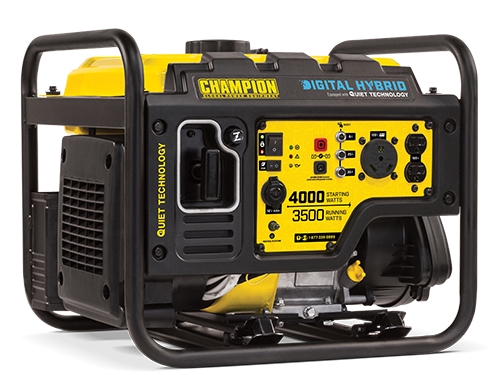 Champion 3500-Watt Digital Hybrid Generator
Champion Power Equipment's new Digital Hybrid is 50 percent quieter and 20 percent lighter than a traditional 3500-watt generator. This feature-packed power solution includes Quiet Technology, which is achieved by integrating digital components used in more advanced inverters. The Digital Hybrid also has an efficient mechanical design that decreases its overall footprint and weight. Additional features include Extended Run Time, Economy Mode and Clean Power for sensitive electronics, plus you can easily increase your power with the optional Parallel Kit. Champion's recoil start features Cold Start Technology, plus the reliable 224cc Champion engine produces 4,000 starting watts and 3,500 running watts, and runs for 17 hours at 25 percent load when the 2.9-gallon fuel tank is full. With a 0.6-quart oil capacity and a low-oil shutoff sensor, this generator operates at 64 dBA from 23 feet, which is a bit louder than normal speech. The overall concept of the digital hybrid is to include some of the most important features of an inverter in an open-frame generator configuration, delivering many of the benefits of an inverter at a lower price point. Find out more at www.championpowerequipment.com.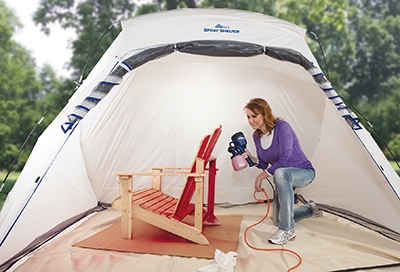 HomeRight Finish Max HVLP Sprayer & Shelters
This new HVLP sprayer from HomeRight will make painting and staining furniture and whatever else needs a fine finish easy, from application to cleanup. The Finish Max will spray most solvent (except lacquer) or water-based products – latex paint, milk paint, chalk paint, furniture paint, stains and finishes. Use it to finish, update or repurpose furniture, give kitchen cabinets a fresh coat of paint, and give all your projects a professional look. Vertical, horizontal and 45-deg. angle settings and an easy-to-select spray pattern from 1 to 6 inches wide give the user precision control during application. The Finish Max comes with a viscosity cup, cleaning brush, excellent instructions and a two-year warranty.
Use the Finish Max with one of the HomeRight Spray Shelters to provide an enclosed spraying area that helps reduce overspray and drift that misses the targeted surface. The Small Spray Shelter (2-1/2ˈ x 3ˈ x 3-1/4ˈ) just pops up and requires no setup. It is designed for spraying small home accessories such as lamps. Features include a floor and rear vents to handle the air pressure the spray gun generates. The Large Spray Shelter (6ˈ x 9ˈ x 5-1/2ˈ) sets up similar to a tent and includes a mesh screen that drops over the opening to protect a newly painted or finished project, such as an Adirondack Chair or similar sized furniture. It has no floor, so use of a drop cloth is recommended. Visit woodcraft.com.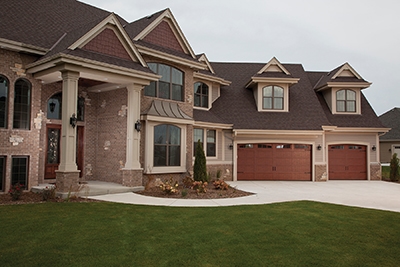 Haas Garage Doors
Sometimes viewed on the front of the house and oftentimes the most used access to the home, garage doors deserve a second look when it comes to home upgrade projects.
"The garage door is a focal point of many home exteriors so it's important to 'use' it to create curb appeal on a house," says Jeffrey Nofziger, president of Haas Door from Wauseon, Ohio. "Builders, remodelers and homeowners should all think of a garage door as more than just a durable entryway. The garage door should—and can—be an extension of the home's style and personality."
To help customers envision how different types of garage doors can add to the overall curb appeal of a home, Haas Door offers a free design tool called HaasCreate. In just a few steps, the online visualizer tool, located at www.haascreate.com, allows the user to upload a photo of their home and outline the existing garage area. An app for the iPad, which doesn't require an internet connection to use, is also available for free at the Apple store.
HaasCreate helps to instantly create a new garage door with different styles, options and colors. Sample home images are also available. Personal product selections—including a garage door style, color, windows, overlay colors, trim colors, handles and accessories—allow the user to customize a garage door that enhances the home exterior.
"Builders and remodelers can use HaasCreate anywhere, at any time, to help consumers make a garage door selection," says Nofziger. "Homeowners can also use the app at their convenience and then share their garage door preferences with their installers."
According to the 2016 Cost Versus Value Study by Remodeling, a garage door replacement offers the third highest return on investment for a homeowner of a midrange priced home. At a projected 91.5-percent cost recouped, a new garage door almost pays for itself when selling a house.
"The garage door is probably the most used entryway in the home," says Nofziger, whose family-owned company manufactures insulated aluminum and steel residential and commercial garage doors. "Doesn't it deserve to be a welcoming entry that adds to the overall style of the home?" Learn more at www.HaasDoor.com.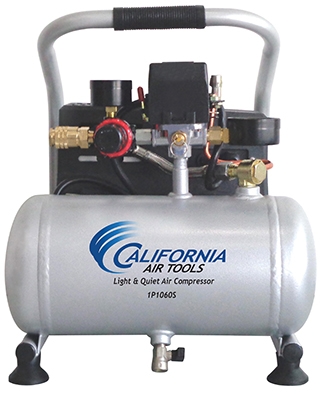 California Air Tools 1P1060S "Light & Quiet" Air Compressor
The new California Air Tools 1P1060S "Light & Quiet".6-hp air compressor is designed for trim contractors looking for less noise (56 decibels), less maintenance (oil-ree), and fast recovery (15 Seconds) in a lightweight (29 lbs.) and portable unit. With a large single piston, the 1P1060S air compressor delivers 1.60 CFM @ 40 PSI and 1.20 CFM @ 90 PSI. Learn more at www.californiaairtools.com.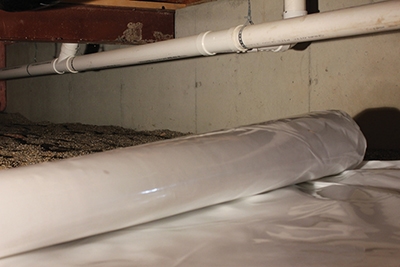 StegoCrawl Wrap Vapor Barrier
Stego Industries now brings you StegoCrawl Wrap Vapor Barrier which is uniquely designed for crawl space encapsulation with low permeance, strength, durability and longevity any homeowner would value. Reducing moisture in your crawl space improves indoor air quality, eliminates musty odors, and decreases the likelihood for mold. With a clean, white sheen to brighten the crawl space, ideal roll-sizes to maximize efficiency, and accessories in the StegoCrawl line that will facilitate an easy installation process, the system includes everything you need for a successful setup. StegoCrawl Tape, StegoCrawl Term Bar, and StegoTack Tape will save time and resources while maintaining the integrity of the crawl space vapor barrier.  StegoCrawl Tape is a low permeance, white tape designed for protective sealing, seaming, and patching applications and is engineered to bond to StegoCrawl Wrap Vapor Barrier. The white appearance blends in with the white color of StegoCrawl Wrap to create a clean system look. StegoCrawl Term Bar is a flexible, plastic termination bar, optimal for mechanically securing StegoCrawl Wrap Vapor Barrier to concrete, wood or masonry. StegoCrawl Term Bar is an ideal complement to StegoTack Tape. These two products used in conjunction create a seal between the vapor barrier and the perimeter wall. When looking for a high-quality vapor barrier for your crawl space, StegoCrawl is an easy-to-install solution that has been certified to exceed industry standards. For more information visit, Stego Industries, LLC at www.stegoindustries.com or call 877-464-7834.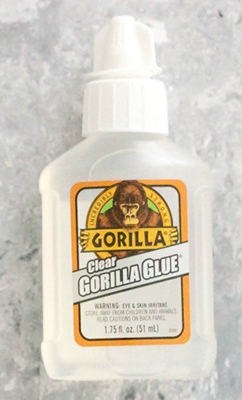 Clear Gorilla Glue
Gorilla Glue takes the next step on their mission to help DIY'ers, makers and breakers tackle the toughest jobs on planet earth by announcing the release of a new clear adhesive, Clear Gorilla Glue offers users the same recognizable versatility and strength for which Gorilla is known in a crystal clear, no-foam formula. This extension to the Gorilla legacy is born from users' need for translucent glue without sacrificing its water resistance, thick consistency, or versatility. "There is nothing like it on the market," says Kathy Hoelscher, Director of Research and Development at The Gorilla Glue Company. Clear Gorilla Glue can be trusted both on indoor and outdoor projects that affix glass, foam, wood, metal, ceramic and more. This product is available in 1.75 fl oz and 3.75 fl oz bottles. Learn more at www.gorillatough.com.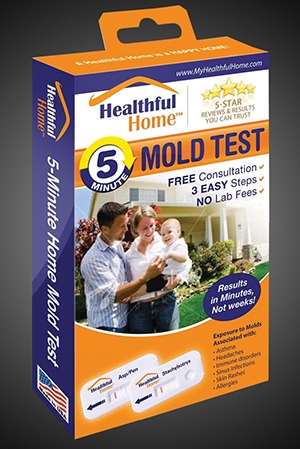 5-minute Test Detects Household Mold
Exposure to household mold can cause serious health problems including allergies, asthma and chronic sinus infections. Until recently, do-it-yourself mold test kits needed to be sent to a lab (which often required an additional processing fee), and the results could take weeks. A new mold test called 5-Minute Mold Test Kit from Healthful Home is much more convenient because it displays the results in minutes. Using a small sample of household dust from the floor, a cabinet or another surface, this test kit can detect the presence of over 32 different types of harmful mold spores including black molds (while ignoring harmless molds like mildew). The 5-Minute Mold Test Kit is the only fast-acting DIY mold test kit on the market, and it has been licensed by the CDC. The kit lists for $44.99 and is available exclusively at Ace Hardware. Learn more at myhealthfulhome.com.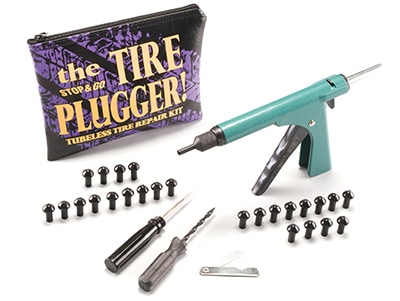 Stop & Go Tire Plugger
Flats happen because most vehicles run on tubeless tires these days. Regardless of thickness or pre-sealant additives, they are all vulnerable to being punctured. Now you can experience the skill of a professional's hand and save time and money. Your tires can be easily plugged on or off the wheel with this new shop-style tool called the Tire Plugger. The Gun is a spring-loaded device that drives the tire plug into the hole. The shaft of the tire plugs expand under pressure to fill the puncture. The mushroom head of the plug seats on the inner wall allowing no air to escape. This ensures maximum reliability from its revolutionary design. See how simple it is to use by watching a demonstration video at www.stopngo.com.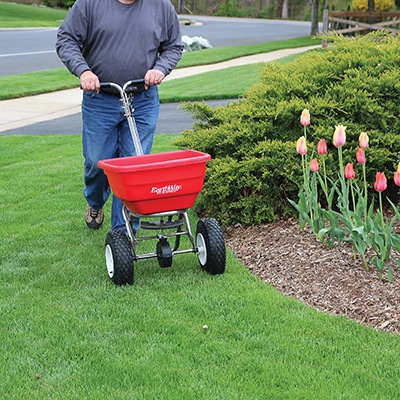 EarthWay Flex-Select Spreaders
The Flex-Select spreader models feature easily interchangeable shut-off trays (the complete bottom of the hopper including the shut-off) that can easily convert the spreader to spread any type of material. You can select from the EarthWay EV-N-SPRED, capable of spreading all fertilizers and free-flowing granular products, to the EarthWay High-Output rock salt/pelletized high-SGN material spreader, or to a new low-output/low-application rate fine chemical/fine grass seed spreader. The new Flex-Select Series adds two new hopper sizes (80 and 130-lb.) and three different broadcast application configurations to its lineup of commercial and professional spreaders. Each application will spread evenly, accurately, and up to a 50-percent wider spread width than other push spreaders. Visit earthway.com.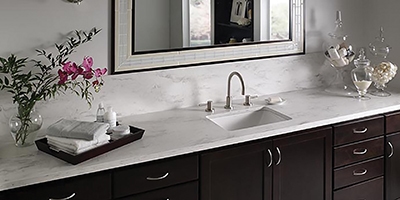 DIY Countertops by SolidSurface.com
Designing and fabricating your own countertops is not only an extremely rewarding DIY project, it can save you hundreds, if not thousands, of dollars. Not many people are aware that acrylic solid surface, commonly referred to as Corian®, is an incredible material to work with, and something that a handy homeowner can do themselves.
If you work with wood, you already have many of the skills and tools you need to cut, rout, sand and finish this versatile material. When you combine craftsmanship with the Solid Surface 101 education guide from SolidSurface.com, you are armed with all you need to start on your first project. And if you don't feel ready to commit to redoing your kitchen countertop, try getting a taste for it by resurfacing another countertop in your house with the many thousands of remnant material offered. Fair warning, it can be addictively rewarding.
What Makes Solid Surface Desirable?
It's renewable; you can easily repair scratches, chips, gouges or cracks.
Sealing and painting are not recommended—sand it to the desired level of shine and you're done.
It's more dimensionally stable than wood, with no shrinkage cracks or raised grain.
Antimicrobial properties make it resistant to bacteria, mold and mildew, and it's NSF 51 food surface certified.
Solid surface has non-detectable seams that are aesthetically pleasing and eliminate a place for crumbs, dirt, stains, bacteria and other pathogens to hide.
Non-professionals and professionals can purchase solid surface material at SolidSurface.com. Nearly all major brands, as well as tools and accessories needed to work with solid surface, are available on the website. Material offered includes full sheets, and remnants of premium and overstock material are available to anyone including the woodworker, cabinet maker, remodeler, fabricator and DIY'er.
Top brands offered include DuPont™ Corian®, LG™ HI-MACS®, Wilsonart™ Solid Surface, Formica™ Solid Surface, Hanwha™ Hanex®, Aristech™ Avonite® Acrylics, Meganite™, Mystera™, and more.
Start browsing now at solidsurface.com.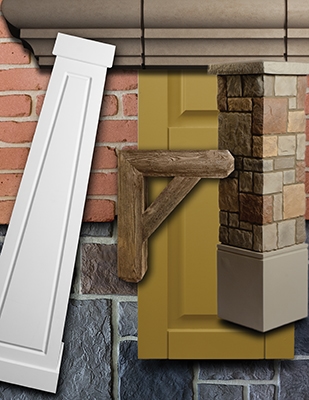 Nu-Wood
To complement home styles nationwide, Nu-Wood now offers the largest variety of polyurethane textures in the marketplace. Durable and moisture-resistant, the company's nine synthetic millwork textures include smooth, cobblestone, wood grain, concrete, brick, ledge stone, stacked stone, limestone and field stone. Durable and maintenance-free, Nu-Wood products are impact-resistant and molded from a resilient closed-cell structural polyurethane. The products are fade-resistant and will never crack or attract insects. Product categories include entry and window systems, keystones and dentil blocks, brackets, louvers, interior millwork, molding and accessories. The company also manufactures PVC Column Wraps. To provide color customization of its pieces, Nu-Wood offers the Classic Color Program. Any Nu-Wood product can be ordered with one of more than 9,000 Sherwin-Williams paint colors that are applied at the Nu-Wood facility. The painted products arrive ready for immediate installation, saving time and effort on the jobsite. Visit www.nu-wood.com.
---