Holiday Gifts for the DIY'er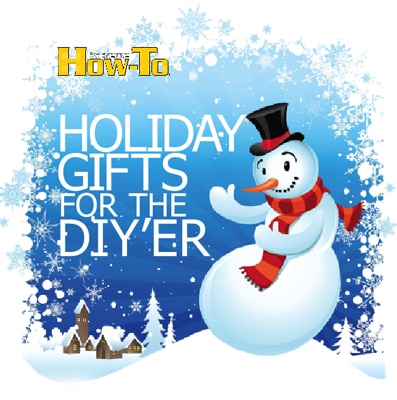 Ask any home-improvement enthusiast what tops their holiday wish list, and I doubt you'll hear requests for calling birds or French hens. They're more into sledge hammers, laser levels, or a steam kit for wood bending… The holiday season is the time for giving gifts, and the EHT staff offers a handful of ideas for the do-it-yourselfer in your life. From drill/drivers and compact saws to radiant heaters and pivoting paint tools, you're bound to find a good fit.
Coast HP7 Flashlight
Coast Products introduces the all-new HP7 flashlight featuring the latest in LED technology. Coast's patent-pending Pure Beam optics produce a pure, bright consistency across the entire beam, whether you want the tightest spot or widest flood of light. The unique spot-beam optics provide a clear, bright center, while also showing a wide angle "halo" so you can see what's going on around your primary target. The HP7 flashlight is housed in a rugged 5.5-in. aluminum casing with four AAA batteries (included). It projects 207 lumens of brilliant light delivering a runtime of 3.5 hours. It has a beam distance of 613 ft. and offers high and low beam modes. Visit www.coastportland.com.
Wilton B.A.S.H. Sledge Hammers
The new Wilton B.A.S.H. sledge hammers are touted as the most durable hammers available, featuring "unbreakable" handle technology. The Wilton B.A.S.H. (Bad Ass Sledge Hammer) product line features a steel core design that prevents breakage during overstrikes—the most common cause of failure in sledge hammers. In an overstrike test conducted by an independent lab, mechanical overstrikes were calculated before the handles broke. Leading competitors' wood handles collapsed after 435 strikes, while fiberglass-handled sledge hammers failed at 6,800 strikes. The B.A.S.H. hammers were tested at 25,000 overstrikes and were still going strong. B.A.S.H hammers feature a hardened steel safety plate that secures the head with six steel rods. These rods are bound together and run the entire length of the handle to serve as the handle's core, locking down the hammer head to eliminate dislodgment. There's a wide variety of B.A.S.H. hammers to meet every need from 2.5- to 20-lb. heads and 12- to 36-in. handles. https://www.wiltontools.com/us/en/b-a-s-h-striking-tools/
Cordless Precision Engraver
With the new Cordless Precision Engraver (#505) from General Tools & Instruments, users can protect all types of valuables with identifying markings, and even perform delicate personalization of items. Professional woodworkers and hobbyists can use the patent-pending engraver to sign their works of art. This precision tool enables engraving anywhere by anyone—from professional technicians and mechanics to homeowners and DIY'ers. Designed in-house by General's engineering team, the Cordless Precision Engraver uses a 3/32-in. diamond-tipped engraving bit (included). Its powerful 20,000-RPM motor is powered by just two AAA batteries and enables engraving in wood, glass, metal, ceramic and plastic. An aluminum body offers superior durability while a unique tri-lobe ergonomic grip provides the ultimate in comfort and maneuverability. Visit www.generaltools.com.
SKIL iLevel
The iLevel by SKIL is a smart, little line laser that makes decorating and leveling projects around the home simple and easy. Ideal for decorators or do-it-yourselfers, the iLevel cross line laser is easy to set up and projects a perfect vertical and horizontal laser line for all your leveling and alignment projects. Use it to hang pictures, paint, stencil, wallpaper or install shelving the easy way. With its 2-1/2-in. cube design, it can be placed on just about anything—from the floor to bookcases to tables, letting you mark your walls without juggling a hand-held level. Included in the kit is a flexible clamp that enables the iLevel to attach almost anywhere. Adding to its usability, the iLevel also includes a common 1/4-20 mounting thread for attachment to tripods, providing the flexibility of setting up the laser at different heights. To ensure accuracy for every use, the iLevel also includes a reliable self-leveling pendulum coupled with an integrated lock function that protects the laser during transport. Robust housing with rubber over-mold also provides protection to vital components and makes the laser easy to grip and carry. Visit www.skiltools.com.
Sherwin-Williams Gift Card
For the home enthusiast, you can't go wrong with the gift of paint—redeemable whenever and in whatever color they need. With thousands of paint products available, send your DIY'er on a shopping trip to Sherwin-Williams with a "blank check." A Sherwin-Williams gift card can be the perfect stocking stuffer for the holidays. DIY'ers already have their next project in mind, whether it be rooms to tackle for spring, chairs that need touching up, or which doors need a new coat. Help get them started with their favorite project—all they have to do is select the color. Visit www.sherwin-williams.com.
Rockwell VersaCut
The Rockwell VersaCut compact circular saw features a precision depth setting, so you can regulate the exact depth you want the blade to extend from the plunge. It comes with three different cutting blades for wood, metal and tile, and is equipped with a precision laser guide to easily follow a cut line for exceptional accuracy. With a compact size and light weight of only 4 lbs., the 4-amp VersaCut eliminates the setup time associated with miter saws or table saws, enabling you to rip, cross-cut or plunge-cut virtually any material (up to 1-1/16-in. thick) right on the job site, without having to use a larger, more complicated saw. Visit www.rockwelltools.com.
Mini Edge-Rounding Plane
For the burgeoning woodworker, this small molding plane does a superb job of easing corners, quickly rounding the edge to a 1/16-in. radius. It cuts neatly in a single stroke, greatly simplifying work that commonly requires an electric router. The plane cuts with the grain, and nests comfortably in the hand for positive control on a push or pull stroke. It has a 4-5/8-in. long sole and an adjustable 0.08-in. thick high-speed steel blade. Made of Indonesian ebony with a brass lever cap, the Mini Edge-Rounding Plane is a beautiful, well-crafted tool for years of detailed woodworking. leevalley.com
CanGun1
SafeWorld Int'l. offers the CanGun1 premium spray can tool that features the world's first FullGrip trigger with a 2.5:1 leverage advantage. The CanGun1 makes spraying the contents of virtually all standard spray cans of paint, lubricant, adhesives, etc. considerably easier, while providing professional results every time. The patented pistol-grip accessory easily snaps onto standard aerosol spray cans, transforming them into professional-style spray guns with unprecedented control for hours of effortless, pain-free spraying. CanGun1's exclusive ergonomist-tested and arthritis-friendly design also makes it suitable for use while wearing gloves. The reusable CanGun1 is made in the USA with 80-percent recycled non-toxic plastic and zero-waste, space-optimized, recyclable packaging. Visit  www.cangun1.com.
Rockler Simplifies Wood Bending Process
Rockler's new Steam Bending Kit is a unique device woodworkers and do-it-yourselfers can use with any steam box to give any wood species enough plasticity to bend or curve to their liking. With no moving parts, the Steam Bending Kit makes it easy to bend wood used in the construction of oval Shaker boxes, instruments, specialized moulding, doors, handrails and many other applications. The kit includes a built-in heating element that heats water and the contents of the steam box to 212° F. The refillable 5.3-quart reservoir may be filled and refilled to provide continuous steam when necessary on larger projects or when bending thicker, denser wood. Also included is a 10-ft. long steam hose that safely directs steam to the box, and an assembly plan that provides easy step-by-step instructions on how to build a custom steam box.
"A steam box changes the way woodworkers think about woodworking," says Steve Krohmer, vice president resident of product development for Rockler. "The Steam Bending Kit allows its user to change wood shapes as part of a new design, or to match the curves of an existing design." Visit www.rockler.com.
Redesigned Porter-Cable 18V Lithium-ion Drill/Driver
Every DIY'er needs a reliable cordless drill/driver, and Porter-Cable has recently launched its second generation 18V lithium-ion model PCL180CDK-2. The new drill/driver has been enhanced over the current model (PCL180-DRK-2) across all facets of the tool. Among the most critical updates are a new motor and low-impedance batteries that deliver 424 in.-lbs. of max torque, a 30-percent improvement over the old model. The additional torque also provides 25 percent higher speed with 1,500 RPM in high gear, allowing users to complete applications faster. Weighing 3.8 lbs. and measuring only 8.1 in. long, the PCL180CDK-2 is compact and lightweight for easy access in tight spaces. The length was minimized by changing to an exposed gearbox, which also reduced the girth of the tool around the top of the handle. The streamlined handle is contoured and covered with an overmold that provides a much more secure and comfortable grip. The drill/driver also incorporates features for improved versatility, including a 22-position clutch, LED light for visibility in dimly lit areas, and on-board bit tip storage. Durability is improved with the introduction of glass-filled nylon housing to withstand the normal wear and tear on the jobsite. Visit www.portercable.com.
Quartz Overhead Radiant Heater
Working in winter can be a chilly prospect. The Quartz Overhead Radiant Heater emits infrared waves that, like the sun, warm objects directly (people, workstations or tools), without drying the air, or circulating dust and other particles in the work space. For hard-to-heat workshops and garages, this ceiling-mount heater is particularly convenient. The quartz elements have two settings—760W and 1,475W, producing 2,590 and 5,030 BTU/hour respectively. The housing rotates and swivels to let you aim the heat where it's needed, and a pull cord keeps the controls conveniently within reach. This lightweight (5.5 lb.) heater is easy to install and has a built-in 25W halogen lamp, which can be used alone or with the heating elements. Silent, clean and efficient, it operates on the high setting for a maximum of 15¢ an hour (based on 10¢ per kWh). Visit www.leevalley.com.
Gutster
Give your favorite home enthusiast the power of destruction. The Gutster demolition bar has been redesigned with an improved round steel handle and a solid cast head with extended neck, providing greater lifting and breaking power. More than a wrecking bar, the Gutster Demo-Bar is a complete demolition solution that was named DIY Network's Cool Tools "Coolest Tool of 2009." The innovative Gutster design starts at the uniquely designed prying head. Split forks provide greater stability for heavier loads. The spacing straddles joints and studs for maximum leverage. Sharp points pierce the toughest materials effortlessly. Angled lift plates help ease the bar under materials to allow for faster prying. Conveniently built into the back of the head is a multi-nail puller. The angled bar is engineered to provide the most prying power with the least amount of stress and strain. Choose from three sizes with 40-, 48-, and 60-in. handles. Visit www.thegutster.com.
Lighted Mechanical Pick-Up Tool
The Lighted Mechanical Pick-Up (#70396) from General Tools & Instruments offers a built-in, powerful white LED to directly illuminate hard-to-see and hard-to-reach areas, and features comfortable, ergonomically designed hand controls. When the handle is depressed, a strong four-pronged steel-jaw grabber extends from the tip, and the LED centered in the tip illuminates the task at hand. The 24-in. flexible shaft allows you to maneuver through cramped engine compartments, behind workbenches and in other constricted spaces to retrieve small objects. Coated with a corrosion-resistant black finish, the Lighted Mechanical Pick-Up is built to withstand tough jobs and harsh working environments. (Other models are available with 12- and 36-in. flex-shafts.) Visit www.generaltools.com.
Sprayglide Deck & Back Saver
The Sprayglide Deck & Back Saver is the world's first tool designed to solve common problems associated with power washing exterior surfaces such as decks, docks, patios and siding. A pressure washer is a great tool to break the bond of dirt, but inconsistent water pressure can result in a streaky mess—even expensive repairs—from the nozzle getting too close with the powerful spray, which can scar the work surface. The Sprayglide effortlessly maintains the ideal nozzle height from the surface while using the pressure washer, which keeps the water stream at a consistent pressure. It gives the user complete control while pivoting on a spherical wheel for a more uniform "streak free" result. The elevated nozzle can also be adjusted for height, which reduces the need for the user to bend over and relieves stress on the back. The Sprayglide is a patent-pending product with a universal attachment system to fit the spray wand of any pressure washer. It delivers a faster, safer power-washing experience that is as easy as rolling a vacuum. Visit www.sprayglide.com.
Motorcycle Loading Ramp System for Pickup Truck
For an easy way to transport a motorcycle without pulling a trailer, the Roll-A-Ramp Motorcycle Loading System is a high-quality, durable ramp featuring a 1,000-lb. capacity. Made from aircraft-grade aluminum so it's strong yet lightweight, the ramp weighs 50 lbs. with a support bracket weighing 45 lbs. The system includes an approach plate that keeps weight off the tailgate, and it conveniently inserts into a pickup's 2-in. receiver hitch so it can be operated by one person. The ramp allows the bike to be ridden into the pickup, eliminating the need for a trailer. An additional end plate can also be added to the ramp so it can be used for other purposes. Roll-A-Ramp offers a 10-year warranty on all ramps. Let the company know you saw this in the Extreme How-To Holiday Gift Guide and receive a FREE Deluxe MCC36 Ramp Cover valued at $299 to protect your ramp from weather elements. (Special holiday price $899, plus shipping and handling.) Visit www.rollaramp.com.
CreteSheet
The CreteSheet is the only tool required for mixing and pouring concrete or cement and is designed for hard-to-access jobsites or jobs requiring 1 cubic yard or less. It mixes a typical 80 lb. bag of concrete/cement mix in less than 90 seconds and can mix up to 50-kgs of material at one time. The 14-oz. CreteSheet is a durable, contractor-grade, UV-inhibited polyethylene sheet designed for one- or two-person use. The CreteSheet is solidly constructed; four handles have been ultrasonically bonded at each corner ensuring strength and easy grip. The concept of concrete mixing, cement mixing or other dry materials by tumbling the mixture while the weight remains on the ground is extremely efficient. The CreteSheet's simple design may not be on the cutting edge of technology, but its efficiency and convenience saves time and labor in mixing applications. Visit www.cretesheet.com.
Ryobi Inverter
When it comes to convenient and quiet power for electronics, the Ryobi Inverter Generator is an excellent choice for homeowners. Whether it's tailgating, camping or smaller power needs for the job site, the Ryobi Inverter Generator delivers clean power for a wide range of electric items from lights to refrigerators. This unit is even safe to use with extra sensitive electronics like laptops. And best of all, this generator is extremely quiet, offering muffled power that's even low enough to talk over. The Ryobi Inverter Generator is designed for maximum performance and convenience with features such as Auto-Idle, which saves fuel to run longer when less power is required. The enclosed construction design provides extreme durability and compact storage, while the digital monitoring alerts the user to essential functions—like power indicator, overload and low oil alert. The generator has integrated wheels and an extendable handle for easy transport. Auto charging cables are included, and each generator is backed with a 3-Year warranty. The inverter features a 4-cycle engine, 1,600 running watts (2,000 starting), two 120V AC outlets and one 12V DC. Visit www.ryobitools.com.
Spyder Reciprocating Saw Attachment Starter Kit
This universal Spyder attachment kit for recip saws will fit any brand of saw, converting a standard saw into a multipurpose tool for a wide range of home projects. Simply insert the attachments as you would a standard reciprocating saw blade. The kit includes one 2-in. Spyder Scraper—a precision scraping tool for tough materials such as ceramic tile adhesive, thinset, construction glue and more. The 1/16-in. Spyder Grout-Out Blade is equipped with a carbide-grit edge to remove all grout, including epoxy and urethane; intended for joints 1/16 to 3/16 in. The kit also includes one 6-in. 10TPI (bottom)/14TPI (top) Spyder Bore-Blade, a two-edged general-purpose/metal blade that can make multi-directional cuts without flipping the saw over; while the rounded nose allows the ability to plunge cut. Visit www.spyderproducts.com.
V3 Hammer
The next generation of hammers has arrived from Vaughan & Bushnell. The V3, with its unique head design, curved claws and smooth striking face can handle anything from heavy construction to finish work. Available in a 16-oz. head weight with 13-in. handle, the V3's patented Deep "V" head reduces shock and vibration. A side nail-puller increases leverage, and the magnetic nail holder is ideal for one-hand nail starting. The V3 hammers are 100-percent made in the USA. Visit www.vaughanmfg.com.
---
Recommended Articles