Holiday Gift Ideas 2018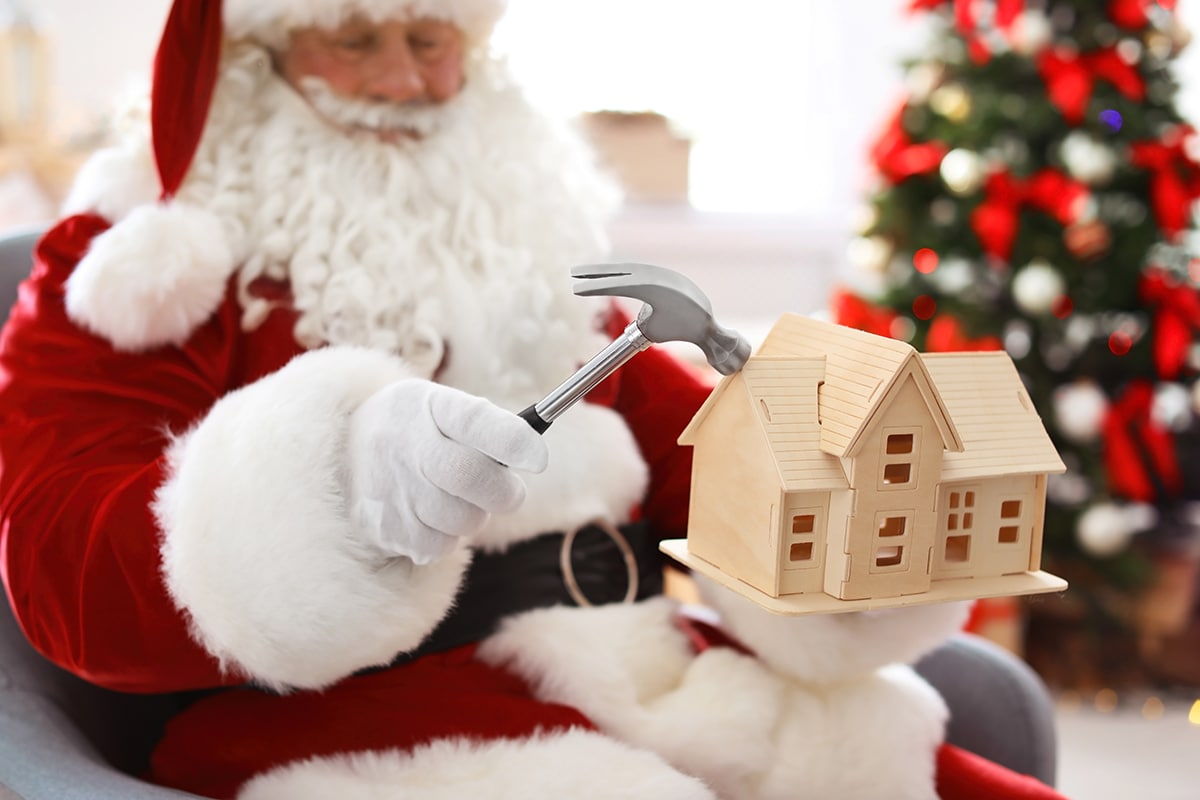 Here is EHT's annual list of gift ideas for the home-improvement enthusiast. We've collected tools and gadgets galore to help with projects big and small. Did we com-pile this list to help guide your holiday shopping, or for you to pass along to your family as a wish list? Maybe a little bit of both.
From our staff to you and your household, have a wonderful holiday season.
Kapro Measure Mate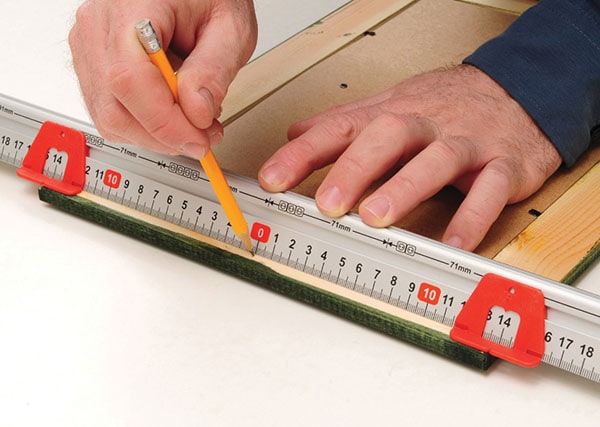 Whether you need to hang pictures or wall-mounted shelving, the Kapro 313 Measure Mate will come in handy with a number of innovative features. This straight-edge level/ruler features a sturdy triangular profile plus two easy-to-read bubble vials that indicate level and plumb. Two sliding markers allow you to match and set fastener locations on the back of a picture so you can easily transfer those measurements to the wall. The Measure Mate includes a sliding knife guide, zero and center-point scales, a nail gripper and drill-bit diameter gauge. The ruler includes electrical and plumbing scale markings, and its  triangular shape affords a clear view of the measurement and easy access with a pencil for making accurate layout marks. Three lengths are available: 12, 24 and 48 inches. Visit www.kapro.com.
Currant Smart Outlet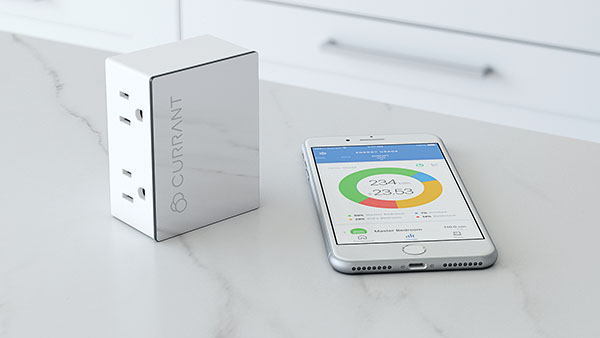 The Currant Smart Outlet was created to enable consumers to dramatically cut their power consumption and lower their energy bills without sacrificing comfort or convenience. As the first AI-powered outlet, the Currant Smart Outlet's groundbreaking technology is brought to life in a sleek, innovative device designed by the same industrial design team at Bould Design that worked on the Nest thermostat. It uses artificial intelligence to analyze power usage and create personalized, easy-to-implement suggestions for consumers to automatically power off their devices and cut excess electricity usage. The Smart Outlet can be controlled by the Currant app, Amazon Alexa, or Google Home after an ultra-fast setup. Visit www.currant.com.
Work Sharp Knife & Tool Sharpener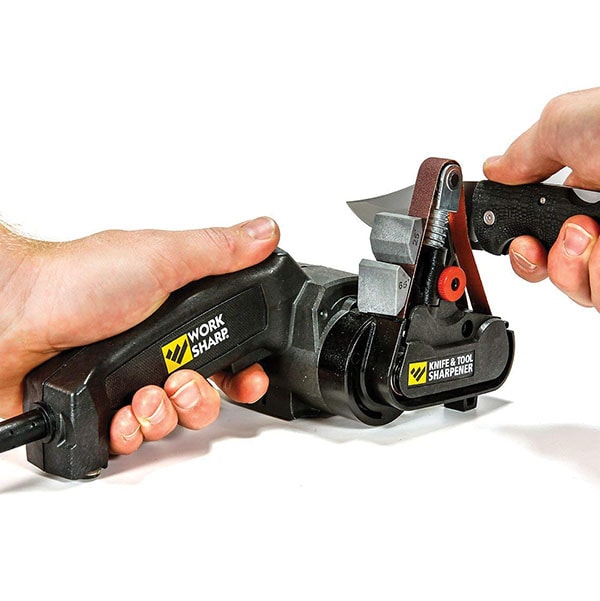 Using flexible abrasive belts, the Work Sharp electric sharpener is able to sharpen not just straight bladed knives, but also curved knives, tanto blades, filet knives, serrated knives, gut hooks and virtually any other shape of knife blade. The Work Sharp Knife & Tool Sharpener is also able to sharpen other common cutting tools including scissors, axes and hatchets, mower blades, garden shears, shovels, and most any tool with a blade. Premium abrasive belts meet all your sharpening needs: coarse, medium, and fine. The coarse belt is used to repair damaged blades and sharpen cutting tools. The medium belt is used for general knife sharpening. The fine belt is used to hone knives, sharpen serrations, and for quick touch-ups on blades that were recently sharpened. Visit www.workshoptools.com
MetalTech 4-in-1 Scaffold Bench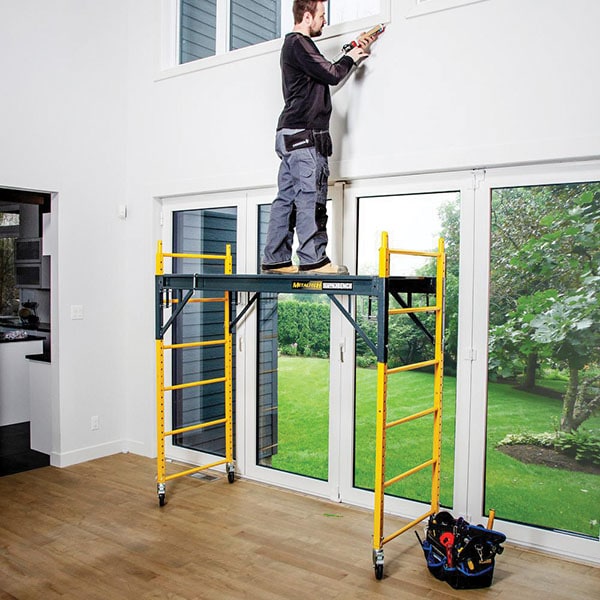 The new 4-in-1 Multi-Purpose Scaffold Bench from MetalTech (sold exclusively at the Home Depot) has large locking casters that enable you to roll it right where you need it and adjust the height of its wooden work platform up to 6 feet. The bench has an 1,100-pound capacity, and the deck allows for a stable footing and a large standing space of 29×72 inches. When configured as a workbench, the included rails and attachment brackets can be used to install any brand of miter saw or table saw, along with accessory outfeed roller supports that attach to the end of the bench. It can be easily moved around the jobsite, then locked in place for stability. After the work is done, the bench can be configured as a two-shelf storage unit for the garage or workshop. The included storage shelf includes a ventilated metal grid and side braces (200-lb. capacity) that can be adjusted to any rung height along the ladder sides. With its large, easy-rolling casters, the 4-in-1 Scaffold Bench can also be used to cart equipment and supplies around the jobsite. Weighing 161.5 lbs., this durable steel bench is solidly built to withstand the daily rigors of a demanding work site. The unit is sold in a flat box for convenient shipping, but assembly is easy and requires no tools.
The shelves adjust with handle-pull cotter pins, which simplifies assembly and day-to-day operation. Visit www.homedepot.com.
Cat Footwear ExcavatorXL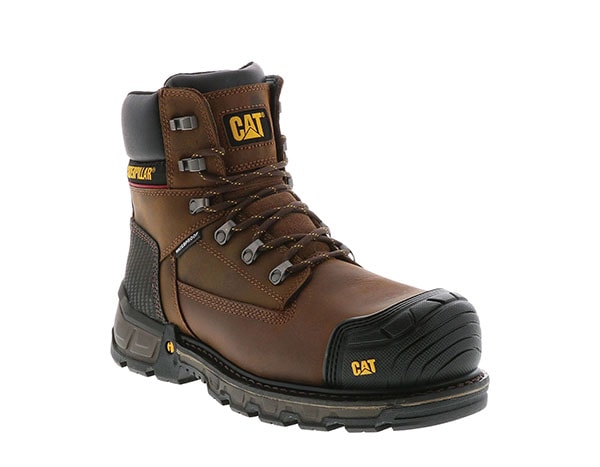 The ExcavatorXL is Cat Footwear's ultimate work boot for heavy industrial jobs. Ten years ago, Cat introduced its proprietary SuperDuty iTechnology, "where welted durability meets athletic comfort." With the ExcavatorXL boot, that technology has evolved to include a new EaseHD (heavy duty) footbed, iTechnology construction, and even more room and comfort for your feet. The ExcavatorXL's protective safety technology includes a lightweight yet highly protective composite toe and electrical hazard features. If your work takes you outside, you won't have to worry about the wet or cold weather conditions, as the ExcavatorXL is waterproof and insulated with 200 grams of Thinsulate. The T1410 outsole is engineered for extreme slip resistance and includes the exclusive SRX outsole compound that exceeds industry standards at reducing the risk of slips and falls. This work boot is also powered by ERGO Technology which combines biomechanics, hardened durability and trademark grit to create a shoe that will remain comfortable all day long. It's all backed up with a 60-day comfort guarantee. Visit www.catfootwear.com.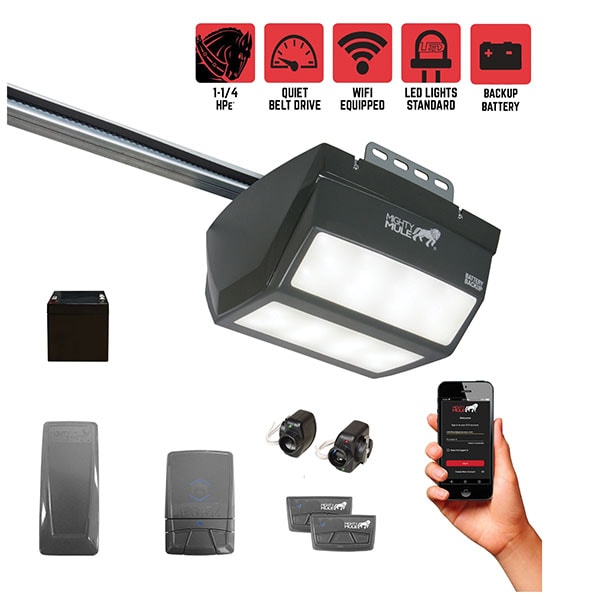 Mighty Mule Automatic Garage Door Opener
The new Might Mule Automatic Garage Door Openers are easy to install and simple to manage from anywhere. With super-quiet belt operation, a slim design, and Mighty Mule's easiest setup ever, the new openers present a good-better-best selection with several new enhancements. Each new Automatic Garage Door Opener incorporates a new slim design enabled in part by the space-saving built-in LED lighting, and the lighting is protected with a lifetime warranty. Additionally, Mighty Mule's smart technology allows for control anywhere with a Mighty Mule MMW200 wall station, and is compatible with Amazon Alexa, Google Assistant, and IFTTT control. The top-of-the-line MM9545M model includes one MMW200 wall station, two transmitters (that are compatible with Mighty Mule Automatic Gate Openers), a MMK100 Keypad, 7' Belt Rail, and built-in battery backup. It also includes a 1-1/4 HPe (horsepower equivalent) DC motor with a steel reinforced belt drive for super quiet operation. The triple LED has a lifetime warranty and is dimmable to adjust the brightness. Remote entry and monitoring can be granted utilizing the transmitters, wireless keypad, the Mighty Mule app, and voice skills. Visit www.mightymule.com.

Johnson JLX Programmable Digital Levels
Designed for professional applications, Johnson's JLX series of programmable digital levels are engineered for inspectors, supervisors and flatwork contractors alike. Eliminate guesswork with the pre-programmed ADA compliance, drainage and roof pitch modes that simplify measurements for the most common digital level applications. They can also be easily customized to meet jobsite needs. The levels feature dual backlit LCD displays on the top and front, and both displays automatically invert when you are taking overhead measurements. They have push-button removable end caps for flush or finish carpentry work, and non-marring wall grips hold the levels securely in place with just one hand. The IP65 construction provides complete protection against dust and water. This level is easy to use with its simple, three-button operation and can tackle tough jobs like setting ramp angles for ADA compliance, setting drain pipe angles for proper slope, and quickly measuring the slope of any surface. Visit www.johnsonlevel.com
Worx Storage Step Stool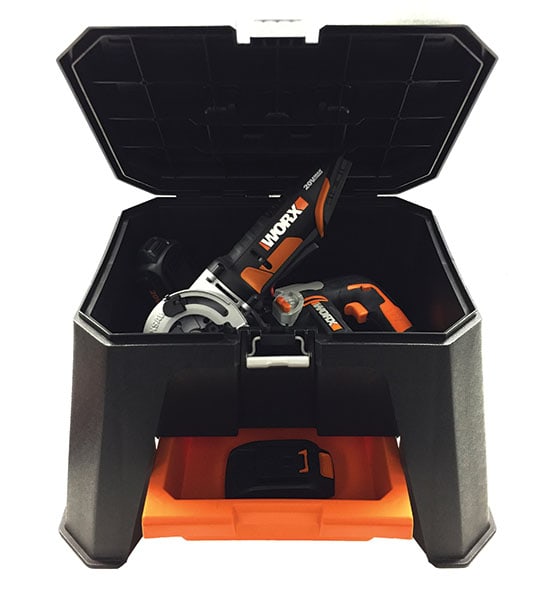 The new Worx Storage Step Stool is a compact, portable tool box that doubles as a step stool. The 13-in. step stool doesn't sound like much extra height, but it provides a shorter person the advantage of hand-ling those out-of-reach jobs. The 7.15-lb. step stool isn't limited to DIY projects. Use it for the hard-to-reach items in kitchen cabinets or pantry shelves. As a painter's helper, the extra step means one step closer to painting trim around windows and doors. Outside the home, the Storage Step Stool is a handy stool for detailing a car's wheels, as well as marine and trailer maintenance. Unclasp the top of the stool, and inside there's a deep cavity of built-in storage. Beneath this storage bin is a shallow, pull-out drawer for storing frequently used tools and parts. With a storage capacity of 28 lbs., both the storage bin and pull-out drawer can be customized and outfitted with the tools and accessories necessary to tackle the job. Visit worx.com.
Ridgid MegaMax Brushless 18V Multi-Tool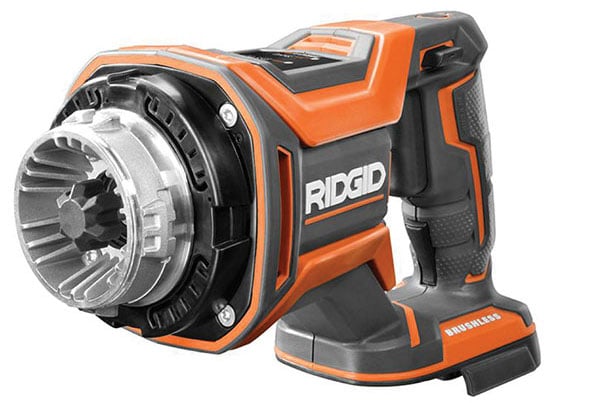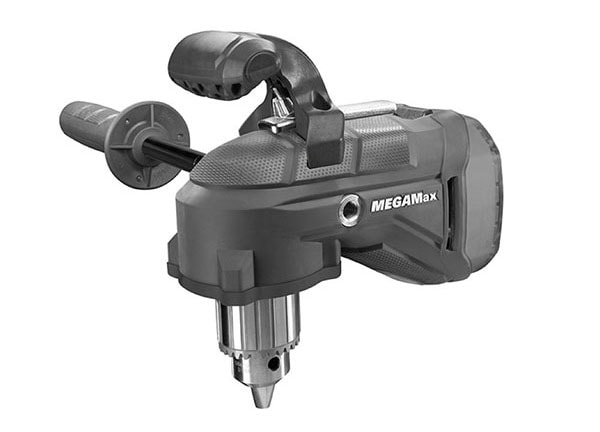 The Ridgid MegaMax Brushless 18V Power Base features Octane Tool Functionality, so if connected to a Hyper Octane Battery, the user will get over 65 percent more power in high-demand applications. This Power Base automatically identifies each MegaMax Attachment Head, including the Right Angle Drill, SDS Plus Rotary Hammer and the Recip Saw, and configures the tool settings to match. The MegaMax Power Base is the first Octane tool, meaning the battery technology increases performance and runtime. This unit is covered for life with registration under the industry's only lifetime service agreement. Features include four directional head positions to optimize the ergonomics, an LED communication panel, heavy-duty brushless motor, and tool-free die cast interface. The MegaMax has a lock-on function, two-finger variable speed trigger, and a grip light, which engages a LED light independently of the trigger to illuminate a work space. Visit www.ridgid.com.
AireShare Transfer Fan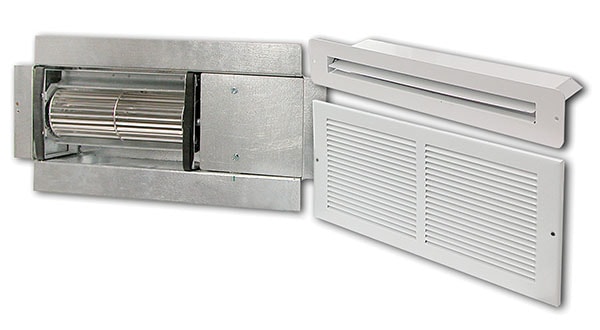 The AireShare is designed to distribute heated or cooled air for greater comfort, energy savings and ventilation rates from room-to-room through interior walls or level-to-level through floors/ceilings. AireShare Transfer Fans provide an unobtrusive, cost-effective way to circulate heated or cooled air from fireplaces, stoves, electric baseboards, split system "ductless" A/C and window A/C units to adjacent rooms. The net result is extended comfortable living space from existing heating or cooling equipment. AireShare Transfer Fans are available for two types of installations: horizontal air flow through stud walls and vertical air flow through floor/ceilings. All AireShare Fans feature a low profile, whisper-quiet intake blower and unobtrusive grilles. With Room-to-Room models, the blower draws heated or cooled air into an open wall cavity and distributes it to an adjoining room through a streamlined air diffuser installed on the opposite side of the wall (available for plug-in and hard-wired installation). The Level-to-Level model moves air up or down from one level to another through a sleeve that adjusts to floor joist/truss thicknesses from 8-3/4 to 16-1/2 inches. Visit tjernlund.com.
M18 FUEL 18V Lithium-Ion Brushless Cordless Combo Kit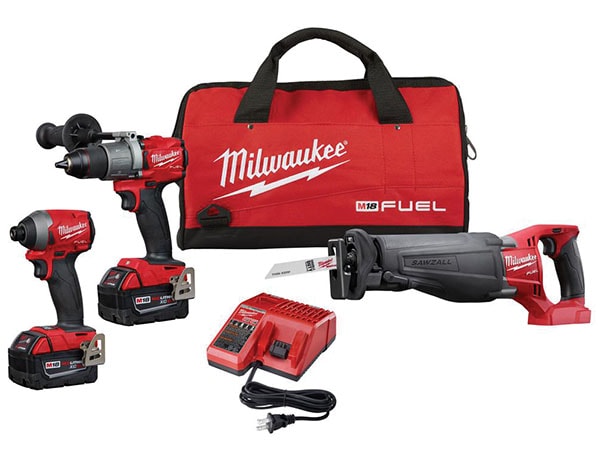 The Milwaukee M18 Fuel 2997-23 cordless three-tool combo kit delivers advanced 18-volt cord-less cutting, drilling and fastening technology. This kit features three M18 Fuel lithium-ion brushless cordless tools including a 1/2-in. hammer drill, 1/4-in. impact driver and Sawzall reciprocating saw. M18 Fuel is fully compatible with the Milwaukee M18 18-volt cordless system, featuring over 175+ tools. The M18 Fuel tools feature a PowerState brushless motor, RedLink PLUS Intelligence and RedLithium battery technology, resulting in longer motor life, longer run time and more power. The combo kit includes two RedLithium batteries, a charger and a tool bag. Visit milwaukeetool.com.
Aquasana 3-Stage Max Flow Under Sink Water Filter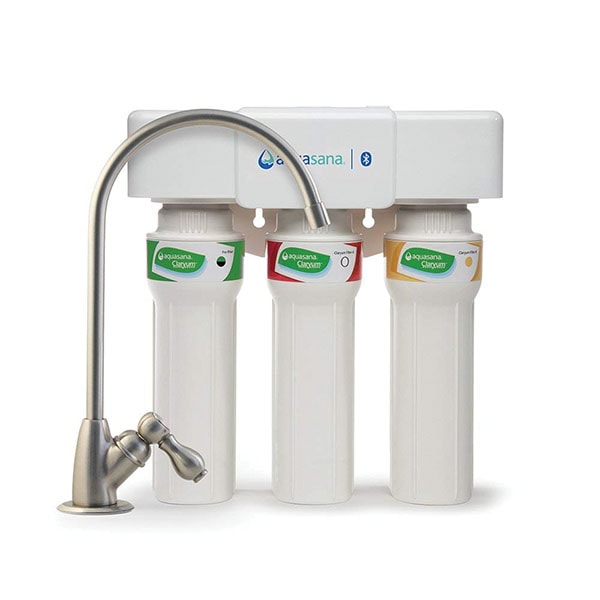 Get instant access to healthy water that keeps you and your family hydrated all day, every day. The Aquasana 3-Stage Max Flow Under Sink Water Filter removes up to 99 percent of 77 contaminants including lead, mercury, asbestos, pesticides, pharmaceuticals, chlorine, chloramines and more. The full system is certified to NSF Standards 42, 53 + 401, and P473. It's the only system on the market with Claryum filtration technology that filters out harmful contaminants while retaining natural beneficial minerals like calcium and potassium.
Now with 44-percent faster water flow, it gives you healthy water at only 8 cents per gallon, and the included sediment prefilter increases performance capacity to give you a full 800 gallons of healthy water. No water is wasted during the filtration process, and no harmful contaminants are added back into the water. Drink healthier water and use it for better tasting beverages like coffee, tea and smoothies. The filter system includes a stylish metal faucet that's 100-percent lead free. Choose from chrome, brushed nickel, or oil-rubbed bronze to match your kitchen decor. The first set of filters, faucet, and all system parts are included, and the kit is designed for easy DIY installation. Visit www.aquasana.com.
AirShim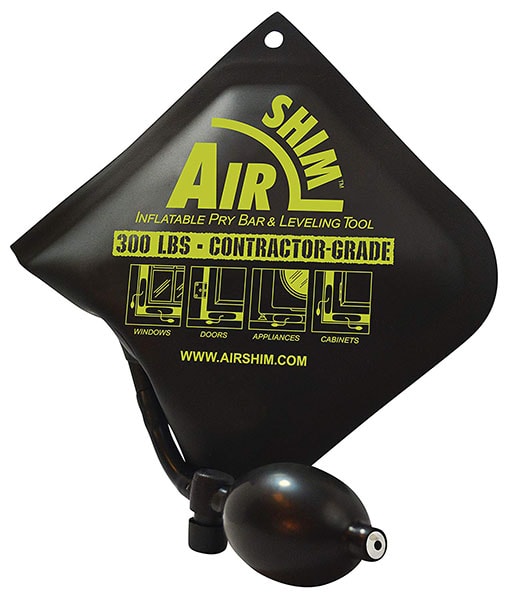 The contractor-grade AirShim allows a single person to lift heavy objects into position and hold them in place. Save jobsite time and reduce labor costs by providing an extra hand when installing anything from windows and doors to cabinets and appliances. It requires only simple one-hand operation to pump the shim or release the valve. Made of rugged contractor-tough material, the AirShim has a 300-lb. load rating and can span 2-1/2-in. wide gaps. Use it to lift, shift, align, level and plumb. Visit www.calculated.com.
MicroJig MatchFit Dovetail Clamp Pro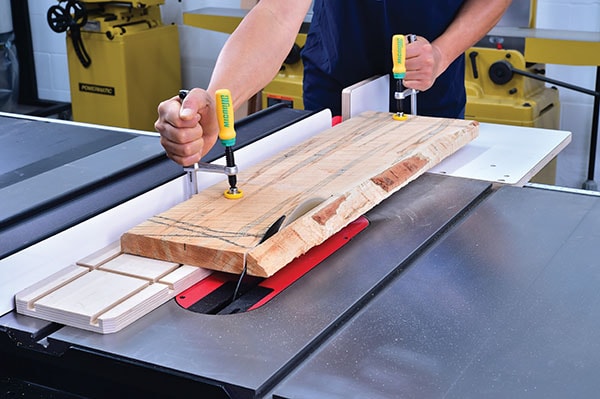 The MatchFit Dovetail Clamp Pro is the first clamp/router bit combo kit on the market. The kit includes the new and improved MatchFit Dovetail Clamp and its innovative accessories, which allow users to rout a standard dovetail groove and clamp virtually anywhere. Introduced just two years ago, MatchFit quickly rose to the No. 1 best-selling hold-down clamp on Amazon as woodworkers tried and fell in love with the tool's versatility in the shop. The tool eliminates the need for expensive T-tracks and makes it easy for users to secure materials at any angle, create instant end vises, work with unlimited fence height, build personalized track systems and more—all with the clamp head out of the way of operation. Visit www.microjig.com.
MicroJig GRR-Ripper Complete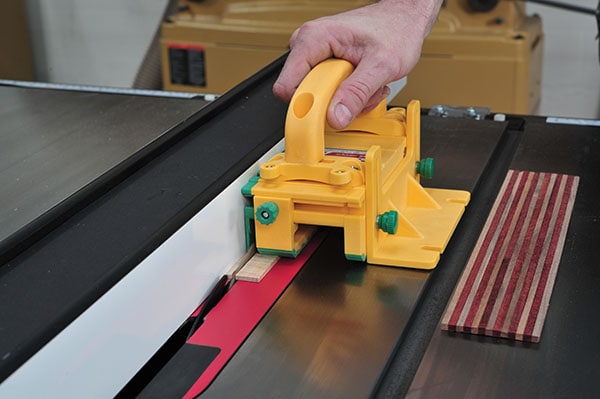 Every nine minutes, someone is injured by a table saw because of a finger too close to the blade or a faulty push stick. MicroJig offers a complete solution aimed at halting table saw injuries, from kickback to finger amputation. GRR-Ripper Complete is a kit with everything a woodworker needs to create projects with top-to-the-line precision, safety and control. The GRR-Ripper Complete includes the GRR-Ripper 3D Push block, the Upgrade kit (for large or irregularly shaped material), 1/8-in. leg (for rip cuts), Handle Bridge Kit, Deflector/Connector, and the Gravity Heel Kit, which automatically drops to catch the tail end of a workpiece to provide leverage. Visit www.microjig.com.
AccuMaster 2-in-1 Digital Angle Gauge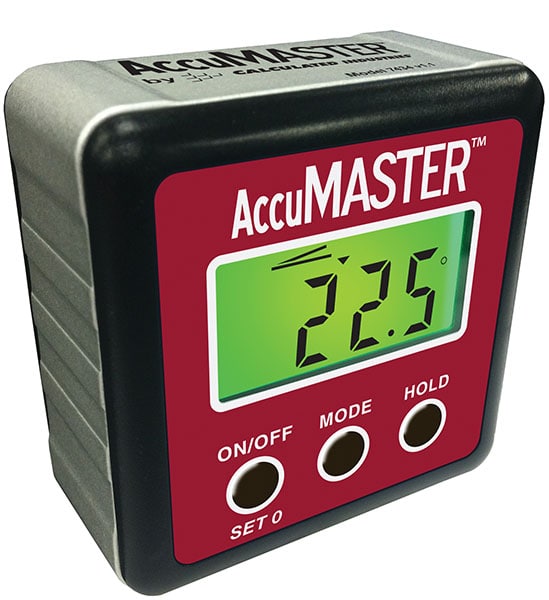 The AccuMaster 2-in-1 Digital Level and Angle Gauge can find true level and precisely check angles on your precision tools to deliver perfect cuts. It features an invertible display with an extra bright, always-on backlight, making it easier to see at every angle. Its strong magnetized base attaches directly to metal surfaces for ease of use. Its "zeroing" function lets you set any angle to 0° as a reference point so you can check your blade's angle in relation to its table, regardless of the floor's angle. It uses a low-power MEMS sensor for accuracy and extended battery life. Visit www.calculated.com.
Rover Mobile Task Lighting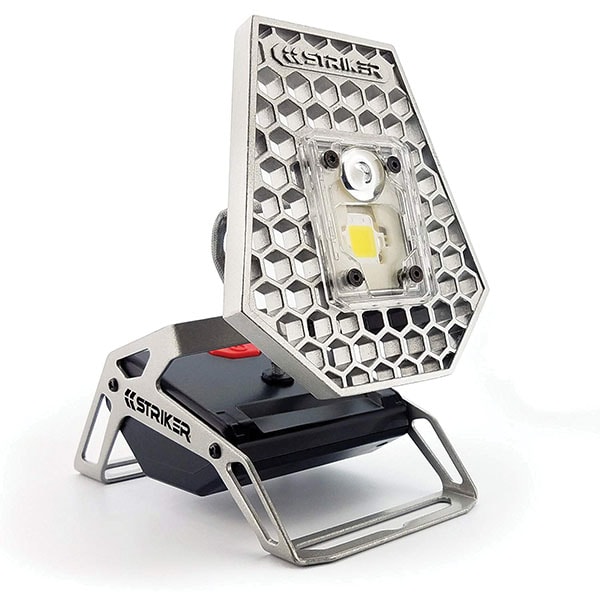 Professionals and DIY'ers will want to have a Rover Mobile Task Light on hand, as it is small enough to fit into tight areas and aim a powerful beam of light where it is needed most. You'll find hundreds of uses for the Rover; use it when working on an engine, changing a tire, wiring a home theater, switching on a breaker, crawling around under a counter or sink. It's also great to have on camping trips. Choose from Focused Flood Light or Ultra Wide Beam. The Rover comes on a tripod mount with an adjust-able aluminum head, hanging hooks, a USB recharging port, and four modes of function: high/medium/low/strobe. Visit strikerconcepts.com.
DeckWise Hardwood Wrench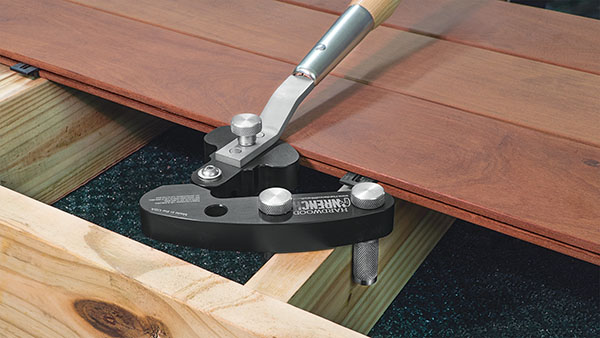 The DeckWise Hardwood Wrench is a board-straightening tool that simplifies the back-breaking work of bending and straightening wood deck and siding boards into place. Gone are the days of prying a chisel against a deck board. The Hardwood Wrench allows any installer to use just one hand to effortlessly bend distorted boards into place—even composite boards. The board-bending wrench includes a patented locking cam that allows installers to let go of the handle while installing fasteners. Builders instantaneously know they won't need their knee propped against the tool to hold it in place. Professionals can easily visualize its 10 different configurations possible for any situation. The Hardwood Wrench stays in place with a swing of the handle and won't slip or dangerously pop off the board. Visit deckwise.com.
Dickies Temp-iQ Performance Cooling T-Shirt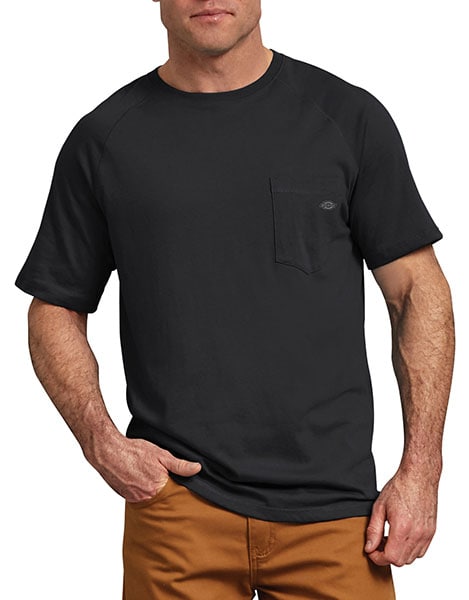 When the job heats up, you know you can count on Dickies' Tech Smart Temp Tee. This Performance Cooling Tee is made from a soft jersey fabric, perfect for wearing alone or under outerwear when the temperature calls for layering. Made with Temp-iQ technology, it traps cool air inside the yarn and keeps it next to your skin, effectively cooling you down while wicking away sweat. It features superior breathability and raglan sleeves for mobility. Big & Tall options are available. Visit www.dickies.com.
UnderAir and Xchanger Fans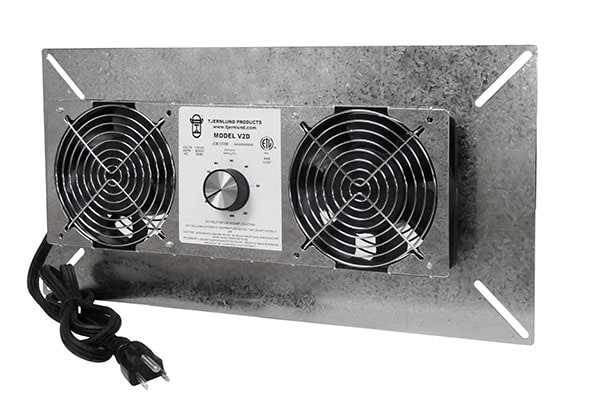 UnderAire Series Crawl Space Ventilators circulate fresh outdoor air underneath homes and porches. Excessive humidity in crawlspaces is the leading cause of premature rotting of support columns, joists, floors and beam supports. Humidity can also promote fungus growth, increased termite activity and also cause plumbing failures due to rust and corrosion. UnderAire Fans reduce this humidity for better air quality, and all models include a factory-installed and pre-wired thermostat. To ventilate basements, the XChanger X2D is a unique, energy-saving fan with a dehumidistat control. Two reversible 90-CFM fans exhaust stale air and draws fresh air in from the outside. Position one fan in each direction for balanced fresh air exchange. It uses only 40 watts vs over 1,000 watts for a typical dehumidifier, saving more than $100/yr in electricity. The X2R can be mounted on a wall or ceiling in damp, musty basements, cellars, garages, storage areas, workshops or cabins. Visit tjernlund.com.
Muro Auto Feed Screwdrivers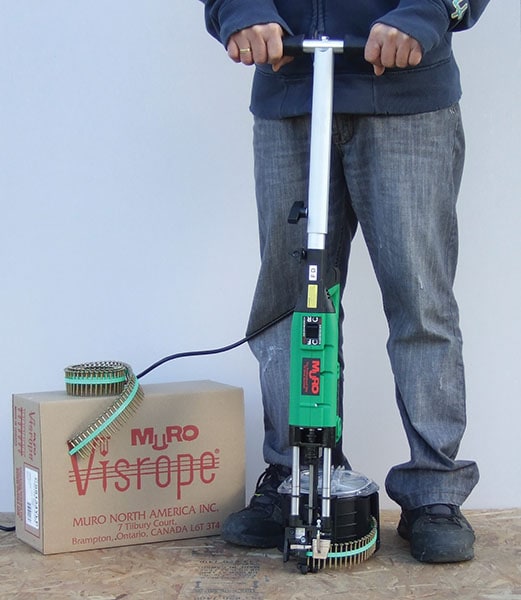 For the deck builder in your life, Muro Auto Feed Screw Systems deliver speed, consistency and ease of use. Gone are the sore backs and sore knees normally associated with driving screws on deck surfaces. Muro's easy-to-load 150 screw coils and no-jam design, along with the height-adjustable handle, allow users to work standing up for hours on end. The built-in countersinking feature removes the guesswork when driving and seating screws, ensuring the same depth each and every time. Screw development has also come a long way over the years, with twin fast threads and special screw tips that eliminate the need to pre-drill, and nibs under the head for countersinking. Everything can now be completed in one simple operation; just drive the screw and you're done. Plus, Muro has screws for practically any con-struction application, even offering tools that can drive screws up to 4 inches long—another first in the industry. Visit www.muro.com.
---
Recommended Articles