Elastilon Flooring System – As easy as 1-2-3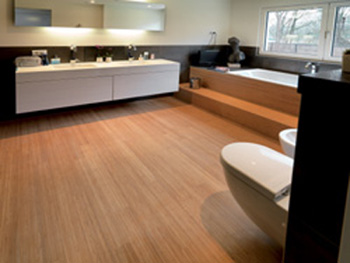 Elastilon, the Self Adhesive Installation System for hardwood floors is changing the way floors are being installed around the world. It's fast, simple and hassle free. Elastilon replaces nails, nailing guns, compressors, messy adhesives, specialized trowels and their chemical cleaners with one simple installation tool–a utility knife.
Elastilon used in the installation of solid and engineered hardwood floors in any room including the basement, directly over concrete. The membrane uses a permanently elastic cross-linked, closed-cell polyethylene construction combined with a nylon reinforced adhesive top layer that provides a strong continuous bond with the flooring above it.
Installing a hardwood floor is now as easy as a peel-and-stick floor.  It's a simple three-step process: (1) Lay out the Elastilon. (2) Peel off the protective film. (3) Stick your wood flooring on the sticky surface. For DIY installers, a perfectly installed floor is just around the corner.

Remember, the flooring manufacturer's guidelines should always be followed in terms of wood floor acclimation, subfloor preparation and home environment prior, during and after the installation. Keeping these factors in mind will ensure a perfect floor each and every time.
Elastilon creates a permanent elastic bond that allows for the natural expansion and contraction of your wood floor while helping to reduce gapping and cupping in the floor. In the process, Elastilon reduces sound transmission, increases underfoot comfort and allows for installations over in-floor heating plus so much more.
To find out more about Elastilon visit www.Elastilonusa.com or call 1-877-526-9663.
---
Recommended Articles