Duckback® Products introduces Deck & Dock Elastomeric Coating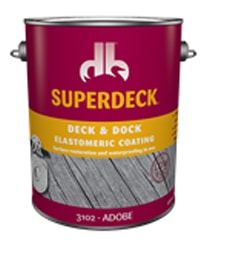 Duckback is proud to introduce Superdeck® Deck & Dock Elastomeric Coating! Deck & Dock is the perfect choice to refinish old and damaged wood, composite and concrete surfaces instead of total replacement. But don't wait for new surfaces to become damaged by the elements. SUPERDECK® Deck & Dock will beautify, protect and stand up to extreme weather for years!
Product Highlights:
The flexible elastomeric formula withstands extreme climates and temperature changes; it expands and contracts with the surface instead of peeling or cracking
Easy to apply with soap and water clean up, and low maintenance
Contains a powerful mildewcide, plus UV protection for long lasting color
The high build formula fills dimensionally unstable cracks up to 1/4″ on extremely damaged surfaces
"Splinterlock" technology locks down wood splinters for safer walking surfaces
Limited Lifetime Warranty
Deck & Dock comes in four classic ready to use colors 3101-3104 which can be custom tinted. The product can also have Duckback Anti-Skid Additive added to the final coat to create a slip resistant surface; great for decks, stairs, ramps and poolsides!
Check out our product comparison chart for more information.
Click here for Superdeck Deck & Dock comparison chart.
REPAIR INSTEAD OF REPLACE with Superdeck Deck & Dock Elastomeric Coating!
---