DIY Tool Sharpening With The Work Sharp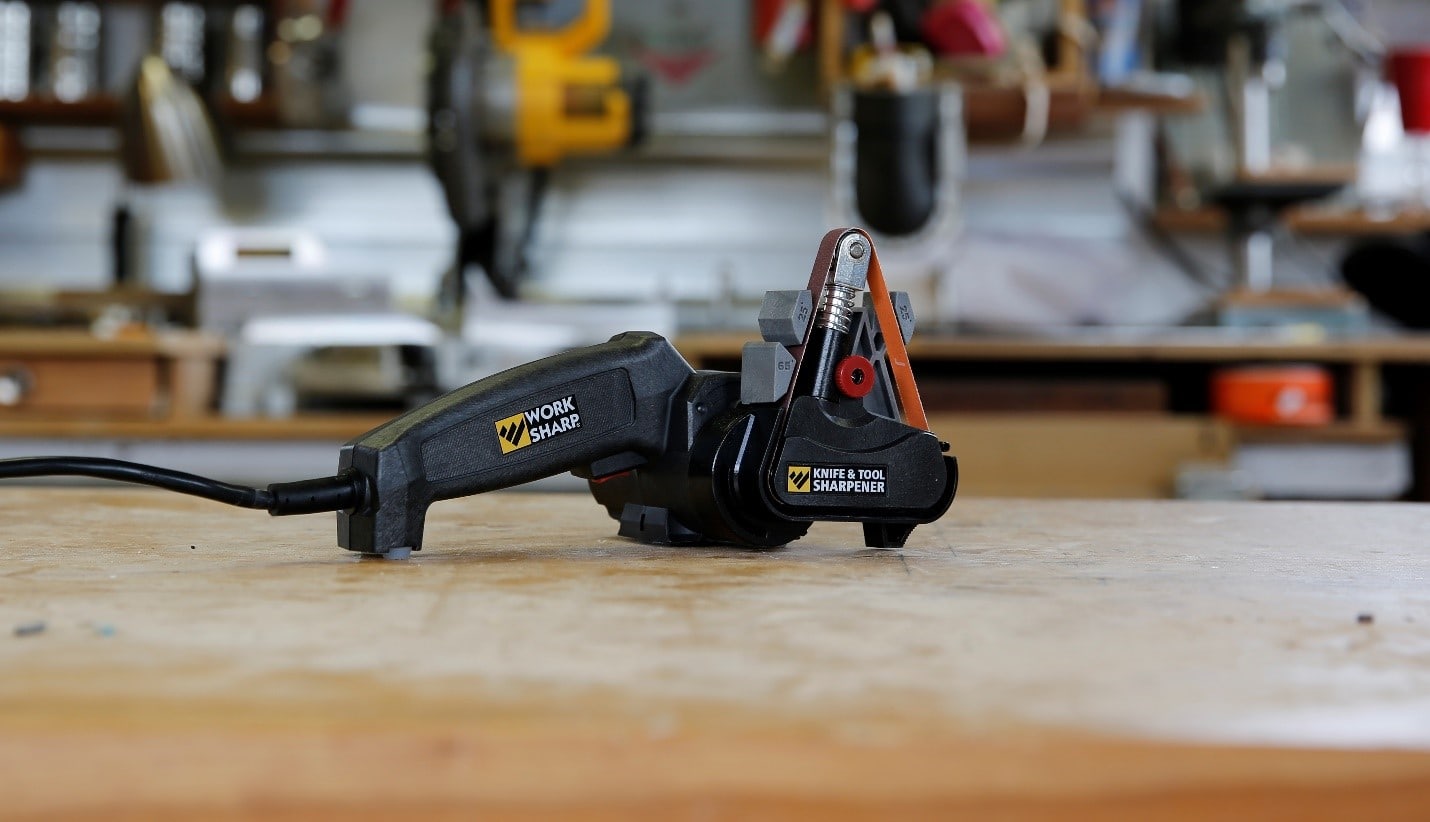 By Chris Loeffler
Your tools are the most important part of your arsenal for every DIY project, whether installing wainscoting or embarking on a complete hardwood floor replacement. Keeping your tools in optimal condition means maintaining razor-sharp, consistent edges that are durable while minimizing material take-off. What's the point of a fine tool, if you're going to hog off your steel with each touch-up? The Work Sharp Original Knife and Tool Sharpener is celebrating nearly a decade of professional sharpening excellence and continues to be the most trusted and reliable aid of contractors and home repair enthusiasts.
Before we dive into tool maintenance, we want to explain the Work Sharp difference. The abrasives aren't sand paper and aren't what you find on a standard bench grinder; they are specifically engineered abrasives that sharpen cool to ensure you aren't compromising the tempering of your steel. The sharpening surface features military-spec abrasive geometry and progressive belt flexibility to create the perfect convex edge, field-proven to be the most durable and precise edge possible.
While the Work Sharp Original Knife and Tool Sharpener has more versatility than one article can cover, we want to focus on a handful of the most popular homeowner applications.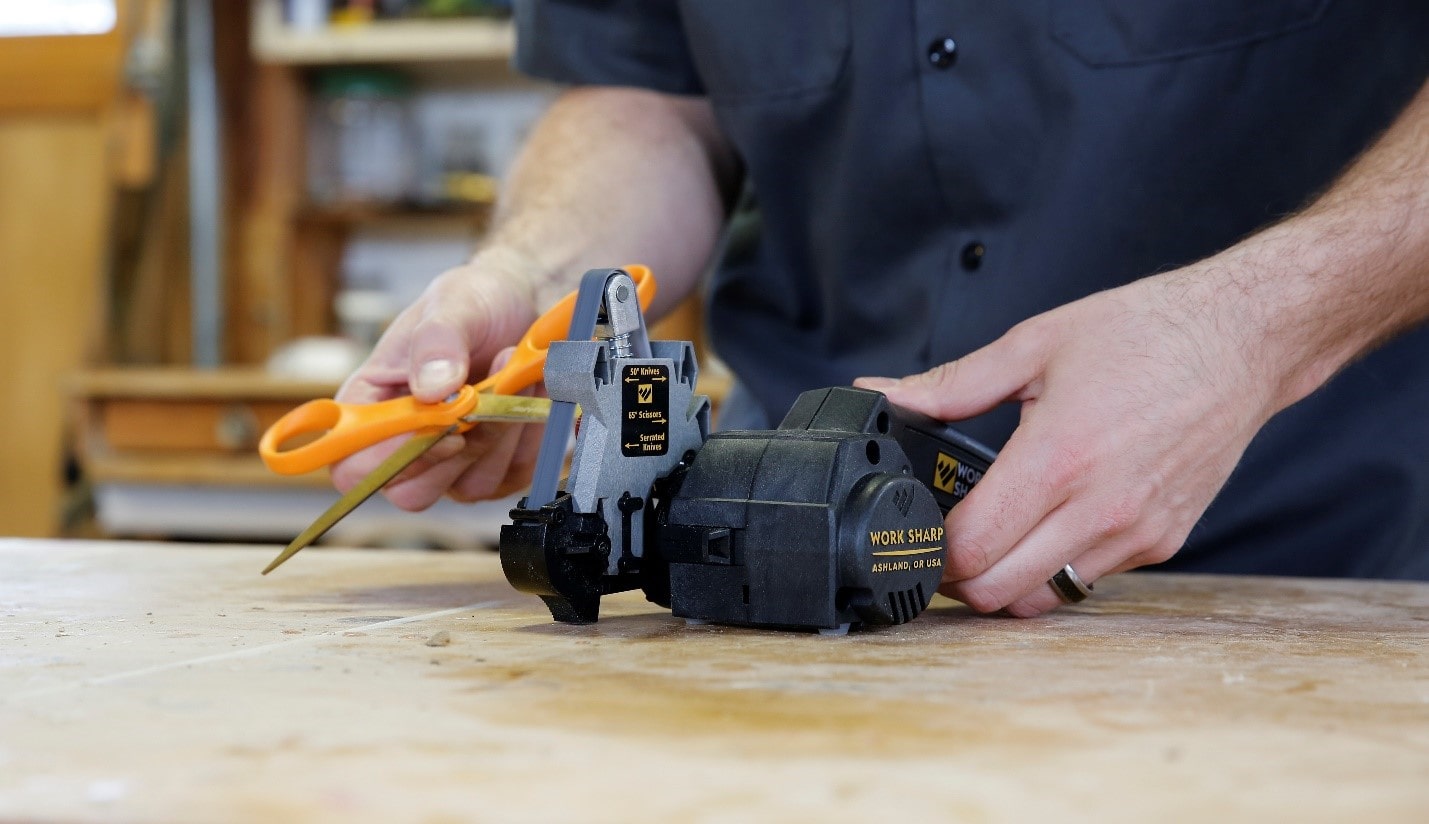 Scissors—There is no excuse to have dull scissors, especially as they are one of the most cross-purpose utility tools in any household. The Work Sharp Original Knife and Tool Sharpener has a dedicated scissor sharpening guide set for 65 degrees (our recommended angle) or a 60-degree angle on the optional outdoor knife guide that guarantees a consistent edge from tip to handle. Experienced users have sharpened scissors free-handed without the guide, but we recommend using a guide for a repeatable (and easy) edge that will keep you snipping with ease and accuracy.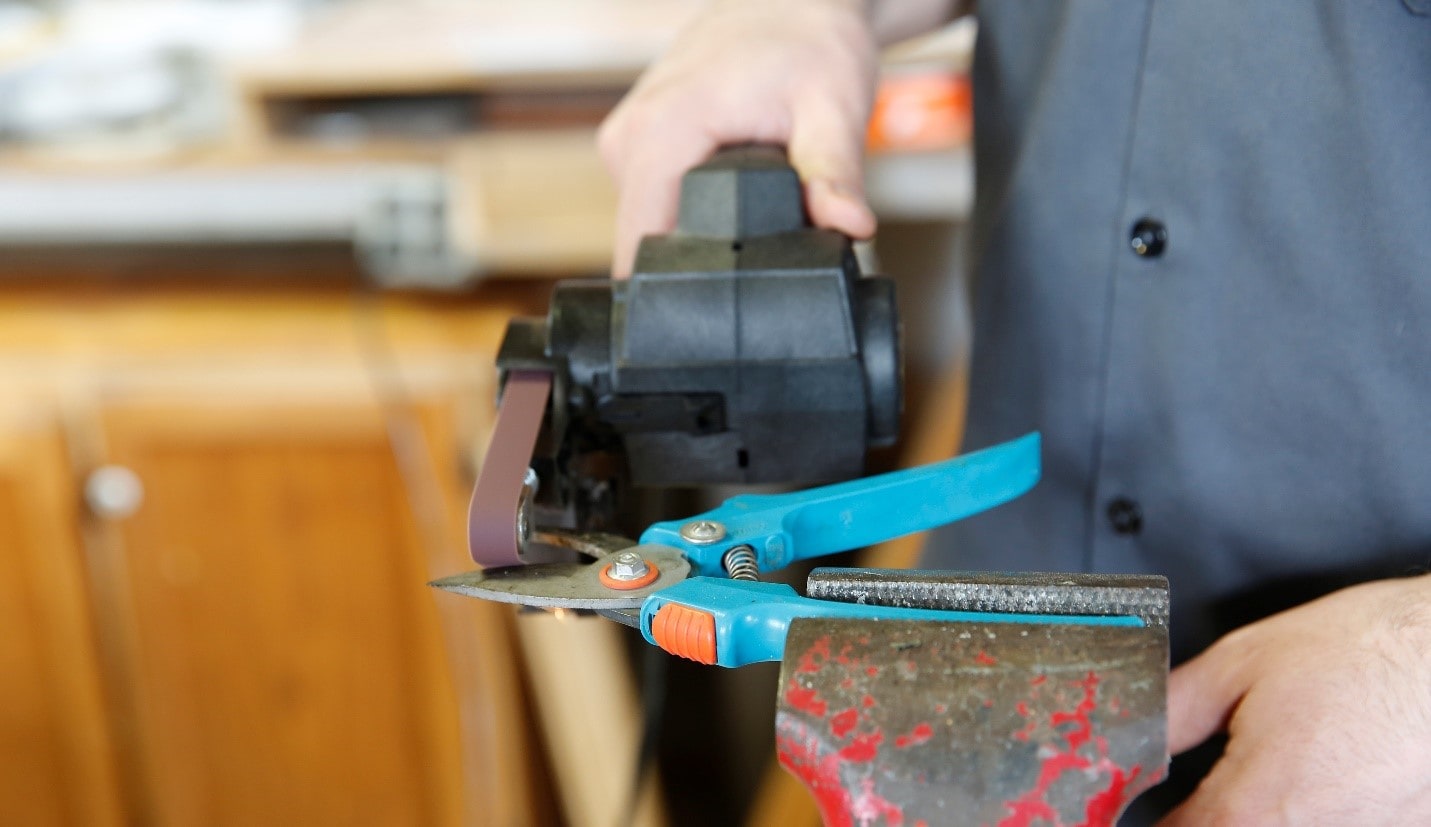 Garden and Pruning Shears—These are some of the hardest working tools in most sheds, and often the most neglected. Dull sheers are ineffective and invite injury, but most free-hand sharpening methods create inconsistent edges and jagged, awkward cuts. By sharpening with a guide, you'll be able to confidently use any portion of the edge. One note of warning: Most people find that even the highest-end sheers are much duller fresh from the factory than after initial sharpening with the Work Sharp Original Knife and Tool Sharpener, so use caution but work with confidence that you are greatly reducing your personal strain while easing your pruning duties.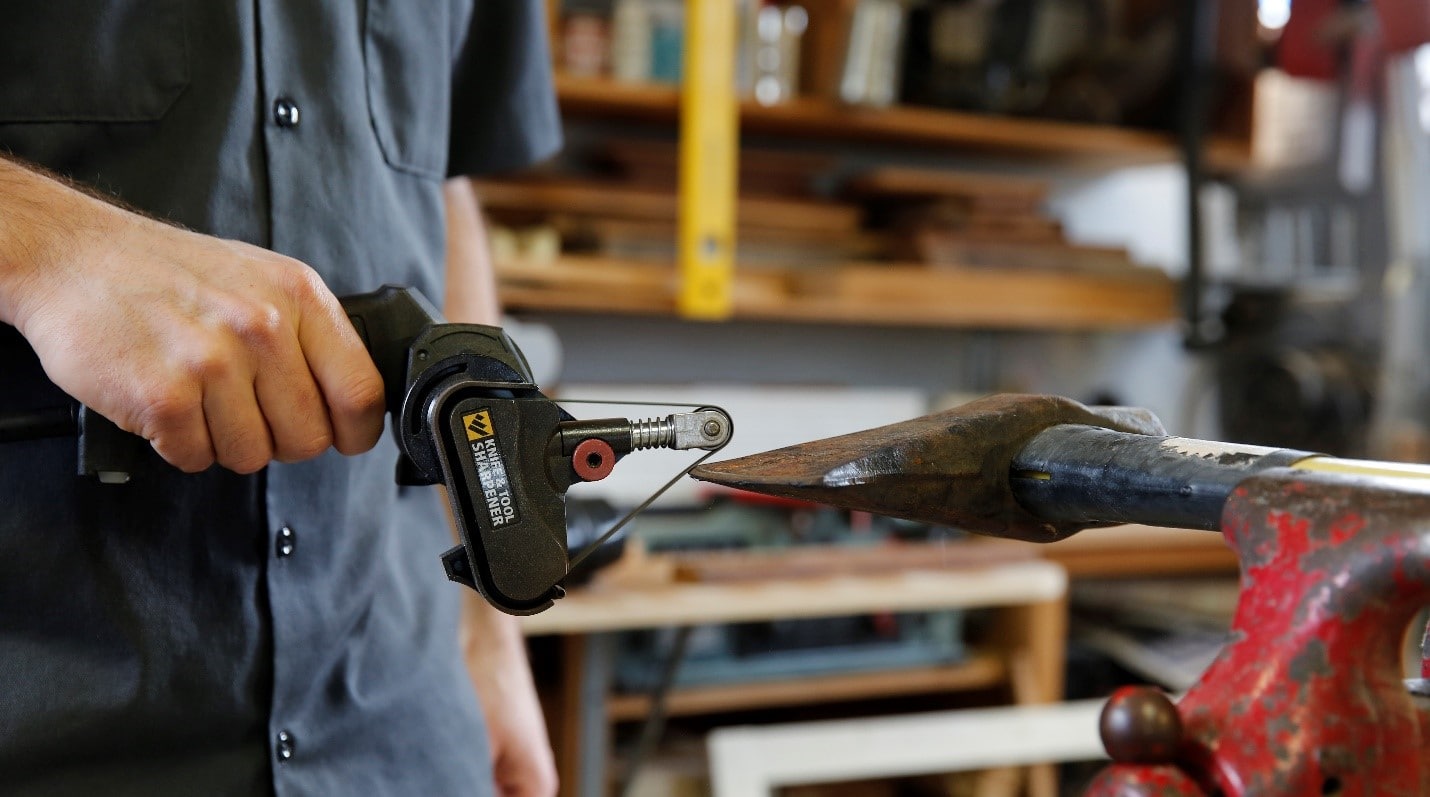 Axes and Wood-splitting Tools—Axes and wood-splitting tools are often considered to be the blunt-force workhorses of the mindful DIY'er but are a revelation when they are properly maintained. Moderate free-hand sharpening skills result in smoother, less taxing cuts all day long that save the back and yield cleaner cuts. A single touchup has proven to cut chopping time in half and yield cleaner, more consistent results for more aesthetically pleasing cuts while removing the physical burden of knots and burls.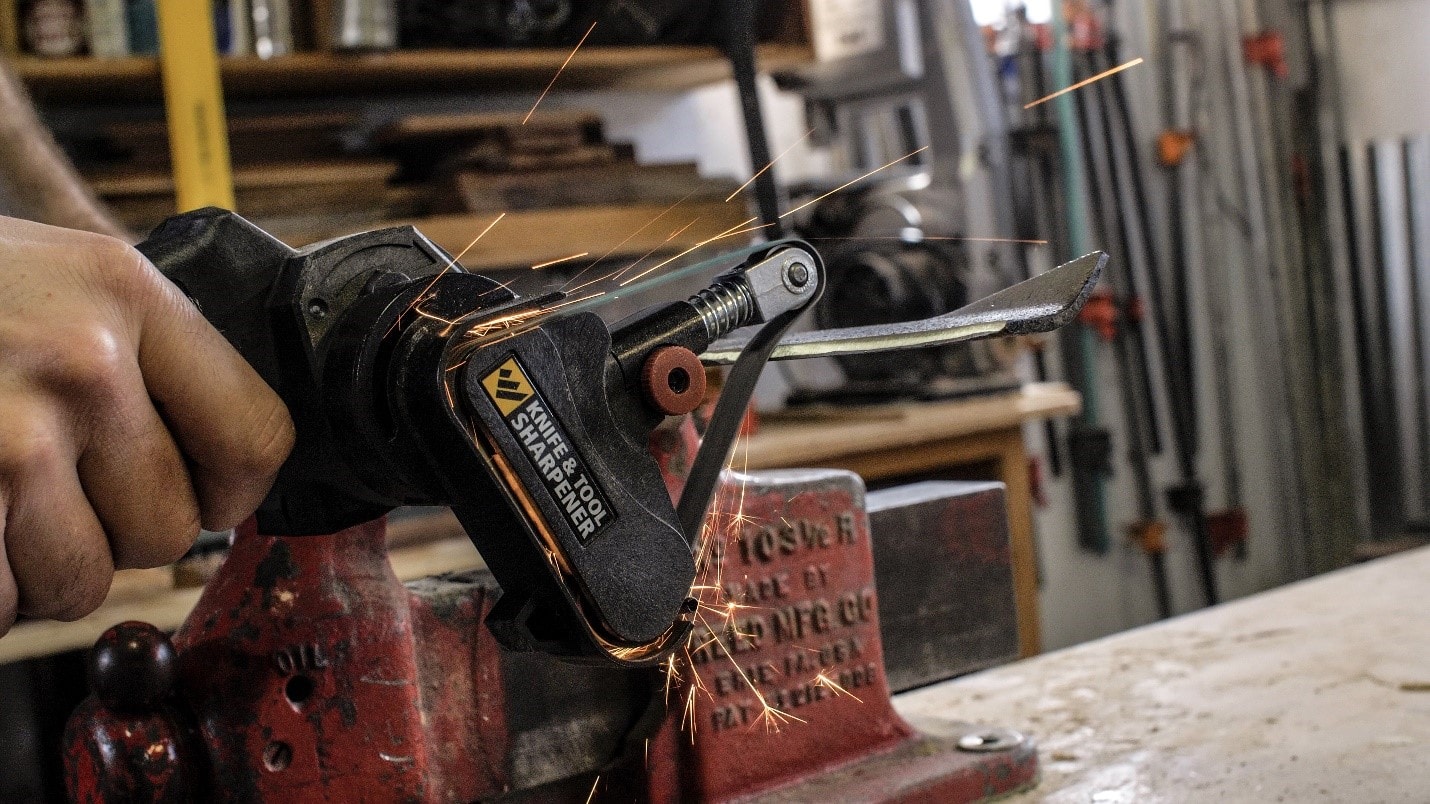 Shovels—In our experience, shovels are one of the most neglected but most impactful opportunities for improvement when it comes to tool maintenance. By removing the guides on the Work Sharp Original Knife and Tool Sharpener, you can get your shovels and hoes sharper than new in less than two minutes for cleaner, more accurate use with half the burden. Do yourself (and your yard) a favor and sharpen them every spring. There isn't a right or wrong angle; wider angles will yield more durability while toiling in hard clay or stony soil while finer angles will tear through rich soil effortlessly.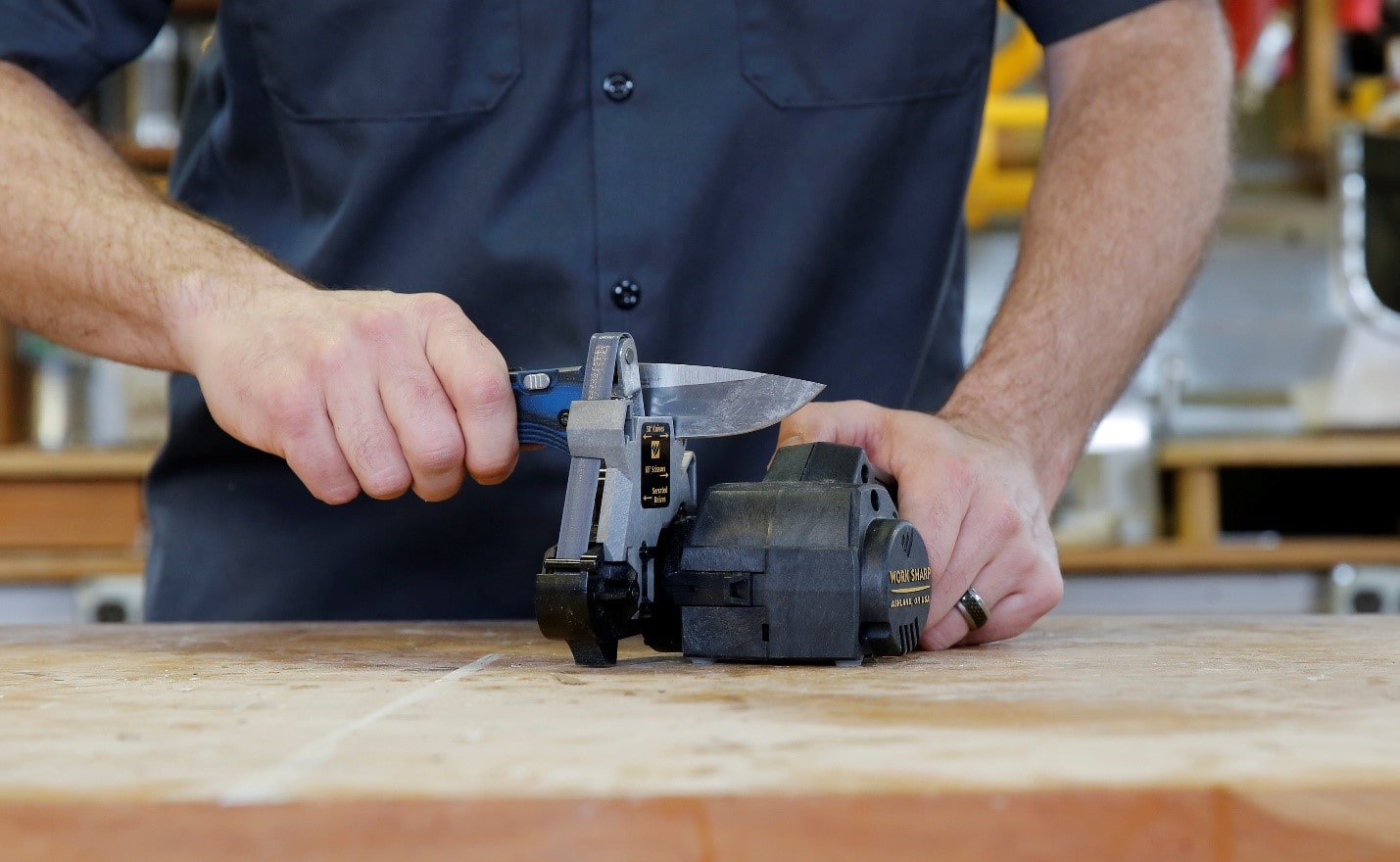 Knives—The Extreme DIY'er knows how useful a knife is for all the in-between tasks that a home and yard demand, and the Work Sharp Original Knife and Tool Sharpener was custom-made for carefully and cleanly sharpening every knife from kitchen to bushcraft with the included 40- and 50-degree angle guides. Power-users know to pull the knife from the belt when the tip is halfway across the belt to maintain perfect piercing action. Work Sharp is the trade-show sharpening choice of knife makers such as Benchmade for edge and tip restoration. Anyone who has gone beyond casual sharpening use is in a position to restore or even modify their tips without damaging the blade.
The Work Sharp sharpener is designed to deliver value to your tools, allowing you to work faster, smarter and safer. Sharpen Every Tool You Own
---
Recommended Articles