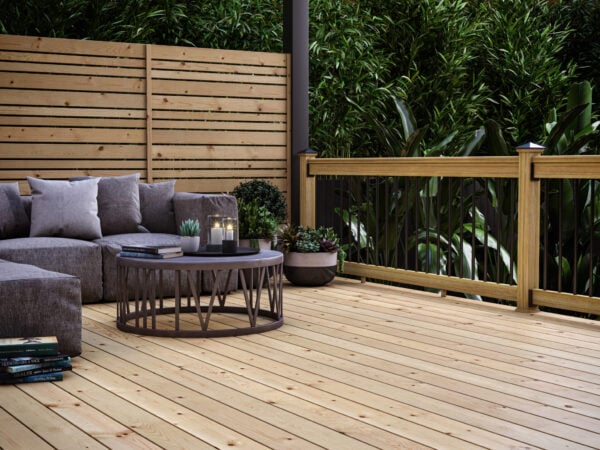 ProWood® Treated Lumber is the product of choice for pros and do-it-yourselfers. Our superior treatment methods surpass the industry standards of protection against termites, rot and decay. Our innovative treatment process utilizes micronized copper azole (MCA), making our treated lumber less corrosive, environmentally friendly and compatible with aluminum building products.
Boasting an Environmentally Preferable Product (EPP) status, you can feel confident in your choice of ProWood Treated Lumber for your next building project. Our unique ProWood MCA treated wood also has earned NGBS Green Certification; another great reason to feel confident in your choice of ProWood treated lumber products.
Ideal for use in any outdoor project, our treated lumber is less corrosive to fasteners and has a natural-wood appearance that will last much longer than other leading brands. Say "goodbye" to green deck boards!
ProWood offers a wide variety of pressure-treated products, such as sill plates, KDAT and color treated. All dimensional lumber products are building code compliant and offer a lifetime limited warranty against termite infestation and rot. Regardless of your building project, ProWood has a solution for you that is guaranteed to last time and wear and resist rot and decay.