Adding a Spiral Staircase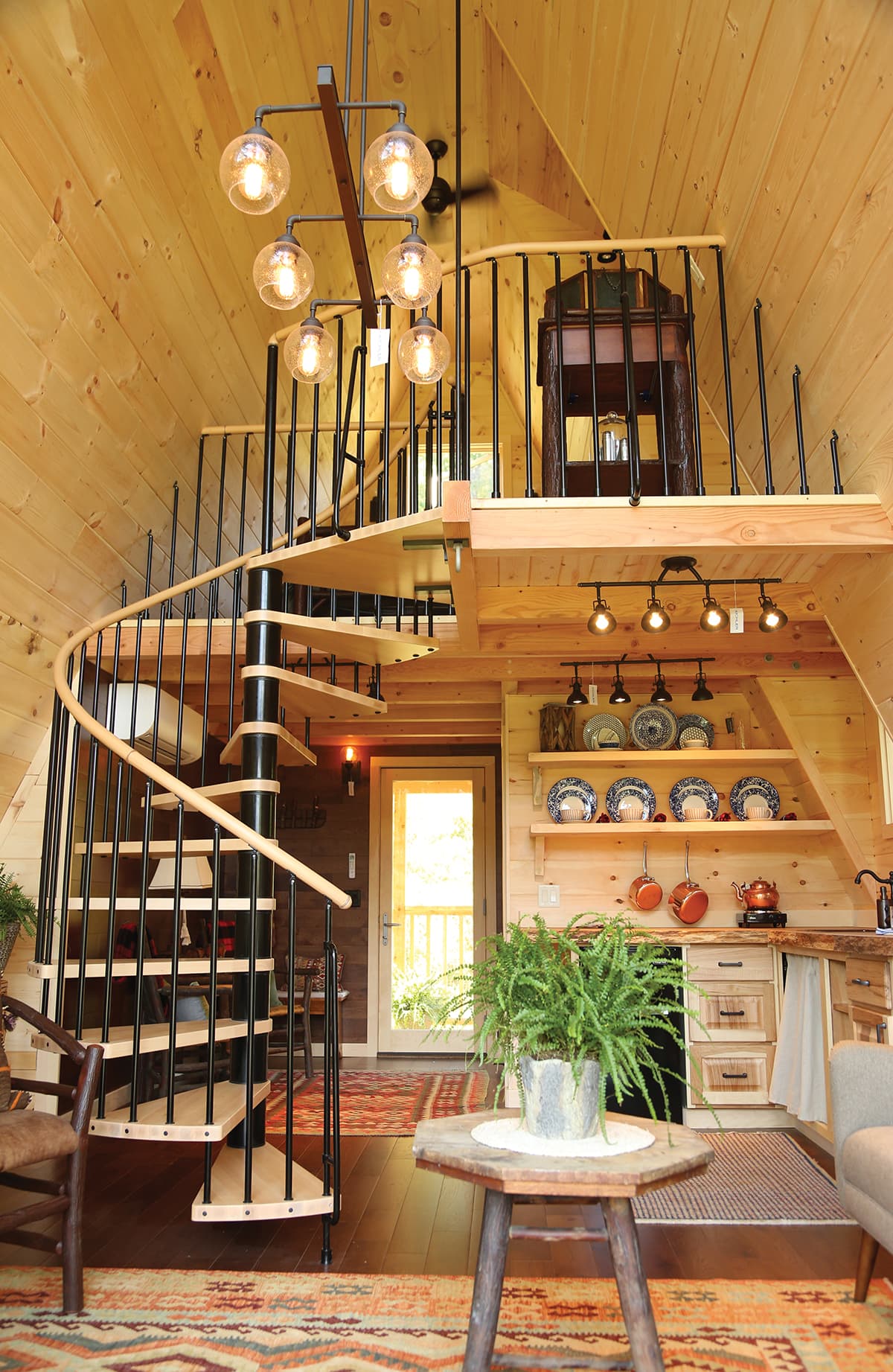 From kit-built to custom-made, adding a spiral staircase is easier than ever.
Spiral stairs boast the unmistakable design of having treads wind around a central pole, and typically have a handrail on the outer side only. This design is usually employed because a tight spiral stair with a central pole is a highly efficient use of floor space. Although planning and constructing a  spiral staircase traditionally has been a difficult feat, developments in manufacturing have led to the introduction of modular spiral stairs. Steps and handrails can be bolted together on-site to form a complete unit, and the stairs can be made from steel, timber concrete or a combination of materials.
Although a spiral staircase can't be used as the main access to your home (per building code requirements), it can be a convenient way to get from one level to another and will occupy half the space. Are you planning an addition and need a convenient way to access the new area? Have you built a deck and need quick access to another level? This article explores some of the modern spiral staircase options available to homeowners in need of such a solution. Note that building codes impose restrictions on the use of spiral stairs, so check with your local inspector for guidelines.
Spiral Stairs in a Kit
Spiral and modular staircase kits from Arké can be built in a day by the average DIY home enthusiast. Arké is the U.S.-based subsidiary of Italian spiral stair company Albini & Fontanot. Arké spiral stair kits come in a variety of setups and materials, such as wood, metal and steel. The kits require no special tools or skills for assembly. The all-in-one kits include treads, landing, balusters, handrails, hardware and accessories. There is nothing to paint, weld, stain or seal, and the kits are in stock for immediate delivery.
The homeowner designs the Arké spiral stair online with a simple step-by-step website tool at Arkéstairs.com. Once you've determined your staircase style, your exact height measurement, the directional turn of the spiral, and the size/type of your landing, Arké assembles a kit to fit your needs and ships it to arrive within seven working days, ready for installation even by a do-it- yourselfer.
When ordering a staircase kit, the first step is to decide whether or not it's an indoor or outdoor installation. Step Two is to measure from the finished floor on the top level to the finished floor on the bottom level of the proposed stair location. This determines the exact height required for the installation.
Next, measure your total amount of available space to determine the correct diameter of the stair. The finished space should be at least two inches larger than the total staircase diameter. (Note: If the installation must meet the IRC Building Code, the homeowner will need to choose the largest of Arké's three sizes—63-in. diameter—which is designed to meet the code requirement.)
The Arké staircase kits are  available in three different colors with your choice of wood or metal treads. Each model contains all  the necessary components and detailed assembly instructions as well as a DVD.
When it comes time for installation, the Arké kits offer three unique design features that address  common problems.  First, the system's height is adjustable with the use of a patented spacer system. Rather than rely on an exact height measurement, the standard  spiral kit is adjustable in height from approximately 8 ft.-3in. to  10 feet. (For heights above 10  feet, additional risers and center pole extensions are available.)
Another key Arké feature is the option for directional turn of the spiral. Most manufacturers produce a specific unit based on  the rotational turn (clockwise or counterclockwise) of the spiral for specific installation. This requires careful planning and measurement to avoid a restricted or blocked floor exit. The standard Arké kits are designed to make a complete 360-degree turn. Therefore, the first step will be directly underneath the landing. However, by adding or subtracting risers the rotation will change by approx. 30 degrees per riser. Furthermore, Arké spiral stairs can be turned in either clockwise or counterclockwise, which greatly minimizes the chance of error in the order and installation.
Finally, Arké offers options in landing size and type. For the landing at the top of the stairs, most manufacturers produce a specific design for the planned installation, either a mezzanine, round or square landing area. Arké's premiere interior kits offer a patented universal landing as a standard feature, which provides greater flexibility and easier installation. Learn more at www.arkestairs.com.
Custom Made to Order
For a completely customized staircase design, Goddard Manufacturing specializes in handcrafted spiral staircases built to your specifications. Choose from several different styles of spiral stairs to fit almost any application, and the professional craftsmen at Goddard will try to create the design you want. Custom options include a variety of designs in handrails, treads and decorative balusters.
These unique custom spiral staircases are created using oak, hickory, steel and other materials for both interior and exterior. If you're looking for something unique in your spiral staircase, such as oak treads, all-steel treads, red oak handrails, all metal rails, or anything you can imagine in a spiral staircase that you don't see advertised by Goddard, just ask the reps at the company. They will work with you to create the custom stairs you want.
To get the most strength, cleanest lines, and best-looking spiral stairs possible, the staircase will be welded into one solid structure and is usually shipped as one piece. (Wood spiral staircases are disassembled and boxed for shipping). If the area is ready for the spiral stairs to be installed, two people can usually install it in less than an hour. The All Wood Spiral Staircase is shipped disassembled and takes four to six hours to reassemble.
Note that because these are custom-built stairs, you should allow 3 to 8 weeks for build time (depending on your specific design) and shipping.
Side Note
Zooom Plus Electric Scissor Loft Ladder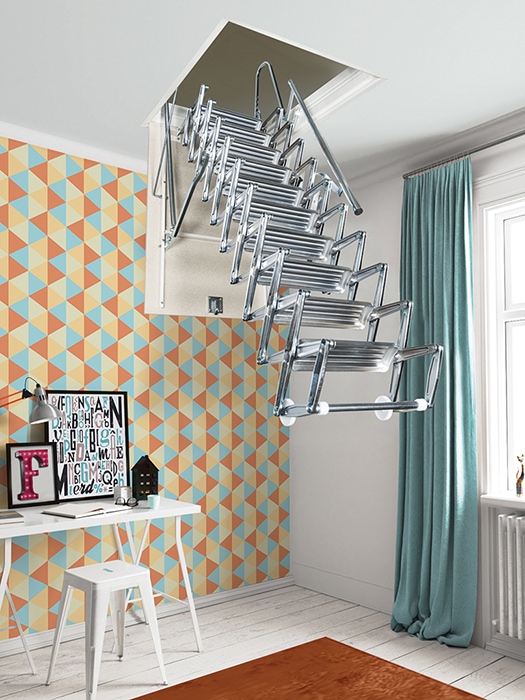 The Fontanot Zooom Plus is an electric scissor loft ladder manufactured entirely in aluminum with treads and levers in die-cast aluminum. A remote-control opens and closes the stair. In case of a power shortage, the stair can be operated manually. It features black carpeted treads, a 3/64-in. thick sheet-steel hatch frame, and the panel is made from high-grade 35/64-in. premium poplar plywood covered with a high-performing isolation material. Visit arkestairs.com.


---
Recommended Articles