2014 International Builders' Show Preview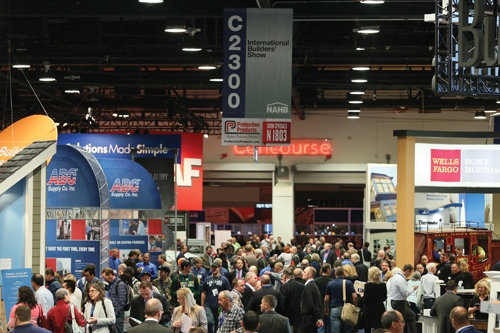 On February 4-6, more than 75,000 builders, remodelers, developers, architects and other industry professionals from over 100 countries will congregate in Las Vegas, Nevada, for the International Builders' Show. For the first time, the National Association of Home Builders (NAHB) and the National Kitchen & Bath Association are co-locating IBS and the Kitchen & Bath Industry Show (KBIS). Between these two major conventions, the anticipated number of exhibiting companies is expected to top 1,500. It will be the one place in North America that the entire building industry comes together in 2014.
Here's a preview of some of the many products that will be exhibited.
Peel & Seal
Peel & Seal from MFM Building Products is a tough, dependable waterproofing membrane for a multitude of applications. It is an ideal DIY solution for flashing around chimneys, roof vents, ducts, skylights, dormers and other difficult-to-waterproof items. It is also perfect for repairing gutters, smooth asphalt or metal roofs. The self-stick properties make installation quick and easy. A sharp utility knife and hand roller are the only tools needed. Peel & Seal is designed to be left exposed to the elements, so no coatings are required. Peel & Seal can also be used on mobile homes, RV campers and other EPDM surfaces when using WeatherBond Multi-Purpose Primer. Backed by a 10-year limited warranty, Peel & Seal and WeatherBond can be purchased on the MFM website or through building products distributors around the country. Visit www.mfmbp.com or stop by booth C8406.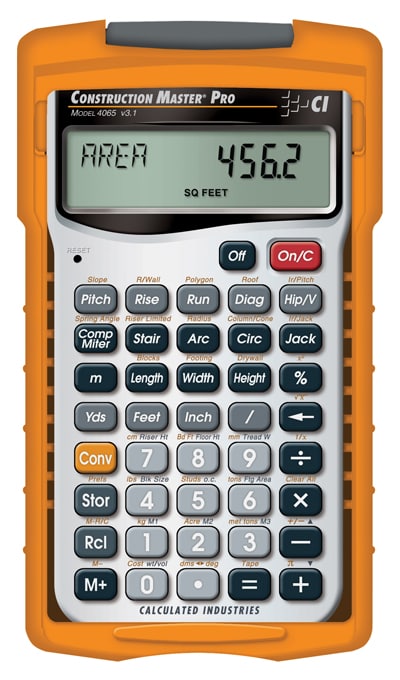 Construction Master Pro
The award-winning Construction Master Pro from Calculated Industries has been helping builders, carpenters, remodelers and skilled DIY'ers get it right the first time, every time, for more than 30 years. The Construction Master Pro is an advanced feet/inch/fraction construction-math calculator with powerful built-in solutions that will help you improve design accuracy, save time and reduce material waste. With the Construction Master Pro you can convert between feet, inches, fractions and decimals, including metric. Enter measurements in feet-inches and fractions just like your tape measure reads and instantly calculate complex construction challenges for framing, stairs, decks, roofs and more. Built-in solutions include: Roof, Rafter and Framing Solutions (hip/valley, jacks, cutting angles, rake-walls); Stair Calculations (treads, risers, stringers, stairwell opening, etc.); Circular Calculations (arcs, area, circumference, etc.); as well as calculations of area, volume, square-up, etc. Visit booth C3254.
New Wave in Roofing— Onduvilla and Ondura
Onduvilla and Ondura roofing systems are innovative, attractive alternatives to traditional roofing products. They can be installed directly over old existing roofing, such as shingles and metal, preventing tear-off and saving time and money. They can be cut without special tools, adapt to any standard roof structure, and even be walked across without damaging the product. Onduvilla shingles offer the distinctive, raised appearance of a Mediterranean tile roof, with all the advantages of shingles. Not only attractive, Onduvilla is backed by exclusive SealSmart technology—its composite material shrinks firmly around each nail, creating a permanently leak-resistant barrier. The corrugated design of Ondura sheets and tiles enables them to be both lightweight and strong. With total asphalt impregnation, they outlast almost all other roofing, including metal. Both products boast Lifetime Limited Warranties, are designated Environmentally Preferable by the EPA, and come with a full line of matching accessories. Visit www.ondura.com or booth S1047.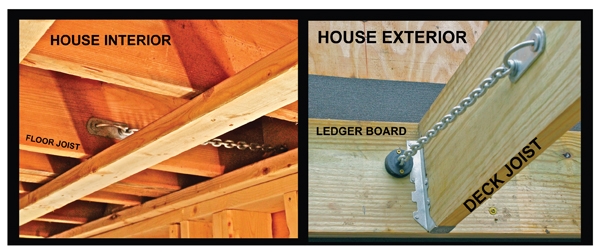 The Deck Harness
The Deck Harness from GRK Fasteners is a lateral load connector device that consists of a steel chain-linked assembly with a thermoplastic plug in the center. The plug is installed through the house deck ledger/rim board. One end of the deck harness is attached to the primary structure floor joist with a U-bolt and washer plate. The other end of the Deck Harness is attached to the deck joist with identical U-bolt and washer plate. The correctly installed device will then inhibit a deck from fully collapsing due to ledger board failure. The ICC (International Code Council) requires a minimum of two Deck Harnesses per deck, and this method is very easy to install and well worth the investment. In the event of deck failure and the deck separates from the house, the Deck Harness kicks into full gear and keeps it from completely collapsing. Visit www.grkfasteners.com or booth S2438.
Tileable Covering Support for Schluter-KERDI-DRAIN
In response to the growing design preference for sleek, discreet drainage lines, Schluter-Systems has introduced a new tileable covering support to its Schluter-KERDI-DRAIN product line. The frameless, tileable covering support features a square stainless steel plate with Schluter-KERDI laminated on the surface to allow for bonding of ceramic or stone tile, creating a virtually invisible drainage line. The KERDI-DRAIN is a floor drain specifically designed to allow connections to Schluter-KERDI or other bonded waterproof membranes. The membrane is adhered to the large integrated bonding flange to form a waterproof connection at the top of the drain assembly. The KERDI-DRAIN grate assembly allows for lateral and tilt adjustment and accommodates a wide range of tile thicknesses. The covering support is placed flush with the top of the bonding flange and can therefore accommodate any thickness tile covering. Visit www.schluter.com or booth N635.
Maze Nails
Maze Genuine Double Hot-dipped galvanized ring-shank coil roofing nails are 100-percent made in the USA. The nails are also approved by Miami-Dade County to withstand the strong winds associated with hurricanes. Both plastic- and wire-collated 15-deg. nails are designed to fit a wide range of roofing nailers, including Bostitch, Hitachi, Senco, Max, Fasco, Porter-Cable and more. Visit www.mazenails.com or booth C6647.
DSI Powder-coated Railing
Digger Specialties, Inc., a nearly 30-year old family owned business, manufactures aluminum railing, fencing, columns, continuous hand rail, vinyl railing and fence systems. This year, DSI expands their plant with a "state of the art" powder-coating line. DSI is now a certified PCI 4000 A2 (AAMA 2604) & A3 (AAMA 2605) manufacturer of architectural-grade, powder-coated aluminum railing, column and fencing systems. One of the featured products is the Westbury Railing System, which has been tested and evaluated to meet and exceed the IBC, IRC and FBC Building Codes. According to the company, Westbury is the only aluminum railing that is certified by the Powder Coating Institute (PCI) and has been tested and verified for AAMA 2604 & 2605 standards. Visit www.diggerspecialties.com or stop by booth S1443.
Bellaforté Shake
Bellaforté Shake polymer roofing tiles from DaVinci Roofscapes have a multi-width appearance that replicates hand-split real cedar shakes with slanted sawn edges and staggered lengths. The tiles feature snap-fit tabs and a self-alignment ledge for easy installation. The roofing tiles come in 49 colors and a selection of five color blends, including Abruzzo, Espresso, Tuscano, Verona and Harbor Gray. The polymer tiles resist curling, cracking and fading, mold, algae, fungus and insects under normal conditions. The tiles have also achieved the highest standards for wind, fire and impact resistance. Additionally, DaVinci roofing tiles resist water absorption, which eliminates freeze-thaw issues and allows for installation in all weather conditions. Available nationwide, a square of Bellaforté Shake (with 100 pieces per square) weighs just 190 pounds. This lower tile weight helps reduce installation time and transportation costs. Just as with other DaVinci products, the Bellaforté Shake tiles are 100-percent recyclable and come with a 50-year limited warranty. Visit www.davinciroofscapes.com or booth C2136.
PULSE modern-style doors
Clean lines and crisp angles configure together to deliver the sleek, modern designs of the new Pulse studio of doors from Therma-Tru. Iconic details with a vintage flair lend a nostalgic appeal to these doors. Available in oak-grained fiberglass, smooth fiberglass and steel, Pulse doors come in both 6 ft., 8 in. and 8 ft. heights. The Ari, Solei and Echo styles in Pulse are available in four privacy glass options along with clear Low-E and internal blinds. The Línea style is available with these same glass insert options plus decorative glass options of Blackstone, Crystalline, Sedona, Salinas, Element, Maple Park, Avonlea, Saratoga, Texas Star, Arden and Crystal Diamonds. Visit www.thermatru.com or booth C6108.
-Simonton and Fypon
Simonton and Fypon join together to showcase Simonton's ProFinish Brickmould 600 new construction windows that feature Decorum by Simonton collection options. Decorum is a product line that offers exterior color frames which complement the overall look of the home, such as brick red, pine green, bronze, driftwood and chocolate. Simonton will also show a 3-lite Reflections patio door and windows in the Impressions 9800 series. Fypon will showcase a variety of urethane and PVC millwork pieces, including new woodgrain column wrap kits and door surrounds. Visit www.simonton.com, www.fypon.com or booth C6113.
Ventilation Systems from Tjernlund Products
Tjernlund Products offers innovative ventilation fans for home health and comfort. The Xchanger Reversible Ventilation Fans and UnderAire Crawl Space Fans comply with ASHRAE ventilation standards, improve indoor air quality and are a great solution for damp, musty basements and crawlspaces. AireShare room-to-room or level-to-level transfer fans add comfort in hard-to-heat or hard-to-cool spaces, presenting a great option for split-system or window air conditioning. The Balance Booster Reversible Transfer Fan is a unique air-transfer system that economically balances temperatures in multi-level homes. Also available are the Radon VAC Side Wall Radon Mitigation System, the Sure Dry Shower Drying Systems, and the Auto-Draft Chimney Top Fans for solving draft problems on solid fuel and gas fireplaces. Visit www.tjernlund.com or booth S2023.
Muro Auto Feed Screwdrivers
Muro North America Inc., an originator of Auto Feed Screw Driving technology, will be exhibiting the company's latest variety of tools and fasteners. From decking, drywall, subfloor installation and more, Muro offers the right fastener, whether you prefer coil-feed or strip-feed systems. Visit www.muro.com or booth C8510.
Johnson Hardware Pocket Door Frames
Standard doors that lead from room to room swing in and out of entryways in extensive arcs, necessitating awkward maneuvering for people in wheelchairs. But with a Johnson Pocket Door Frame, you can quickly and affordably transform any inside entryway into one that makes the coming and going from one room to the next a whole lot easier. The frame kits allow doors to slide across entryways, instead of having to swing through them. So all of the floor space surrounding either side of the doorway can be used. The door itself slides inside the adjacent wall virtually out of sight when open, then across the entryway when closed. Furthermore, Johnson Pocket Door Frames fit doors in a broad range of sizes including wider dimensions to facilitate wheelchair access. Installation using the kits is a job that construction professionals can handle in just a few minutes and that do-it-yourselfers can normally complete within a half-hour. Visit www.johnsonhardware.com or booth C6120.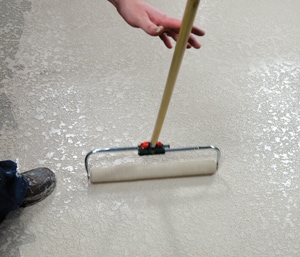 Concrete Solutions Cool-It
Rhino Linings Corporation, a leader in protective coatings, announces the release of Concrete Solutions Cool-It, a heat-reflective concrete stain and sealer. Cool-It is designed to reduce the temperature of outdoor surfaces while also providing a uniform, protective, colored finish. It is ideal for pool decks, sidewalks, patios and benches and is available in nine popular colors. Cool-It has good color retention, even after several years of exposure to the sun. The all-in-one stain and sealer can be applied by brush, paint roller or by using an airless sprayer. Cool-It can be applied over concrete, polymer concrete, asphalt, masonry walls and even on previously painted surfaces. The single-component product provides a flexible, tough seal that is resistant to staining, wear and even abrasion. Cool-It is available in one-gallon and five-gallon pails. Visit booth C8713.
Since Starrett invented the combination square in 1878, it has become one of the most versatile measuring tools you can have. Perhaps the most common use is to mark a straight line perpendicular to the edge of a board to make a square cut.
The tool also makes it simple to draw lines parallel to the edge of a board. By moving the head set distance, you can create multiple lines that are spaced an equal distance apart.
It also makes it quick and easy to lay out a rectangle with specific dimensions, or mark a continuous line around four sides of a post or beam for accurate cutting. By replacing the combination square's standard head with a center head, it's possible to quickly and accurately find the center of a circle, a dowel or rod.
This tool can also be used to verify and recalibrate a compound miter saw, a table saw, a jointer and even a router when they fall out of calibration. The combination square head is a precise gauge for checking accuracy of these power tools.
Check out "Starrett Combination Square Tricks" on YouTube and visit booth C7049.
Sure Drive Deck Fasteners
Sure Drive USA offers a variety of deck screws designed to achieve maximum driving performance, with a variety of corrosion-resistance options. The company's popular Rustguard Decking Bullets are coated to provide excellent protection against rust and corrosion. For the "ultimate" in corrosion protection Sure Drive's Seamaster line is made of high-grade 305 stainless steel. All deck screws come with either a Type-17 cutter point or Sure Drive's patented serrated-teeth thread design that slices through even the toughest materials without splitting.
Sure Drive also offers a newly designed tri-thread design Composite Deck Screw designed exclusively for cap-stock composite decking. This type of composite decking usually has a softer core but a tough exterior "wrap" that makes it difficult to penetrate. The Sure Drive CCDS starts quickly and eliminates "mushrooming" of the composite material. It's protected with Sure Drive USA's exclusive four-step coating process for exceptional corrosion resistance. Learn more at www.suredrive.com or visit booth C6246.
AZEK & TimberTech Exterior Products
Leading the development of premium, low maintenance, exterior building products, AZEK and TimberTech have united under CPG Building Products. On display will be several new co-branded railing components and accessories for easy assembly of AZEK or TimberTech Railings. TimberTech will also unveil four dramatic new capped composite colors, in styles ranging from rustic to elegant. AZEK Pavers, made with up to 95 percent recycled content, will add new sizes and profiles. In addition, as the leading brand of low-maintenance PVC decking, AZEK Deck will now feature the XLM product line, award-winning DeckLites and exclusively designed hidden fastening systems. Visit the AZEK/TimberTech booth C3015.
---
Recommended Articles