2013 International Builders' Show Preview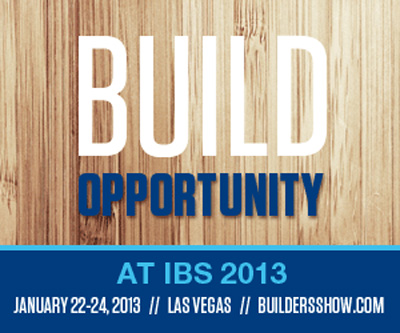 It's almost time for the big one. The International Builders' Show is the largest annual light construction show in the world, exhibiting the latest technology in foundations and roofing and everything in between (www.buildersshow.com). Held January 22-24 in Las Vegas, Nevada, IBS 2013 is the place to see the most advanced building products and services currently available. Explore the newest innovations with hands-on demonstrations and working models in more than 300 building industry categories. For construction professionals from coast to coast, IBS is the place to discover the most cutting-edge trends in the market, and the EHT staff has assembled a preview of hot items to check out while you're cruising the convention floor.
Therma-Tru Fiberglass Doors
Therma-Tru will be exhibiting its broad line of energy-efficient fiberglass entry doors. The polyurethane foam core offers up to four times the energy efficiency of a wood door and contains no CFCs. A solid hardwood square edge that reproduces the look of real wood surrounds the foam core, and a wood lock stile runs the entire length of the door to add structural integrity and heft. Covering the insulation materials is a door skin that can replicate real wood (which can be stained and finished easily) or come in smooth, paintable surfaces. The fiberglass skin resists denting, cracking, splitting and splintering. It also resists rust, shrinking or swelling with temperature changes, or warping. To gain a tight fit with the door, a composite adjustable sill allows for an air-tight seal with the door bottom to prevent moisture damage. Add to the list of features the adjustable, heavy-duty ball-bearing hinges and the foam-filled compression weather stripping. Choose from a variety of styles and glass packages. Visit www.thermatru.com or stop by booth C6107.
TimberTech Earthwood Evolutions
TimberTech adds to the color options of its Earthwood Evolutions product line to include the Terrain Collection. Joining the Tropical and Natural Collections, this new color palette features two long-lasting colors—Brown Oak and Silver Maple—that emulate the earthy tones found in nature. Earthwood Evolutions is a fully-capped plank that features TimberTech's proprietary HydroLock technology for rugged durability and superior moisture resistance. Backed by a 25-year fade and stain warranty, the decking features a Flat Grain surface pattern that does not trap dirt and has variegated color designed to achieve a true hardwood appearance. Planks come in either a grooved profile, which works with TimberTech's CONCEALoc hidden fastening system, or a solid pro-file that can be face-screwed. Earthwood Evolutions Terrain Collection is available in 12-, 16- and 20-ft. lengths, along with matching fascia. Visit www.timertech.com of stop by booth C7312.
Duradek Ultra Tiledek
Duradek is the original sheet vinyl membrane for waterproofing decks and balconies, developed to solve leak problems over 35 years ago. The company's Ultra Tiledek product meets North American building and industry standards as a roofing and waterproofing membrane that can accept the direct application of outdoor tile. The ability to have a rooftop deck with a beautiful tile surface is no longer a waterproofing issue waiting to happen.
Duradek has been working with tile industry associations to ensure that Ultra Tiledek's superior waterproofing performance meets the needs of the tile installers and stonemasons all over North America and provides the highest level assurance that when tiles are laid over a Tiledek membrane, they will never have to be removed for waterproofing repairs. Visit www.duradek.com or stop by booth N2518.
Atlantic Premium Shutters
Adding shutters is among the most effective and simple ways homeowners can elevate curb appeal, create an inviting façade and provide colorful accents. Available in 40 colors and numerous styles, Atlantic Premium Shutters from the Tapco Group add an elegant touch to exteriors that feature brick, stucco, stone veneer, premium vinyl or fiber cement. Atlantic shutters are historically accurate and architecturally correct, with matte-black finished stainless-steel hardware that sets off the shutters from the home. The shutter design also allows a hint of the home's exterior cladding to be visible between the shutter and window to provide a noticeable fine touch. Unlike wooden shutters, these composite shutters require no maintenance or worrying about warping, rotting or painting. Crafted from marine-grade fiberglass, structural-grade PVC and composite wood, Atlantic Shutters offer a limited lifetime structural warranty and a 15-year finish warranty. Plus, several units are "hurricane-rated" for top-notch weather resistance. Visit www.atlanticpremiumshutters.com or stop by booth C6119.
DaVinci Roofscapes
Eight of DaVinci Roofscapes EcoBlend polymer roofing tiles have qualified as compliant, including the Slate, Shake, Fancy Shake and Bellaforté product lines. The EcoBlend tiles reflect sunlight and heat away from the home. The EcoBlend tiles that are now Energy Star-qualified include Weathered Gray (in Medium, Medium Light, Medium Dark, Light and Dark) and Gray (in Dark, Light and Medium) colors. EcoBlend roofing tiles can help property owners save on energy costs and improve the comfort of the structure, reflecting more of the sun's rays to reduce the amount of air conditioning needed in buildings. A Cool Roof is measured by two properties, solar reflectance and thermal emittance. Both properties are measured from 0 to 1. The higher the value is, the cooler the roof is. During independent testing, DaVinci EcoBlends measured in a range of 0.31 to 0.36 for solar reflectance and in the range of 0.88 to 0.89 for thermal emittance. Visit www.davinciroofscapes.com of stop by booth N1624.
Ecolife Stabilized Wood
Ecolife stabilized weather-resistant wood from Viance is ideal for decks and other above-ground outdoor projects. Comprised of a non-metallic, carbon-based preservative plus wood-stabilizing polymer system that offers the natural beauty of real wood combined with advanced weather protection and fastener performance, the Ecolife treatment also provides protection against decay and termites. Results from accelerated weathering tests that simulate two years of Florida weather show the stabilizer in Ecolife reduces cracking and splitting by approximately 90 percent compared to traditional ACQ or C-A treated wood. Visit www.treatedwood.com or stop by booth N2331.
Warmboard-R
Warmboard-R is a 13/16-in. thick hydronic radiant heating panel made of aspen and pine OSB (oriented strand board) and is sold in square-edged 2-by-4 ft. panels. It provides the same superior radiant heat performance as our original Warmboard panel. This slimmer profile and smaller panel size is ideal for remodels and renovations where the full strength of the original 1-1/8-in. Warmboard is not required. Like the original, Warmboard-R has the same highly conductive 1060 alloy aluminum securely bonded  to the wood panel. This 0.025-in. plate coats the entire surface as well as the tubing channels, creating one unified surface for the heat to quickly travel across. These radiant panels feature convenient installation, fast response and lower energy usage. Warmboard-R is also an ideal ceiling or wall panel—perfect when existing floor coverings must be preserved. Plus, Warmboard Inc.'s products use the lowest water temperatures in the industry, lowering your monthly energy bill while providing comfortable heating. Visit www.warmboard.com or stop by booth N2339.
Bilco Powder-coated Basement Doors
The Bilco Company's Classic Series steel basement doors will now be offered with a factory-applied powder coat finish. Initially available on the company's most popular Size B and C steel-sided doors, this option offers a superior finish to conventional paint while eliminating the time and expense required by the homeowner to finish a door upon installation. Powder-coated basement doors are offered in four standard colors (white, sandstone, light gray and brick) to complement the exterior of any home. Powder coating makes metal products durable, attractive, extremely scratch-resistant and is ideal for exterior applications. The finishing process starts with a free-flowing powder that is applied to the metal door components with an electrostatic gun. The powder adheres to the positively grounded components and is melted and fused together into a solid coating in a curing oven. The result is a high-quality finish that is remarkably strong. Visit www.bilco.com or stop by booth N1710.
Schluter Systems Kerdi-Board
Many substrates are unsuitable for tile installation, especially in areas with high moisture. These situations can require a great deal of preparation and waterproofing. In response, Kerdi-Board from Schluter Systems is rapidly gaining ground in the building industry as an easy way to create flat, level, plumb and square substrates for tile installation over existing structures as diverse as masonry, wood and metal studs. In addition to being lightweight and easy to cut with a utility knife, Kerdi-Board is inherently waterproof and vapor-retardant and has workability similar to rigid foam-board insulation. When used in conjunction with the Schluter-Shower System, it provides an integrated tile backing and moisture management system for showers and bathtub surrounds. Suitable panel thicknesses of Kerdi-Board can be used to quickly create stable and self-supporting partition walls and tub platforms that are immediately ready for tiling. There is even a grooved version of the Kerdi-Board panel designed for creating rounded and curved walls and corners. Visit www.schluter.com or stop by booth N1311.
Ultra-tec Railing Kits
Ultra-tec Cable Railing components from The Cable Connection are architecturally designed for a sleek, elegant look—some of which even hide inside your end posts. Ultra-tec railing kits now incorporate two new Push-Lock models into its line. The standard kits, from 5 to 25 feet long, incorporate one tensioning device (pre-swaged at the factory) and a swageless fitting on each cable, so the cable can be trimmed to exact length on-site. Additionally, The Cable Connection has developed new 30-, 40-, and 50-ft. kits to complement the shorter ones. The longer kits often need to turn corners, and in order to maintain the proper tension, the long cable kits have tensioning devices at both ends. The result is a long kit with dual tensioning, which ensures you have a good taut cable when you're done—something you'll appreciate when the building inspector visits. Visit www.thecableconnection.com or visit booth N1249.
---
Recommended Articles